Its seems Christmas Day and New Years Eve are no longer enough for end of year celebrations, well, at least not for Karma Kandara and Karma Beach! Embracing the 12 days of Christmas philosophy, the good folk at Karma have transformed this idea into 12 days of pure celebration and entertainment along Bali's shores under the cliffs of Ungasan. So, if you're after something that goes above beyond your usual festivities, head to Karma Beach for one (or all!) of the "12 Days of Karma", 23 December – 3 January 2016.

---
23 December 2016
DAY 1 – LIGHTING PARTY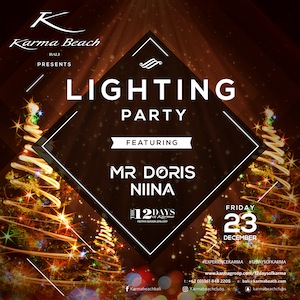 The 12 days start with a festive season opening party and the tradition of lighting their Christmas tree. Kick off at 1pm at Karma Beach with DJ Rob Venables who will set the holiday pace. At 4pm visiting Ibiza guest DJ, Mr. Doris takes over for his eclectic sunset session that will span a selection of soulful goodness. Sweden's DJ Niina will close out the night from 7 -10pm with her upbeat choices to get the dance floor going.
24 December 2016
DAY 2 – CHRISTMAS EVE PARTY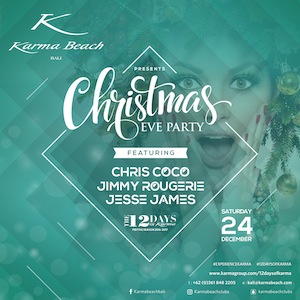 Visiting London talent, Chris Coco sets up the holiday vibes with his lunchtime set from 12 – 4pm. Taking over after Chris will be multi-talented musician and DJ, Jimmy Rougerie who'll spice up his set with live saxophone and singing. Then UK DJ Jesse James will take things home with his party set from 7 – 11pm.
25 December 2016
DAY 3 – CHRISTMAS DAY PARTY feat. Santa Claus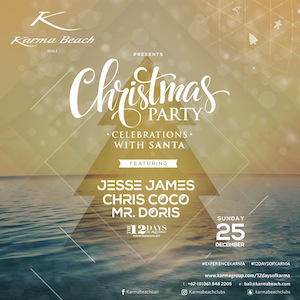 Santa Claus is coming to Karma Beach! Groove down with Santa Claus to the best DJ lineup on the island at Karma Beach today. Santa Claus's arrival at Karma Beach promises to be spectacular and he'll be bringing enough presents for all who's been good this year.

26 December 2016
DAY 4 – BBQ BOXING DAY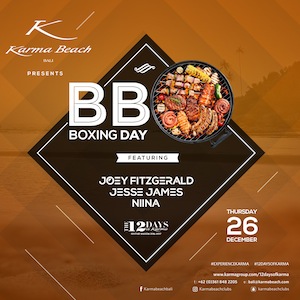 Make sure to spend your boxing day well with the Karma barbeque boxing day on the beach! With a day full of fun beach activities, festivities, and a magical movie night under the stars, this day at Karma Beach is not to be missed!
27 December 2016
DAY 5 – BALINESE DAY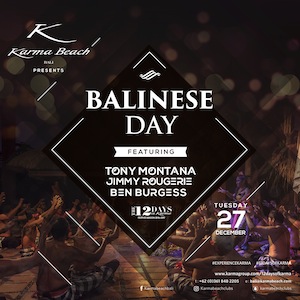 Join the Balinese dancers at Karma Beach for a traditional Balinese Day. Pleasure in watching their beautiful dances under the enjoyment of traditional Balinese specialties. And for those who are up for it, the Balinese dancers are happy to teach you a move or two! 
28 December 2016
DAY 6 – PIRATES OF THE CARIBBEAN BEACH PARTY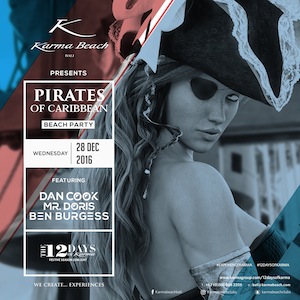 Captain Jack Sparrow is hitting Karma Beach's shore on the 28th. Party like a pirate with resident talent, DJ Dan Cook from 12 – 3pm followed by Ibiza's, Mr. Doris serving up perfectly sequenced sunset selections from 3 – 7pm. Ben Burgess closes out the night from 7 – 10pm with some smooth up tempo numbers to keep the vibe alive. 
29 December 2016
DAY 7 – AVENGERS BEACH PARTY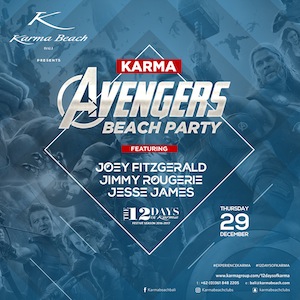 Today the Avenger Superheroes are taking over the beach and will be partying all day long. They could use some good company, especiall with UK's Dan Cook with the holiday vibes down at Karma Beach with a freewheeling lunchtime set from 1 – 4pm. Taking over after will be the multi-talented musician and DJ Jimmy Rougerie spicing up his set with live saxophone and singing. UK DJ Jesse James takes things home with his party set from 7 – 11pm.
30 December 2016
DAY 8 – 1,001 NIGHTS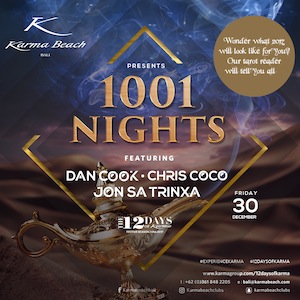 Join the magical 1001 Arabian Nights Party at Karma Beach and watch magic unfold in front of your own eyes. Don't miss out on magic, hidden treasures and Middle Eastern delicious specialties at Karma Beach on the 30th. With tarot card reader and balearic beats bringing you into the Arabian nights.
31 December 2016
DAY 9  – ALICE IN WANDERLUST NEW YEAR'S PARTY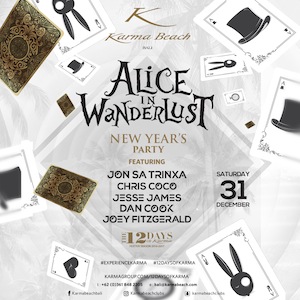 For their New Year's Party at Karma Beach you'll be traveling all around Karma's world with Alice in Wanderlust.  Make sure not to miss out on the best DJ lineup on the island on New Year's, they travelled a long way to get here. You are guaranteed an unforgettable New Year's night!
1 JANUARY 2016
DAY 10 – WOODSTOCK RECOVERY PARTY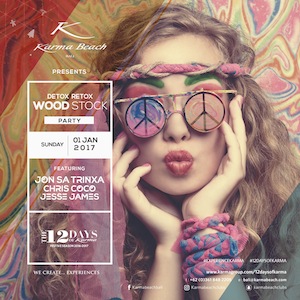 On the first, you are invited to celebrate the first day of 2017 with Karma! They'll make sure to have their detox specialties ready for you after the big one on the 31st. After your detox, feel free to retox with their retox specialties, yes that's a thing! On the 1st you're invited to detox – retox, Woodstock style!
2 JANUARY 2016
DAY 11 – KARMA DE JANEIRO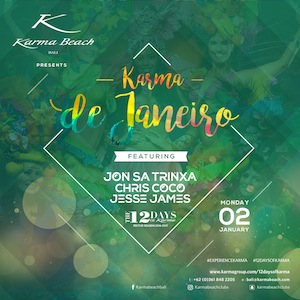 It's a legendary triple-header down at Karma Beach for the Karma de Janeiro party featuring lots of Latin and Brazilian themed music to get you going from noon till midnight! Chris Coco sets the pace from 12 – 4pm followed by Balearic legend, Jon Sa Trinxa, dropping his sunset vibes from 4 – 8pm. Finally, it's Jesse James on the decks again from 8pm – 12am, six-guns blazing for another night of prime dance floor cuts.
3 JANUARY 2016
DAY 12 – BURNING MAN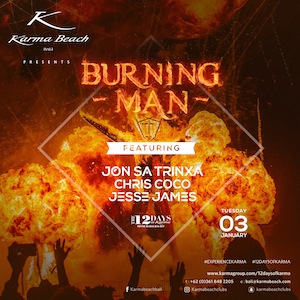 Who says you have to go to a Nevada to experience Burning Man? This year Karma Beach is bringing the Burning Man Festival to Bali and it promises to be bigger and better than before. Make sure to join our final closing party of the festive season!
---
Well there you have it, 12 full days of parties with a new theme every single day to keep things exciting and interesting. With international and resident DJ's, entertainment, great music and great drinks all on the beachfront at Ungasan, you know you're in for a treat with Karma this festive season in Bali !
To find out more about Karma Beach's 12 Days of Karma, www. karmagroup.com/12daysofkarma/kandara/
Karma Beach Bali, at Karma Kandara
Jalan Karma Kandara No.41, Ungasan
(0361) 8482200