Try to picture yourself sitting under a million stars, chatting until the early hours, whilst toasting marshmallows over a fire pit. Imagine a lazy morning, curled up under your blanket next to the glow of a fuel stove. They say camping is nature's way of feeding mosquitoes. Don't let that joke scare you because glamping in Bali is the exact opposite of what you'd expect.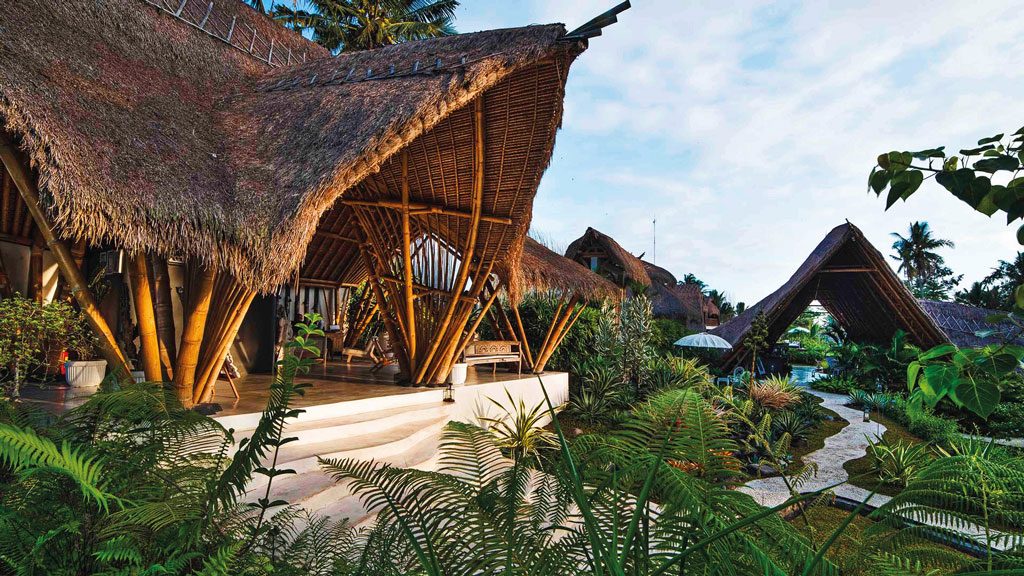 Glamping has recently become a trend around the globe and it is a form of camping that comes with utmost comfort, hence its name 'glamorous camping'. Worry not about finding a camp site, setting up tiny nylon tents and suffering in cramped sleeping bags. As the newest travelling fad, glamping brings you in touch with nature whilst hanging onto that 5-star hotel experience.
There are numerous romantic places for glamping in Bali where you won't have to give up that plush, luxurious bed, running water and electricity. The only things that you will give up are the concrete walls that surround you – and that's hardly a sacrifice.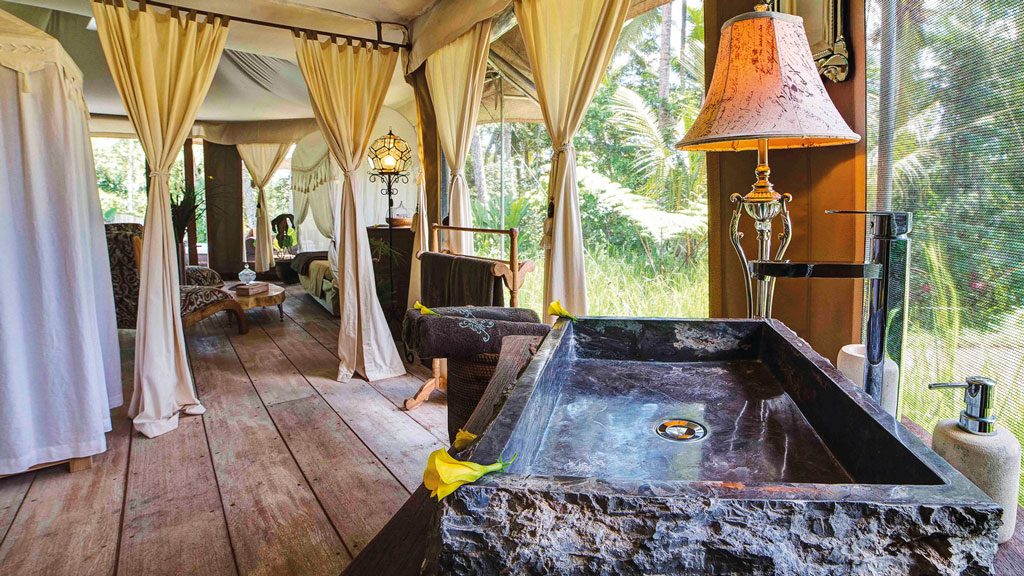 In Ubud, Sandat Glamping Tents will take you into the middle of the rice fields. As one of the most popular glamping sites in Bali, their 5 safari-style tents each have their own private infinity pool together with a terrace that leads into the forest. Lumbung cottages are also up for grabs; traditional local houses with alang–alang roofs and balconies overlooking the abundantly green surroundings.
The interiors of the tents are handpicked for their ethnic style that matches the surrounding. Gorgeous raw woods dominate the atmosphere, along with light, pearl white linens that accentuate the natural light flooding in from outside. Pearl chandeliers, hand painted furniture, coffee plants and white shells all add to that feeling of being in 'the wild'. Each cottage is also equipped with a ceiling fan, mini fridge, iPod speakers, internal phone service, and of course, a Wi-Fi connection.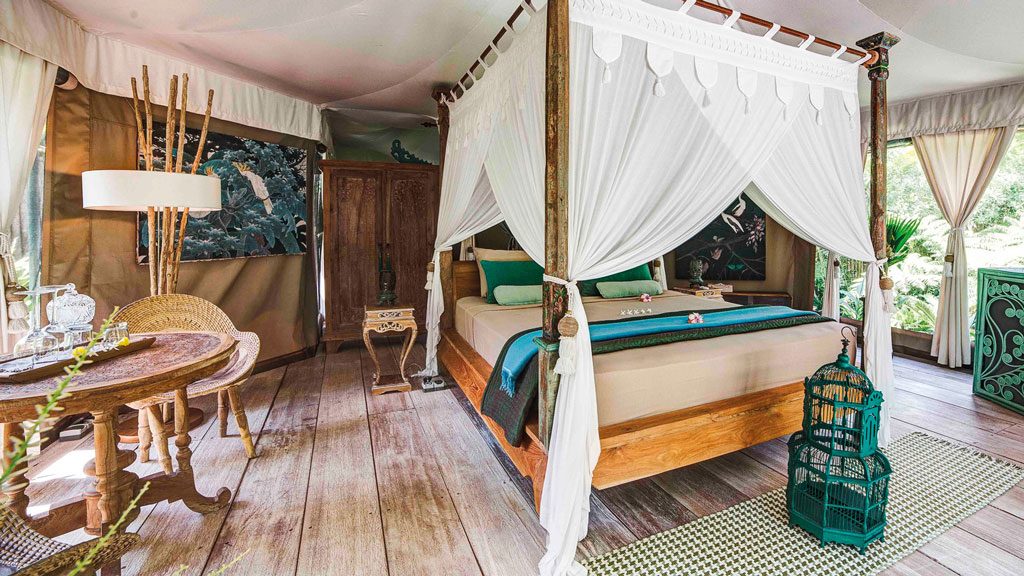 The tents are surrounded by rice fields and vast vegetation. Perfect seclusion has been achieved with bamboo screens and  vertical gardens, giving you all the privacy you need. So when the jungle is alive at night, and surely it will be, you'll be safe from the things that walk in the night… Just listen to the sounds of the evening critters as they chirp in the bush.
With the capability to accommodate only a few people, Sandat Glamping offers a perfectly unique, bespoke experience. But a quick 10 minute drive sees you back in Ubud centre if you're really missing civilisation that much (but you won't).
Still in the same region of Ubud, hidden away in the rice fields above the Ayung River, Escape Nomade glamping offers simplicity with its eco-style, romantic experience. Spend an afternoon taking in the tropical afternoon, embracing the nature that surrounds you.
[Read our full review on Sandat Glamping here]
Living without walls, Escape Nomade is all about experiential satisfaction. For those who want to experience the idyllic setting under bright blue skies, the "Picnic Lunch" is hosted on a deep gorge above a mountain stream with all the picnic goodies packed in bamboo picnic baskets. Listen to the sounds of nature while seated comfortably on cushions or rugs and enjoying your healthy lunch on low rise tables to give you the epic picnic feel. "The Royal High Tea" experience begins with a sublime footbath and full body massage in a breezy covered tent pavilion next to the river. Freshly brewed tea of your choice is served on the high hills.
Relaxed and refreshed, you retire to the main tent for a divine spread of champagne and sweets. A promenade of unexpected events in the jungle await you after you reach a solitary luxury safari-style tent on the edge of the world. Bamboo flute-playing musicians serenade you, and there's time for cocktails and canapés before your walk back to the temple at sunset.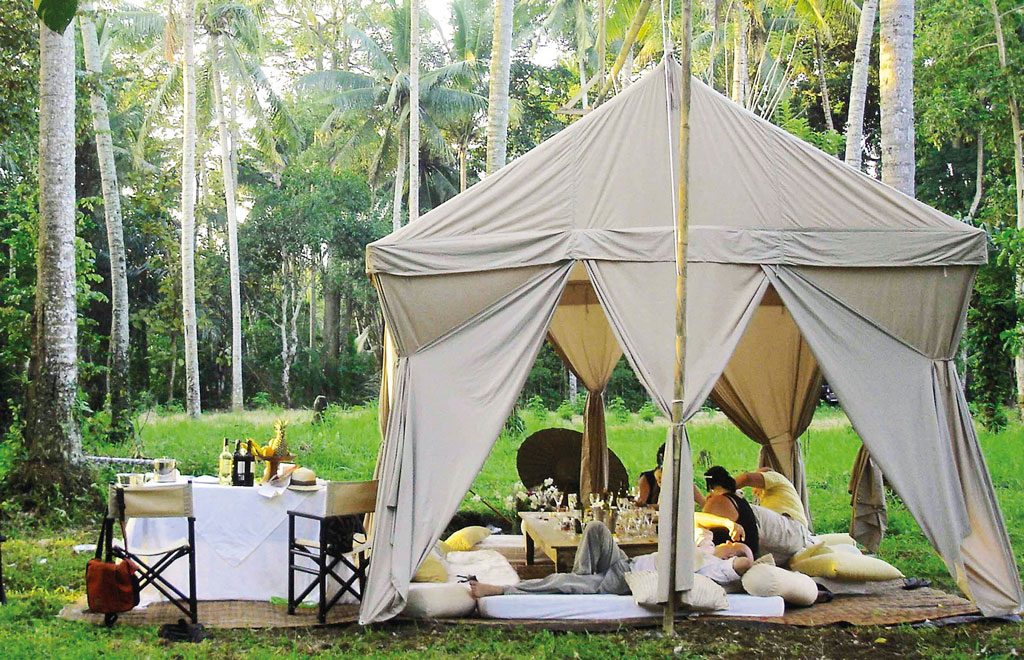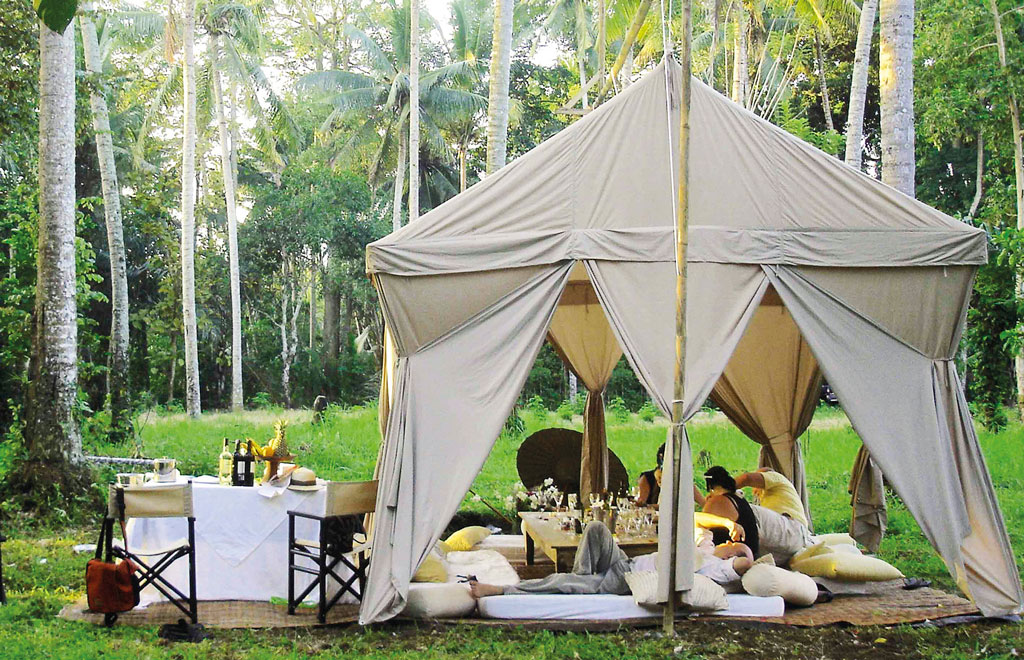 If this is still not enough and you are keen on taking your beloved to a classic dining experience amongst the wilderness, then carry on to the dining table. The dinner is set within a tent glowing with lanterns and small shrubs. Wildflowers are placed on the table along with linen and fine china. The four-course dinners are a healthy take on local flavours, and each course reflects the main colours of the temple offerings like red, green and yellow. The feeling of being close to nature is intensified as you dine listening to the wind rustling the palm trees outside, the gentle bubbling of the river close by, and crickets chirping in the foliage.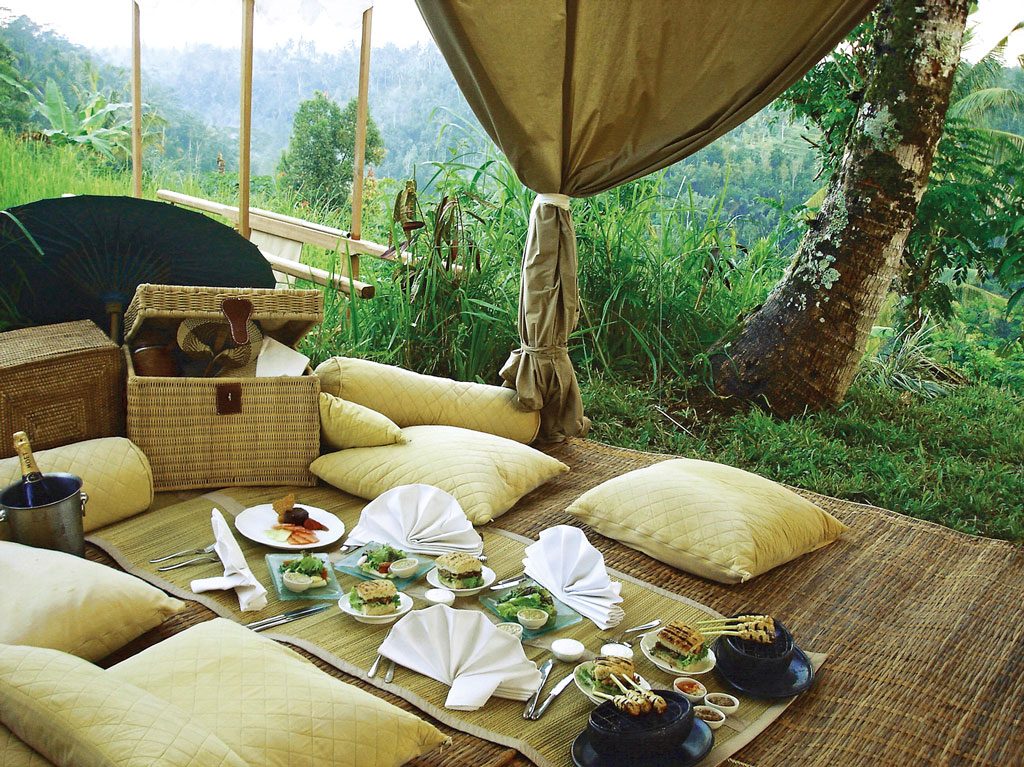 Outstandingly stylish tents with a touch of magic, Escape Nomade experiences bring you deep into nature's living space and encourages you to listen to the sounds of nature while spending quality time with your special one. The romance of the evening is conjured thanks to the bamboo lights, candles and transparency to the surroundings, casting shadows of you with your partner. You will find total harmony and peace, as it feels like a home nestled in the lap of mother nature!
If you make your way to the north west part of the island, Menjangan Dynasty Resort, Beach Camp & Dive Center is the best location for those who want to experience close-to-nature 'glamping', but this time by the sea! This tented resort sits next to a blissful white-sand beach, catering to outdoor activities for the adventure enthusiasts. You will be drawn to the sweeping forest views of West Bali National Park and treated with seamless and comfortable treatment to the protected mangrove and rainforests leaving you in awe for days.
The resort is comprised of the Beach Camp Tents and the Cliff Tent Villas, featuring ethnic African-style glamping tents from robust top-quality canvas. The interiors of the tents perfectly capture the ambience of the classic safari-style. Each room is fitted with canvas roller blinds, wardrobes, inbuilt desks and bamboo lamps. International channels and DVD player can be your alternate entertainment inside the tent. And to make you feel more at home, you can snuggle in the luxurious queen-sized bed with a spacious dressing area. To create a romantic moment with your partner, daybeds and loungers are available in the private deck outside the tent where you can appreciate the tranquillity of the surroundings.
For a vibrant underwater experience, a dive and water sports centre is on site to give you the best water excursions around Menjangan Island. This will include scuba diving, snorkelling, kayaking, canoeing and stand-up paddle boarding. If you prefer land excursions, there are loads of outdoor activities to keep you and your partner entertained. Trekking to the nearest villages, cycling and mountain biking, birdwatching along the forest, or day trips to the nearby attractions. Menjangan Dynasty Resort, Beach Camp & Dive Center is for couples who are seeking a totally different experience.
Glamping is the newest way to disrupt your daily routine and shift your focus back to the things that matter. It is a way of celebrating a love of individualism, nomadic life and being sustainable. After a short immersion in nature, you will surely be mentally and emotionally soothed due to the change in perspective! Glamping immerses you in a region's raw beauty – every trip away is enhanced by the time of year, local topography and wildlife. It gives you a different way of viewing your world and bonding with your loved ones.
Contact Details for Glamping in Bali:
Sandat Glamping: www.glampingsandat.com 
Escape Nomade: www.escapenomade.com
Menjangan Dynasty Resort: mdr.pphotels.com