Held annually, the Bali Arts Festival , locally known as Pesta Kesenian Bali, was first held in 1979 by the late Professor Ida Bagus Mantra. The main purpose of this festival is to preserve Balinese art, music, and literature, gaining a strong base for national identity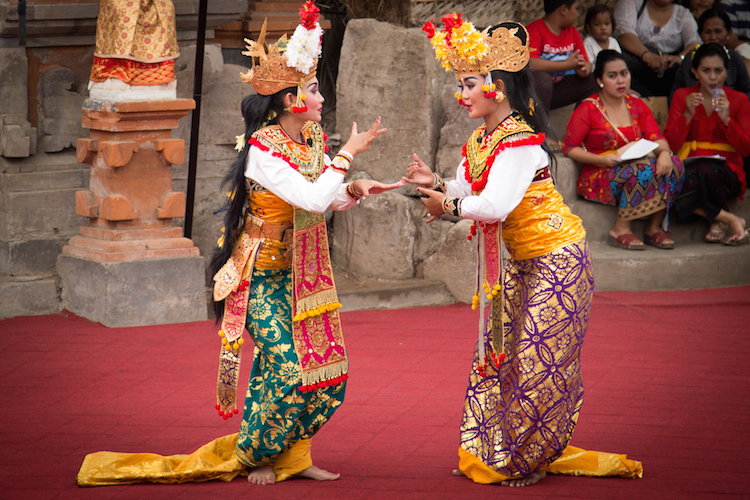 The Bali Arts Festival is the cultural highlight of the year, where for a whole month all aspects of art are on display. Everything from traditional dances, costume parades, art displays and exhibitions and musical performances are expected here. It is the best place for visitors and locals alike to witness aspects of local culture otherwise difficult to see or find around the island, as all agglomerate in this one destination. Every year, the festival holds a different theme, hoping to explore different creative ideas or cultural components – this also adds some variety to this annual extravaganza.
Almost always held sometime between June and July, events and exhibitions are held at the Taman Werdhi Budaya Arts Center in Denpasar. Of course the cultural showcases go beyond Bali and include the vibrant cultures from all around Indonesia.
For artists, it has become a place to showcase their newest work; in the world of Balinese dance, it has become a hub for choreographers to display new dances or perhaps revive forgotten dances. A month-long festival is difficult to fathom, but it has become an important way of keeping the interest in culture alive. You won't find many tourists walking the streets (a few shutterbugs here and there), the festival many attracts locals who continue to show their support for their cultural heritage.
The festival always starts with its popular parade, the opening ceremony, which is held at the Bajra Sandhi monument in Denpasar. This is always a sight to behold! If you're in Bali between June and July, make sure to pay a visit to the Bali Arts Festival .
Bali Arts Festival
Denpasar Arts Centre (Taman Werdhi Budaya), Jalan Nusa Indah
+62 (0)361 245 294
Opening Hours: Mon – Sat, 10:00–22:00