When your tummy is in need of something refreshing after travelling around the island, Japanese food will always be there to rescue you. Japanese delicacy is elegant and polished. Its preparation and presentation have been shaped over the centuries to create the perfect blend of textures, flavours and freshness of daily produce. Unlike other country's delicacies where slow cooking and mixing of a lot of sauces and herbs are involved, Japanese cuisine values the freshness of the food and encourages raw consumption with extra sauces as dipping condiments. From fresh Sashimi platters to fusion Sushi Rolls, from red hot Spicy Ramen to Teppanyaki and Shabu-Shabu, you can satisfy all your Japanese cravings right here in Bali. Some high-end Japanese restaurants offer delightful Teppanyaki dishes, cooked right at your table by highly skilled chefs, brunch features fresh sushi rolls and sashimi, healthy cold soba noodles, beef teriyaki followed by delicious sweet treats and Japanese fruit liqueurs in mango and lychee flavours.
---
IZAKAYA
JI
While Izakayas in Japan are normally packed, loud and smoky, in Bali the food is simple, well-executed, but worth every dime. Ji (meaning temple in Japanese) at the Bale Sutra is housed in an original ancient Kang Xi period temple from 1706. Entering this empirical enclave of the Hotel Tugu Bali, you get engulfed in a mythical and unique Japanese cum Peranakan Chinese dining experience. The restaurant is divided into 3 different areas. Red Room is the main dining area that houses the majestic old temple, while the Front Bar serves Asian-inspired cocktails, fine wines, and sake. The Upstairs features an ocean-view for casual dining on a patio under the stars. The cuisine at Ji is inspired by century's old cooking traditions from Japan, as well as other East Asian countries, with focus on the classical art of grilling as well as the finer arts of sushi in bringing beautifully delicate flavours of Asia to guests' tables. The Dragon of Ji, is one of the signature dishes, which is basically Maki rolls with Prawn Tempura, avocado, Tobiko, with a spicy mayo. You can also try Baby Asparagus & Tangerine – Smoked Bacon with roasted sesame seeds, or Kobe Style Black Angus Tenderloin served with red onions, ponzu & tangerine peel.
Ji at the Bale Sutra
A : Jalan Pantai Batu Bolong, Canggu Beach, Canggu, Kuta Utara, Canggu, Kuta Utara, Kabupaten Badung, Bali
T : +62 361 4731701
W : www.jiatbalesutra.com
---
KUU IZAKAYA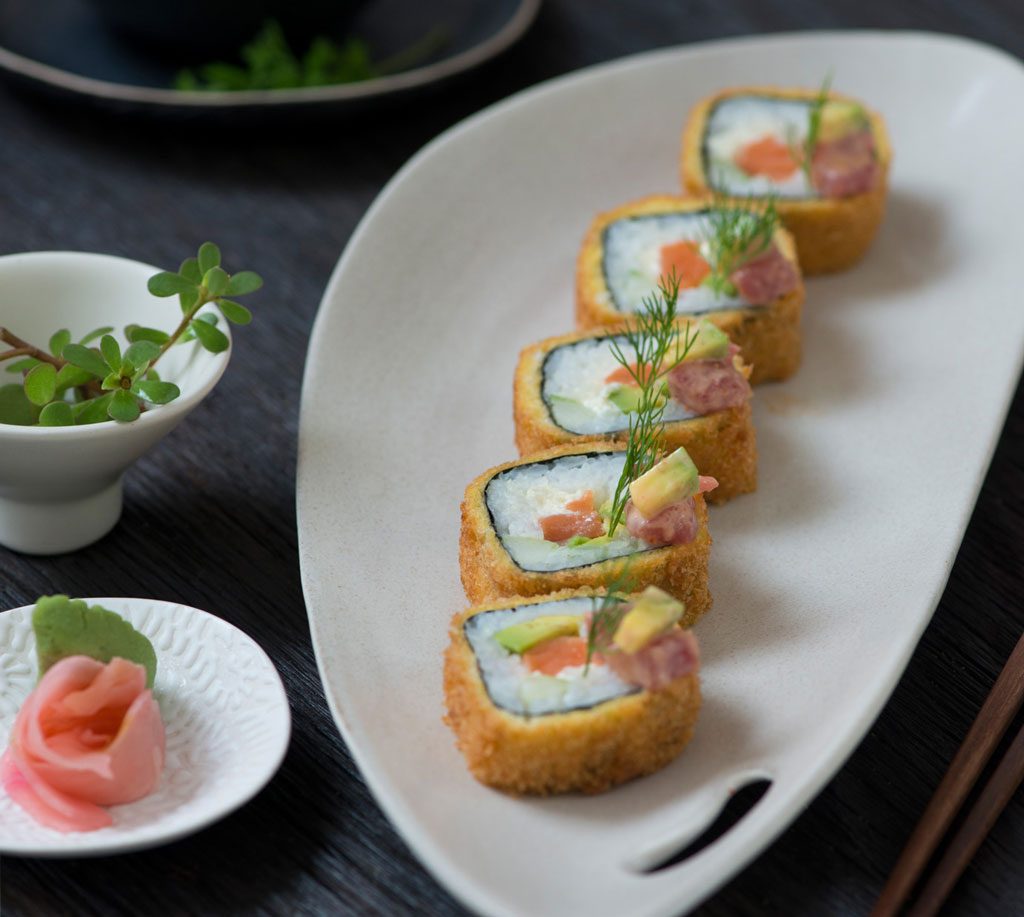 Similar with Ji at Bale Sutra, Kuu Izakaya at Maya Sanur also serves Dragon Maki for main course, completed with prawn, avocado, lettuce, cucumber with unagi seaweed sauce. Another dish to enjoy as the main would be Fried Maki consisting of salmon, tuna, cucumber, cream cheese with spicy mayonnaise seaweed. The colourful Rainbow Maki is perfect to order if you are dining with kids, which comes with lettuce, avocado, cucumber, tuna, white fish, prawn, and salmon seaweed. The menu combines the quality of locally grown produce throughout a variety of raw dishes, to accompany meat and seafood for a truly unique and memorable dining experience.
Kuu Izakaya
A : Maya Sanur, Jl. Danau Tamblingan, Sanur, Denpasar Sel., Kota Denpasar, Bali
T : +62 361 8497800
W : www.mayaresorts.com
---
ONE EYED JACK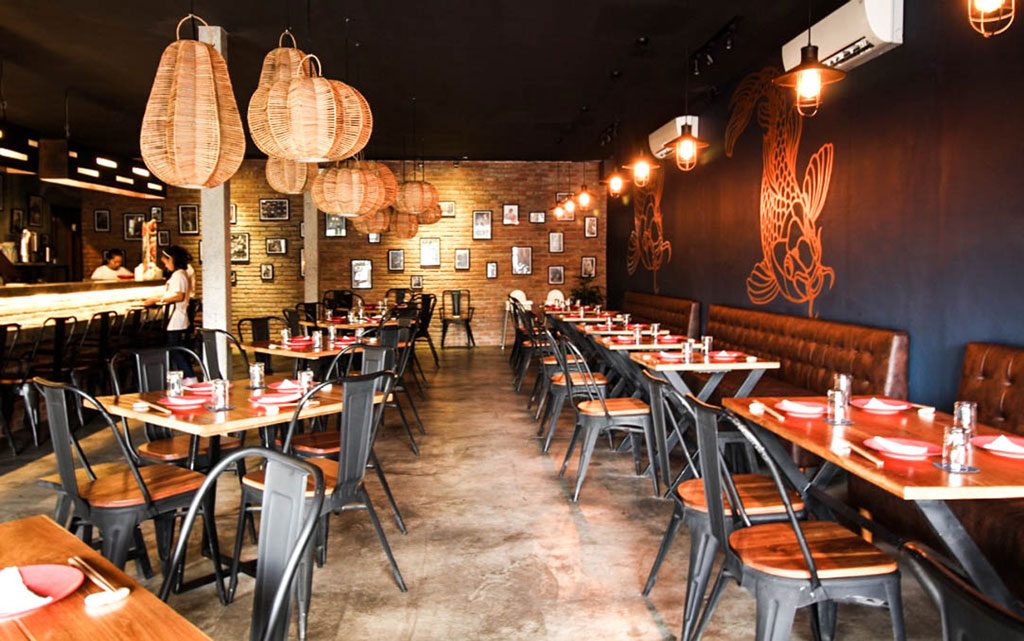 In the heart of Canggu, One Eyed Jack is an Izakaya and Sake Bar concept with good vibes. What you can expect here is a well-prepared mix of traditional classics and modern style Japanese dishes, which you can pair with their delightful Japanese inspired cocktails, an extensive Sake selection, Japanese whiskey, beer and wines. In the kitchen, the chef previously worked at Nobu, who brings a similar culinary style to this restaurant. The menu comprises sections of light bites, Sashimi Plates (modern Sashimi dishes paired with fresh fish with delicate sauces and ingredients), Small Plates (cooked dishes perfect for sharing), Yakitori (traditional grilled meat and vegetable skewers), Donburis (rice bowls), Noodles (soup and fried noodle dishes). As for the drinks, the restaurant carries a well-rounded Sake offering. Available either for the casual Sake drinker or for those looking for more refined flavour profiles, they have a house Sake to a range of premium Sakes, including Nigori, Junmai, Junmai Ginjo, and Junmai Daiginjo types.
One Eyed Jack
A : Jl. Pantai Berawa No.c89, Tibubeneng, Kuta Utara, Kabupaten Badung, Bali
T : 0819-9929-1888
W : www.oneeyedjackbali.com
---
RAMEN
7 TORI SAMURAI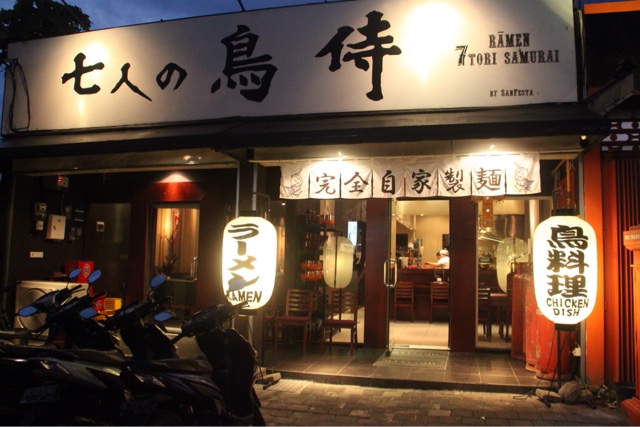 Ramen is a hearty bowl of hot broth filled with fresh ramen noodles, toppings and garnishes, traditionally served in a black bowl. Bali houses restaurants that prepare finger-licking Ramen. 7 Tori Samurai restaurant offers you a very cozy place for a family function or friendly gathering. If you don't eat pork and/or look only for Halal Ramen, this is the place to go. They even provide a place for praying. The most wanted dishes would be the Fried Chicken Ramen level, Chicken Salty Ramen and Sesame Ramen Level. The spice levels are varied as per choice. Kara Miso Ramen and Torishio Ramen are also hot favourites owing to the texture of ramen and juicy, beautifully textured chicken.
7 Tori Samurai
A : Jl. Sunset Road No.88, Legian, Kuta, Kabupaten Badung, Bali
T : +62 361 8775933
---
BOEKAN RAMEN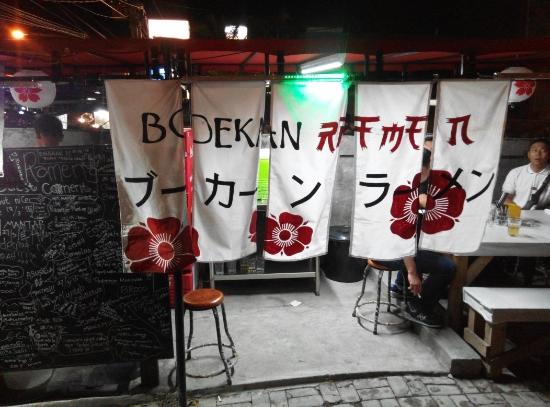 Boekan Ramen is also one such simple restaurant providing hallmark Ramen. Try the spicy ramen with 4 heat levels, Jojoba, Manohara, Asusila and Galau. This eatery comes in a street food style with cheap prices and free flow cold Ocha. Additionally, you can order chicken egg, fish cake, crab sticks, shrimp balls and Nori all at an affordable price. You may want to drink the signature Ocha to cool the heat.
Boekan Ramen
A : Jl. Dewi Sri, Legian, Kuta, Kabupaten Badung, Bali
---
RYOSHI HOUSE OF JAZZ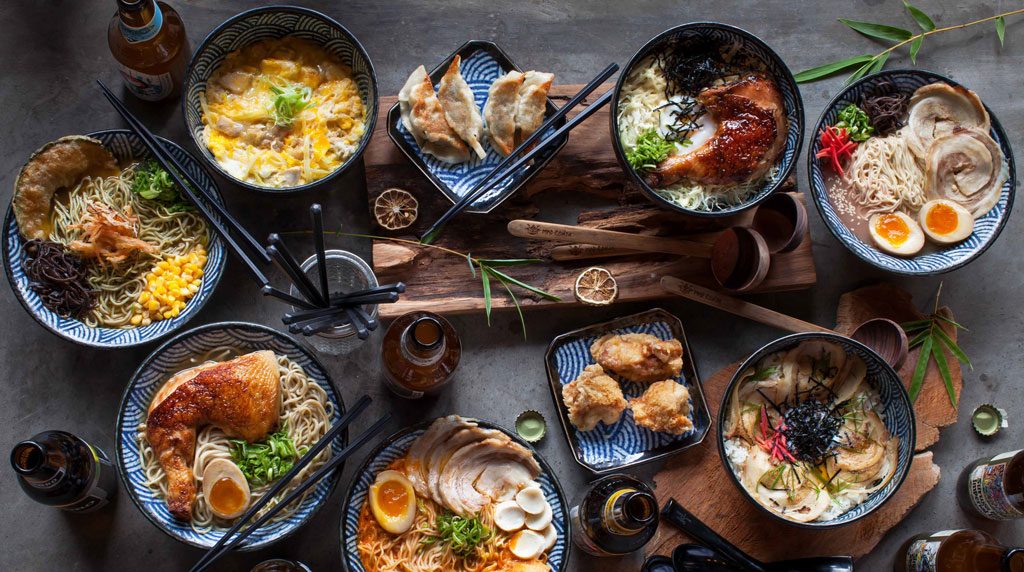 If you are looking for Ramen with awesome Live Band performances and Jazz music, Mad Ronin and Ryoshi House of Jazz is the perfect selection to go. Famous for its steaming, hot ramen with mouth-licking broths and toppings, Mad Ronin covers the general palate on the Ramen, from the Famous Tonkotsu (Pork), Torimomo (Chicken thigh), Yasai (Vegetables) & the signature Laksa Ramen, using authentic Nyonya Laksa ingredients specially brought in from Singapore. To be noted that their Ramen is using only fresh ingredients. They even air-fly the fresh Hakata Thin Noodles weekly.
Ryoshi House Of Jazz
A : Jl. Raya Seminyak No.17, Seminyak, Kuta, Seminyak, Badung, Kabupaten Badung, Bali
T : +62 361 731152
W : ryoshibali.com
---
SUSHI
HONZEN
Sushi is the most popular Japanese dish of cold cooked rice shaped in small cakes and topped or wrapped with pieces of raw fish or vegetables. A delightful, supper yummy Sushi can only be found at a few restaurants in Bali. HonZen is one of the restaurants that features world-class Japanese specialties. This restaurant at Ayana Resort Jimbaran serves spectacular Japanese cuisine in a contemporary setting with an attractive Sushi & Sashimi Bar. Using creative flair, traditional Japanese cooking techniques on a hotplate grill, and a choice of high quality ingredients, guests can delight in a feast that is both culinary and visual. Choose to begin your food celebration with delicacies like Jizakana Sanpin Mori (Chef's special of assorted Balinese sashimi fish), Sima AJi Usuzukuri (White Trevally sashimi thinly cut in the Usuzukuri style), or Salmonwafu Carpacio known as marinated salmon. The food is cooked at a high heat and with only a few drops of oil, making it as entertaining as it is delicious.
HonZen
A : Ayana Resort, Karang Mas Estate, Jalan Karang Mas Sejahtera, Jimbaran
T : +62 62 361 702222
W : www.ayanaresort.com or www.rimbajimbaran.com
---
MAGURO ASIAN BISTRO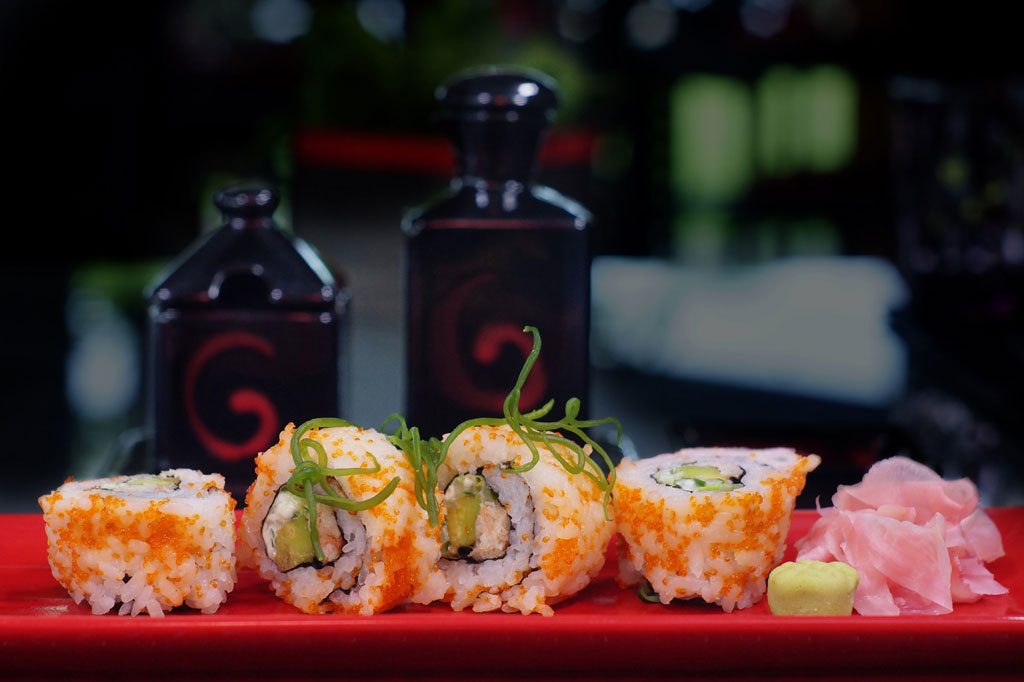 Combining a well-crafted combination of traditional favourites sourced across Asia, Maguro Asian Bistro is a hot favourite amongst many. The restaurant at Nusa Dua Beach Hotel & Spa serves up the best of Asia in an intimate poolside restaurant, from the streets of Hong Kong to the sushi houses of Japan and the famous Korean barbecue houses. Treat yourself with a selection of sushi and sashimi, from Samurai Rolls which is a tempura soft shell crab and toasted bonito flakes, or Inari Rolls which is tofu skins filled with sushi rice and pickled vegetables.
Maguro Asian Bistro
A : Nusa Dua Beach Hotel & Spa, ITDC Nusa Dua Lot. North 4, Nusa Dua
T : +62 361 771210
W : www.nusaduahotel.com
---
RIN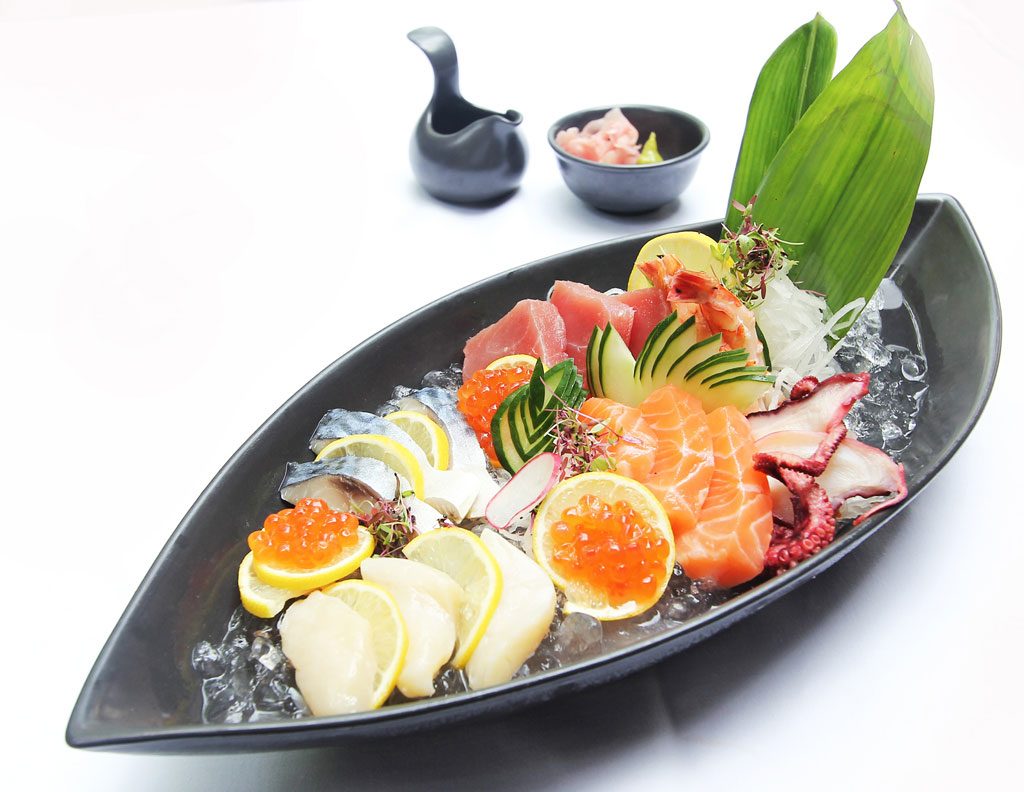 But if you are specifically looking for a classical menu structure which gives way to bursts of creativity filled with a refined and intelligent Japanese dining experience, RIN at Conrad Bali will cater to your culinary satisfaction. It is a perfect dining spot for when you are craving fresh Japanese fare around Tanjung Benoa. The menu consists of many Japanese dishes such as Salmon and Tuna Sashimi, Prawn, Tamago Sushi, California and Spider Maki Roll are some of the popular sushi items. You can go and build your own salad with a wide array of fresh ingredients and the chef will mix it and present it to you with the dressings of your choice along with mouth-watering sushi.
RIN
A : Conrad Bali Jalan Pratama 168, Tanjung Benoa
T : +62 361 778 788
W : www.conradbali.com
---
SHIKI JAPANESE RESTAURANT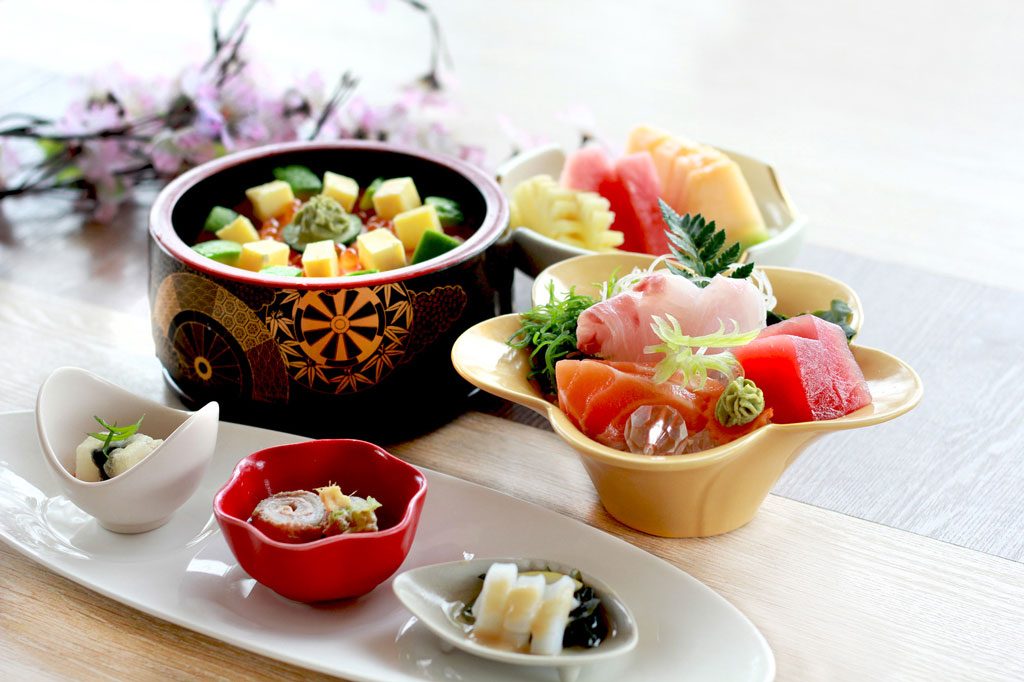 For a delicious sushi experience combined with a delectable view of the Indian Ocean, Shiki Japanese Restaurant is a main contender. This restaurant at Hilton Bali Resort is inspired by the seasons of Japan, which is an important aspect of Japanese culture. The unique concept of this seasonality is strongly reflected in the creation of the chef who brings the specialty of each season into every dining experience, including lunch, dinner as well as the one and only Japanese Brunch on the island. With a special menu until April 2017, you can taste the set menu 'Haru' featuring a Chirashi Sushi bowl with fresh cuts of Salmon and avocado over a bed of Japanese premium sushi rice. The set menu also comes with an array of appetizer like Chinese Cabbage Beef Roll, Deep-fried Tofu and Squid with vinegared bean paste. There's also Salmon, Yellow-fin Tuna and Snapper Sashimi on ice, a bowl of warm Miso Soup to accompany the main dish as well as seasonal sliced fruits for dessert.
Shiki Japanese Restaurant
A : Hilton Bali Resort, Jalan Nusa Dua Selatan, South Kuta, Bali
T : +62 361 773377
W : www.hilton.com
---
SUSHI TEI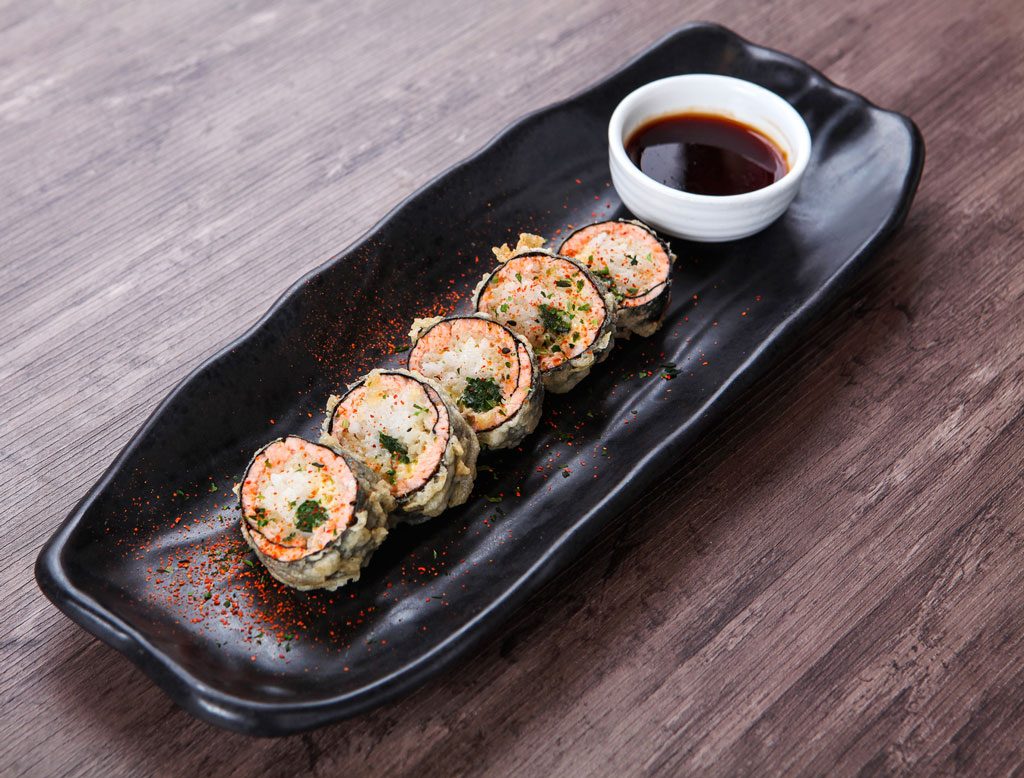 The next interesting eatery for Sushi is Sushi Tei, found on the main road of Sunset Road. Best known for their simple-yet-modern approach to its open kitchen concept, allowing its patrons to take a look at what is going on as their orders are being prepared. The Sushi menu comprises of Ikura Sushi, Jo Ungai, Kanikama Sushi and Kirishima, while the Sashimi menu consists of delicacies like Hamachi, Maguro, Toro and Yufo. If you are not sure of what to have, try out their Salmon Enoki Tempura Roll. It is fried sushi roll in tempura which contains salmon, enoki mushrooms, mayonnaise, and togarashi.
Sushi Tei
A : Beachwalk Shopping Center, Jl. Sunset Road No.99, Kuta, Badung Regency, Bali
T : +62 361 8496496
W : www.sushitei.co.id
---
TEPPANYAKI
GENJI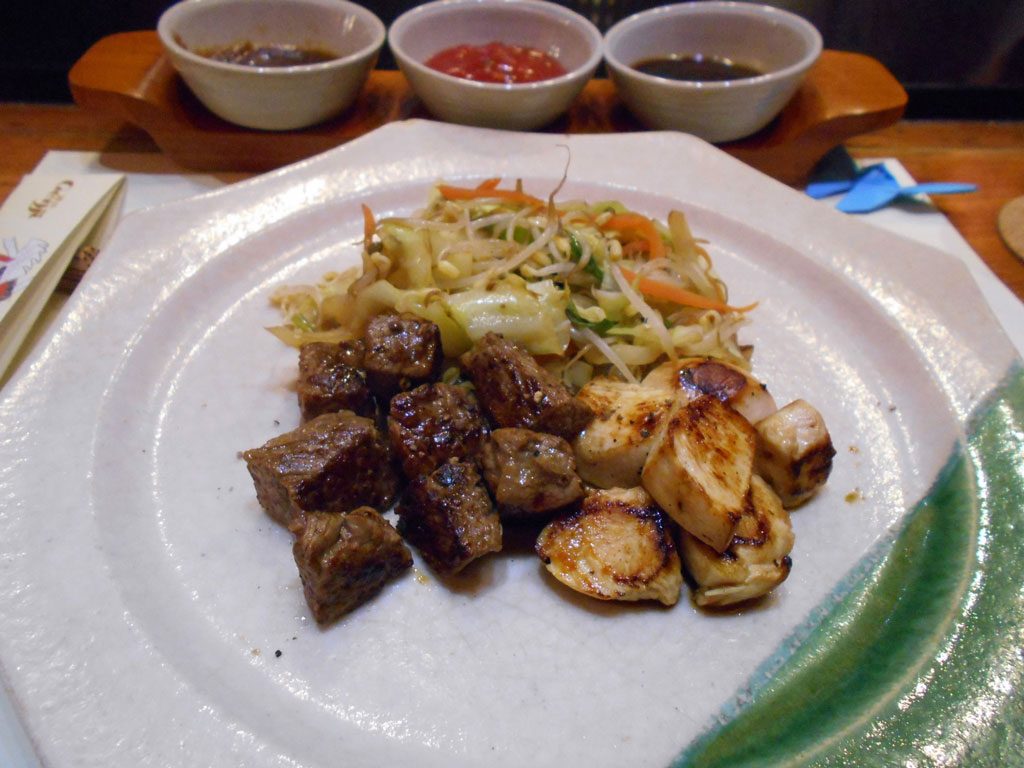 This is a style of Japanese cuisine that uses an iron griddle to cook the food. Smoking hot both in flavour and texture, this kind of dish is very popular in Bali. Genji at Ayodya Resort Bali offers an authentic Japanese cuisine experience in a warm and inviting ambience on the ground floor of the Ayodya Resort Bali. With table-front cooking and your own personal chef standing by with his knife, it makes for a fun and engaging feast. From light, refreshing sashimi, to tender scallop and succulent Australian Wagyu beef getting grilled on a hot grill, the aromas will surely build up that appetite.
Genji
A : Ayodya Resort Bali, Jalan Pantai Mengiat, Nusa Dua, South Kuta
T : +62 361 771102
W : www.ayodyaresortbali.com
---
KO RESTAURANT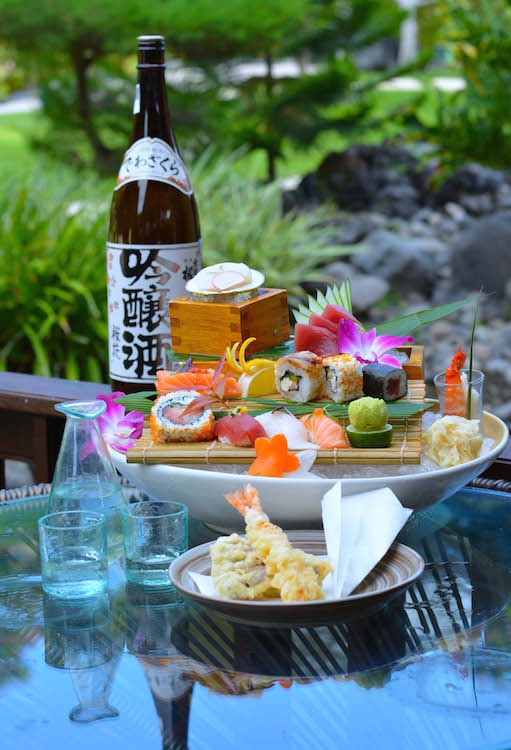 Located in Jimbaran Bay, KO Restaurant at InterContinental Bali Resort combines a subtle infusion of Balinese architecture and Japanese aesthetics. Its sushi lounge & bar and an action-filled two-section Teppanyaki area is the highlight. Sashimi selections include a 'chef's choice' with eight pieces each comprising two pieces of tuna, salmon, hamachi and scallops. Sushi rolls to order off the menu include the signature Unagi special roll, shrimp Tempura, Tobiko with avocado, cream cheese and grilled eel on top. Every Tuesday evening, you can have a culinary experience at the Teppanyaki Counter and prime yourself for a delicious culinary experience with theatrical flavours. Savour unlimited servings of the freshest tuna, barramundi, salmon and other succulent specialties grilled to perfection before your eyes in a sizzling cooking performance, accompanied by free-flow Sake, beers and wines.
KO Restaurant
A : InterContinental Bali Resort, Jalan Raya Uluwatu 45, Jimbaran
T : +62 361 701888
W : www.bali.intercontinental.com
---
RAYJIN TEPPANYAKI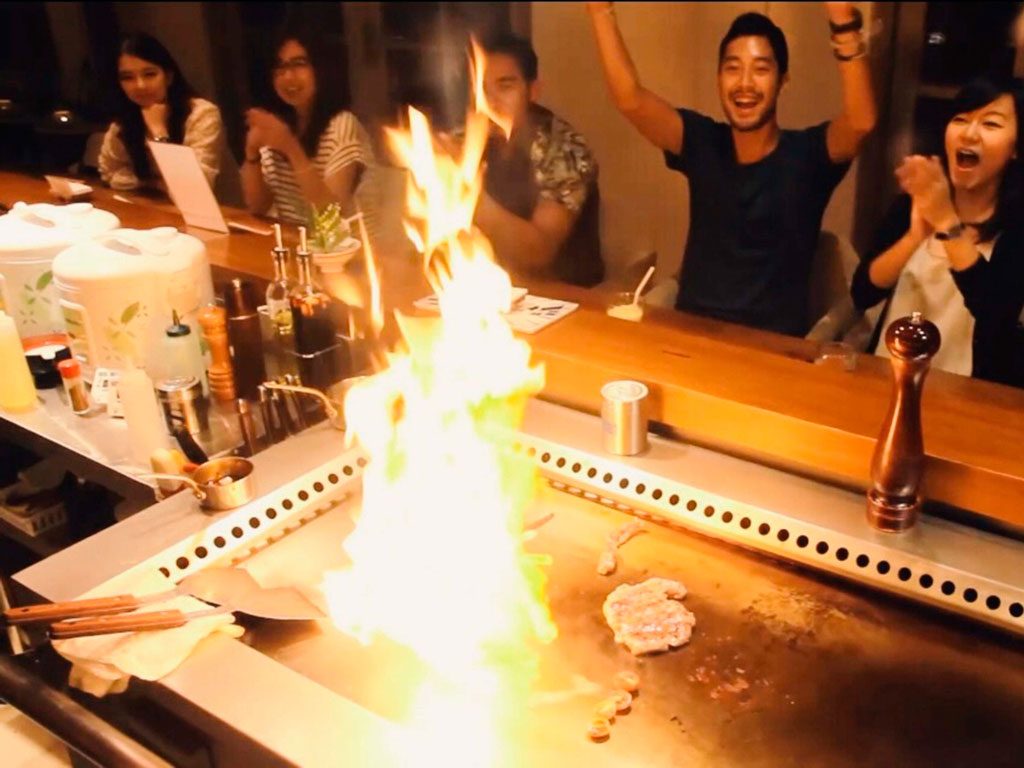 Serving delicious fusion Japanese Teppanyaki, Rayjin Teppanyaki allows guests to experience Omotenashi, the Japanese approach for hospitality by treating guests with a welcoming spirit, full of warmth, understanding and respect. Some of the specialty dishes cooked on the Teppanyaki bar are Avocado Tuna & Salmon Tar Tar, Pork Belly Salad, Seasonal Assorted Vegetable Served with Rayjin's Trio Sauce, Chicken Nanban and Tasmanian Salmon in Sesame Dressing.
Rayjin Teppanyaki
A : Jl. Petitenget No.98 X, Kel. Kuta Utara, Kec. Badung, Kerobokan Kelod, Kuta Utara, Kabupaten Badung, Bali
T : +62 813-39181295
W : www.rayjinbali.com
---
SONO
In Uluwatu, Anantara's Japanese Restaurant, SONO Teppanyaki offers a delectable fusion of Teppan grill menu with the interactive edge of a live cooking shows. Be rest assured to have a fabulous dining experience accompanied by the dramatic, jaw-dropping view of the Indian Ocean. The signature dishes are 'Hibachi Angus Beef Fillet Tenderloin USDA' and an 'Ocean Treasure of bamboo lobster meat, tiger prawns, US Scallops and Jimbaran calamari'. Homemade sweet delights include 'Tempura Deep Fried Coconut and Pandan Leaf Ice Cream with fresh strawberries', which guarantees a burst of flavour with every mouthful.
SONO
A : Anantara Uluwatu Bali Resort, Jalan Pemutih – Labuan Sait, Uluwatu, Pecatu
T : +62 361 8957555
W : www.bali-uluwatu.anantara.com
---
TENKAI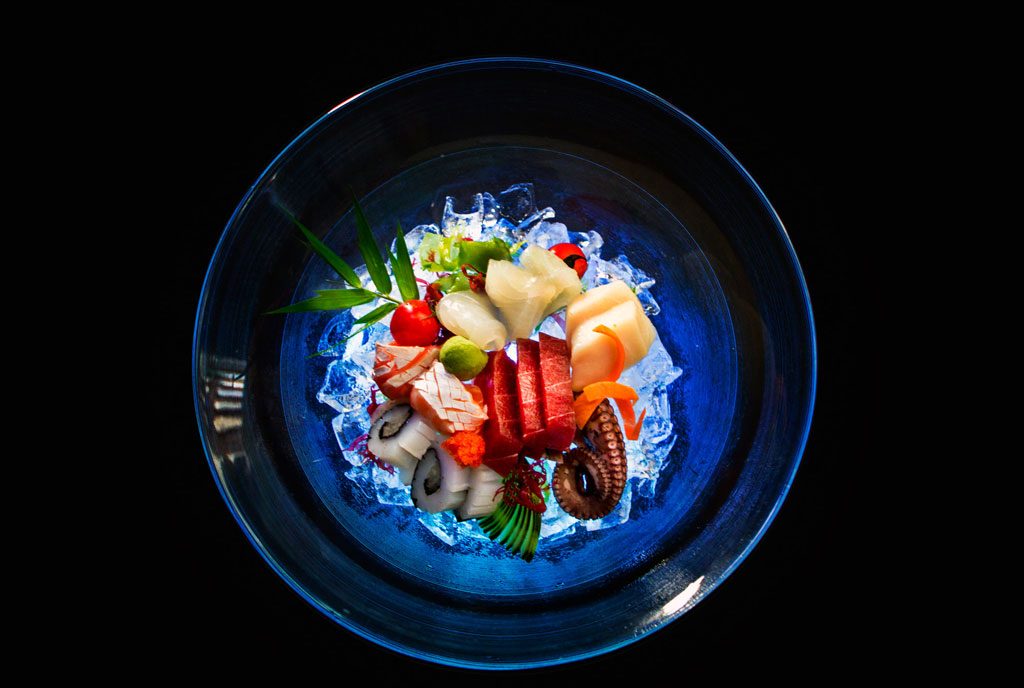 Tenkai serves an extensive menu of authentic Japanese cuisine in a minimalist garden setting. With a traditional tatami room that offers a private dining experience, it serves a Japanese-themed Buffet and Teppanyaki night that are available on selected evenings of the week. You can order Rice or Sushi with Miso Soup & Pickles and Dynamite Rolls then finish off with Green Tea Ice Cream with Red Bean & Strawberry. The cooks add a lot of humour by playing with the cooking tools and making sure everyone is entertained. As for the Teppanyaki menu, the restaurant highlights the 'Hakucho' set menu, which consists of both meat and seafood. As starter, all patrons will be given a seafood salad, and then enjoy the succulent Australian Wagyu Beef Sirloin and juicy Chicken breast, paired with Tasmanian Salmon, Tuna Medallion, Scallop and Lobster Bamboo. Tenkai also offers a fusion menu, 'Gyutan Yawaraka Ni', a slow cooked OX tongue with ginger and soya sauce. A buttery goodness that melts in your mouth, paired with ginger and soya sauce that tingles your appetite.
Tenkai
A : Padma Resort Bali, jalan Padma 1, Legian, South Kuta
T : +62 361 752111
W : www.padmaresortlegian.com