Answering parents' hopes for a relaxing and restorative family vacation, whilst providing a need for stimulating children's holiday activities, AYANA Estate in Jimbaran is introducing Southeast Asia's first "destination camp" for children within a resort. Starting on 4 July 2023, Island Camps at AYANA Estate is set to transform family vacations into extraordinary learning experiences for kids, and restful breaks for parents.
Island Camps at AYANA Estate elevates the summer camp experience through a collaboration with two global leaders in holistic childhood education, creating two specialised programs. The first is Guidepost at AYANA, in collaboration with Guidepost Montessori, that immerse children aged two to six into a week-long authentic Montessori curricula experience. The second is Green Camp AYANA, featuring daily activities designed to foster a love for nature among children aged seven to 12.
Guidepost at AYANA
With a mission to guide, empower and nurture independence in children during their early years, Guidepost Montessori is a global network of schools helping young children develop academic, social and emotional skills, as well as a love for learning. These educational values are at the core of the Guidepost at AYANA programs, which will run for week-long themes: connection to nature, awe for the underwater world, appreciating fresh food, and igniting cultural curiosity.

Led by seasoned Guidepost educators and specially-trained AYANA staff, Guidepost at AYANA offers holiday programming for short-term guests' children aged two to six, and an extended program for families staying long-term on the island.
Green Camp at AYANA
Once again partnering with Green Camp Bali, a nature-focused children's program set up by the award-winning Green School Bali, AYANA Estate brings their specialised experiences into their resort grounds with Green Camp AYANA. Catered for children aged seven to 12, the program includes a series of daily activities which can also be combined to create multi-day experiences.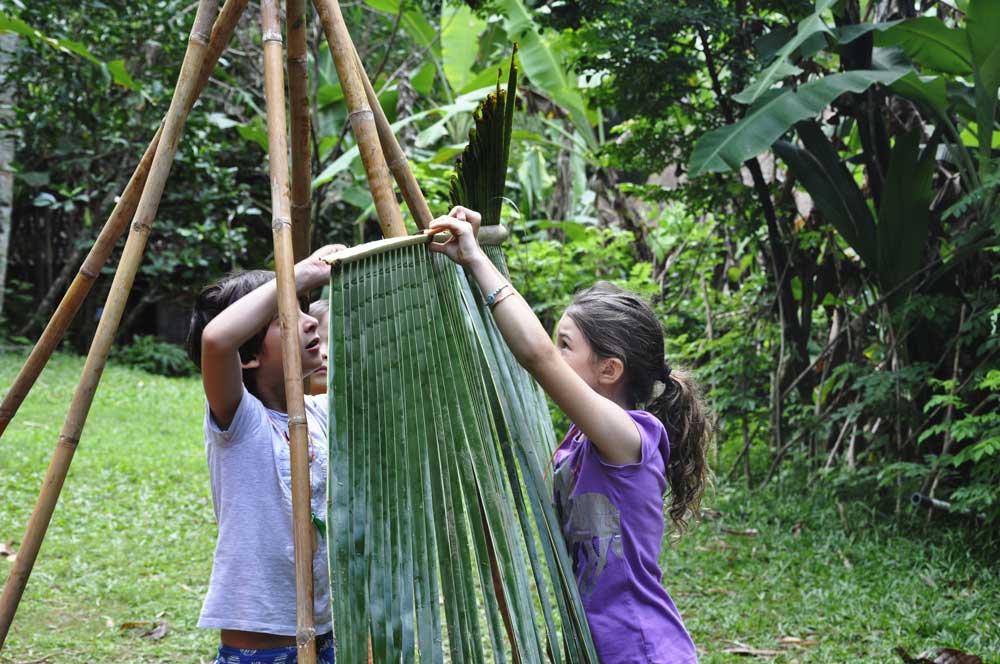 As its name suggests, Green Camp activities are designed to develop an awareness of sustainability and encourage creativity amongst children, helping them to foster respect for and an understanding of the natural world as well as different cultures. 
What makes Island Camps at AYANA Estate so unique is that it brings these two, highly educational 'summer camp' experiences into their lush, 90-hectare grounds, home to four award-winning resorts. By making the programs so accessible to guests, parents too can enjoy some guilt-free time off, knowing that their children are not only in safe hands but are really enjoying themselves.
This is especially useful for remote working parents, who can also make use of the estate's pool-side Cabana Work Suite adjacent to the Kids' Club at RIMBA by AYANA, as well as an open-air workspace at UNIQUE Rooftop Bar with panoramic views of the Indian Ocean.
---
Special Promotions
For a limited time, guests who enrol their child / children in Guidepost at AYANA can enjoy a discount of up to 30% on a minimum five-night stay and up to USD100 in resort credit. The package also includes a one-hour Thalassotherapy pool experience for two people per room; a 50-minute Body Massage for two people per room; return airport transfers; a 10% discount on selected spa treatments; and a 10% discount on food and beverages including at Rock Bar, BALI. More information on this special offer is available at: ayana.com/bali/offers/guidepost-ayana/
Guests who enrol their child or children in Green Camp AYANA can enter the code GREENCAMP upon booking accommodation at AYANA Estate to receive a discount of up to 28% on a minimum two-night stay. The package also includes a one-hour Thalassotherapy pool experience for two people; 10% discount on food and selected beverages; and 10% discount on selected spa treatments. This offer can't be combined with any other promotion or discount.
For more information on Island Camps by AYANA, go to: ayana.com/bali/ayanacamps/ 
AYANA Estate
Jalan Karang Mas Sejahtera, Jimbaran
+62 361 702222
ayana.com/bali