The area enclosed by the network of ring roads is called Denpasar, it is Bali's largest city and will never win a beauty contest. It is hot and frenetic and has an intense physicality that can be challenging to those of us accustomed to the detachment of cyberspace. But if you are prepared for a sensory onslaught, you can discover in Denpasar an eclectic selection of goods from the entire Indonesian Archipelago. You will be able to find many layers from Bali's past and present history. Denpasar is one place in metro Bali where the Balinese don't feel like they are in someone else's city.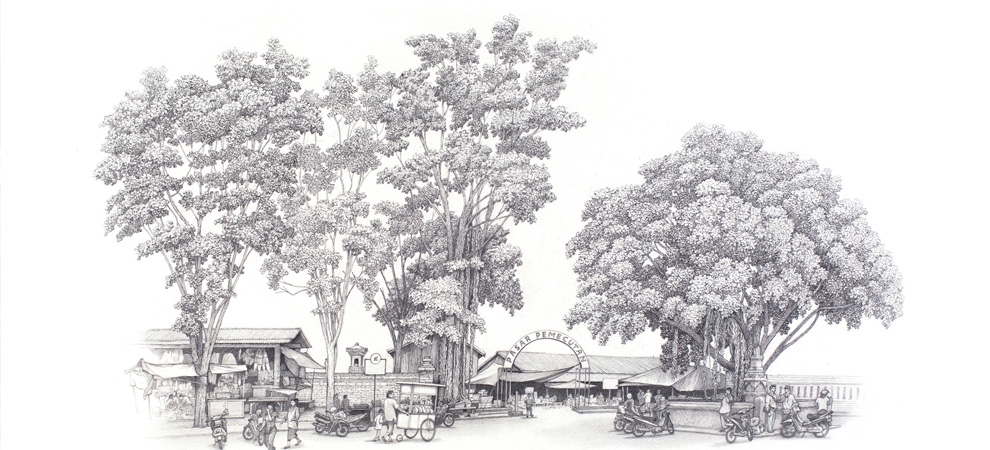 The downtown area was formally South Bali's commercial centre. It is now somewhat derailed by the massive retail complexes in the tourist areas, but it still chugs along with a whiff of nostalgia. The 2 most vibrant areas of downtown are the Kumbasari Market and the gold district.
Kumbasari is the name of the main market, which is actually a series of markets that really hit their stride around 1am. While most of Denpasar sleeps, people from the villages throughout Bali bring in fresh produce to sell to the urban population. The market is understood to be a woman's world, there are men here but they play a clearly defined supporting role. The market is one of the few public places in Bali where the women tell the men where to go and what to do. It is also a fiercely competitive place where you can find a whole row of merchants side by side selling exactly the same thing, each one trying to capture the buyer's attention by talking louder than the rest.
Close to the market is the gold district; these shops are always busy because the Balinese have an inexhaustible fascination with gold. It can be used as equity, gold is often purchased whenever a little extra money finds its way into a Balinese household and is seen as a sort of savings account. If the need for money quickly arises, this gold can be easily sold. The beauty of gold is that while in someone's possession it can be used as an adornment, especially at the time of a temple ceremony. It gives tangible evidence of a family's current economic position. Gold gives more pleasure to the owner than the abstract numbers listed in a bank statement. Buying and selling gold is a Balinese obsession and these gold shops are always doing a good business.
Also in this area are textile shops, variety stores, hardware stores, and quite a few banks. Exploring Denpasar is best done by foot, driving would only be an adventure for someone with a good knowledge of Denpasar's shortcuts and baffling network of one way roads.
It could be said that Denpasar is a good example of a mid-sized Indonesian city, one that could be found anywhere in the Archipelago. The exception is that almost anywhere you look you can find some attribute of a Hindu temple which is a reminder that this is a Balinese city.
Want to learn more about Denpasar? Read this community blog post, a 4-part series on discovering Bali's capital: Denpasar – more than just an airport . It discovers The Badung Markets, the Bird Markets and Renon Square.