Bali hosts a large number of Chinese restaurants serving authentic Chinese food. From varieties of noodles, rice and mouth-watering appetisers, Bali offers enough Chinese food to satiate any food pallet. One of the good things of having Chinese food on this island is the option to enjoy it in a restaurant while comfortably seated with a view of a beach. Some of the restaurants are aesthetically pleasing, reminding you of Shanghai eateries or reconstructed ancient Chinese temples. From phenomenal crab and lobster dishes to mouth-watering prawn dumplings and the legendary Pecking Duck, it will feel like a small trip to Hong Kong while feasting on these Chinese dishes.
---
AH YAT ABALONE SEAFOOD RESTAURANT
In Jimbaran area, Ah Yat Abalone Seafood Restaurant offers a huge selection of dim sum. Located inside RIMBA Jimbaran by Ayana Resort & Spa, this world-class dining spot also presents an extensive menu of traditional delicacies alongside popular dishes that guarantee to cater to a wider range of taste buds. In the interior, you can feast your eyes on an eclectic mix of Chinese furniture and antiques. The space itself can accommodate up to 300 guests, with10 private dining rooms, claiming to be one of the largest Chinese restaurants in Indonesia.
With more than 20 years experience in Beijing and international hotels on mainland China, the chef brings the authenticity of oriental taste from his creations. If you come for dinner or lunch, you may want to order Lobster Sashimi; raw lobster meat served with wasabi and kikoman. You can have Lobster Sashimi for the meat and ask for the head of the lobster cooked with porridge or stir fried with a salty and spicy sauce. As for the dessert, Homemade Coconut Pudding, a mixture of coconut, sugar, coconut milk, strawberry, evaporated milk and galantine, make for a perfect balance in your mouth.
Ah Yat
A : Rimba Jimbaran, Jalan Karang Mas Sejahtera, Jimbaran
T : +62 361 8468478
W  : www.rimbajimbaran.com
---
RU YI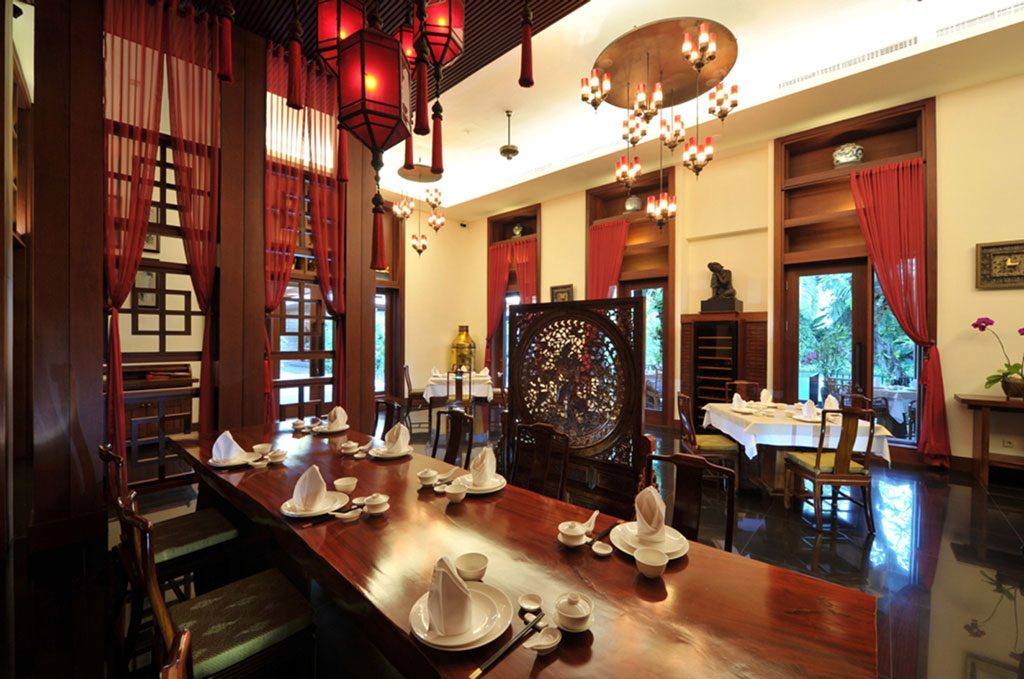 Moving forward from Jimbaran to Nusa Dua area, Ru Yi will take you for an authentic fine dining experience from China Town. Tucked away from the public's eye, inside Awarta Nusa Dua Luxury Villas, the interior of the restaurant stimulates a sense of warmth and comfort, the perfect ambience to indulge in an oriental dinner. From its delightful Chinese entryways to the Chinese adornments and sketches around the dining area; everything feel authentic to give you that one immaculate dining experience. Seating is either indoor with a classic and regal Chinese touch or outdoor overlooking the refreshing waterfall pond. Serving the most delightful customary Cantonese-style Chinese cuisines, you can try Sea Cucumber braised in special Awarta Sauce. The taste is very soft, smooth and light; allow it to melt in your mouth as you savour the flavours.
Ru Yi
A : Awarta Nusa Dua Luxury Villas & Spa, IDTC Complex Lot NW 2&3 Nusa Dua
T : +62 361 773300
W : www.awartaresorts.com
---
HONG XING CLUB & RESTO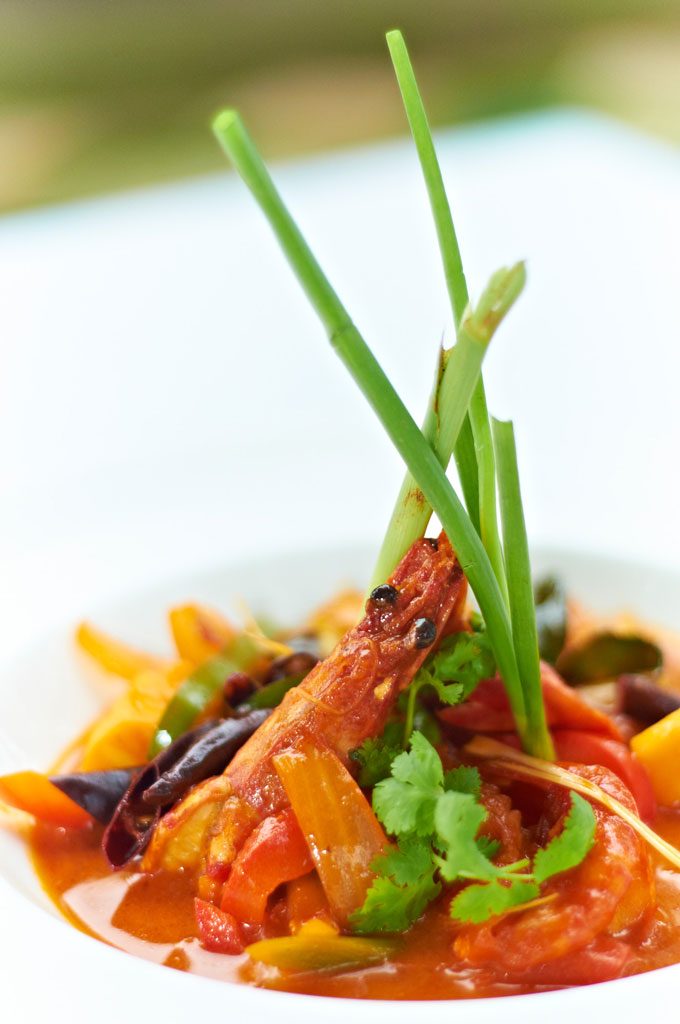 Still within the high-end complex of Nusa Dua at The Bay Bali, Hong Xing Club & Resto features enchanting décor of a Chinese-styled beachfront garden with relaxed seating facing directly to Nusa Dua Beach. The smell of the ocean and the feeling of the sea breeze creates an experience that will linger in your memory, making it the perfect place for enjoying Asian fusion cuisines. In the kitchen, the culinary team is ready to fulfil your appetite. One of the best sellers at this restaurant is the daily Dim Sum that is artfully prepared to satisfy any Asian food fanatic. While you are there, don't forget to try their signature dish, Prawn with Singapore Sauce, to engage your palate.
Hong Xing Club & Resto at The Bay
A : ITDC Area, Lot C-0 Nusa Dua
T : +62 361 8948128
W : http://thebaybali.com/hong-xing-bali/
---
TABLE8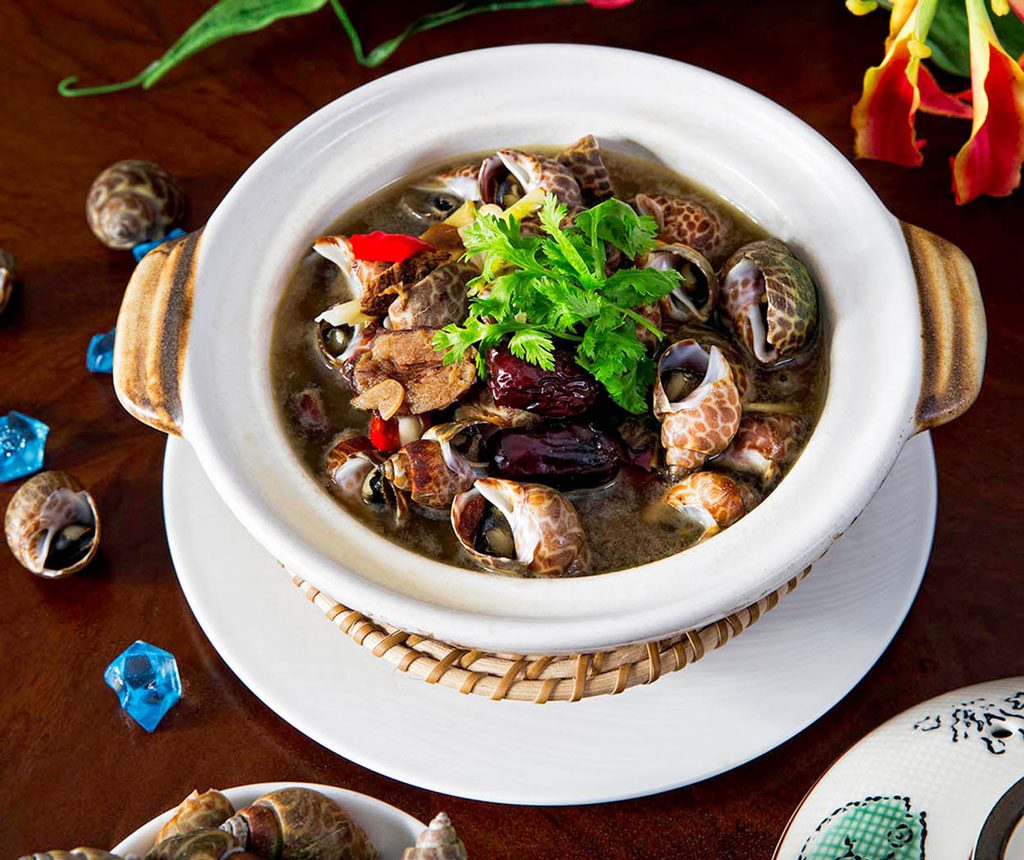 Driving further up, slightly outside ITDC complex in Nusa Dua, Table8 at The Mulia Resort & Villas presents an exciting oriental taste of Cantonese and Szechuan. The Dim Sum at this restaurant is a culinary journey of heart-warming bites that is meticulously prepared. Immaculate from all viewpoints, they are delicate, crunchy, delicious and fragrant. Featuring all time favourites, from steamed crystal shrimp dumplings to golden sauce bun or siu mai, to name but a few of Table8's refined Cantonese flavours. Operating only during lunch hours, you can indulge with the all-you-can-eat Dim Sum and be tantalized as the chefs prepare the dishes fresh. Special only in March, the culinary team at Table8 has fired up their kitchen to prepare delicious flower snail creations. From the simple poached flower snails, to chilled marinated flower snails in Chinese wine are among other recipes on a must-try menu.
Table8
A : The Mulia Resort & Villas, Jalan Raya Nusa Dua Selatan, Sawangan, Nusa Dua
T : +62 361 3017777
W : www.themulia.com
---
WARUNG LAOTA
In Kuta, Warung Laota is one of the local favourites for a midnight late supper. Located only 10 minutes' drive from the airport, this 24-hour eatery seems to never be low on visitors. The décor is inspired by a simple Chinese restaurant with wood tables and chairs next to a live-open kitchen. Warung Laota is specialised for its fresh seafood, however the hot seller would be Rainbow Porridge, which is a mixed of chicken, meat and seafood. Normally, this type of dish is presented for breakfast, but not in the case in this restaurant. One bowl of porridge can be shared for four people. While enjoying the porridge, you better order a famous Chinese snack, or locally known as 'Cakwe'. Their tastes will compliment one another.
Warung Laota
A : Jalan Raya Tuban # 530, Kuta
T : +62 361 8947490
W : www.warunglaota.com
---
PELANGI BALI RESTAURANT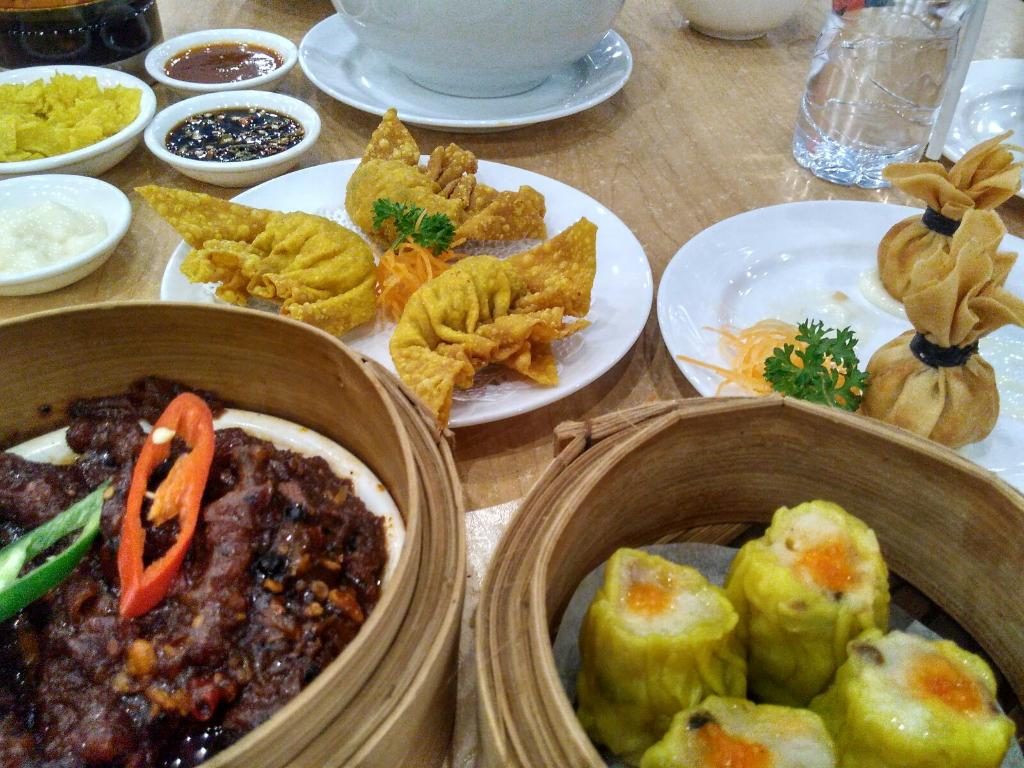 While Warung Laota serves porridge as a main dish at midnight, Pelangi Bali Restaurant has it as a normal breakfast item. Nestled on the main road of Jalan Dewi Sri – Kuta, this place is a pleasant family-style Chinese eatery enlivened by a mix of conventional Chinese traditions and modern influence. Serving the most delightful customary Cantonese-style Chinese cuisines, you will discover a huge selection of Chinese food. Their dim sum comes in a variety types, from dumplings to Chicken Feet, while the list of options on the a la carte menu is endless. Their signature dish is Chicken Golden Sands; soft and juicy chicken roasted covered with a crunchy pan-fried garlic and onion.
Pelangi Bali Restaurant
A : Jalan Dewi Sri # 7X, Kuta
T : +62 361 7453876
---
GOLDEN MONKEY
Heading a little bit north to Ubud, the recently established Golden Monkey Chinese restaurant serves a large selection of classic Cantonese favourites at reasonable prices. Located in downtown Ubud, the team of speciality chefs takes pride in creating some of the island's tastiest Chinese food using only the freshest quality ingredients. The Peking Duck is one of the signature dishes of the restaurant. The ducks are carefully and meticulously arranged to give you an incredibly delightful taste and crunch. The smell teases your taste buds when your fingers touch its firm skin to set up the hotcakes before you close your eyes and nibble into that very fulfilling, tremendously anticipated first chomp. Relish its taste, its succulent delicacy, the flavours and burst of freshness from the fillings.
If you are an avid fan of Chinese food, you will agree that ingesting this type of dish is not only to satisfy hunger, but also to engage the mind and evoke intellect.
Golden Monkey Chinese Restaurant
A : Jalan Dewi Sita, Central Ubud
T : +62 812 3606367
W : www.goldenmonkeyubud.com