This is a classic Italian dish which was born in the south of Italy. Back in the old days, pizza was only a flat, round base of dough baked in wood fired ovens, seasoned with garlic with a topping of tomato sauce and cheese, typically with added meat or vegetables. And that was it. But these days, pizza comes in a variety of styles, flavours and even shapes! Time keeps changing and evolving this simple Italian favourite and the results are exciting creations.
---
PREGO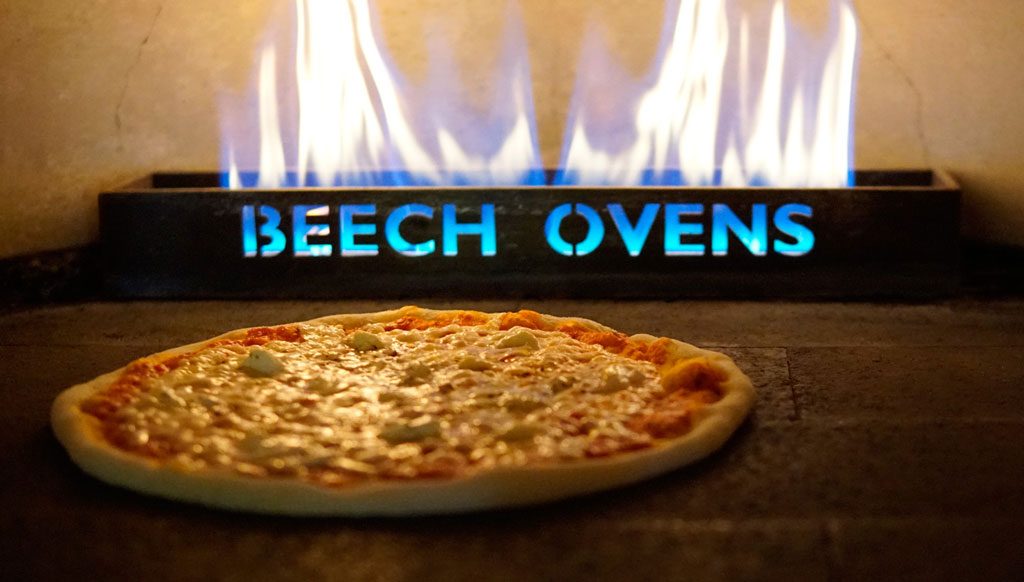 In Nusa Dua, there is nothing better than a plate of 'Pizza Margherita' at Prego. Staying true to the real Italian roots, Prego serves their pizzas with freshly mashed plum tomatoes, seasoned with salt, garlic, olive oil and fresh basil, with toppings of fresh mozzarella cheese and a sprinkle of oregano. Meaning 'you are welcome' in Italian, Prego's friendly, open space makes it great for family affairs. That's just what Italian food is all about anyway, family! Other than wood fire oven cooked pizzas, this restaurant has an excellent variety of food on offer with cold cuts, pasta, risotto, meat, seafood, cheese, and lip smacking deserts.
Prego
A : The Westin, ITDC Nusa Dua Lot N-3, South Kuta
T : +62 361 771906
W : www.westinnusaduabali.com
---
SALSA VERDE
Still in the ITDC complex of Nusa Dua, Salsa Verde at Grand Hyatt Bali adds some Bali blessings to their Italian bites. Whilst Prego tries to keep things authentic, Salsa Verde mixes things up with some local fare, offering a special 'Indonesian Pizza'. Freshly prepared in an open kitchen using homemade dough and baked in wood fire oven, this pizza is made with minced beef rendang (a special Indonesian meat dish), shallots, and chili. The pizza is a respectful nod to Indonesia's rich and fragrant cuisine.
Salsa Verde
A : Bali Grand Hyatt, ITDC Nusa Dua,South Kuta
T : +62 361 77 1234
W : www.bali.grand.hyatt.com
---
THE BEST BREW
In the bustling streets of Kuta, The Best Brew offers up a Wood Fired Pizza Making Class program. For those who love pizza so much that they want to cook it themselves, this class takes you through a step-by-step guide on pizza creation. From tossing a hunk of dough, plotting the topping, putting it to the wood fired oven to revealing unique ingredients, you will learn to master the art of baking wood fired pizzas in one day! Besides wood-fired pizzas, this restaurant at Four Points also dishes out delicious grilled bites, from big stick kebabs, sausages, and other grab-and-go options – a great accompaniment to your self-made pizza.
The Best Brew
A : Four Points by Sheraton Kuta, Jalan Benesari, Banjar Pengabetan, Kuta, Kabupaten Badung, Bali
T : +62 361 8496606
W : www.starwoodhotels.com
---
WARUNG ITALIA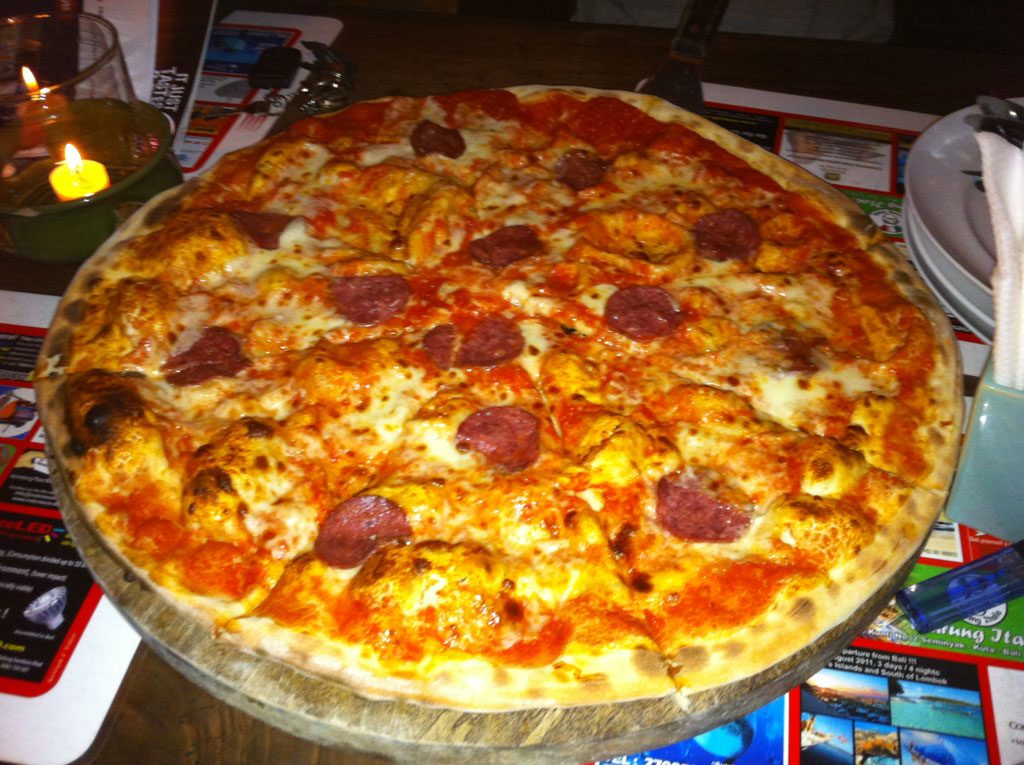 Seminyak caters to top Italian restaurants in Bali serving more than just your standard pizza. However, Warung Italia has gradually gained popularity with its simple yet humongous Italian menu. But not only is the menu humungous but so is the pizza! Ask for any of their pizzas to be made 'family style' and you'll be served a pizza over 45cm in diameter. Whilst their offer some fun toppings (including Balinese suckling pig!) Warung Italia stays true to crux of any pizza, the dough. This humble restaurant on Jalan Kunti, Seminyak, also serves a range of other Italian fare, from fresh well-seasoned calamari, authentic arancini and salty slices of prosciutto on melon, all-encompassing the star of the dish.
Warung Italia
A : Jalan Kunti I No. 2, Kuta, Seminyak, Kuta, Kabupaten Badung, Bali
T : +62 361 737437
---
DA MARIA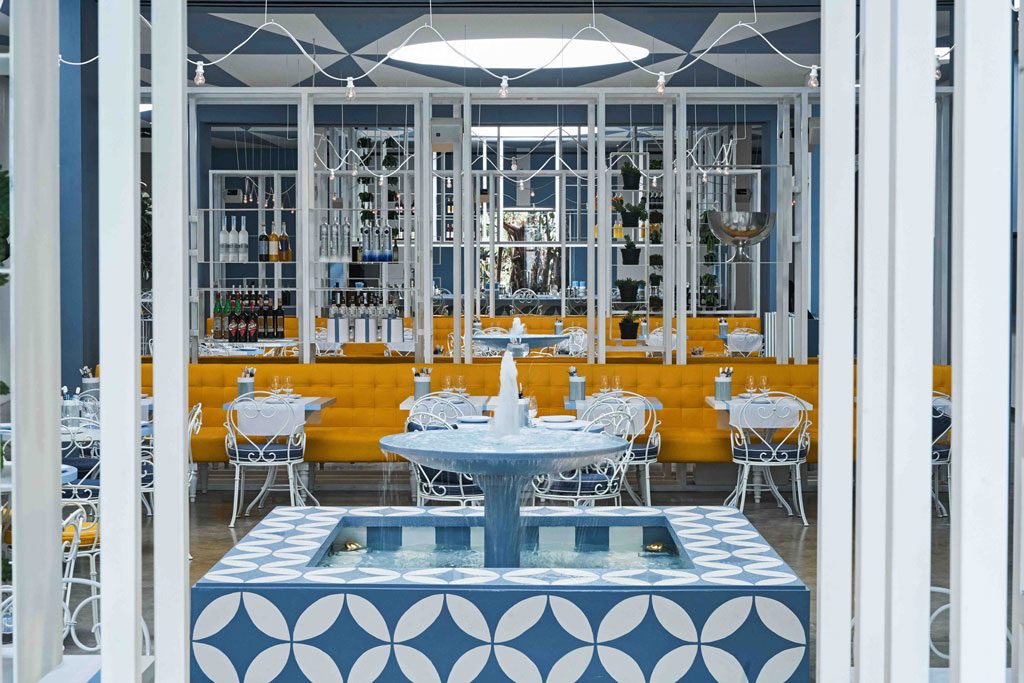 Da Maria is Seminyak's newest little play area is alive with energy most nights of the week, rivalling any boisterous restaurant in Italy! The interiors take a modern Roman style, with chandeliers festooning the ceiling, vines and tropical shrubbery sprouting around the walls and a Neapolitan fountain taking centre stage. Pizza is undoubtedly the signature style of this restaurant. With dough fermented for 24 hours and inspired by special Neapolitan artisan techniques, the pizzas are cooked in local, Naples inspired lava stone ovens. The Antica Margherita pizza is popular here owing both to its history and explicit taste. Named after Queen Margherita, this pizza is carefully prepared using ingredients to match the three colours of the Italian national flag – green, white and red. It is topped with basil, mozzarella and tomato. The specialty here is the impressive Italian seasoning sprinkled on top. Da Maria also keeps its doors open past midnight for late night diners and drinkers!
Da Maria
A : Jalan Petitenget No.170, Kerobokan Kelod, Kuta Utara, Kabupaten Badung, Bali
T : +62 361 9348523
W : www.damariabali.com
---
HANK'S PIZZA & LIQUOR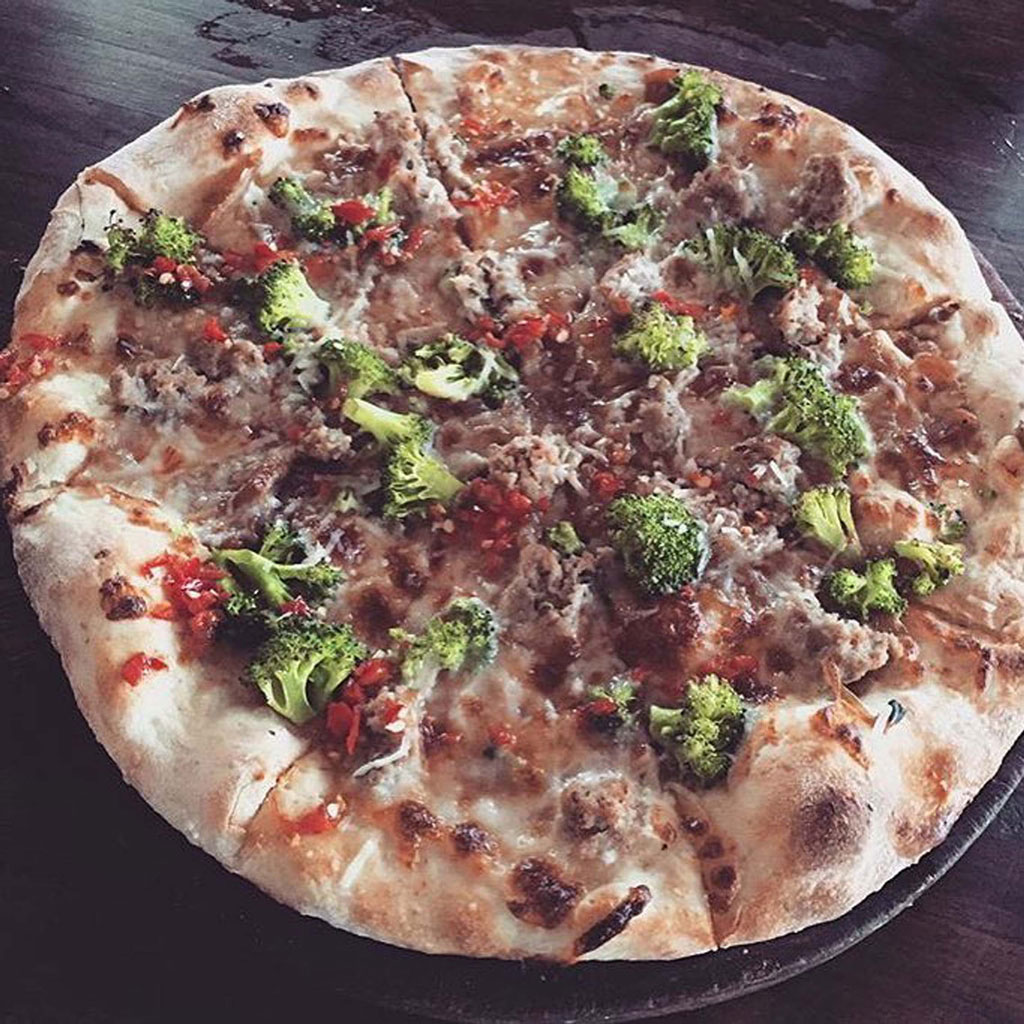 Other Italian restaurants may focus on food, but Hank's Pizza & Liquor is all about that perfect combination. As the name suggests, Hank's tosses pizzas and cocktails into one oven! Actually, one more ingredient comes into the recipe and that's Rock & Roll. In this diner-styled restaurant perched on Petitenget, the music plays loud whilst you gaze down on a menu of rockstar-named pizzas that give new life to legends: The Dylan, a combination of pork & fennel meatball with roasted chilli oil, lemon, caramelized onion parmesan and broccoli, doesn't that sound as soulful as Bob himself? There's plenty of rock legends to choose from, Hendrix and Jagger make it on the menu of course. For music lovers, Wednesday's belongs to Classical Hip hop, Thursday's offers entertaining Jukebox, and Friday's presents live DJ set.
Hank's Pizza & Liquor
A : Maiden Love 2nd floor, Jalan Kayu Aya 27X, Oberoi, North Kuta, Seminyak
T : +62 361 4741096
---
GINGER MOON
Ginger Moon is a warm and welcoming restaurant on the bustling street of Seminyak. It may not be an Italian restaurant, but they do have pizzas with their very own twist. With a thin, crispy crust – and in a rectangle! – Ginger Moon focuses on their Asian-fusion cuisine as the toppings of their pizzas. A favourite is the Lamb Pizza, which consists of slow cooked lamb shoulder, black beans, sweet & sour onions, goat cheese with a sip of a refreshing fruit daiquiri. Their Babi Guling (suckling pig) pizza is also a They also offer Gluten free pizzas for any celiac who also wishes to indulge. The concept here is small portions with immense flavour and lots of variety to enjoy.
Ginger Moon
A : Jalan Kayu Aya 7, Seminyak, Kerobokan Kelod, North Kuta
T : +62 361 734533
W : www.gingermoonbali.com