Treat yourself with some simple pleasures and self-indulgence during your stay at Hideaway Residence Bali. Enjoy the luxury of having your breakfast delivered to your doorstep and leisure in the floating breakfast experience.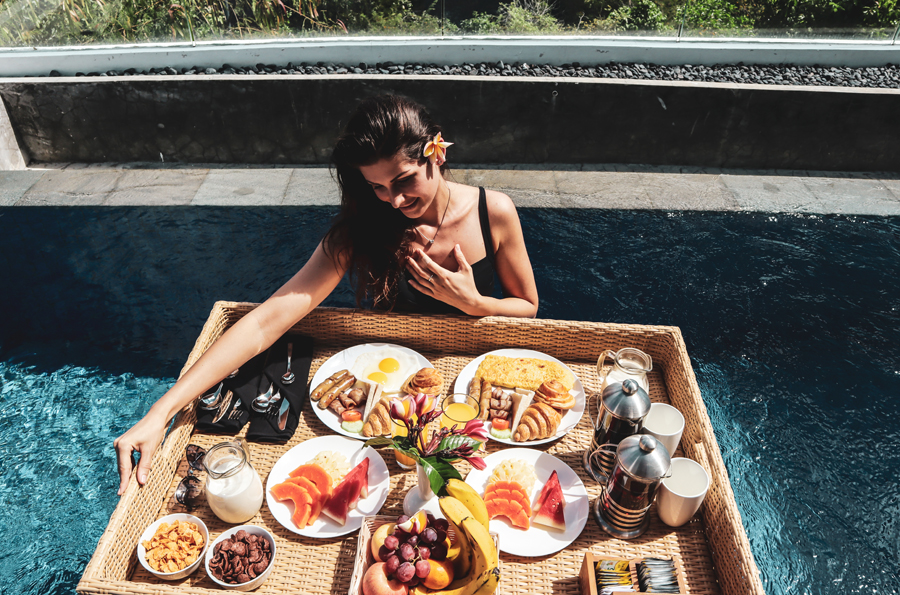 A home away from home
Nestled between the stunning iconic beaches of Ungasan and Uluwatu, Hideaway Residence Bali is a secluded tropical haven right in the heart of South Bali that offers elegantly designed villas, excellent facilities and superb services — a home away from home.
Resting over 1 hectare of land, Hideaway Residence Bali boasts 27 modern minimalistic villas comprised of 2-bedroom and 3-bedroom pool villas. Each unit is complete with an open space kitchen area, a spacious living area, a private plunge pool and sundeck, en-suite bathrooms, and a comfy bedroom that all makes up for the perfect getaway retreat for solo travellers, honeymooners and families looking to escape the hustle and bustle of city life.
Indulge in the floating breakfast experience
The floating breakfast experience is a concept that has quickly become a popular service in hospitality brands around Bali. Hideaway Residence is the latest brand to keep up with the trend and jump on the floating breakfast bandwagon by providing their very own floating breakfast experience. Wake up to a peaceful morning feeling refreshed as the tropical breeze drifts through the wind and enjoy the comfort of having your breakfast delivered to you.
Start the day by plunging into the pool and indulging in a relaxing morning where you can delight in the floating breakfast overlooking the breathtaking scenery. The floating breakfast offer choices of contemporary Asian or Western menu that is served on a large floating tray in your private plunge pool. Maintain a healthy lifestyle during your vacation with the dishes served such as fresh fruit, bread, eggs, cereals, coffee and tea assortments.
Plan the perfect getaway and create unforgettable memories during your stay at Hideaway Residence Bali. Take advantage of the floating breakfast experience and come back from your vacation feeling refreshed and rejuvenated.
For more information please visit www.hideawayresidencebali.com. For reservations please call +62 361 446 3588 or email info@hideawayresidencebali.com
Hideaway Residence Bali
Jalan Mengelak No. 168 Ungasan, Uluwatu
+62 361 446 3588
info@hideawayresidencebali.com
www.hideawayresidencebali.com