Bali is synonymous with healthy living – with surfing, yoga, healthy eating coming together to create a lifestyle centre of wellness. Of course, everyone has their own type of exercise they enjoy and many like to keep it simple with a session at the gym! There are many amazing gyms in Bali and here we share the best of them:
---
Finns Recreation Club (Canggu)
Located in Canggu, Finns Recreation Club is largely considered one of the best gyms in Bali , not only does it provide state-of-the-art gym facilities it has a free weights area, cardio machine, resistance equipment, shower facilities, steam room and sauna.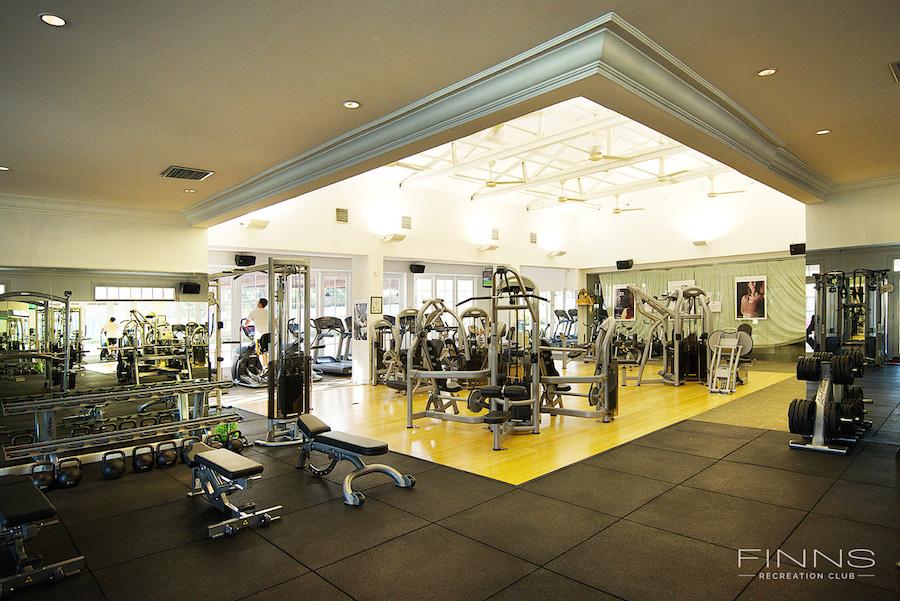 On top of their equipment they have a large variety of group fitness classes, which include Body Pump, Yoga, TRX and Cycling, just to name a few. Multiple sessions are available for you to choose throughout the day from Monday to Saturday. The club is proving that they are the best in the fitness industry by hiring international fitness coaches.
Outside of the gym area itself, there is a 25m lap pool, tennis courts, basketball courts, football field, healthy restaurant (Bistro C) with protein shakes, smoothies, wheatgrass shots and more of your healthy needs. If you're more of a team player, Finns Recreation Club also hosts local sports communities for football (soccer), rugby, Aussie rules and even ultimate frisbee on their big outdoor grass field. Many children's programs are also on offer throughout the year, including the Junior Sports Academy, swimming classes and a popular summer holiday program.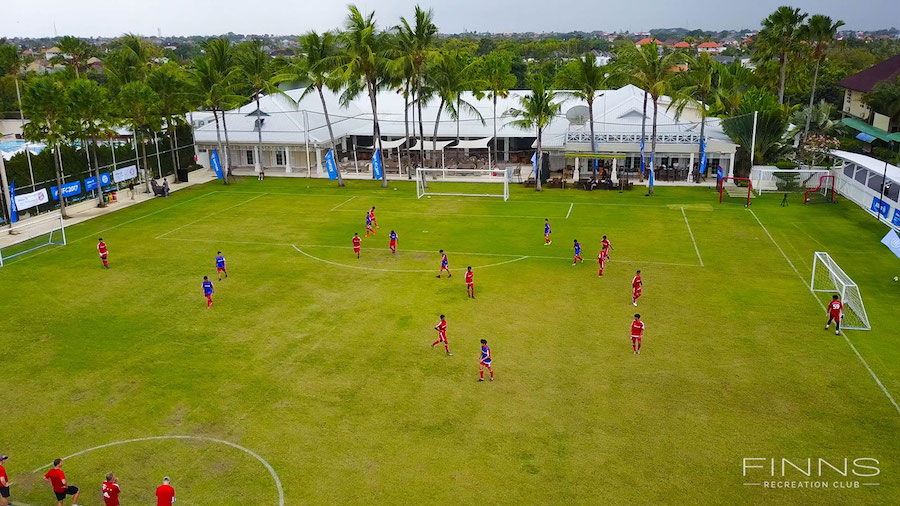 Find out more about Finns Recreation Clubs other exciting experiences.
Address : Jalan Raya Pantai Berawa, Canggu
Telephone : +62 361 8483939
Website : www.finnsrecclub.com
---
SOHAM Wellness Center (Seminyak)
Providing a nurturing space to rediscover wellness and purpose through dedicated physical and spiritual practices, this wellness centre in the heart of Seminyak is a one stop shop to balance body, mind and soul.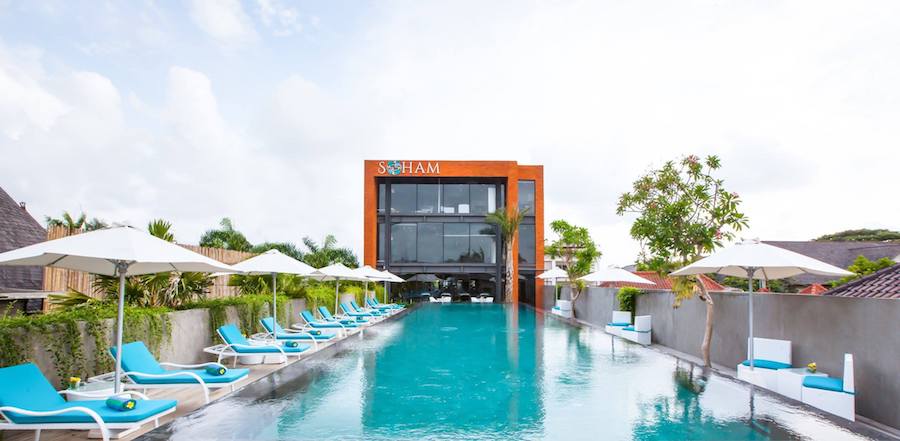 Carrying a unique concept, SOHAM Wellness Center offers modern and hi-tech fitness facilities with highly qualified team members and certified personal trainers standing by to help you get the best out of your time. Whether you just want to know how to use the machines or are looking for some specific programmes, their staff are more than capable of providing you the guidance needed.
Put aside your age or physical condition, they have all the programmes that you need to reach your goals and get the expected results. More than 30 classes are available per week from Monday to Saturday, specifically for fit class, cardio, strength, functional training and balance.
Most morning classes start at around 8 AM and afternoon sessions at 5 PM. All classes are overseen and guided by professional and certified trainers to ensure the safety and privacy of all members and guests. Either you are a member or a one-time visitor, you can enjoy an outdoor Olympic-size swimming pool, steam and sauna room, indoor hot and cold pool, or a relaxation lounge to relax after workout. The location of Soham Wellness Center has made it one of the favourite gyms in Bali.
Address : Jalan Lebak Sari #7, Petitenget, Seminyak
Telephone : +62 361 4741616
Website : www.sohamwellnesscenter.com
---
Rai Fitness Sunset Bali (Sunset Road, Legian)
Founded by celebrated Indonesian body builder, Ade Rai, Rai Fitness strives to be the choice for anyone who wants to improve their health, physical performance and fitness knowledge. Carrying a vision to be a pioneer of a healthy lifestyle, they offer a varied programme with trained and experienced trainers.
At this Bali gym you can expect to exercise with all heavy-lift equipment, including cardio machines, free weights and weight machines. However, this gym is not all about muscle. You can always participate at their daily classes, such as Yoga, Zumba, TRX, Body Pump, Body Combat, RPM and many more. Other in-house facilities include swimming pool, sauna room, 3 on 3 basketball court and futsal field. Rai Fitness also regularly operates free workshops or talk shows with Ade Rai and other health experts.
Address : Jalan Pura Mertasari, Pemecutan Kelod, Denpasar
Telephone : +62 361 8947333
https://raifitness-sunsetbali.business.site

---
Motion Fitness (Seminyak)
Offering numerous sweaty but healthy activities, this spot in Petitenget is a fitness solution for those who are keen to take themselves to a higher level of health and wellbeing.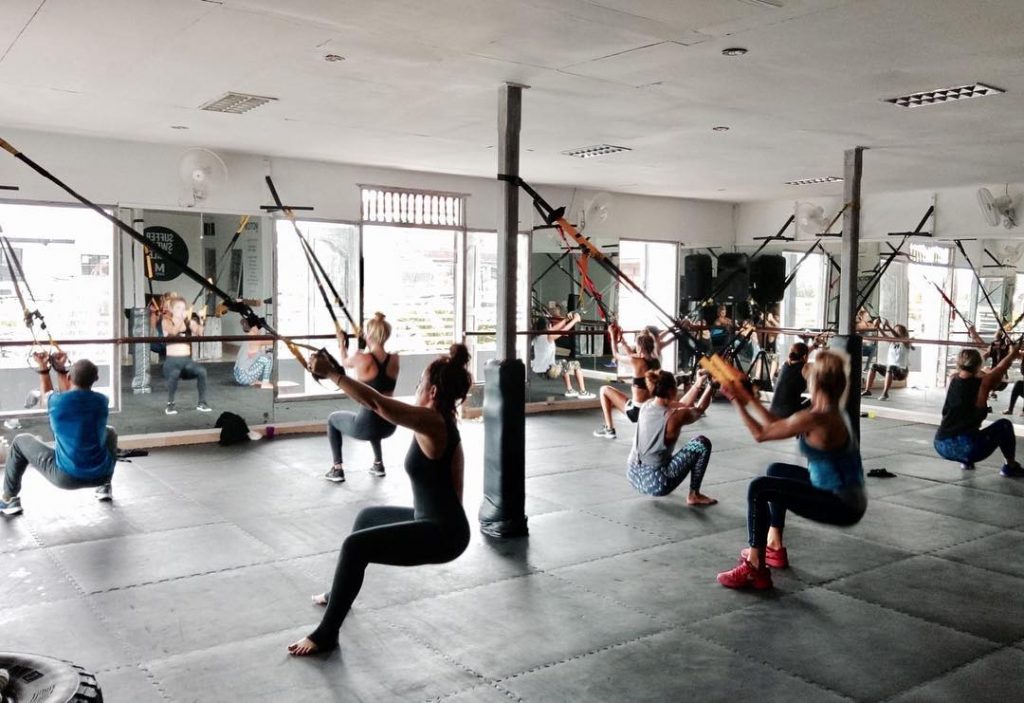 Motion Fitness is one of the most holistic gyms in Bali, offering new perspectives outside of the usual "workout". Their group classes are made for everybody at any fitness level. Worry not if you are a newbie as the instructors will help you find the right classes to reach your fitness goals. Motion Fitness provides 1 on 1 personal training or group training for up to 5 people, and you can choose whether you want to train at the studio or in the comfort of your home. The training includes weight loss, strength and endurance training, body building, bootcamp, fat burner, TRX, aqua aerobic, yoga and many more.
Address ; Jalan Petitenget 8L, Kerobokan
Telephone : +62 812 46279322
Website : www.fitness.motionfitnessbali.com
---
Celebrity Fitness (Denpasar)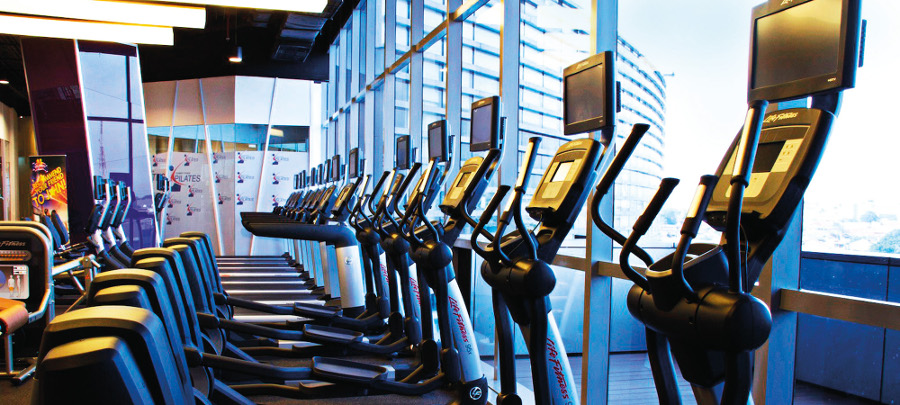 As a leading fitness chain with the most International Presenters across a plethora of fitness programmes and international certifications, Celebrity Fitness allows you to burn your energy in a fun environment and fully equipped facility.
This is a very popular gym in Bali. Lead by officially certified instructors to guarantee results from your training, their group classes cater to different preferences, fitness disciplines and proficiencies to suit everyone. For those who want to slim down or to shape up their bodies, this fitness centre offers specific programme which has proven to deliver results to hundreds of their members.
Level 21 Mall
Address : Jalan Teuku Umar #1, Denpasar
Telephone : +62 361 3003131
Website : www.celebrityfitness.com
---
Great Hotel Gyms in Bali
FIT (W Bali Seminyak)
Open 24/7, this state-of-the-art workout facility of W Bali Hotel comes equipped with elliptical cross trainers, free weights and high-tech machines, all guaranteed to sweat you out!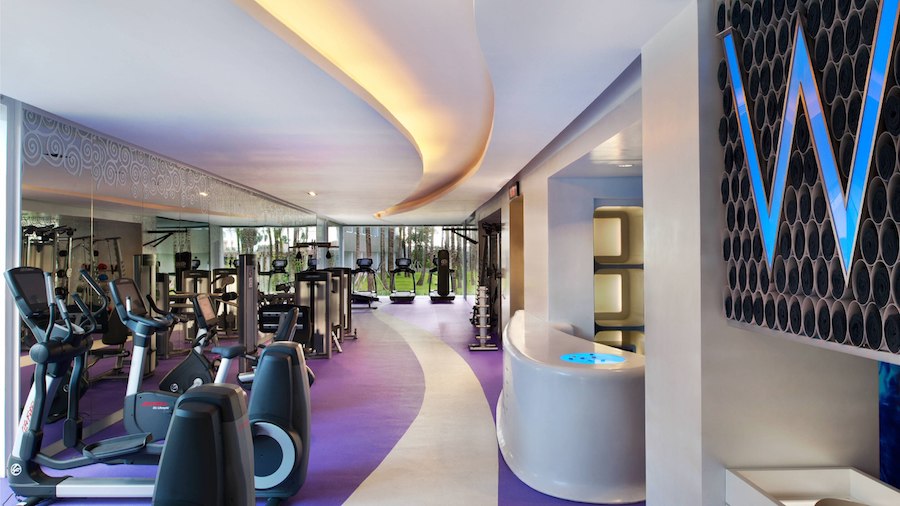 At FIT, you are encouraged to build your fitness level with different types of exercises. All the classes are great full body workouts that will burn the calories in the most effective way. FLOW at Studio Villa is one of their programmes which combines Yoga, Tai Chi and Pilates. With a combination of upbeat and relaxing music, this low impact full body workout will help you to stretch the muscles before facing a new day, practice your balance, control your breathing and at the same time strengthen your core. This programme is only available every Sunday starting at 9 AM.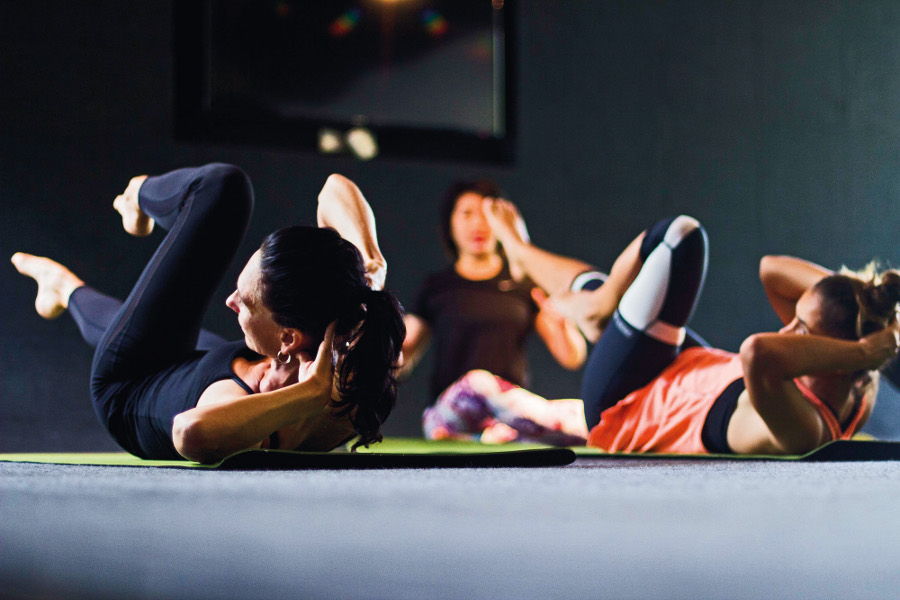 Address : Jalan Petitenget, Seminyak, Kerobokan
Telephone : +62 361 3000106
Website : www.wretreatbali.com
---
SO Fit at Sofitel Bali Nusa Dua Beach Resort
Within the gorgeous compounds of the five-star Sofitel Bali Nusa Dua Beach Resort you'll find a top of the line gym and fitness centre. Whilst not the most complete of the gyms in Bali , a membership at Sofitel offers services including: Gym Facilities, Lockers, Shower, Sauna, Free Fitness Classes, Discount on FnB and Spa as well as Pool and Beach Access.
Essentially you are signing up to a whole leisure club, allowing you to enjoy facilities far beyond just the gym. What could be better than enjoying a coconut or fresh lunch by the pool after a hard session in the gym? Or freshening up in their showers after a run down the white sand Nusa Dua Beach?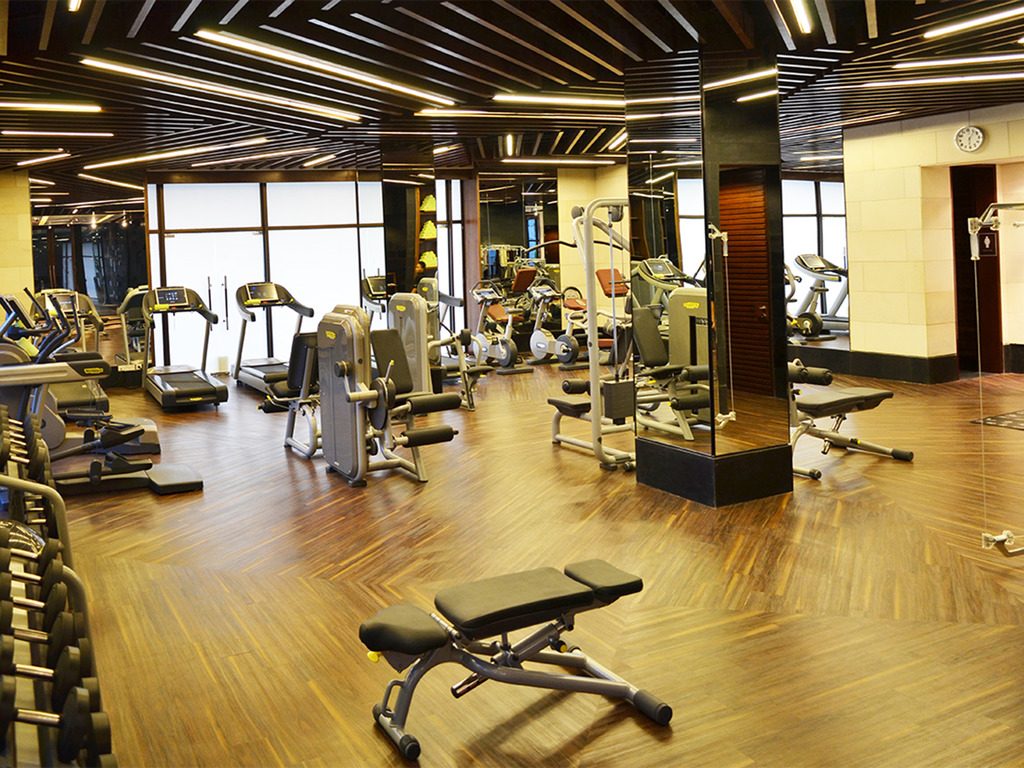 Other than that you'll find that the resort is also home to tennis courts and other sports facilities.
Kawasan Pariwisata ITDC LOT 5, Nusa Dua, Bali
+62 361 849 2888|h9078@sofitel.com (memberships)
www.sofitel.com
---
Nusa Dua Beach Hotel & Spa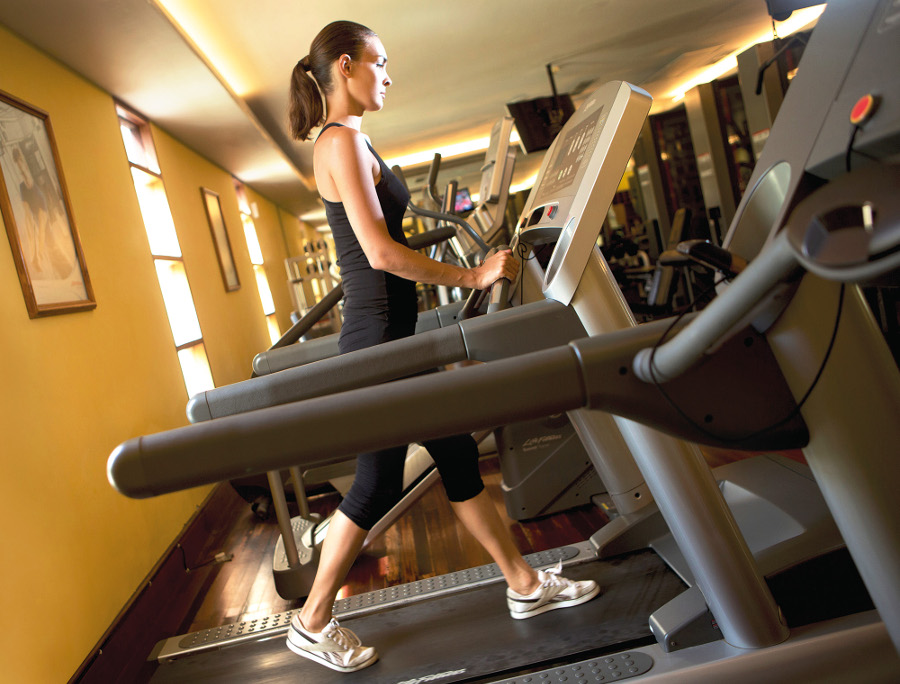 Located in ITDC Nusa Dua, the fitness centre at Nusa Dua Beach Hotel & Spa is a world-class gym with more than enough equipment you can work on. You can expect to treat your body with Treadmills, Exercise Bikes, Cross Trainers, Leg Curls, Leg Extensions, Leg Press, Chest Press, Smith Machine, Shoulder Press, Dumbbell Set and many more. After your work out, you can unwind with a dip in 25-meter private lap pool, soak in the whirlpool and cold plunge, or relax in the sauna and steam room. Still inside the sport complex, private floodlight tennis and squash courts are provided as well as a basketball ring and an aerobics studio. Above the fitness centre is the Players Games Room featuring table tennis, billiards and darts board as well as playstations and air hockey, such a perfect spot for sporting challenges with friends or team meetings.
Address : ITDC Lot North 4, Nusa Dua
Telephone : +62 361 771210
Website : www.nusaduahotel.com
---
Discovery Kartika Plaza Hotel (Kuta)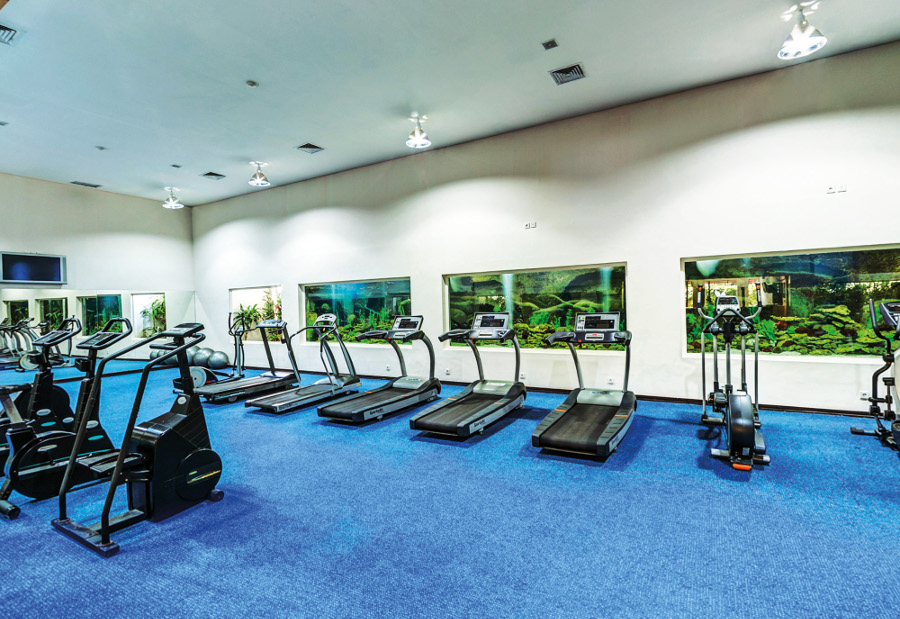 The gym at Discovery Kartika Plaza Hotel is equipped with cutting edge state of the art equipment, including a range of modern equipment for cardiovascular and resistance training, prefect for those who want to really sweat it out. At any specific day, you will find professional instructors to assist you in your exercise regimes and suggest you the best body building, weight loss and general fitness techniques. A highly qualified dietician / fitness consultant is also available to provide a personalised diet chart according to your own specific body needs. If your body needs more competitive battles, by all means have a go at their indoor squash, table tennis courts, or the outdoor tennis courts. For IDR 1,500,000 per month, you will have total access to the tennis court, squash court, gym, sauna and pool.
Address : Jalan Kartika Plaza, South Kuta
Telephone : +62 361 751067
Website : www.discoverykartikaplaza.com