A love for jewellery has kindled the interest of many into the fashion and crafts sector, with many people these days enrolling into jewellery making classes. There are numerous workshops offering different packages. However, before deciding anything, always ensure that you go the extra miles to make certain whether their promotions correspond to what they offer. Consider taking a class in fun surroundings with light-hearted and open-minded professionals.
Studio Perak
Located in a calm atmosphere, full of creativity, the Studio Perak silversmithing class, run by Pak Ketut, the owner and the silversmith expert, specialises in Balinese silversmithing. His knowledge of silver making and designs are inspired by nature and simplicity, as well as the natural shape and properties of semi-precious stones.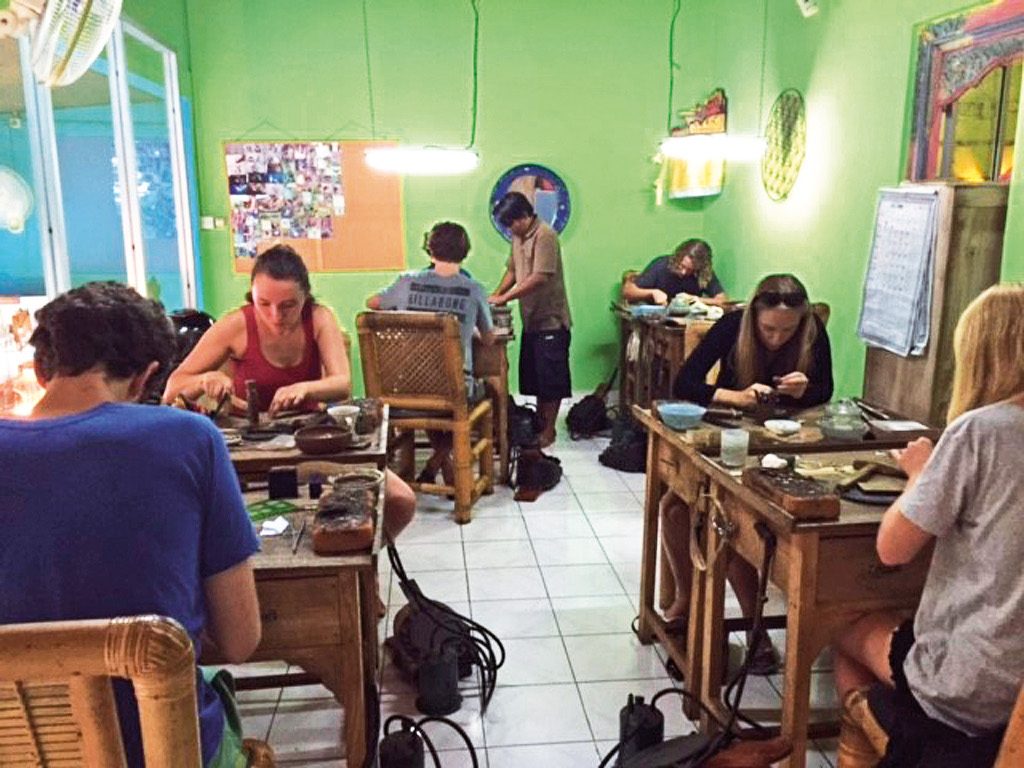 The classes are held in an air-conditioned studio, and cost IDR 400,000 per person which includes 5 grams of silver. The weight of the piece will depend on how big and how thick you choose the material to be. The half-day course fuels your knowledge about the basic skills of silversmithing. Available to book from Monday to Saturday starting 9AM to 12PM and 2PM to 5PM, you can make a silver ring, pendant, bangle or an earring of your own design. Children above 8 years old can also participate, but make sure they have a basic understanding of English.
Studio Perak
A : Jalan Hanoman, Ubud, Gianyar (view on maps)
T : +62 878 61724905 / +62 361 974244
W : www.studioperak.com
---
Chez Monique Jewellery
Taking place in a family compound, Chez Monique Jewellery invites you to explore your creativity to create a beautiful custom-made piece of silver jewellery. With a combined experience of over 5 decades, their certificated master silversmiths will guide you step-by-step through the entire process.
Available for all ages, every class will have at least two expert silversmiths to maximise the attention to each student. Featuring original designs, the classes take up to 3 hours with starting times at 9.30AM, 11Am and 1.30PM. One session will cost IDR 450,000 per one item, weighing no more than 10 grams of silver. Please be advised for larger designs, additional silver or stones may be required, and therefore an extra cost will be charged. Very complex designs may also incur an extra cost.
Chez Monique Jewellery
A : Jalan Sriwedari 57, Ubud, Gianyar (view on maps)
T : +62 813 38454677
W : www.chezmoniquejewelry.com
---
Wahana Silver Art Studio
In this class, you will learn to create your own heirloom piece of silver Jewellery from one of Bali's most creative and innovative jewellery designers and entrepreneurs, Ibu Ayu. Starting from creating the design through to each step of the production process, you will be skilfully guided until you understand how to work a piece of silver into wearable art.
By all means you can share your ideas and she will help you to craft that idea into a wearable piece of silver jewellery. In a few short hours, you will be introduced to this special realm of art-making. Wahana Silver Art Studio strives to make everyone's craft class experience not just challenging, but also a fun way to spend your leisure time in Ubud.
Wahana Silver Art Studio
A : Jalan Raya Silungan, Lod Tunduh, Ubud, Gianyar (view on maps)
T : +62 361 9245833 / +62 821 46895330
W : www.craftworkshopbali.com