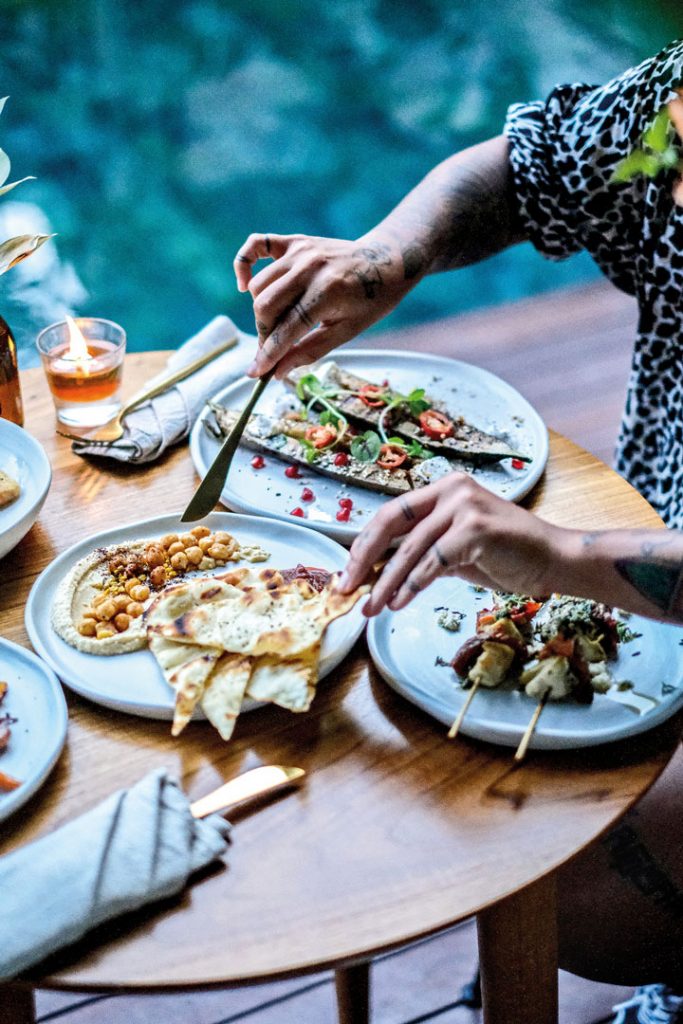 Transforming a gorgeous villa on Batu Bolong Street No.91, from which the venue gets its name, Ninety One recently opened its doors in Canggu serving a vibrant menu of Middle-Eastern inspired cuisine.
Comprising an intimate indoor dining area and cosy outdoors complemented by an enticing swimming pool, Ninety One evokes that feeling of the family living room where friends come together, relax and enjoy each others company – with great food and drinks, of course. The menu complements the homey space of Ninety One, as Middle-Eastern food encourages diners to share and feast, family-style. Delight in a variety of Eastern flavours, rich in spices and Mediterranean flair: lighter lunches include grilled artichoke with peppers, feta cheese and chimichurri sauce; sumac hummus with grilled flatbread, grilled lamb kofta with pomegranate salad. Dinner at Ninety One sees heartier dishes, with the highlighted favourites including the pan-fried barramundi with smoked baba ganoush and olive tapenade; and the wonderful lamb tandir and pistachio with green chermoula and sumac yoghurt.
The restaurant is not only proud of their culinary offerings as their bar has a cocktail menu to boast about too. Drawing inspiration from the spices, teas and exotic fruits, Mixologist Anya Montague has created a list of craft-conscious cocktails that complement the cuisine. Ninety One is a welcome addition to Canggu, with its stylish ambience and homey food promising patrons an enjoyable dining experience, especially in the evenings.
Ninety One
Jl. Batu Bolong No. 91, Canggu Bali 80361, Indonesia
+62 822 9888 9191
ninetyonebali.com