They say, "Dancing with the feet is one thing and dancing with the heart is another." Dance is known to be the most beautiful form of expressing yourself. It is a highly liberating activity and infuses a lot of fun element to an otherwise boring workout schedule. True dancing is not about how well you perform, but more about how much you enjoy and feel good about it.
Bali offers a lot of dance classes and workshops which not only teaches how to dance properly but also brings students a lot closer to the culture of where the dance is originally from. These dance classes will be an eye opening experience for a newbie, and the dance instructors are extremely patient. They will make sure you have a wonderful time and good insight on the cultural aspects of the dance styles. In case you are a fast learner, they might even let you join their group to perform in front of a real audience on a real stage. Nerves aside, it could be a once-in-a-lifetime unforgettable experience.
---
TANGO
Tango is a vibrant and playful dance from Argentina. It has very rich potential for expression, improvisation and connection. It can either be danced in a modern or traditional style. In tango, there is a 'leader' and 'follower'. Like the symbols of yin and yang, the roles of leader and follower, each individual represents both sides. Tango is a collaborative process, which encourages the development of sensitivity, clarity, trust and respect. Since this dance form is quite intimate and passionate, it is best to get your beloved on the dance floor to enjoy a romantic time.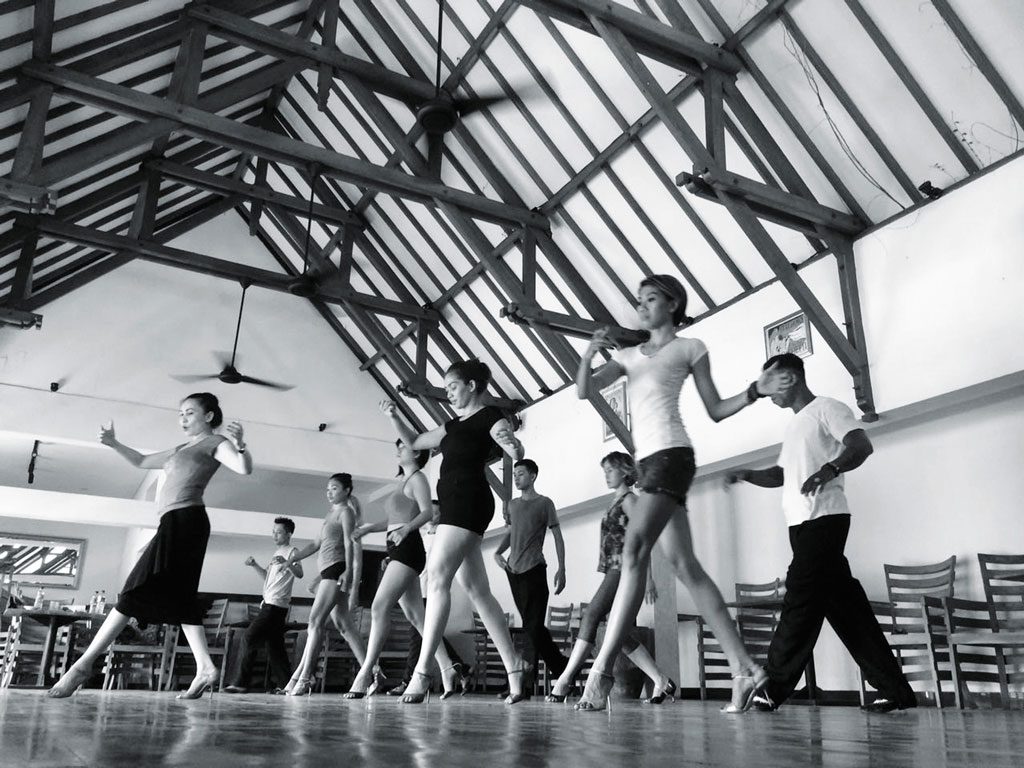 It is recommended to wear lose and comfortable clothes as the postures involve a lot of stretching and turning. Men should make sure that their pants do not have a turned up cuff. It is very easy for a stiletto heel to get caught here, and this is one of the few things that can bring both partners crashing to the floor. For the ladies, it is best to wear heels as it lends to the good posture and flexibility of their foot movements. Tight skirt at the thigh or knees should be avoided as this will prevent movement of your legs. Since Tango is a great dance form to express yourself on the dance floor, it is recommended that the dresses that you wear make you feel confident and sensual at the same time. The clothing basically needs to elevate your mood while dancing.
If you are into this type of dance, Tango classes are available every Saturday at Trattoria Legian and every Sunday at Zia Hotel Petitenget between 2PM – 5PM. There will be no specific fee to join these classes, but a small donation would be highly appreciated.
Tango in Bali – Trattoria Legian
A : Jalan Legian, Kuta, +62 361 7511236
Tango in Bali – Zia Hotel Petitenget
A : Jalan Petitenget #8, Kerobokan Kelod, North Kuta, Badung
T : +62 361 9346333
---
BALINESE
Balinese dance is beautiful and unique, and is closely connected to religious rituals. Dancers use all parts of their body, including their faces and eyes. Hand gestures are very important. The "Legong Dance" is one of Bali's most refined and feminine forms, typically performed by young girls who use intricately choreographed movements, manipulating their bodies, fingers, and faces to accompany music. This dance form traces its origins to the 19th Century. History says that when Prince Sukawati was ill; he had a vivid dream that portrayed two maidens performing this type of Balinese dance to gamelan music. After he recovered, this form of dance became a part of Balinese culture.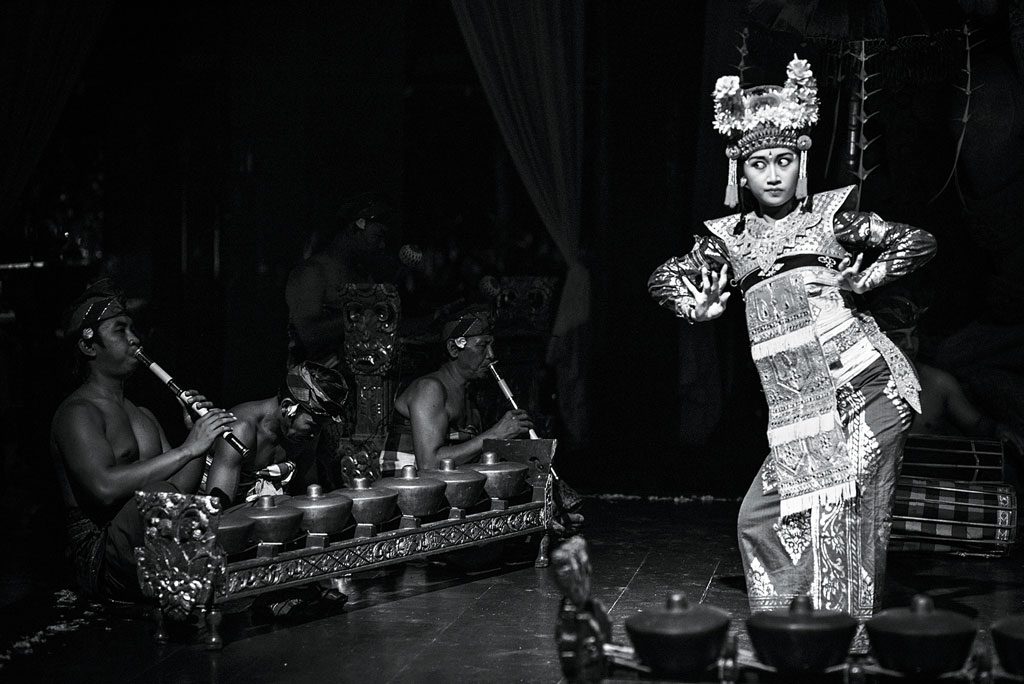 Girls from the age of five aspire to perform Legong dance, and girls at the age of fourteen usually retirement from this dance form. The dance performance is usually up to two hours with dancers dressed in silk cloth, blanketed with gold brocade, Jepun flowers, and ornamental gold leaf dripping. Makeup for these dancers display black painted eyebrows, thickly powdered faces with a white dot.
Balinese dance classes can be seen all over Bali, and they are conducted regularly. You do not have to carry a lot of things to these classes as you will be provided with the sash and sarong. However, for the entire Balinese costume, you need to pay a little more. So, dress up, dance and get explore a new way to move your body. The effort is worth it.
In Hotel Tugu Bali, the Balinese dance class is also available for children. The class is held every Sunday at 3PM. The skilled students will have the chance to perform what they learn in the class on Bale Agung Garuda stage at Hotel Tugu Bali.
Hotel Tugu Bali
A : Jl. Pantai Batu Bolong,, Pantai Canggu, Canggu, Kuta Utara, Kabupaten Badung, Bali 80361
T : +62 361 4731701
W : www.tuguhotels.com
---
SALSA
Bali also conducts dance classes for Salsa, owing to its world wide popularity. This Latin dance is a lively, sensual dance with basic steps that make it easy for beginners to pick up. The basic Salsa dance rhythm consists of taking three steps for every four beats of music. The odd number of steps creates the intrinsic rhythm to the Salsa dance and ensures that it takes eight bars of music to loop back to a new sequence of steps. You just need to be comfortable with your dance partner and follow the four basic steps of Salsa, which is closed dance position, good posture, hip movement and a fast tempo Salsa song.
The instructors will happily guide you through these basics and you will have the best time with your dance partner. They will also explain the meanings behind the individual postures and gestures that comprise the basics of Salsa. It is a wonderful way to expand your knowledge while enjoying a bit of exercise.
In Salsa, the dress requires the dancer to be bright or graphic but still comfy as things get heated during the dance. Men usually wear button down shirts with Jeans or Slacks, and women go for club top or cami with skinny jeans. Sleeveless tops and strappy dresses work the best for women on the dance floor. Most important to Salsa dancing are good dance shoes. The suede-bottomed shoes designed for salsa may not be fashionable but are recommended while dancing, as they give you the freedom to move around and prevent a slowdown of your movements while dancing.
There are so many Salsa classes in Bali. Private classes are the fastest way to learn, while in a group classes you can share the lesson with people with the same passion or curiosity. A lesson will cost around IDR 200,000 to 300,000 per hour. Alternatively, you can go for a free classes every week when a Salsa party is taking place.
Salsa in Bali
A : Jl. Raya Ir. Sutami, Kemenuh, Sukawati, Kabupaten Gianyar, Bali 80582
W : www.salsainbali.com