Are you a foodie? Well listen in, because The Ultimate Foodies Getaway (#UFGBali2016) competition could have you and your best friend on an epic 4-day culinary journey in Bali. The competition and experience was created to expose some of the best food the island has to offer and you will have to do is take one picture to be in for a chance to win!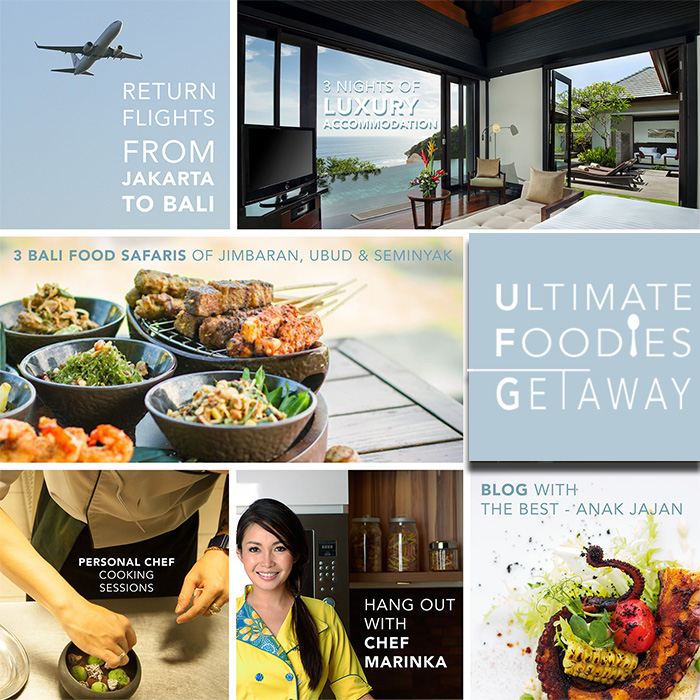 On this getaway you are set to uncover and enjoy 3 amazing food tours hosted by Bali Food Safari, exploring each major culinary region of the island: Seminyak, Jimbaran and Ubud.
Comparing notes and joining you on these once in a lifetime moments are Indonesia's culinary queen and celebrity chef Rinrin Marinka plus the well traveled and well-read food blogger AnakJajan.
Top that with return flights on Garuda Indonesia (from Jakarta), a night in 3 luxurious resorts within each region, hone your inner foodie with an exclusive cooking class plus Wine Appreciation by Moët &Chandon – all it will take is one photo from you: Snap – Share – Win!
Competition open from 1st September – 1st October 2016.
For you chance to join and win the Ultimate Foodies Getaway (#UFGBali2016) competition, register at www.ultimatefoodiesgetaway.com. Foodies, join NOW!
Watch the UFG teaser trailer here:
Note: NOW! Bali and Jakarta magazines officially support this unique event that is Ultimate Foodies Getaway because it is our belief this competition will showcase the incredibly high-standards of restaurants in Bali. Through this experience, people will come to know that Bali is not only a cultural, beach and leisure destination but also a first-choice dining destination for the years to come.