Bali-bound gourmands have something scrumptious to celebrate from 11-18 September, as Peppers Seminyak Bali joins forces with Chef Michael Hogan, from The Lakes Restaurant at Peppers Clearwater Christchurch, to bring the best of New Zealand specialty produce and wines to the Island of the Gods in a week-long celebration of epicurean delights.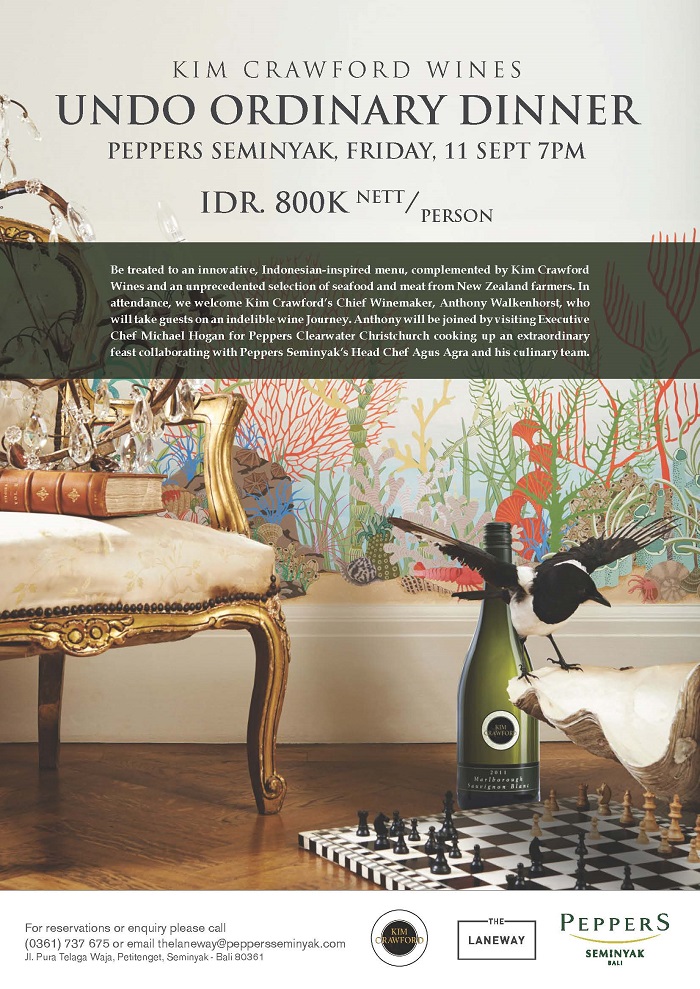 Friday, 11 September
Celebrations commence with the 'Kim Crawford Undo Ordinary Dinner'. Guests are treated to an innovative, Indonesian-inspired menu, complemented by Kim Crawford's fine wines and an unprecedented selection of seafood and meat from New Zealand farmers. In attendance, Peppers Seminyak Bali welcomes Kim Crawford's Chief Winemaker, Anthony Walkenhorst, who will take guests on an indelible wine journey.
Anthony is joined by visiting Chef Michael Hogan who will cook up an extraordinary feast with Peppers Seminyak's Resident Head Chef Agus Agra and his culinary team.
Each evening, from 12-18 September, The Laneway's culinary team gets creative with Chef Mike as they work together to present a collaborative menu that may be enjoyed as a degustation tasting menu or à la carte.
Showcasing the best of New Zealand's world-renowned bounty, and set within Peppers Seminyak's stylish surroundings, guests are treated to an inventive Indonesian-inspired menu.
Saturday, 12 September
The Laneway invites guests to attend a special Chef Menu as an introduction to this experience, enhanced with New Zealand wines to compliment.
Sunday, 13 September ( 12pm to 5pm)
The Laneway's legendary Sunday poolside BBQ transforms into a stunning display of New Zealand specialties. Complemented by one of Peppers Seminyak's popular in-house DJs to heighten the celebratory mood, Chef Mike curates a sumptuous menu to be savoured on the resort's expansive poolside deck.
For more details and bookings, contact at thelaneway@peppersseminyak.com or call (0361) 737 675