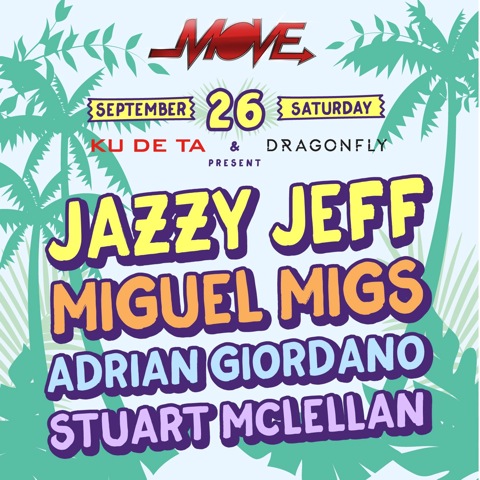 Ku De Ta will be bringing the noise with Don't Stop the Music! This is a brand new musical concept created by the joint forces of Ku De Ta Bali and Dragonfly Jakarta.
Don't Stop the Music! has been created to bring together the best of both international and local hand-picked talent across several genres, showcasing unique-yet-popular non-commercial music. Expect great line-ups from this new venture.

With its debut this Saturday, 26 September 2015, San Fran superstar Miguel Migs will be joining the mix of headliners in Ku De Ta. He is one of the world's top electronic music producers, having won several underground music awards over the years and travelling extensively to spread his music around the globe.
Furthermore, one of the biggest names in the world of hip-hop, DJ Jazzy Jeff will be entering the mix as well. A real pioneer and serious DJ, Jazzy Jeff will be opening the world of hip-hop to the Ku De Ta stage.
Also part of this special new concept, Don't Stop The Music makes sure to feature local-based, handpicked music professionals and from Bali, expect to see now-island-famous Adrian Giordano and Stuart Mclellan.
Don't miss out. Don't stop the music.
KU DE TA
Jl. Kayu Aya 9, Seminyak,
0361 736969
www.kudeta.net