Now that s/he's said "yes" to your proposal, it's time to tie the knot! And just like finding a spot for a romantic dinner or that perfect proposal, finding the wedding chapels in Bali isn't hard at all. The cliffs of the island's south are especially popular; they are considered the favourite places for Bali weddings, you'll see why.
5 Amazing Wedding Chapels in Bali
---
Tirtha Uluwatu
Tirtha Uluwatu by Tirtha Bridal is set on the southern cliffs of Bali, with sweeping views of the Indian Ocean, and breathtakingly designed to host weddings with a sense of magic. Words cannot describe the feeling of Tirtha Uluwatu, but, step foot on the property and you will instantly know – Uluwatu is a place like no other for your wedding. Without a doubt Tirtha is home to one of the most popular wedding chapels in Bali.
Adjacent to the chapel, a spacious dining area for up to 250 guests at the 2-storey Dining Pavilion adjacent to the Chapel is another iconic addition to Tirtha Bridal's evolving portfolio of inspiring wedding venues. The two-storey Dining Pavilion is a striking structure with a design that embraces the surrounding tropical environment. Light and airy, it embodies understated ele-gance to essentially function as a blank canvas for any choice of decorative theme or floral con-cept.
The Ground Floor of the Dining Pavilion is a versatile space that spills out onto an alfresco veranda edged by a manicured lawn studded with exotic palms. A dramatic glass stage extends over the edge of a limestone cliff and looks down onto a secluded stretch of beach. It is a highly photogenic spot that can be styled for a magical first dance, cake cutting ceremony or cocktail reception under the stars.
A glass-enclosed environment on the First Floor is a visionary interpretation of a well-appointed ballroom. Designed to accommodate 190 people, it takes on the look of a contemporary lounge with a high ceiling and wrap-around balcony providing mesmerising ocean views. Customised wood panels act as sliding partitions to form three separate function rooms for more private gatherings. Each distinctive area has its own audio-visual system and can be fur-nished accordingly with smaller groups of 40 or less guests in mind. This venue goes beyond Bali weddings, it is simply an amazing event destination as well.-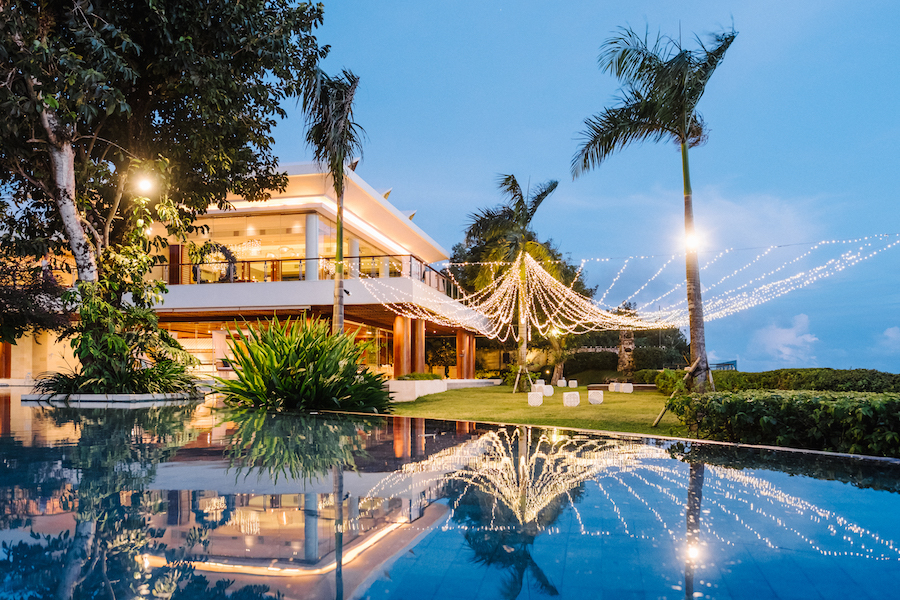 The Dining Pavilion complements the adjacent Tirta Uluwatu Chapel, which is encompassed by a collection of glistening waterways. It is a convenient layout that enables bridal couples to plan a cohesive celebration that transitions seamlessly from ceremony through to reception. There is even enough space for an upbeat after party complete with live entertainment, dancing and a dazzling finale of fireworks to light up the night sky. It represents a certain kind of island sophis-tication that can only enhance a bespoke wedding programme.
Tirtha Bridal
Address : Jl. Uluwatu, Br. Dinas Karang Boma, Desa Pecatu (click to see a map)
Telephone : +62 361 847 1151
Website : www.tirthabridal.com
---
The White Dove
On the neighbouring Ungasan, the wedding chapel of the Banyan Tree Ungasan, The White Dove, is an ultimate wedding venue perched high on the cliffs of the island's southernmost peninsula. With 300 ornamental doves placed on the sides of the wedding chapel and offering romantic vis-tas of the Indian Ocean, the chapel offers a perfect backdrop to celebrate your life's happiest moment. The white doves are incorporated into the design to represent peace, love, harmony, and purity. The architecturally stunning pyramid-like structure features elegant glass doors and seamless windows. With 700 square metres to use, it offers seating for 30 guests, all of whom will be astounded by the beauty of the venue. If you're looking for one of the most intricately designed, memorable wedding chapels in Bali, the White Dove certainly is on the list.
The White Dove at Banyan Tree Ungasan
Address : Jalan Melasti, Banjar Kelod, Ungasan (click to see a map)
Telephone : +62 361 300 7000
Website : www.banyantree.com
---
Tresna
Down in Jimbaran, and majestically towering above Ayana's shimmering Indian Ocean, Tresna is a favourite of the wedding chapels in Bali, with its dramatically illuminated interiors that promises to fulfil the ceremony of your dreams. One of the most stunning design features of Tresna wedding chapel is a see-through glass aisle with a flowing, stone-lined river underneath that leads to a magnifi-cent glass altar. Fully air-conditioned for the ultimate indoor comfort, Tresna wedding chapel can accommodate up to 80 seated guests. As an added touch of sophistication, Tresna wed-ding chapel offers a private driveway and porte-cochere. To ensure that the bride has a VIP ex-perience to prepare for her special moment, the adjacent Bridal Villa provides the perfect spot for her to prepare make-up, hair styling and dressing. Not just one of the best venues for Bali weddings, the services offered make it for an easy choice and make saying I DO that much easier.
Tresna at Ayana Resort and Spa
Address : Jalan Karang Mas Sejahtera, Jimbaran (click to see a map)
Telephone : +62 361 70 2222
Website : www.ayana.com
---
Infinity Chapel
This wedding chapel at Conrad Bali is picture perfect. Standing out in the centre of a pond, it looks as if it is floating, it's geometric glass exterior looks out to the Tanjung Benoa beach. Its asymmetrical, stunning lines overlook shimmering reflection pools and walkways of finest marble. Infinity Chapel is an architecturally unique wedding venue, floating two meters above sea level.
Wedding chapel use includes usage of exclusive bridal and groom preparation rooms two hours prior, contemporary fresh flower decoration, bride's hand bouquet and groom's boutonniere, music accompaniment by keyboardist and singers, two (2) nights stay at Deluxe Ocean room for Bride and Groom and more.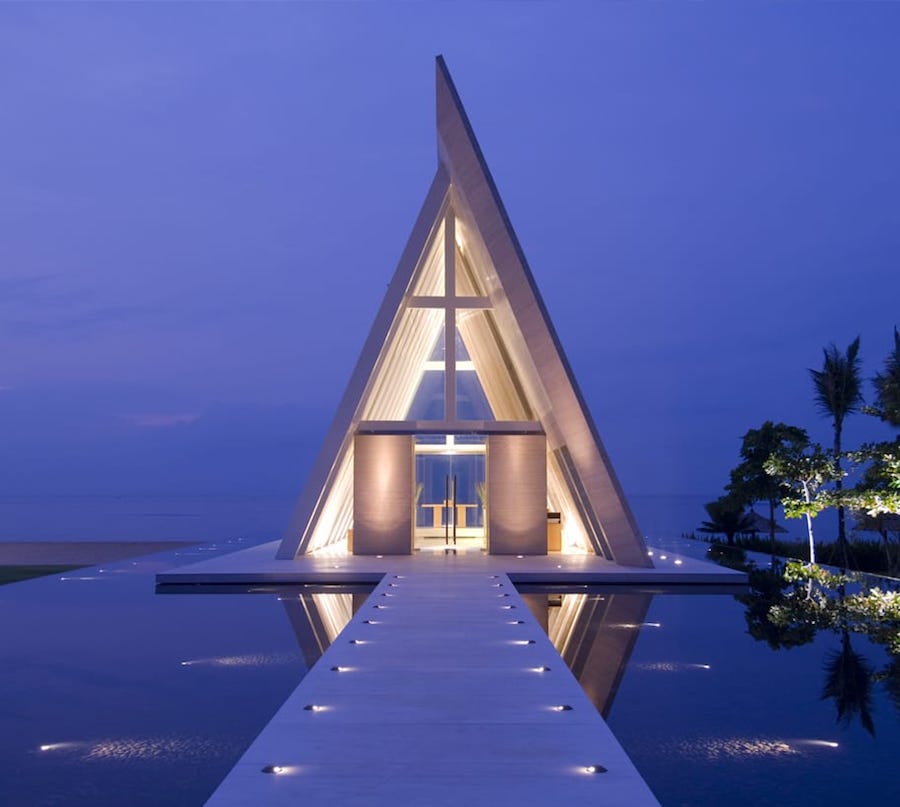 Infinity Chapel at Conrad Bali
Jalan Pratama 168, Tanjung Benoa, Bali, 80363, Indonesia
+62-361-778788
www.conradbali.com
---
Heavens Glass House
One of the newer wedding chapels in Bali, found atop the heavenly gardens of the Aryaduta Bali hotel in Kuta – this is Heavens Glass House. This beautifully designed and decorated chapel looks out over one of Bali's biggest cathedrals, giving the chapel an amazingly holy ambience, hence it's name!
Weddings at the Aryaduta can be catered to as much as 200 people and with many services catered for, including Dedicated Wedding Specialist, Professional English-speaking Celebrant, 3-hours usage of Venue's Preparation Room, 2-nights stay at Deluxe Premier Room inclusive of honeymoon cake and décor, Special Guests' Room Rate for family & friends on your wedding day and much more.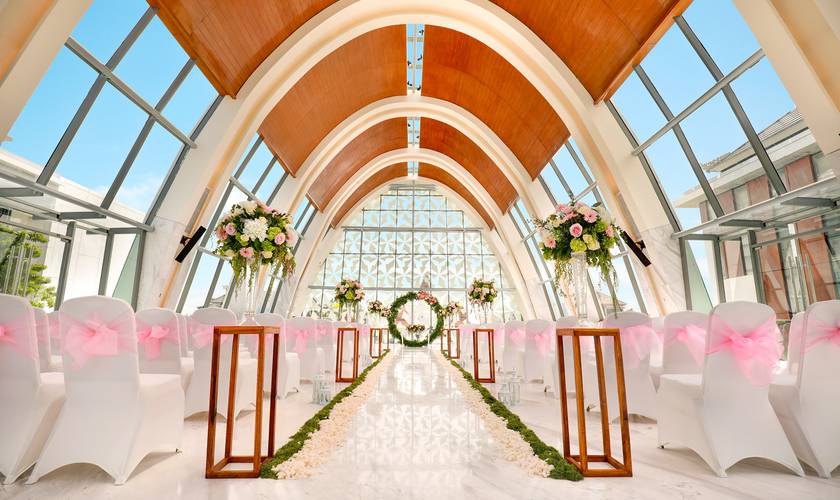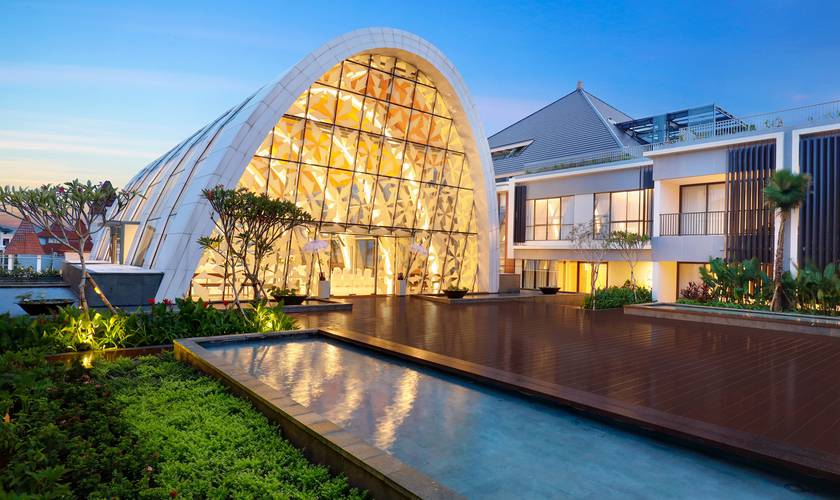 Aryaduta Bali
Jl. Kartika Plaza, Lingkungan Segara, Kuta, Kabupaten Badung 80361, Bali, Indonesia,
T. +62 361 4754188
https://www.aryaduta.com/aryaduta-bali-in-kuta/
---
Situated in the heart of Jimbaran Bay, Le Méridien Bali Jimbaran is home to one of the most picturesque wedding venues in Bali. An unforgettable romantic experience can be held in the one and only rooftop chapel known as the Celebration Pavilion.
Celebration Pavilion is located at the top floor of the resort overlooking the Indian Ocean and its gorgeous golden sunset. The venue itself is carefully designed to capture the beautiful skyline with unobstructed ceiling to floor glass walls and sandy floors to further emphasise the island atmosphere.
Le Méridien Bali Jimbaran
Jalan Bukit Permai, Jimbaran
+62 361 8466 888
www.lemeridienbalijimbaran.com
---
Planning to get married in Bali? Get professional help with these premium Bali-based wedding services from wedding planners to make up artists, catering companies.