Certain places like Bali seem custom-made for great proposals, thanks to the island's wealth of naturally romantic settings. So many locations on the island are blessed with breathtaking views and areas, and often couples can be assured of having these places entirely to themselves. This makes the weightiest challenge of how and where to 'pop the question'. Well, if you're looking for where to propose in Bali, have a look at this list of romantic spots. Choose carefully, and good luck!
The Best Places to Propose in Bali
---
On a Private Jetty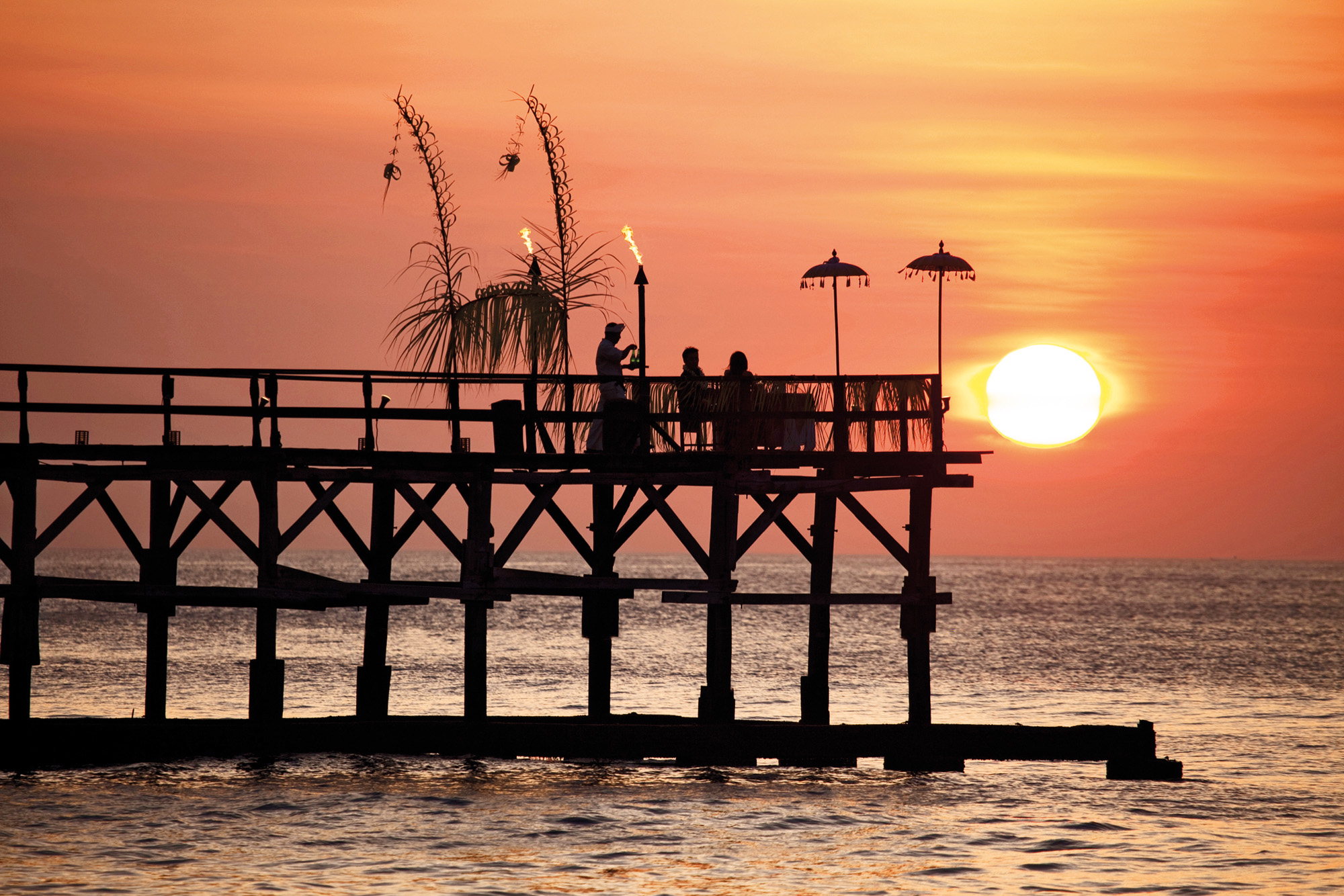 For another romantic proposal that she'll never forget, there's a stunning private jetty at Ayana Resort & Spa. Entry to this magical location starts with a descent to sea level and a path that leads to a wooden jetty stretching 30 meters out over the water. At the end of the pier, a beautifully set up table awaits with soft music from bamboo xylophones to accompany the sound of the ocean, making for a perfectly romantic scene. Once voted as the "Most Romantic Dining Venue in Bali", here you can also lure her with an equally beautifully presented five-course lobster dinner with marvellous dessert prior to popping the question.
Ayana Resort & Spa
Jalan Karang Mas Sejahtera, Jimbaran
+62 361 70 2222
www.ayanaresort.com
Fly to that Perfect Spot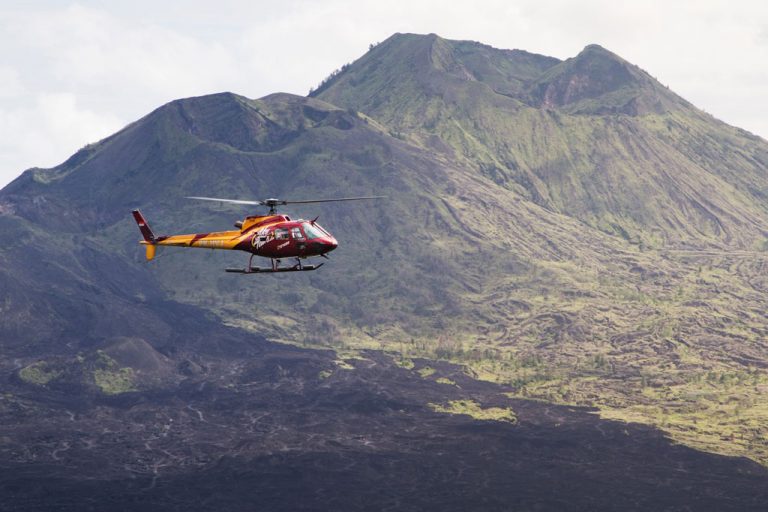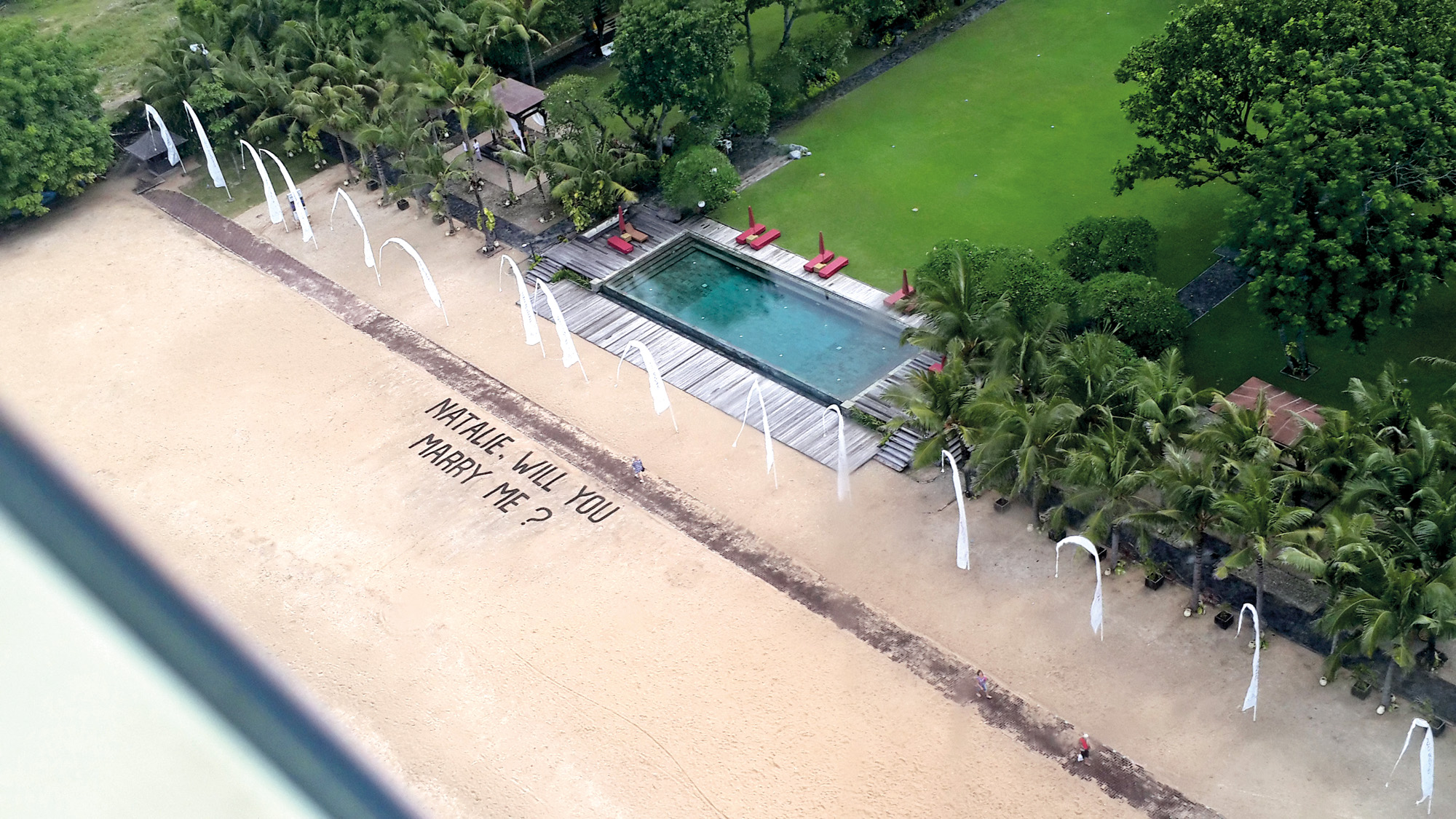 Never mind looking for where to propose in Bali , have you ever thought about how to propose? How about a proposal in the air, flying over your message on the ground. The Helicopter Engagement Tour by Bali Adventure Sky Tours can help you create a lifetime memory – something that will be very hard for her to forget. You can fly to your chosen beach or grass areas where the "Will You Marry Me" message will be laid out. Upon landing, there will be champagne waiting for you. Alternatively, you can land on a mountain top, a secluded lake or stream to pop the question. In case she has acrophobia, you can still be on the ground while the helicopter hovering overhead parades a big banner with your message written on it.
Mason Sky Tours 
Jalan By Pass Ngurah Rai Pesanggaran, Denpasar
+62 361 721 480
www.masonadventures.com
The Perfect Bali Backdrop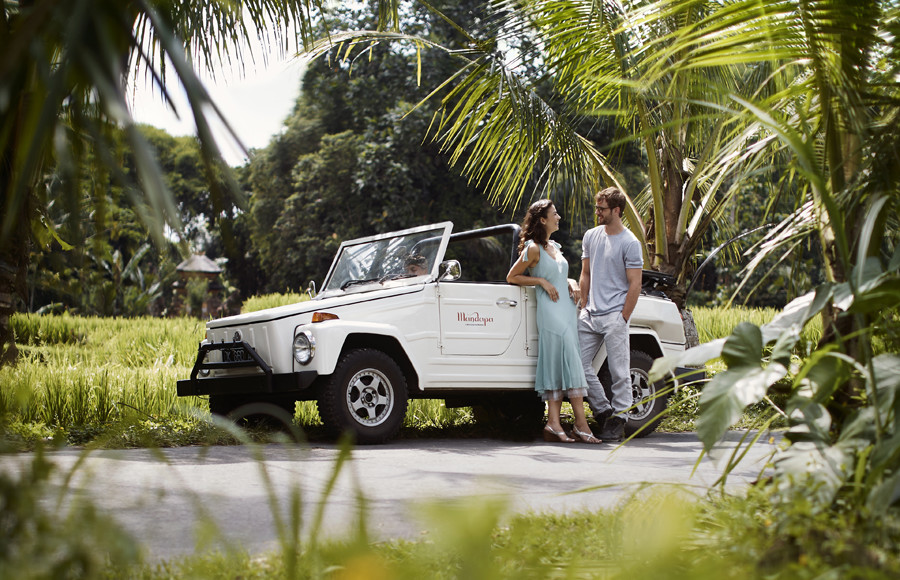 Mandapa, a Ritz-Carlton Reserve, in Ubud has curated a dazzling array of private offsite activities to enliven your senses and experience the unspoiled wonders of Bali, including this unique Vintage Car Tour. Take your fiancé-to-be on a drive along the magnificent beauty of Bali's countryside through sacred villages, rice fields, iconic temples, and historical ruins, before asking for their hand in marriage! When people think of where to propose in Bali, no one ever considers going for a classic picnic and day trip.
For a half day trip, you and your partner can hop on a journey to discover the hidden jewels of Bali. From travelling through a secluded highland village in East Bali (best-known for its well-preserved culture and village layout), to the most ancient temple in Bangli, and more century-old landmarks. The last stop will have you explore the Tukad Cepung Waterfall. The waterfall does not flow into a river, stream or jungle, but it flows gently down the canyon from around 15 meters high! These locations are hand-selected for those who wish to go off the beaten path away from the crowd.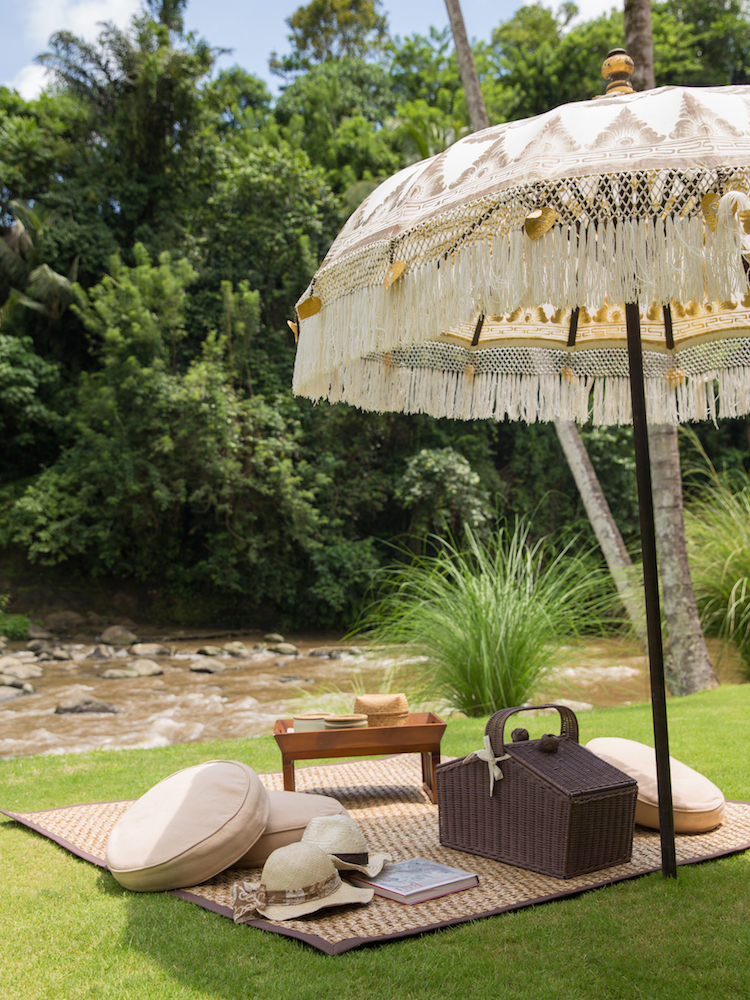 A lunch picnic pit-stop is provided along the way, the perfect opportunity for you to slip out the ring, get one knee and ask her the most important question of your lives, right against a magical backdrop of Bali's countryside!
Mandapa, a Ritz-Carlton Reserve
Jalan Kedewatan, Banjar Kedewatan, Ubud
+62 361 4792 777
www.mandapareserve.com
Ancient Candlelight Love
On the southwest coast of Bali, on a long silky stretch of sand facing the Indian Ocean, Hotel Tugu Bali, standing silent against the warm glow of the setting sun, is a poet's dream comes true. As the sunset goes down behind the Indian Ocean, enter another world of Tugu, a dreamlike atmosphere filled with candlelight and magical sounds. For a romantic evening with your lover, bring romance to another height – Tugu style. Book your 18th century antique bed on a private beach, illuminated by oil lanterns and a red dusky Canggu sky, where you will be tucked in for a little private gourmet picnic under the moonlight – that ends with two blindfolds accompanying your to-die-for desserts
Hotel Tugu Lombok
Jalan Raya Panti Batu Bolong, Canggu
www.tuguhotels.com
+62 361 473 1701
Under the Tree of Love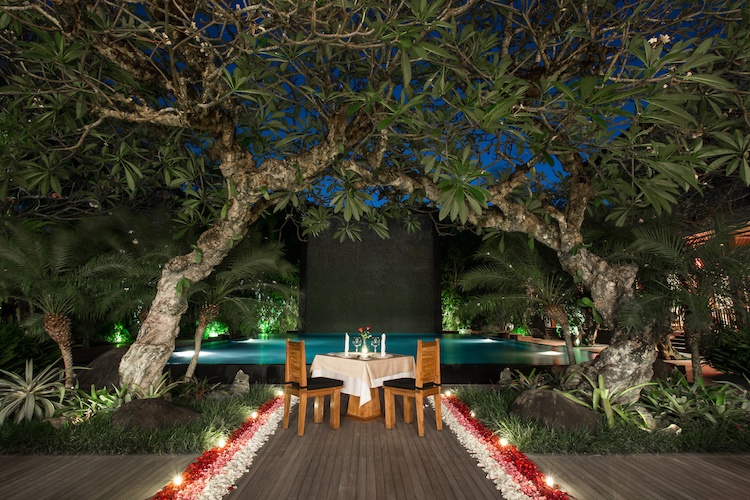 In Nusa Dua, step into a romantic night in Bali by enjoying a unforgettable dinner where alluring music, tropical garden and a personal waiter is at the ready just for the both of you at Awarta Nusa Dua Luxury Villas & Spa. For the iconic al fresco dining experience, dinner under the married frangipani tree arch is a favourite amongst diners. To make things more special, Awarta also offers a private performance of the charming 'Oleg Tambulilingan' dance, also known as the dance of love. It is a love story told through simple smooth swaying movements which mimic the mating dance of two bumblebees that are attracted to each other as they collect sweet nectar in a garden. 
Awarta Luxury Villas & Spa
ITDC, Nusa Dua
www.awartaresorts.com
+62 361 773 300
In a Private Bale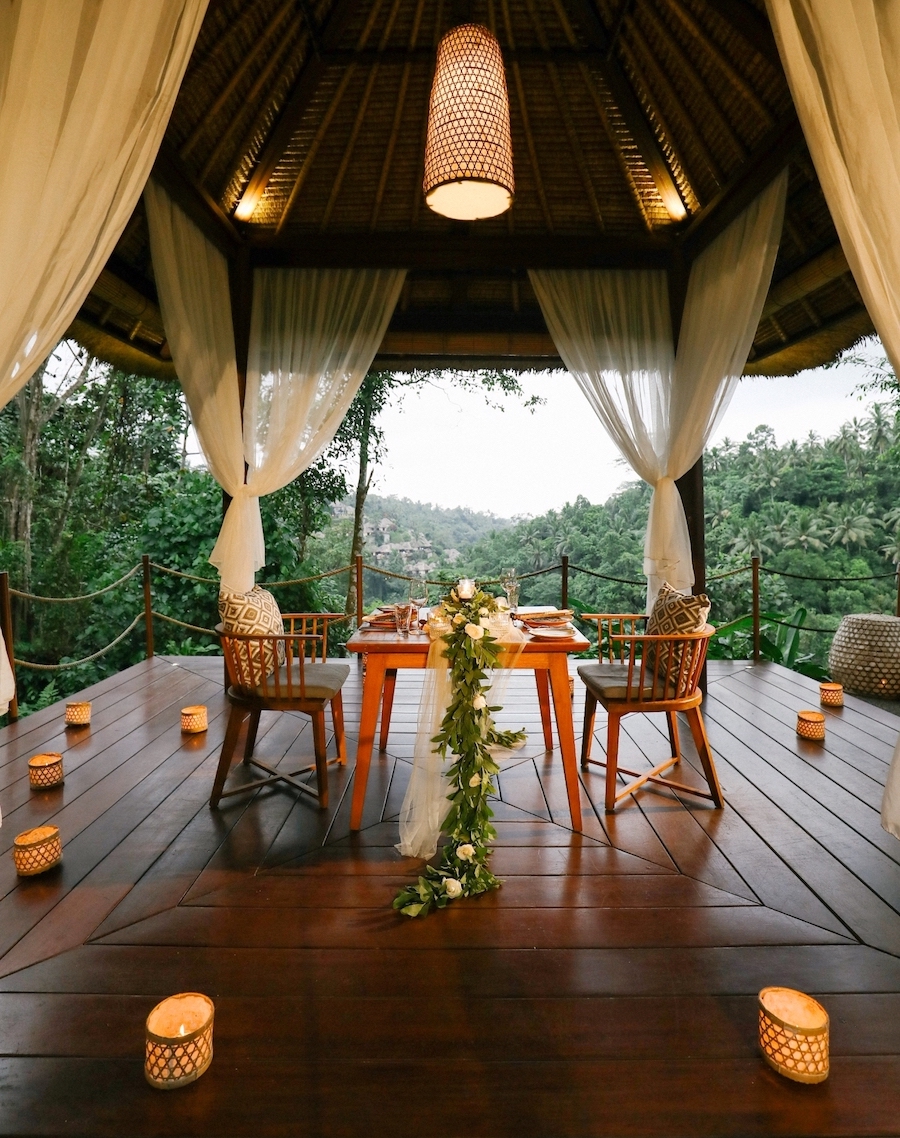 Alila Ubud has added to its portfolio of awe-inspiring experiences. The Bale Bengong, originally used as a place of isolated relaxation, has become one of the Top Ten Most Romantic Dining Locations in Bali. Cocooned amongst the lush rainforest, secluded down the slopes of the Ayung River valley, Alila Ubud's dining experience offers a seductive five-course dinner prepared by Alila Ubud's masterful kitchen team. Whether you're looking for some simple quality time to reconnect, or perhaps even searching for the perfect place to 'pop the question', the Bale Bengong is spot you'll both long remember.
Alila Ubud
Desa Melinggih Kelod, Payangan
+62 361 975 963
www.alilamoments.com/ubud
A Private Picnic By the Beach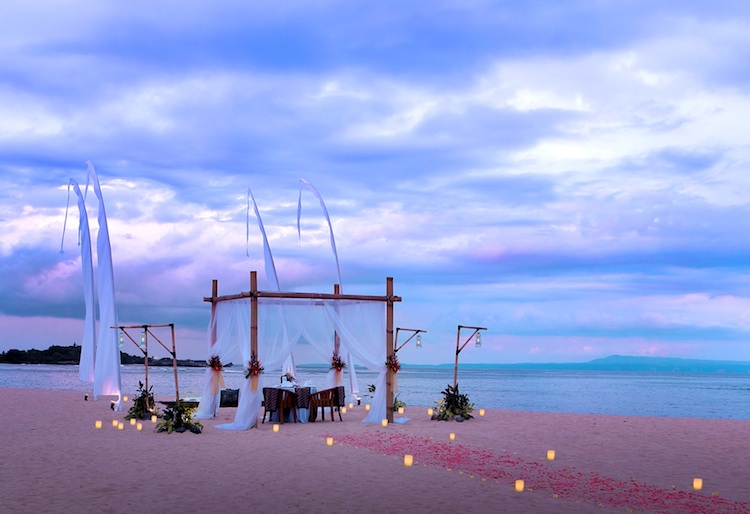 If you're looking for where to propose in Bali and you had a beach in mind, there's on special destination know. On Mengiat Beach, home of Ayodya Resort Bali, an intimate dinner for two on the beach promises to take your romance to a whole new level. As the sun sets, the beach transforms into a romantic atmosphere that will elevate you and your significant other to the mood of love. 
Ayodya Resort Bali
BTDC, Nusa Dua
www.ayodyaresortbali.com
+62 361 771102
On the Valley of the Kings
The stunning Ubud jungle vista of the Viceroy Bali, named the Valley of the Kings, makes for the perfect spot for any proposal. A range of experiences are available here: Viceroy can organise a special helicopter ride where a banner planted in the rice fields below will say "Will You Marry Me?"; after your flight, circle back to the resort and enjoy Champagne and lunch at CasCades over looking the jungle views. For in-house guests, the luxurious villas make for an intimate and private moment, with a path of flowers from the villa entrance to the outdoor terrace where you'll enjoy a specially prepared degustation menu – time to pop the question!
Viceroy Bali – Luxury Villas, Restaurant & Spa
Jalan Lanyahan, Br Nagi, Ubud, Bali 80571
www.viceroybali.com
+62 361 971 777
Beyond the Sea

When people think of where to propose in Bali, no one ever considers taking to the high seas! Make that special someone feel like a big deal on this big day by renting a private yacht. A charter out on a private yacht provides for the utmost privacy, allowing you many moments to share between just the two of you, nothing but the ocean around you.
Imagine looking out to the pristine waters of Gili Air, as you ask that special someone to be your life partner. With Tropical Yacht Charters, you can choose from 7 destinations: Nusa Penida, Nusa Lembongan, Uluwatu, Gili Gede, Gili Islands, Kanawa Islands, and Manta Island.
Each excursion on their "Forever" or "Rising" boats is tailored to your expectations. Whether you want to relax and cruise along on turquoise waters or an action-packed, onboard adventure before or after popping the question. Other facilities include paddle boards, snorkelling sets, DVDs, music, library and games, and more.
Tropical Yacht Charters
 Jl. Tukad Punggawa No.26, Serangan, Denpasar
+62 821 4481 1331
www.tropicalyachtcharters.com 
---
Popped the big question in Bali?
If you're not looking for where to propose in Bali , then maybe you're looking for a Bali your wedding venue ! Bali is home to some of the most stunning wedding venues, chapels and destinations. You'll see what we mean:
8 Gorgeous Wedding Venues in Bali