The world's first ever self-sufficient watercraft made a stopover in Benoa, Bali, before sailing off to Jakarta, as part of a 5-year global tour to raise awareness on the impact of plastic waste on the marine environment and propose local solutions to the worldwide issue.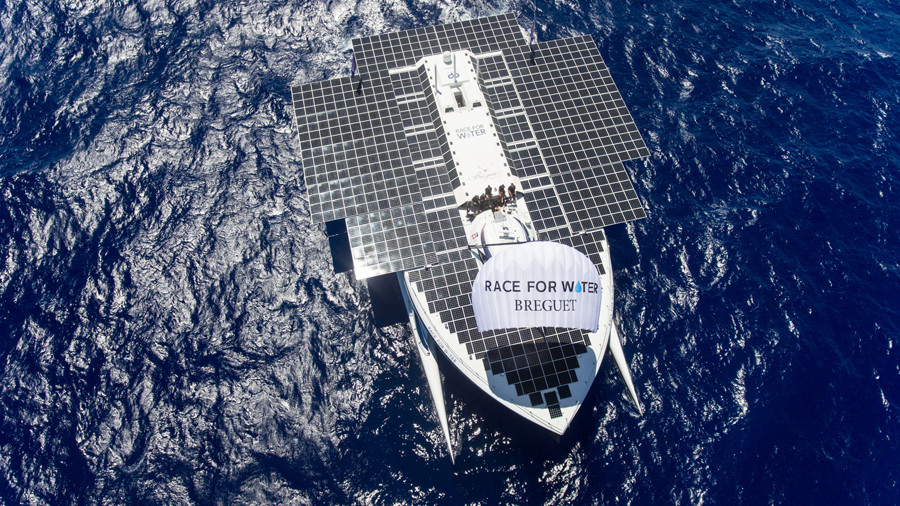 The Swiss vessel is the world's largest solar-powered catamaran that set off for the first time in April 2017 from France and has made its way to Bali's shores to gather the attention of local authorities and the public to tackle plastic pollution.
The Race For Water Odyssey vessel is solely powered by wind, sun, and the ocean, meaning it operates completely without the use of harmful fossil fuels. The vessel makes use of solar panels, its traction kite and its chain of hydrogen production and storage to move. A working showcase for energy transition whilst underway, the vessel transforms into a fabulous platform to host workshops and local school visits when in harbour.
The welcome conference was attended by Mr Marco Simeoni, The Race for Water Foundation president; Mr Tjokorda Oka Artha Ardhana Sukawati, Vice Governor of Bali; Mr Michael Cottier, Deputy Head of Mission, Embassy of Switzerland in Indonesia; Mr Gerhard L. Nutz, Honorary Swiss Consul; Mr Gunter Pauli, Foundation Board Member and author of the Blue Economy; and Mr and Mrs Hardy, Co-founders of the Green School in Bali.
Speaking for the Switzerland embassy, Mr Michael Cottier explained that Switzerland is top in the world for innovations, not only in terms of technology but bringing people of excellence together to come up with solutions for environmental issues. The Central European nation is learning from Bali's banning of plastic bags, claiming that the island is 'ahead' in the problem.
According to local authorities, in just 5 months following the ban of plastic bags, straws and Styrofoam, there has been a 20% reduction in sales of plastic bags in Bali!
The Blue Economy's Mr Gunter Pauli encouraged the younger generation to take interest in chemical engineering, such as coming up with the creation of polymer that degrades in sun, sea, and air and eliminate plastic use forever. He highlighted the importance of education, and inspiring young people to be the next generation of chemical engineers.
Mr John and Mrs Cynthia Hardy from the Green School emphasised Bali's risk of losing its tourism due to the mountainous trash pollution; driving tourists and travellers away if nothing changes over time.
The message is to first and foremost act on land, and it is a joint action. The Race For Water Foundation posits the 5R, instead of the traditional 3R, which are: Refuse to use plastic, if not Reduce plastic use, Reuse, Repair, and Recycle.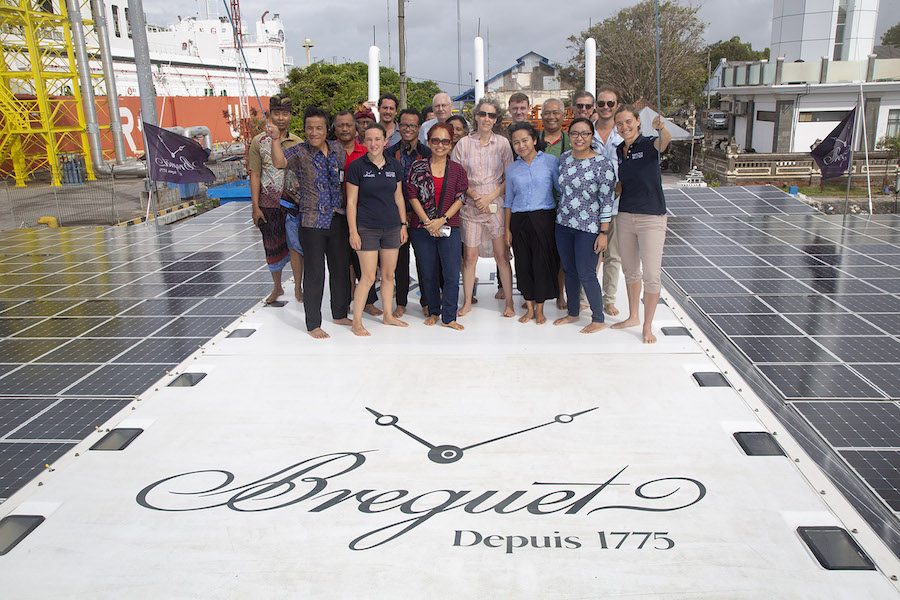 The team at Race For Water is currently recycling roughly 15% of world waste. The 5-year expedition has witnessed beach and ocean cleanups, in which they concluded that the sea and sand are filled with microplastic – some could even be in your plastic bottles. Our plastic epidemic may be harmful to the environment and your health.
The magnificent Race for Water vessel arrived in Bali on June 4th and has set sail for Jakarta to continue its circumnavigation, where it is expected to arrive on Thursday, June 20th.