Bali's dance scene wouldn't be alive without constant regeneration as well as those who are superbly creative in creating new choreography based on classic Balinese Dances or reconstructing classic dances that are almost forgotten. The flourishing dance scene in Bali also has strong relations to the efforts made in introducing dances of the island to art and tradition enthusiast all over the globe.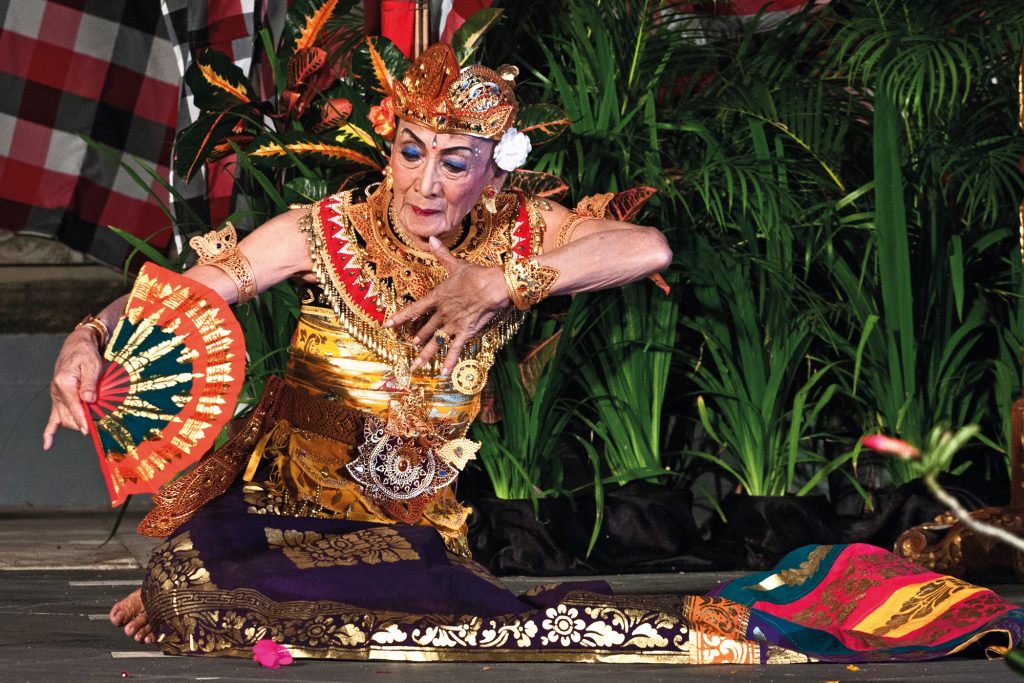 Ni Ketut Arini Alit and Ida Bagus Blangsinga, are both Bali's Dance Maestros who have dedicated their lives to reviving and promoting classic dances of Bali. They started dancing from their early age, pursued knowledge and dance techniques from prominent dancers, one of them bring I Maria, and proudly promoted Balinese Dance from stage to stage inside the country and overseas.
For Arini, dancing is a dedication, a submission to the greater power that is presented through technique, expression and concentration. The 74 years old lady said that she dances for the deities, for her pleasure and for the people. She was born in a family of dancers and musician, but this didn't necessarily bestow her with talent in dancing. She has gone through a long and challenging road in learning classic Balinese Dances.
Her father was a musician playing traditional Balinese ensemble gamelan and her uncle, I Wayan Rindi, was a legendary dancer and Gamelan musician who dedicated his life to dancing for both religious ceremony and entertainment. Arini enjoyed watching her father and uncle practicing since she was 3 years old. She started learning dance techniques when she was 7 years old. She believes that talent and skill can only be achieved through perseverance and sincerity in practicing.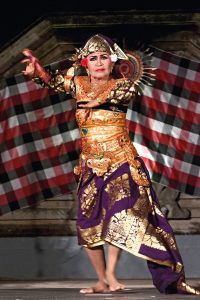 With a thirst for knowledge in dancing, Arini also became the pupil of I Nyoman Kaler, legendary dancer from Banjar Lebah who created 10 classic Balinese Dances, one of which is Legong Kebyar that was created in 1935. She also went farther west to Tabanan to pursue a unique dance technique from the famous I Mario, a legendary dancer from Tabanan who created the Kebyar Duduk dance. Arini was also the successful student of Mr. Lokasabha of Gianyar and Biang Sengok, a prominent Legong Peliatan dancer.
Combining great efforts and heartfelt dedication has made her proficient in six styles out of 14 styles of classic Legong Dance, which are Legong Pelayon, Kuntul, Lasem, Kuntir, Jobog, and Semarandhana. In 2004, assisted by her American student, Rucina Ballinger, she reassembled several of Bali's classic dances that were once created by her teachers, such as Margapati, Kupu-Kupu Tarum, Bayan Nginte and Legong Kebyar. She gathered information about those dances from books, and through symposium and seminars. Even the universe came to help; she received some photos and video documentations from an individual in the Netherland who had witnessed the dance years ago during their time in Bali.
The maestro, who was born in 1942, has been performing dances on many stages inside the country and across the globe. This includes dancing under banyan trees at her temple's compound because in the old days the only stage available was built under a tree. She is now teaching dance at Indonesia Art Institute in Denpasar, and also running Sanggar Warini, her dance school. Her spirit is to keep on transferring her knowledge in dance and dance techniques to her students. She started the school teaching her students under bamboo trees. December 1973, after three months in Japan, she came back home to find an open-air classroom built by her husband as a surprise for her. Arini believes, with an unconventional method of teaching, the new generation will love to learn their traditional dances and continue to maintain their heritage.
Meanwhile, on the other side of the island, in Banjar Blangsinga, in Saba Village of the Gianyar Regency, a living legend in Bali's classic dance scene, Ida Bagus Oka Wirjana, who is famously known as Ida Bagus Blangsinga and is passionately called Gus Aji, shares the same spirit with Arini, which is to preserve Bali's classic dances, for they are the legacy of their ancestors. The 86 years old humble gentleman may not be able to walk without support, but when it comes to dancing, he performes as if he is still in his prime.
Being born in a royal family didn't make his life easier than others as he was born during the country's struggle for independence. Gus Aji's life changed when he moved to Tabanan in 1939 to pursue an education at a colonial school. He was learning the typical subjects at school, but soon he found out that Bali's greatest dance artist, I Mario lived in Tabanan. He spent a lot of time watching I Mario teach dance techniques to his pupils and also perform Kebyar Duduk. Gus Aji became interested and inspired by the beauty of Kebyar Duduk. Not only did he learn to dance Kebyar Duduk from I Mario, he also became a student of several famous dancers, such as Anak Agung Gede of Sukawati Palace, Tjokorda Oka of Singapadu Palace, Geriya and Geredek from Singapadu.
For him, dancing is not merely doing some attractive routines, but more of a devotion to cultural practice and to the almighty, as dances are part of offerings in religious ceremonies of Balinese Hindu. Talented in dancing, he was often invited to perform either at religious ceremonies or traditional events from village to village. That made him widely known as Ida Bagus Blangsinga. Indonesia's first president, Soekarno, heard about him and invited him to dance at the Presidential Palace. That path led him to perform on many international stages, such as in Europe, Japan and other countries in Asia, and USA.
Currently in a later stage of his life, Gus Aji is still eagerly preserving Bali's classical dances, not only does he prefer to see a classical dance with routines as it were inherited by the ancestors, but he also believes that devotion to their supreme God is necessary to make a performance soulful. He often says that a dancer with Taksu will charm the audience and Taksu will only be granted to us once we devote ourselves to what we do, a combination of meticulous skills, a sincere heart and a submission to the supreme God. Gus Aji always prays at the temple in his compound and backstage before performing. Until now, Gus Aji is still actively teaching dances to both local and international students at his home in Banjar Blangsinga, Gianyar.