It's as if when Bali was being formed, its creator had love in mind. From quiet beaches with white sand and waters lapping onto shore to verdant valleys with the trickle of the river's flow in the distance, whatever the setting, Bali's landscape is made for romance.
Throughout the island, restaurants have taken advantage of the natural beauty bestowed to Bali, and, as a result, offer some of the most unique, intimate and extraordinarily delicious dining experiences. So, if you're looking for that perfect table for two, you've come to the right place. 
CasCades Restaurant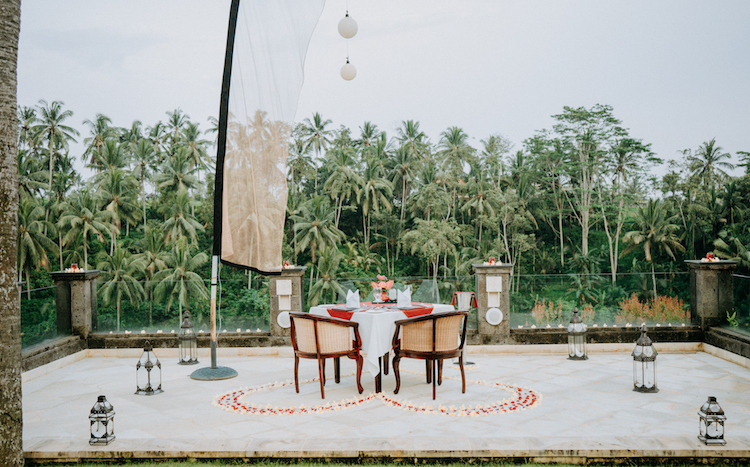 Envision tropical valley views from Balinese styled, open pavilions with thatched roofs and wooden embellishments – a night of dining in complete luxury. CasCades at Viceroy is one of Bali's dreamiest, romantic restaurants uniting a fine dining experience and the natural green wonders of Ubud.
A perfect night at CasCades involves a dining menu that has a French base but flirts with Japanese, Thai, and Balinese flavours. The exceptional food, service, and ambience are always at a very high standard, giving them the well-deserved title of Indonesia's Best Restaurant by American Express and Indonesia Tatler in 2007. CasCades Restaurant is adored for the wine list that comprises of over 160 different quality wines from around the world, which was also awarded in the Wine Spectator Restaurant Awards 2018.
The menu includes an extensive list of a la carte selections (6 PM to 10 PM) and the degustation menu is available from 6 PM to 9.30 PM; from the likes of Premium New Zealand Lamb and Lobsters imported from Canada to Lemongrass Crème Brûlée, homemade ice cream, and savoury desserts. The cherry on top, you and your loved one can make a grand entrance by flying in on a helicopter – there is an onsite helipad for this reason. CasCades will spoil you like royalty for a night!
CasCades Restaurant
Viceroy Bali, Jl. Lanyahan, Br. Nagi, Ubud
+62 361 972 111
www.cascadesbali.com
Samabe
There's a difference between dining with a view and dining within the view itself. At Samabe Bali Suites & Villas, you're invited to dine cozied up inside a stunning cave on the beach, amongst other special spots. At this resort, romantic dinners are set in exclusive venues because the conventional restaurant experience can be a dime a dozen, and this is what sets them apart. Impress your loved one's senses, particularly sight and taste, by bringing them to on oe Samabe's unique dinner experiences; their 'Love is in the Air' packages are curated for couples who share a love of the great outdoors. Choose from three intimate dining spots to celebrate the sweet occasion.
A romantic dinner at Pearl Chapel gives you an all-night, unobstructed view of the Indian Ocean usually accompanied by a starry sky, however, the main star of your night is the elegant four-course menu. You can enhance the experience with a Samabe signature flower décor. Available for one couple, starting from IDR 6,950,000/couple.
Perhaps Samabe's most notable spot is their Beach Cave, promising an unforgettable dining experience. This February, the Samabe Beach Cave will be illuminated with a thousand lights and fragranced with flowers. The venue is delicately prepared for six couples only, who are seeking a city escape and a heavenly picture-perfect evening by the beach. You will feast on a vast selection of dishes from Prime Cuts BBQ, seafood, to Sticky Thai Rice Pudding to sate your sweet tooth. Available at IDR 3,800,000/couple.
Last but not least, the Crystal Blue fine dining restaurant is also partaking in the month of love with an array of mouth-watering dishes from BBQ to Surf and Turf. This perfect location will spoil you with breathtaking views of the Indian Ocean and the cool ocean breeze. Available from IDR 1,950,000/couple. Advance reservation is necessary for all package.
Samabe Bali Suites & Villas
Jalan Pura Barong Sawangan, Nusa Dua
+62 361 846 8633
www.samabe.com
Anantara Seminyak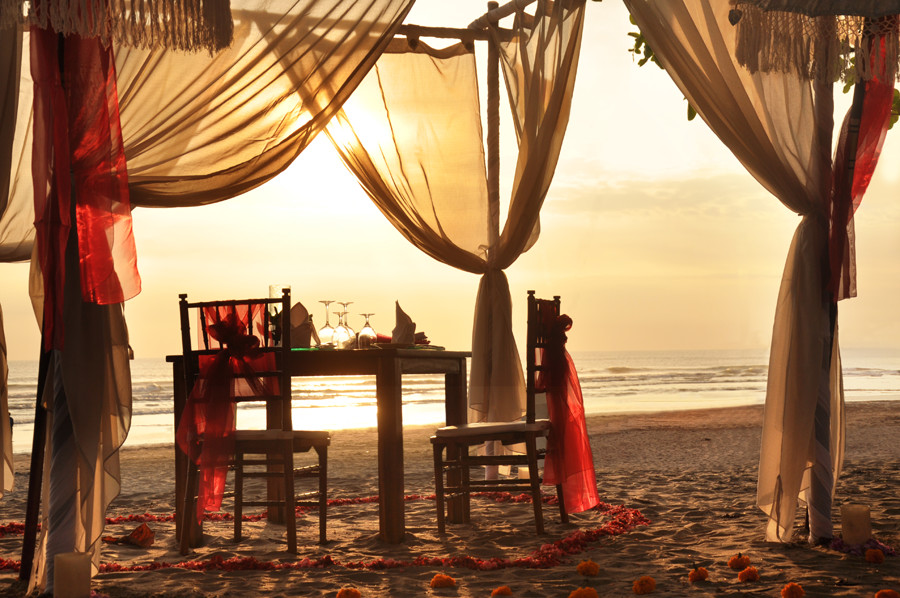 Be the curator of the perfect evening for your better half with Anantara Seminyak's 'Dining by Design. This signature private dining concept allow you celebrate the ultimate romantic occasion in your own unique way. Guests are invited to choose from a range of fine dining menus and are even given the opportunity to collaborate with the resort's personal chef to fine tune or recreate a menu that is tailored to their individual tastes and desires. The table for two will take place in your dream setting and beautifully decorated for the occasion. To top it all off, the experience is enhanced by the attentive service of a personal butler and the resort's resident Wine Guru to help select the perfect vintage to complement your meal.
Browse a tantalising selection of all-time Indonesian favourites, including Gado Gado, Tahu Isi (Stuffed Tofu), and Lawar (Balinese style stir-fried long bean) as appetisers; Grilled Lobster, Jimbaran Style Seafood, and Nasi Goreng as the main course; Es Kelapa, Mini Pastries as desserts, and more. For those craving International delights, the Western menu set includes assorted antipasto: Prosciutto Wrapped Grissini, Gratineed Oysters with Spinach, Brie & Crispy Pancetta as appetisers; Grilled Beef Tenderloin Medallions as the main course; Dark Chocolate Souffle as the dessert, and more. The Indonesian set menu starts at IDR 2,999,000++/couple and the Western set menu starts at IDR 3,499,000++/couple.
The team can help provide an extensive selection of locations to create your perfect romantic dinner in Bali. Whether it is on the beach or a secluded location with a shoreline view, you'll find your dream setting with Dining by Design. 
Anantara Seminyak Bali Resort
Jalan Abimanyu (Dhyana Pura), Seminyak
+62 361 737772
www.bali.anantara.com
Manisan Restaurant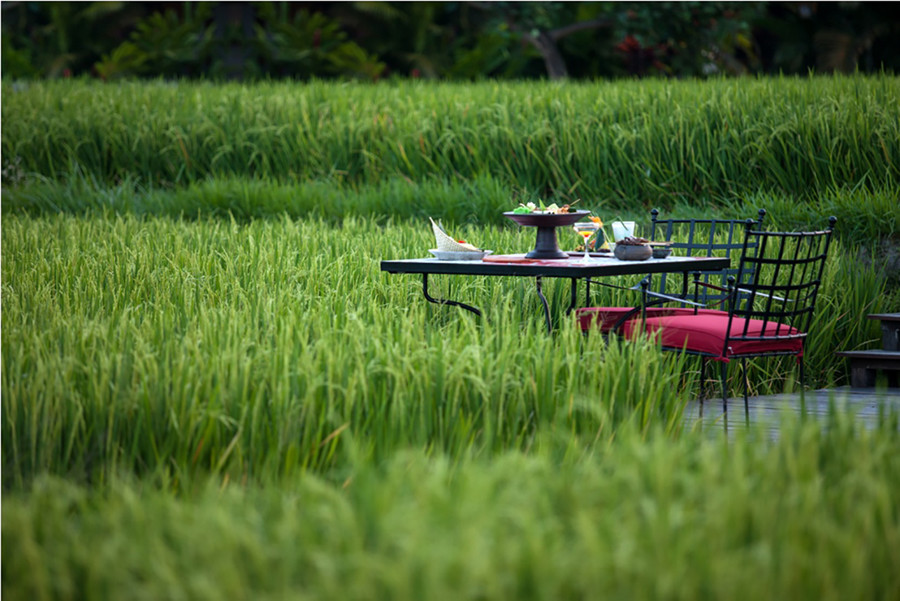 Enveloped deep between its very own rice fields, Manisan Bali in Alaya Ubud is a consciously-designed space boasting fine dining qualities whilst remaining sensitive to the island's rich cultural heritage. If you and your date are seeking to taste the diverse and exotic flavours of the Indonesian archipelago in style, find you way to Manisan. 
The restaurant offers an authentic dining experience featuring home-style dishes set in a unique design and ambience. The menu was conceptualised by legendary Indonesian Chef William Wongso with the help of the Alaya owners. The flavours you will experience are the creation of the chef, alongside Mr Henry Alexie Bloem, the President of the Indonesia Chef Association, who has sourced the nation's best recipes on his extensive travels.
The Indonesia-focused dining experience is an elevated take on local favourites. As is the custom, rice plays a primary role here with three different takes on nasi goreng (fried rice) available. To start off, try the sushi-like Sumatran tuna naniura or Javanese piti. Mains include the likes of satay, barbecues, seafood, and a variety of spicy sambal to complement the dishes!
Manisan Bali is remarkably captivating after dark. The pathway leading to the venue is dramatically decorated by lanterns, ensuring your date is exceptionally impressed before the date even began!
Manisan Restaurant
Alaya Resort Ubud, Jalan Hanoman, Ubud
+62 361 846 8933
www.manisanbali.com
Alila Ubud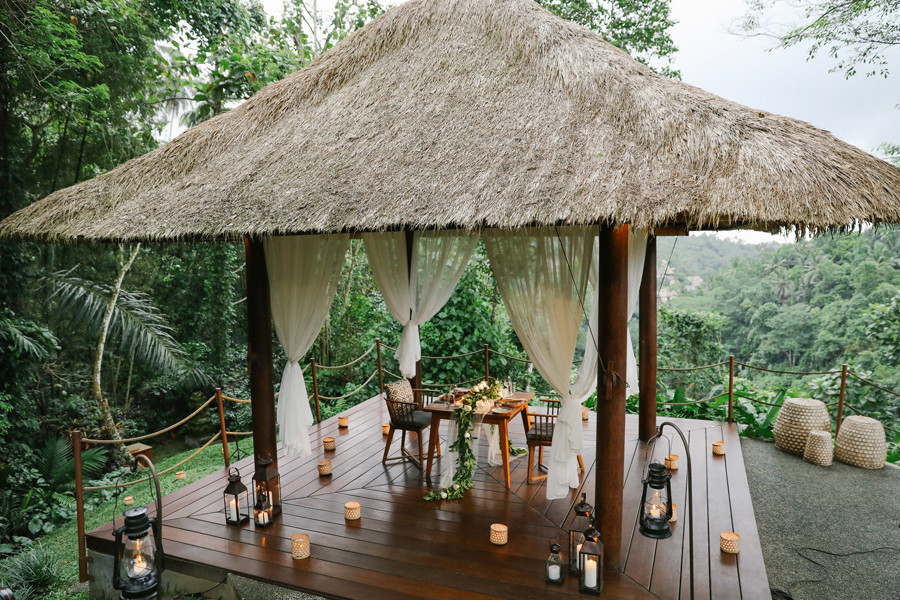 If you have your eyes on rural idylls, panoramic views of river valleys, and your ears on choruses of crickets and geckos, the escapist resort of Alila Ubud is the dream destination for you. Set in a verdant hillside village overlooking the Ayung River, the resort takes inspiration from traditional Balinese village life.
Specially hosted for romantic nights for two, the Sculpture Garden 'Magical Dining Experience' at Alila Ubud is set amongst the garden's towering stone pillars. You'll be spoiled by a view of the distant shadow of the spectacular mountain range, and surrounding rice terraces. The night includes a 5-course meal, a personal butler, and a bottle of house wine. The chef will personally meet you to tailor a menu that tickles your fancy! (IDR 4,900,000++/couple). Alternatively, you can opt for the 3-course meal package, all inclusive of the butler, wine, and chef's attentive service (IDR 3,500,000++/couple).
Dine in a luxurious bale designed for two, cocooned amongst the lush rainforest for the ultimate romantic dining hideaway in Ubud, whatever the occasion. The chef will personally tailor a seductive five-course dinner, complete with a personal butler and a bottle of house wine. There will be a separate lounge area for you to relax, cosy up, and stargaze after dinner. 5 course for two at IDR 4,900,000++/couple or 3 course for two at IDR 3,500,000++/couple.
Alila Ubud
Desa, Melinggih Kelod, Payangan, Gianyar
+62 361 975963
www.alilamoments.com/ubud 
Hotel Tugu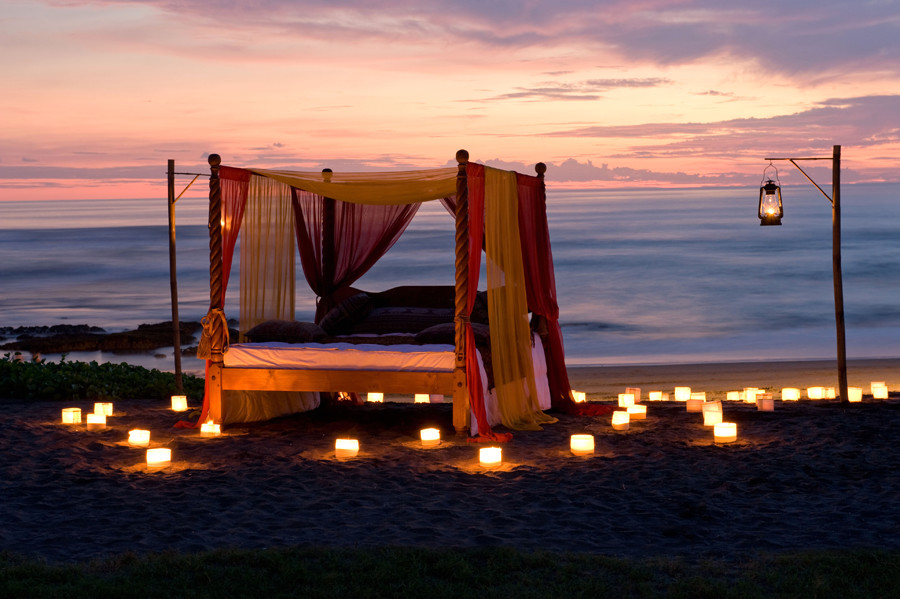 On the southwest coast of Bali, on a long silky stretch of sand facing the Indian Ocean, Hotel Tugu Bali, standing silent against the warm glow of the setting sun, is a poet's dream comes true. As the sunset goes down behind the Indian Ocean, enter another world of Tugu, a dreamlike atmosphere filled with candlelight and magical sounds. For a truly memorable evening with your lover, bring romance to new heights– Tugu style. 
Book an 18th-century antique bed on the beach, illuminated by oil lanterns and a red dusky Canggu sky, where you will be tucked in for a little private gourmet picnic under the moonlight – that ends with two blindfolds accompanying your to-die-for desserts. The menu boasts Tugu style Asian Fusion favourites and a lineup of East-Asian inspired exotic cocktails. Toast to the greatest love story ever told – yours – where the wind whispers love stories from ancient kingdoms!
Hotel Tugu
Jl. Pantai Batu Bolong, Pantai Canggu
+62 361 473 1701
www.tuguhotels.com
Azul Beach Club & Bali Mandira Beach Resort & Spa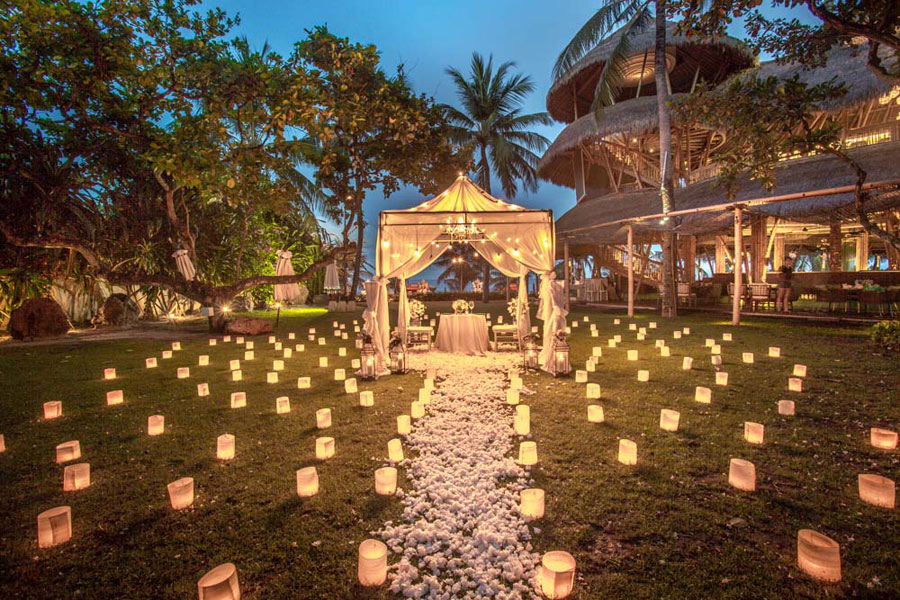 Imagine a place where paradise and timeless romance come together in a seamless blend to present an idyllic romantic experience for you and your loved ones. Think of swaying palm trees, the ocean breeze blowing against your cheeks and the mesmerising view as the sun sets in the background. That is exactly what you'll get at the romantic dining experience at Bali Mandira Beach Resort & Spa and Azul Beach Club.
Nestled on the pristine Legian Beach Coastline, Bali Mandira Beach Resort & Spa welcomes lovers on the island to celebrate love with an intimate candlelit dinner that can be set in a variety of idyllic spots – on the cabana by the lagoon-style pool, at the verdant garden adjacent to the Balinese stage, on your own Private Island enclosed with the starlit turquoise pool, or at the stunning beachfront. Delight in the fabulous cuisines from across the Indonesian archipelago, the flavours of Asia or the Western favourites, crafted using the freshest ingredients.
If you opt for a more laidback romantic experience, Azul Beach Club welcomes you to its magical tropical atmosphere. Indulge in an enchanting evening set in the spectacular bamboo-structured masterpiece by the sea and revel in the exquisite culinary offerings and breathtaking ocean views.
Bali Mandira Beach Resort & Spa
Jl. Padma, No. 2, Legian
+62 361 751 381
balimandira.com
Azul Beach Club
+62 361 765 759
azulbali.com