June is a perfect month to put the sand between your toes and feel that tropical sea breeze. Picture yourself strolling along a beach, relaxing on silky soft sands, with the gulf of neighbouring islands glistening in the distance while the gentle touch of the ocean air flutters through the nearby palm trees. Keep the beach vibe going by dining out at one of 12 Bali beachfront restaurants that we have hand-picked, all upscale destinations from Uluwatu to Canggu. Take your pick! 
They say that sea air really works up an appetite. Sure, there's no science to support that statement, however, if the number of restaurants dotting the southern coastline of Bali is any indication, this seems like a valid conjecture. Plus, a backdrop view of the ocean is sure to get you excited for your meal.
---
Di Mare Restaurant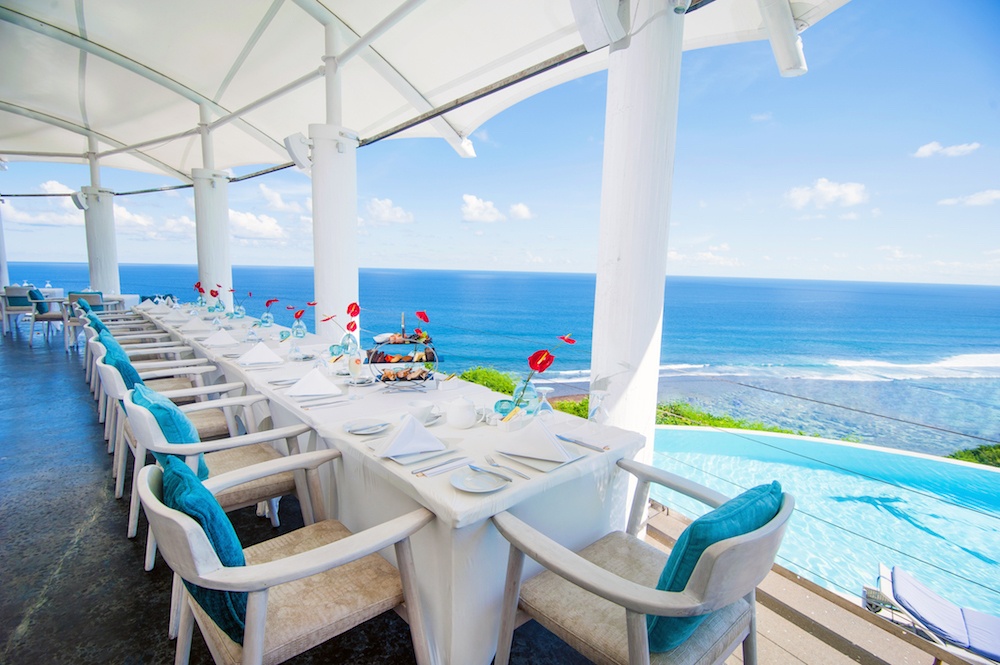 In Ungasan, Karma Beach Bali is a pioneering beach club in Bali. Situated on a limestone peninsula known as the Bukit, this is a laid-back lounging spot on the private beach with a five-star hippie vibe. The fact that this beach club can only be reached by a hill elevator that descends 85 metres down off a cliff face makes the place rather exclusive. Perfect with either friends, families with kids or couples, all can enjoy the nuances of a secluded Karma Beach while relaxing in the whimsical, cosy surroundings. To keep the guests from the heat, the club also houses a dedicated kitchen under a classic thatched roof and a bamboo platform. Those beachgoers looking for something fancy can opt to dine at Di Mare Restaurant, which is located on the edge of a rocky crag high above the surf of the Indian Ocean.
Karma Beach Bali
Address ; Karma Kandara Resort Jalan Villa Kandara, Ungasan
Phone : +62 361 8482200
Website : www.karmagroup.com
---
Ju-Ma-Na
Jaw-dropping views from Ju-Ma-Na's secluded perch
Just around the corner, dining at Ju-Ma-Na also offers a stunning angle of the Indian Ocean to capture the sensational sunset moments by the cliff edge. Painted in that sultry Moroccan palette with all white, this fine dining restaurant will make you feel like you are floating over the ocean. Try to dine at the open wooden deck where you can see Melasti Beach from 70 metres up, while at the same time feel the afternoon's cool breeze to add the romantic moment with your loved ones. The evening time can still be attractive here. The combination between the lighting of the restaurant and the lights from the boats below creates a magical ambience. The fast-service policy at Ju-Ma-Na makes sure that your meals are served in a timely manner – and with class.
Ju-Ma-Na Restaurant & Bar
Address : Banyan Tree Resort Jalan Melasti, Ungasan
Phone : +62 361 3007000
Website : www.banyantree.com
---
Sundara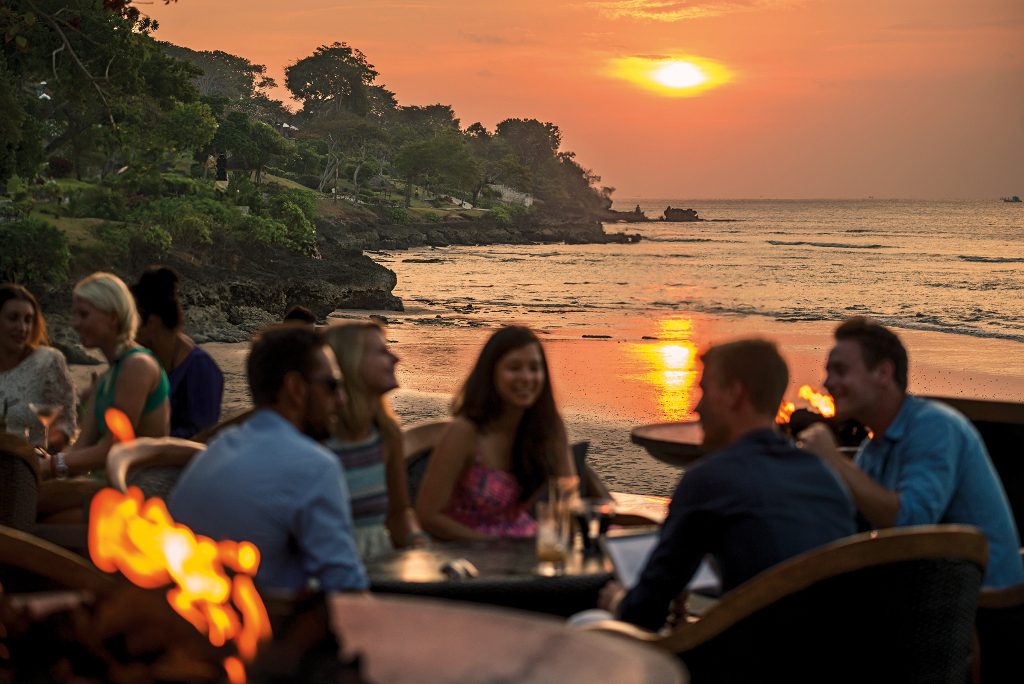 Catch the epic Jimbaran sunset from your table at Sundara
Driving 30 minutes down to Jimbaran, you can spend your day by the sea viewing the exotic curve of Jimbaran Bay coastline at Sundara. Meaning 'beautiful' in Sanskrit, this is most exclusive dining destination in the area. There are several sections of Sundara you can choose from. You can enjoy the sun on daybeds or poolside cabanas by the infinity pool, get a few sips of Sundara's crave-worthy cocktails at the bar at ground level, find the more private lounge-style area inside the building with an intimate vibe, or go full fancy dining on the second floor. Whichever spot you finally end up in, the entire place guarantees a relaxed seaside vibe. After the sun has taken its leave for the day, the fire pits on the beach are lit and transforming the place to be more elegant and sensual. You can then move on to a fancy dinner, highlighting Asian mixed with classic Middle Eastern dishes, Spanish and Australian flavours. Those who arrive late can join the Late-Night Bar promotion every Friday and Saturday.
Sundara Bali
Address : Four Seasons Resort at Jimbaran Bay Jimbaran Bay, Jimbaran
Phone : +62 361 708333
Website : www.sundarabali.com
---
Ikan Restaurant & Bar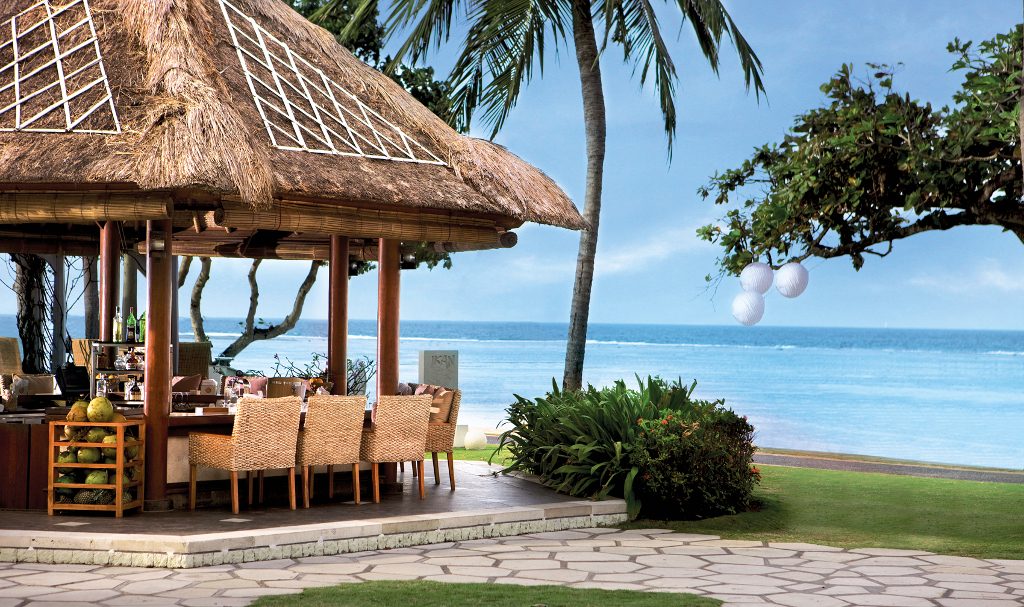 Ikan Restaurant and bar
Less than 30 minutes drive to the Nusa Dua area will take you to Ikan Restaurant & Bar. Offering a casual dining set-up next to the white sand beach of Nusa Dua, this restaurant promises a relaxed dining ambience overlooking the Indian Ocean. You can either choose to sit in the front row inside the open-air restaurant to experience the island's tropical lifestyle or go casually on the beach to feel the gentle touch of the sea breeze. Either way, any spot in the restaurant serves up equal breath-taking views. Go unwind and satisfy your palate with authentic Balinese specialities, island-fresh seafood and Western cuisines. To savour your dinner time, a live music or DJ performance will cater your late-night euphoria under the stars.
Ikan Restaurant & Bar
Address : The Westin Resort Nusa Dua ITDC Lot N-3, Nusa Dua
Phone : +62 361 771906
Website : www.westinnusaduabali.com
---
Ayodya Beach Club & Grill
Still inside the ITDC area, cooled by a soft ocean breeze along the prettiest white sand of Mengiat Beach, Ayodya Beach Club & Grill is the newest outlet of Ayodya Resort Bali. The contemporary décor of the club showcases authentic colourful wooden furniture and relaxing bar space, facing directly to the ocean and pool. Beanbags and cushions are available to maximise the ambience of an open-air, breezy concept of the place. Browsing on the menu, the beach club bears a classic vibe of the magical island by serving a variety of grilled items as well as a good selection of steaks and plates of seafood that will satisfy the palate of all ages. You can also enjoy a variety of menu items at Ayodya Food Beach Market, which includes choices of sandwiches, briskets, tapas, grilled pork ribs, pizzas and many more. For the nightcrawler, a DJ is spinning on Sundays until 11 PM, making for a fun evening under the cool glow of the rising moon.
Ayodya Beach Club & Grill
Address : Ayodya Resort Bali Jalan Pantai Mengiat, Nusa Dua
Phone : +62 361 771102
Website : www.ayodyaresortbali.com
---
Sands Restaurant
Driving south for another 30 minutes on the way to Kuta Beach, Sands Restaurant offers seashore dining scenes with the best sunset views of Kuta Beach. When we hear the words 'Kuta Beach', what normally pops into our head is a chaotic area with backpackers, vendors and people trying to sell something on the street. However, this is not the case at this restaurant as they have their own semi-private beach located on the beachfront end of the ANVAYA Beach Resort. The restaurant's interactive all-day dining experience incorporates an open-kitchen concept and a market-place atmosphere where one can enjoy modern Balinese-influenced, Mediterranean and Californian-inspired cuisines. To maximise the relaxing vibe, live music is jamming every Thursday to Saturday. The casual ambience of the venue is also complemented by its signature walk-in wine cellar hidden a few metres below ground, creating an entirely different world for a memorable evening.
Address : The Anvaya Beach Resort Jalan Kartika, Tuban, Kuta
Phone : +62 361 759991
Website : www.theanvayabali.com
---
S.K.A.I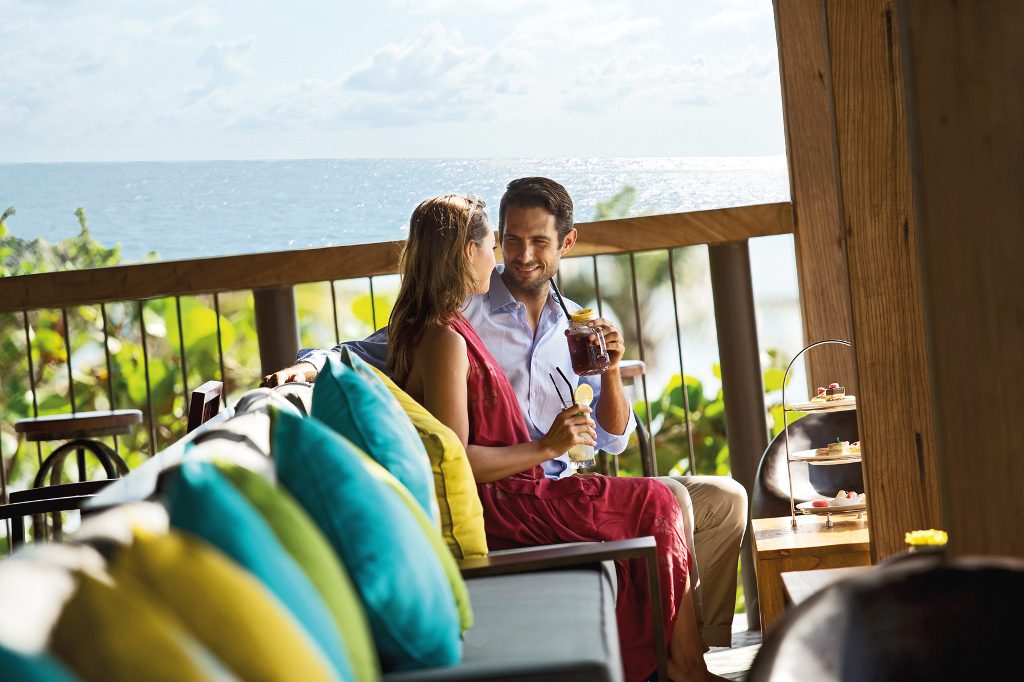 Moving away from Kuta Beach, still along the same coastline, S.K.A.I. attracts sundowners to a new level of relaxation. As an acronym for Sun-Kocktail-Alfresco-Indulgence, this beach club is located at the busiest beachfront of Legian Beach and promises all-day parties with their captivating ambience, exquisite cocktails and light bites. Choose your colourful hangout spots, indoor dining and alfresco area, all facilitated with sun lounge chairs, cabanas and infinity swimming pool facing straight to the beach. To boost the fun, the club creates a signature Sunset Jam; a weekly-thematic event inviting the island's renowned musical performers. Surrounded by swaying coconut palms and lush greenery, this is a place where savvy travellers meet hip locals for fun times and enjoy the laid-back ambience with tantalising delicacies.
S.K.A.I Beach Club
Address : Padma Legian Jalan Padma 1, Legian
Phone : +62 361 752111
Website : www.skaibeachclub.com
---
Sunset on Seminyak
Next to Legian, in Seminyak, the rooftop venue Sunset on Seminyak is extending the restaurant area located at the lobby level, providing larger space around the pool and offering a better beachfront experience. Lounge on beanbags and witness the stunning sunset with the sand between your toes. Optionally, stay indoor in the cool dining room overlooking the pool and Seminyak Beach – but what's the fun in that? This is a Bali beachfront restaurants, enjoy the sand between your toes! Either way, you can discover a number of experiences in this casual chic venue. Everyday between 3 to 6 PM, you can enjoy three types of savoury bites and three different sweet treats, highlighting Indonesian and International favourite snacks. For those who are keen to see the chefs working on their mouth-watering creations, by all means, come to the open-kitchen concept of S.O.S Dining at 12 PM every day.
Sunset on Seminyak
Address : Anantara Seminyak Bali Resort Jalan Abimanyu (Dhyana Pura), Seminyak
Phone : +62 361 737773
Website : bali.anantara.com
---
Sanje Restaurant & Lounge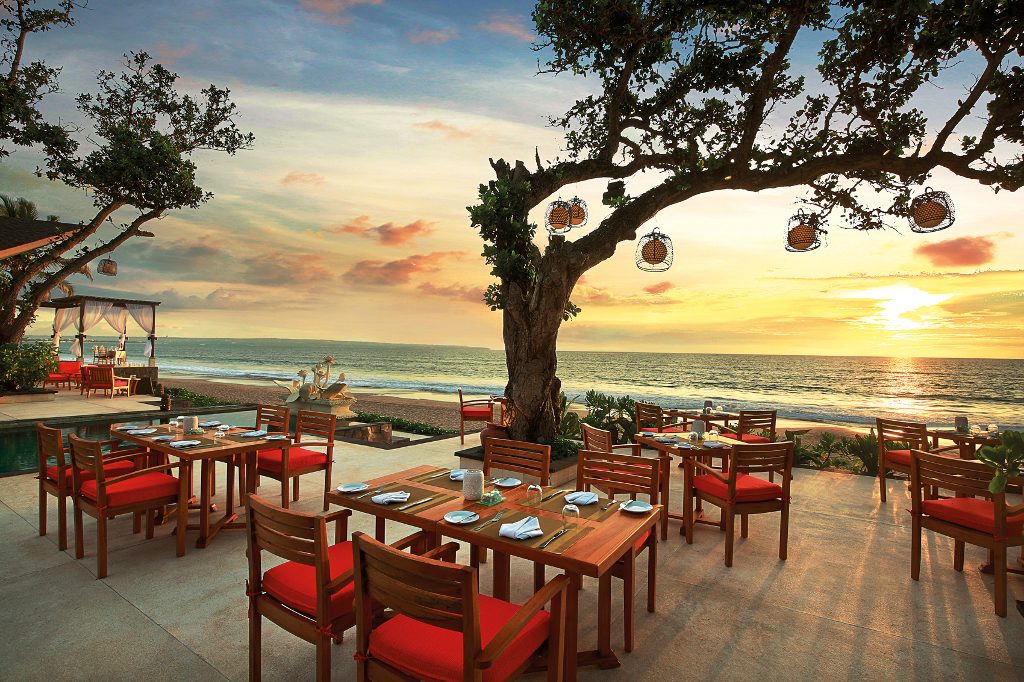 Sanje Restaurant & Lounge
Still around the island's happening neighbourhood of Seminyak, Sanje Restaurant & Lounge provides a serene getaway from the area's hustle and bustle. Featuring ocean views in the glamorous spot of Seminyak Beach, this alfresco restaurant offers a cosy oasis for a fancy dinner. You can opt for an elegant sunset by the pool before dinnertime. Basking in the unmatched ambience on the lounge chairs, get yourself excited to watch live DJ performance mixing up the right vibe for the venue. Serving grilled seafood, fresh from the great Indian Ocean to your table, and a large selection of light Mediterranean Cuisine, as well as a multiple course meal, Sanje will please any appetite and make one breezy afternoon notable.
Sanje Restaurant & Lounge
Address : The Seminyak Beach Resort & Spa Jalan Kayu Aya, Seminyak
Phone : +62 361 730814
Website : www.theseminyak.com
---
Finns Beach Club
Driving westside to the famous surf spot at Berawa Beach, Finns Beach Club invites you to laze the whole afternoon away under the sun on a white sand beach or in an infinity pool with cocktails on hand from the swim-up pool bar, allowing anyone to have a guaranteed ocean view from any spot of the venue. Whilst technically a beach club and not specifically one of Bali Beachfront Restaurants, you can certainly chow down then enjoy their pool and bar under the sun.
If you want to capture the best surfing moment in action, go to the second level which provides a sunset lounge with a cinemascope ocean view. For those who fancy a bit of sushi, the beach club has just announced their new Sushi Bar. The menu is comprehensive without being overwhelming. Unlike many sushi restaurants on the island, Finns Sushi Bar doesn't have pages of options to pour over, but a succinct selection of flavoursome and fresh food done well. Take some shots of the dish before you sample as a reminder of just how good these dishes are! If you would prefer to soak up the sun at the same time, simply grab a daybed and kick-back with one of their Bento Boxes.
Finns Beach Club
Address : Jalan Pantai Berawa, Canggu
Phone : +62 361 8446327
Website : www.finnsbeachclub.com
---
Ji Terrace by The Sea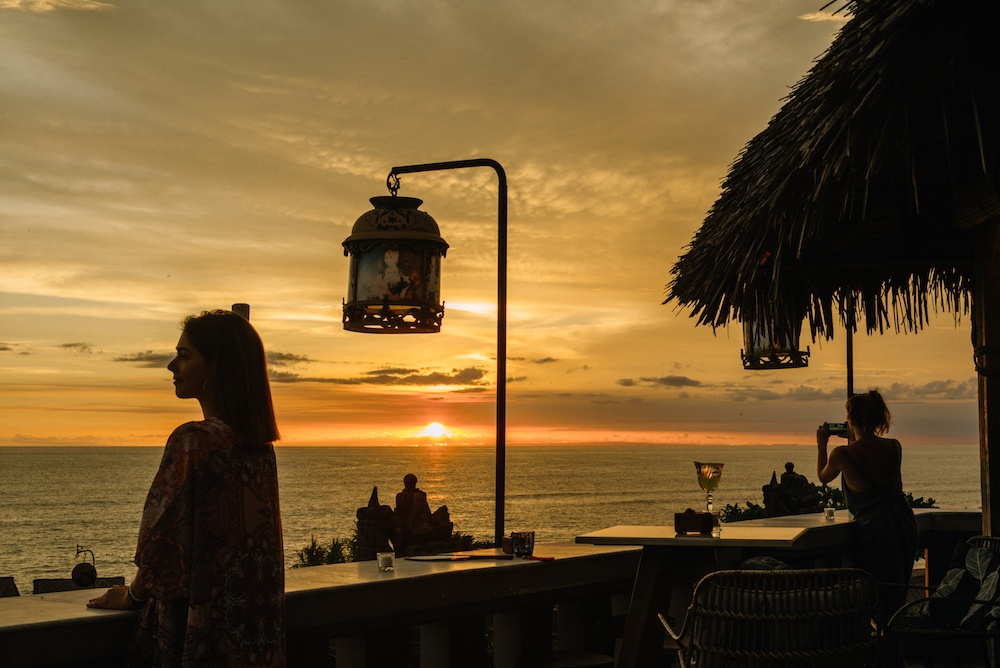 Going to the neighbouring beach of Batu Bolong, or better known as Canggu Beach, Ji Terrace by The Sea is located on the second and third floor of the existing Ji at Bale Sutra. With 180-degree undisturbed views over the sparkling ocean and the beach, this venue offers an exotic dining experience in a journey through ancient Japan and the east. Be prepared for the ultimate sunset session from the balcony! As the sun sets under the ocean, enter into another world of Ji, a dreamlike atmosphere with candlelight and magical sounds, delivering you to the next level of romance. Book your 18th-century antique bed, illuminated by lanterns and a red, dusky Canggu sky, then tuck in for a gourmet contemporary Japanese picnic under the moonlight. Sounds like a perfect plan to end the day, doesn't it?
Ji Terrace by The Sea
Address : Hotel Tugu Bali, Jalan Pantai Batu Bolong, Canggu
Phone : +62 361 4731701
Website : www.jiatbalesutra.com
Without a doubt, dining at one of these 12 Bali Beachfront Restaurants will be something you'll remember from your time on the island. Sit back, order a cocktail and your meal, and just enjoy that sea breeze and the sand between your toes. Who's in?