Yes, another staple hailing from Italy that goes to show simple pleasures are always the best! Many Italian and non-Italian restaurants in Bali showcase their own takes of pasta and with such a huge variety of pasta types and room to play with accompaniments, the pasta possibilities are endless!
---
SEMINYAK ITALIAN FOOD
In the swanky Double-Six Luxury Hotel you'll find Seminyak Italian Food, overlooking Double-Six Beach. This modern trattoria, which marries Italian classics with the best of seasonal produce, has quickly risen to become one the area's favourites. The restaurant dishes out the finest Italian preparations, from Calamari, Ravioli, Ricotta and Tiramisu. Enjoy the slow cooked lamb Ragu Fettuccine, grilled sea bass, minute steak, steamed spinach, Arancini and the delightful Bambini (small doughnuts with warm lemon custard and strawberry jam-delicious). The most recommended pasta here is the 'Tortelli di Granchio'. The pasta is filled with handpicked crab meat, sauce of French butter, Chives and Confit of Tomatoes Passata which is an explosion of Italian flavours in your mouth.
Seminyak Italian Food
A : Double Six Luxury Hotel, Mezzanine Level #66, Double Six Beach, Seminyak
T : +62 361 734300
W : www.seminyak-italian.com
---
ULTIMO ITALIAN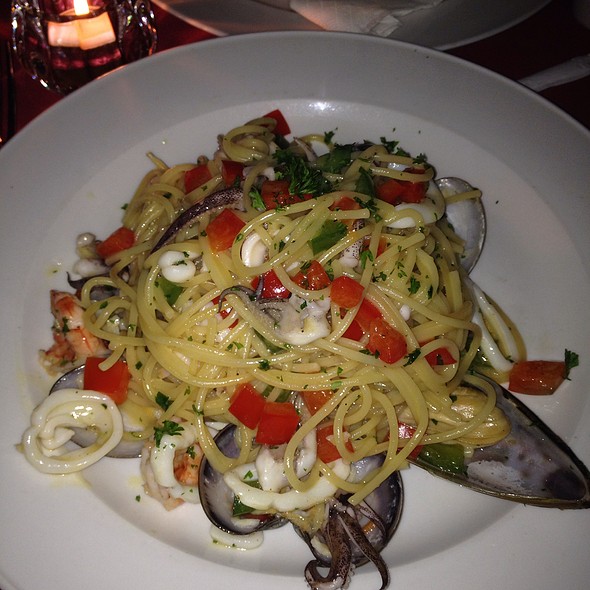 Still in Seminyak, Ultimo Italian also serves a huge plate of mouth-watering Italian food. It is busy and buzzing almost every single night of the year, with live music injecting life into the centre of the restaurant in the evenings. Boasting both high service and food quality, pasta stands out on the menu. Duck filled Ravioli, Linguini with prawns, Aglio olio pasta, seafood pasta with white wine sauce appease your taste buds. The ravioli pasta is curved around the seven-cheddar filling to look precisely like a treat wrapper. In any case, the dish is a great deal more than an adorable trick. The smooth pesto sauce and brilliant cherry tomatoes give an excellent stage to this delectable pasta.
Ultimo Italian
A : Jalan Kayu Aya No 104X, Seminyak, Kerobokan Kelod, Badung, Kabupaten Badung, Bali
T : +62 361 738720
W : www.balinesia.co.id
---
JAMIE'S ITALIAN
A 'must-visit' if you are strolling around Kuta Beach is Jamie's Italian; this international chain brought to Bali by Britain's 'Naked Chef, Jamie Oliver, is a rustic family-styled eatery welcoming to any Italian food lover. From the sunny street-facing terrace to the large bar and lively open kitchen, you simply cannot resist Jamie's aura. If you have a large appetite, then the variety of pasta here will match it. Produced fresh every morning, their homemade past is really what sets them apart! Some of the signature dishes are the Prawn Linguine, with fresh garlic prawns with fennel, tomatoes, chili, saffron, fish broth & lemony rocket. Or, Squid and Mussel Spaghetti Nero, a beautiful flash-fried squid & mussels with tender octopus, capers, chilli, anchovies and white wine tossed through in homemade spaghetti, died in squid ink.
Jamie's Italian
A : Jalan Pantai Kuta, Banjar Pande Mas, Kuta, Kabupaten Badung, Bali
T : +62 361 762118
W : www.jamieoliver.com

---
LA CUCINA
La Cucina at Discovery Kartika Plaza Hotel, also known as Tastes of Italy, ties in beach vibes and pasta bliss. Overlooking Kuta Beach and the hotel's pool, experience the typical Italian fare in an al fresco setting. La Cucina Restaurant also has three outdoor bales that provide privacy for a romantic candlelight dinner. The local and international chefs transform fresh and seasonal ingredients into delectable plates to feast upon. The showstopper here is their fresh pasta; spaghetti with olive oil, garlic and hot peppers and Spinach Gnochi is such a treat for the taste buds, as well as The 'Lasagna Rendang' that introduces an Indonesian flare to the classic pasta dish.
La Cucina
A : Discovery Kartika Plaza Hotel, Jalan Kartika Plaza, South Kuta
T : +62 361 751067
W : www.discoverykartikaplaza.com