Bali Life Foundation is an Indonesian and Australian registered foundation that exists for the sole purpose of providing a future and hope to the underprivileged children within its areas of operation, especially Bali. This foundation is an award-winning entity, having received many prestigious awards for its great work of improving the social and economic lives of the less privileged.
Currently sheltering about 40 children, childrens hopes stand tall at the heart of the foundation's work. The home offers new hope to these little ones who come from disadvantaged backgrounds, all of whom have either been rejected, orphaned or even abandoned, prior to their rescue by the noble foundation. Rather than be faced with the significant risks that come with living on the streets, Bali Life Foundation offers food, shelter, and clothing to these children.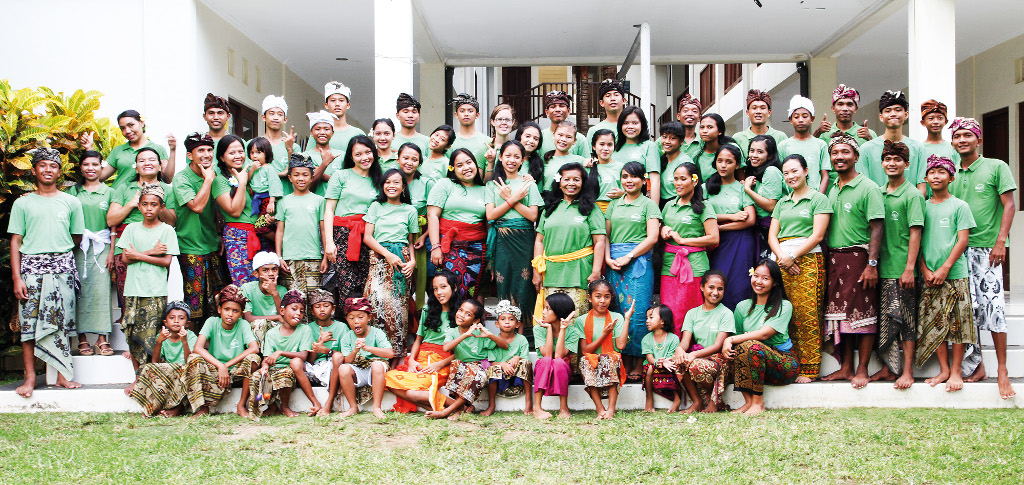 The foundation's missions, vision and goals are the indications of what the foundation believes. Their core values are mainly engineered to offer hope to those who may have ended up with bleak futures. The vision determines their missions, which are to provide basic needs to the less privileged (HOPE), train and give skills for future survival (PURPOSE), and to teach good values and morals (DIGNITY).
Within 10 years of existence, the foundation has been able to achieve their goals by positioning the organization as one that clamours for excellence in the empowerment of the disadvantaged in Bali, more specifically the children and women. It is Bali Life Foundation's intention to see such unprivileged lives given another chance of reaching their dreams, thus raising an independent and responsible generation for a better future nation.
They are currently running 4 programmes.
1 Children's Home
Unlike most of the children's homes we know of, this one doesn't only provide food to the less privileged but is also concerned with the mental and spiritual spheres of their lives. The children are empowered with education to become responsible, successful and independent citizens with the capacity to influence changes within their respective sub-communities across Bali and beyond.
By now, at least 8 of the children under the foundation are either engaged in college or university studies or have just completed their programmes. All the children sheltered under the foundation attend local schools.
2 Street Kids Centre
There is an informal school reserved for kids living on the streets, and at least 30 children are attending the sessions. This school features two classrooms, a children's play area and a library.
This is a perfect space to allow the kids to be kids as they learn to be enlightened as well as gain skills for the betterment of their future lives. Learning is carried out from Monday to Friday between 9AM and 5AM, with the classes' main aim being to nurture a child to become meaningful and productive.
3 Women's Workshop
Bali Life Foundation hasn't neglected the seed bearers of the local society. Once a mother has been empowered, there is a high chance that the entire generation will get the same empowerment. Many of those who were not seeing any hopes for the future will have a reason to smile from now on.
Through proactive care, employment and training, Bali Life Foundation has been able to hamper with the poverty cycle that was eating into most of who had either been disregarded by their partners, lost their partners, and even those who just had to flee from abusive families to save their lives. Jewellery and handicrafts are made by these women, after which they are paid wages in return. The foundation's future idea is to expand the programme to be able to accommodate a larger operation base, that may end up including the youths as well.
4 Suwung Community Centre
This is another programme with the purposes of offering children, as well as their families, a place for support. It is a centre for the restoration of PURPOSE, HOPE and DIGNITY, especially to those little ones who are not able to attend school due to financial constraints from their backgrounds. This community centre comes in to help in empowerment, education and medical support among other forms of assistances.
The positioning of the school in the Suwung Denpasar Trash Area was purposely designed for the centre to target those families working in and around the dumpsite. Informal school programmes have been designed, tuitions as well as extra classes for mothers and children. Suwung Community Centre's informal school features two classrooms together with a playground. It is opened from 10AM to 5PM every weekday. At least 30 children and 10 mothers have been benefiting from this programme.
5 Self-Sustain Farm
Located on a 3380-square meter parcel of land, Bali Life Foundation runs a Self-Sustain Farm that cultivates fruits and vegetables as well as tending to livestock and Aquaponics. This farm's purpose is to sustain the activities of the foundation, while at the same time offering a ground for the training of valuable skills and experiences. It is encouraging that, even though the farm instructors were only given informal training, the success of the farm is impeccable.
Bali Life Foundation exists for a worthy course that all humanities ought to consider living for. The foundation has done a commendable job within such a short time. However, due to limited resources, they still need some generous donations to continue the cause they have been doing. And this is where we must take our part. Our donations today will go a long way to expand the humanitarian support and base. Let us support this cause!
Bali Life Foundation / Yayasan Bukit Kehidupan Ungasan
A : Jalan Pura Masuka 77, Wanagiri, Ungasan, South Kuta, Badung
T : +62 361 8953037
W : www.balilife.org