Monkey Forest Road is the bustling heart of the Ubud tourist scene. This cosy little street is jam packed with bars, hotels, coffee shops, restaurants, boutiques, cute eateries and lots of shopping.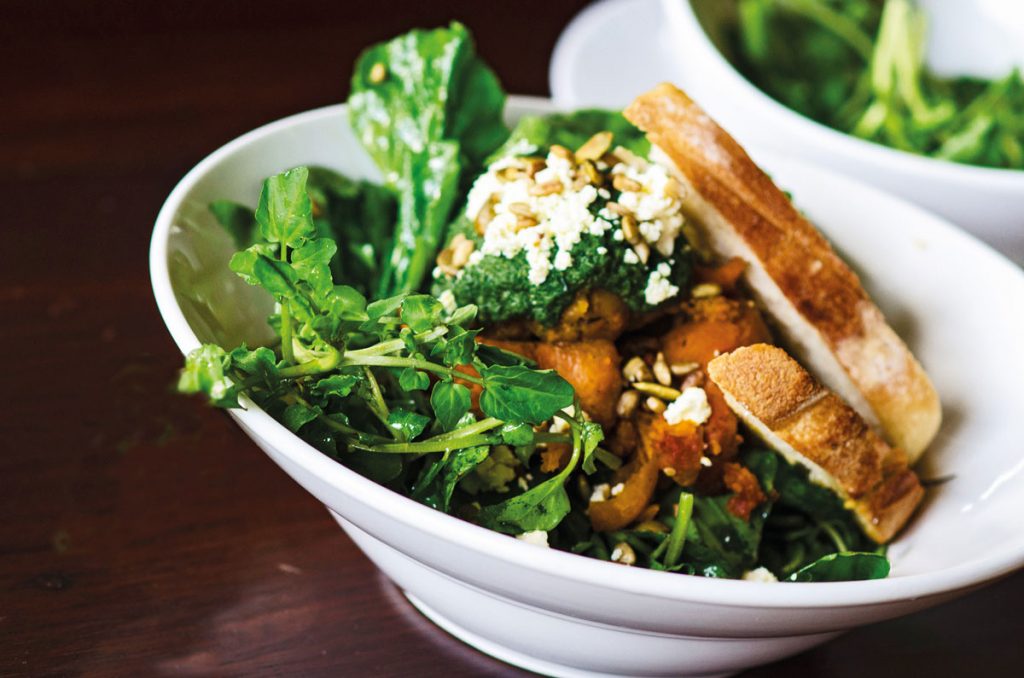 While some people choose to stay here in one of the many hotels and barely leave the road, others come to eat and wander. We choose some of the Roads best offerings although there are plenty more to explore.
Close to Ubud's main road, is Ibu Rai Bar and Restaurant, possibly the oldest restaurant in town which was started by the late Ibu Rai in the 1960's as a small warung to purvey food to visitors. For years it was one of the few decent eateries in the vicinity and it has grown over the years to keep up with the growing tastes of the visitors. It is full every night which speaks loudly for the popularity of the dishes which range from Indonesian favourites to quite a sophisticated menu. They even have that rarity, Raspberry juice on the menu and their 250 gram tenderloin has to be one of the good deals in town.
Juices cocktails, good service and a relaxed Bali atmosphere ensure they are busy all the time.
Further down the hill, past the football field on the right hand side is another old timer – Café Wayan which has also moved with the times. Walk in and you step into old Bali. Fragrant scents of flowers, running water, lots of space and private little spaces to enjoy, away from the incessant roar of passing motorbikes.
Here the menu is filled with favourites. No fine dining just good comfort food designed to be enjoyed.
Breakfast starts with Black Rice pudding a favourite which used to be on every menu and has now become as rare as hens teeth. Black sticky rice is simmered with palm sugar, then topped with coconut cream. Food for the gods! Spring rolls, bruschetta, Stuffed crab, Papaya chicken salad with garlic bread, the stuff dreams are made of. You can enjoy your own private cute space, while sipping on an ice coffee grasshopper with coffee liquor and crème de menthe or an Iced Jamaican Coffee with coffee liquor, white run, and cream. Yum! And these are just in the cold drinks section!
Wayan's Café was the first place to introduce cakes into Ubud's eating scene, about thirty years ago. Things have changed so much since then, that what was once the norm for Bali restaurants, has now become something really special.
WATERCRESS
Moving along, across the road, we come to Watercress, attached to Sri Bungalows. This open space place offers what most don't – Watercress, that hard to find edible plant that adds so much zing to a salad.
Their best is the Watercress Salad combined with roasted pumpkin, goats cheese, sun-dried tomatoes and sun flower seed – simply delicious and fulfilling. Coffees, cocktails, juices and smoothies as well as sandwiches and an Angus Beef Burger are all to be found on the menu. Their beer selection comes from half a dozen countries – a nice touch for beer lovers. Being foreign owned there is a no smoking rule, which is a tad unnecessary in an open sided eatery, but what do I know!
In the same central Monkey Forest area is Cinta Grill – serving the best mojitos in town. From five till seven every day, they offer a two-for-one Mojito deal and this friendly, open restaurant resonates with the tap, tap, tapping of fresh mint being pounded to make those great drinks. Their food is great, prepared with care, attention and flavour, and their aglio olio is probably the best in town. The menu caters to different tastes and there is surely something to please everyone.
Close by Cinta, on the same side, is the well run Three Monkeys Restaurant which also offers food of a high standard. Standing next to a little rice field, it has a pleasing view to dine by. Home made pasta, some Greek influenced dishes, Mezze, prosciutto, Spanakopita, Gourmet spring rolls, fabulous Bruschetta, and the list goes on. Excellent for a high-end meal or a long lingering lunch. Their cellar has a fine selection of wines and they can shake up a mean cocktail. Choose a table at the back to enjoy the rice fields, or a sofa front street seat to enjoy the passing parade.
You may also like to pop into Kopi Bali, down near the Forest for a great, air conditioned coffee and snack, or just up a little way, is Ganesha for fine Indian cuisine, or Folk for a super gourmet sandwich. So much to discover.
What there is not a lot of, along this busy little road, is parking spaces so get your driver to drop you and arrange a meeting place for later, like the Monkey Forest at the bottom of the hill, so that you can wander unrestricted and enjoy.