New on the block or rather off the Ubud block, is the Di Abing restaurant at the popular Jungle Fish venue. In fact it is the Chapung se Bali Resort which is the other half of the very popular Jungle Fish – a kind of Seminyak life style, pool party type venue in the hills outside Ubud.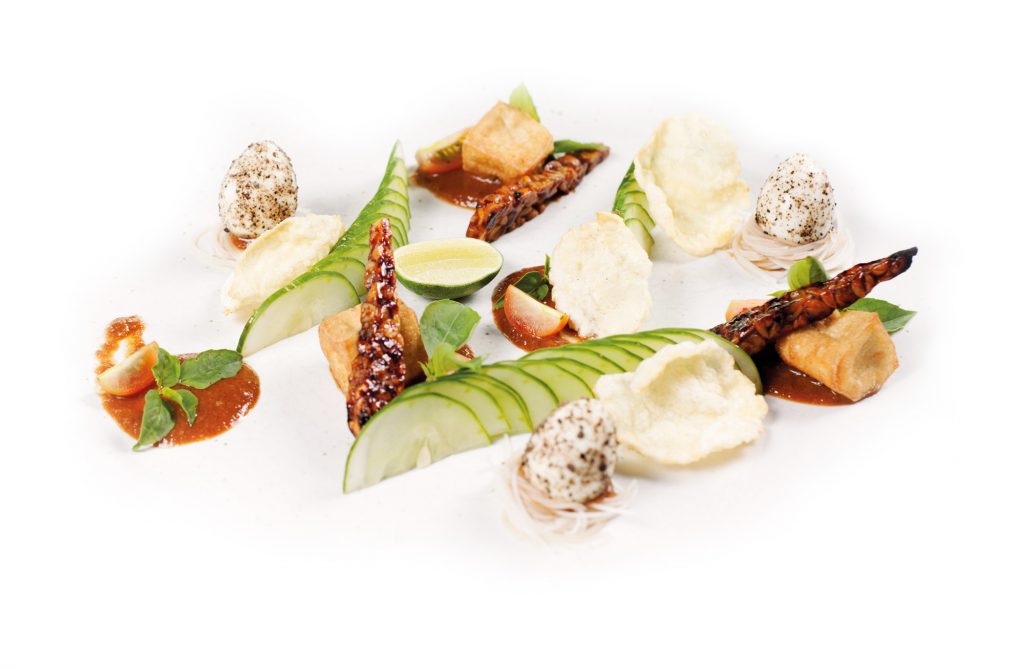 It is so popular that Seminyak types stop by when they are visiting Ubud. Surrounded by pristine greenery and jungle, overlooking the beautiful Osh River, it is a great place to while away a day or two in abject comfort.
Newly opened, the Di Abing restaurant stands high above the pool and the glorious view. Just opened on the 23rd of July, it is one of the newest Ubud eateries. With a cuisine that stands somewhere between fine dining and fusion, the menu is eclectic and interesting, still finding its feet.
But ingredients are fresh and the seafood is excellent. Chef Wuisan from Borneo handles a variety of cuisines, of Thailand, Indonesia, and a touch of European. Clever combos are his speciality.
Think of Seabass Cerviche with sweetcorn, sweet potato, wakame coriander and pepper or a Smoked Duck and Quinoa Salad with watercress, fresh asparagus, radish, tomato and a honey lime dressing.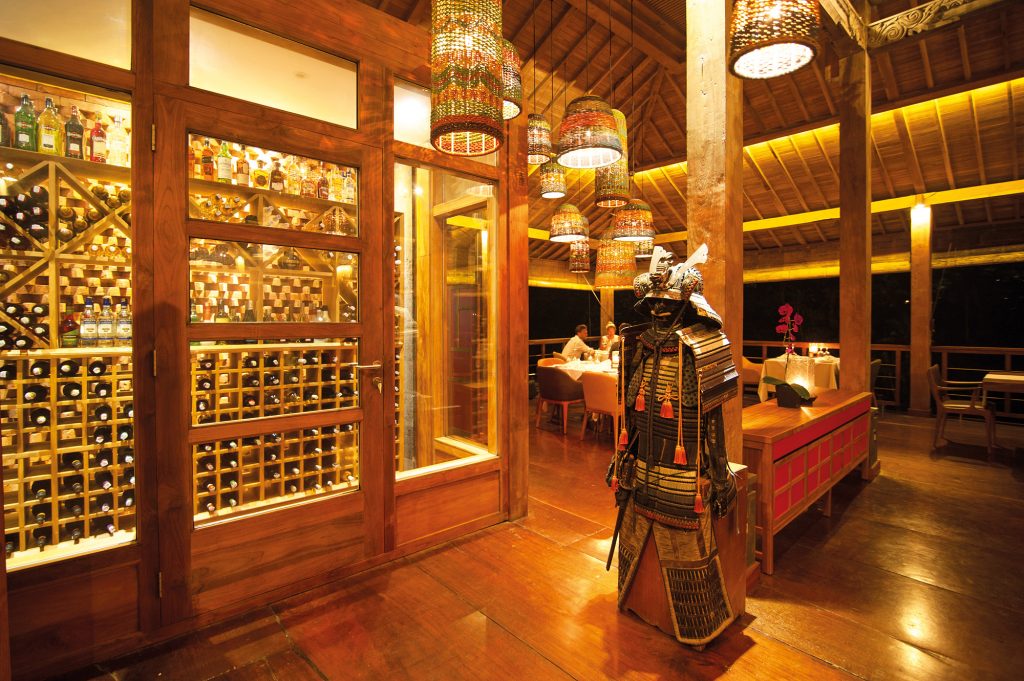 The Mains include a very European-influenced Lamb Cutlet – with a red wine marinated lamb, compressed watermelon, beetroot, tomato tempura salsa verde and potato cake. The exotic grilled Citrus Tuna Steak comes with orange carrot sauce, avocado orange salsa, wasabi potato croquettes and bonito flakes.
Flavours are varied and cleverly combined to produce tantalizing new combinations that one would not normally encounter.
The intriguing sounding Crispy Pork Belly comes with a green pea puree, fennel and pepper marmalade, dried pineapple, eggplant and quinoa mousse, and a mashed sweet potato. Very interesting!
Our Seafood Curry came with uber fresh scallops, and giant grilled prawns while hidden beneath in a sea of rich and spicy Thai red curry sauce, was a piece of barramundi, cauliflower, bitter beans, and fried curry leaves, topped off with a touch of Balinese Sambal Mata.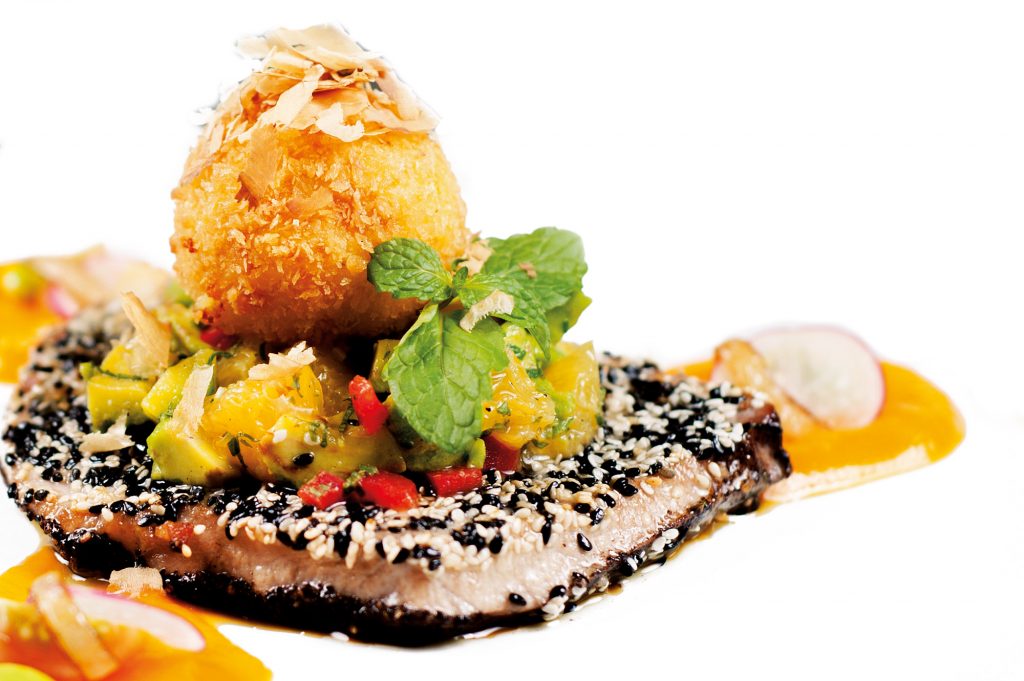 The menu is so interesting that it has to be tried to be believed! There is also a baked Ratatouille, for the vegetarian faction, and a Rib Eye steak for the sturdy traditionalists.
Desserts are another voyage into fantasy. We had the Cendol, a traditional Indonesian dessert, and (even though I would have gone for the Pavlova) it was amazing. A concoction of grenadine jelly, little leaves of pandan paste, coffee cream, mascarpone, shaved coconut and toasted pumpkin seeds for texture, a hint of kaffir lime zest was topped off with a delicious grenadine foam and the whole thing was surprisingly light and delicious. I would go again just for the Cendol!
Other exotic desserts too numerous to mention appear n the menu and they all sound good. So as the weeks go by, expect some changes in the menu as it is shaped by feedback and personal preferences, but as a starter it could be described as interesting and creative!
So anyone looking for a romantic dinner with a view in the quiet mountain air, this could be the place to go to. Attractive villas are also available for a romantic overnight stay.
Di Abing Restaurant
Chapung se Bali Resort and Spa
Jalan Raya Sebali, Desa Keliki, Ubud
+62 361 8989102
www.chapung.com