When it comes to holidays, the options of how to spend those precious, eagerly anticipated days of the year are endless. For those who are looking for a vacation which combines a bit of pampering with a bit of action, MV Salila has been designed and refurnished to accommodate luxury adventure and outdoor living.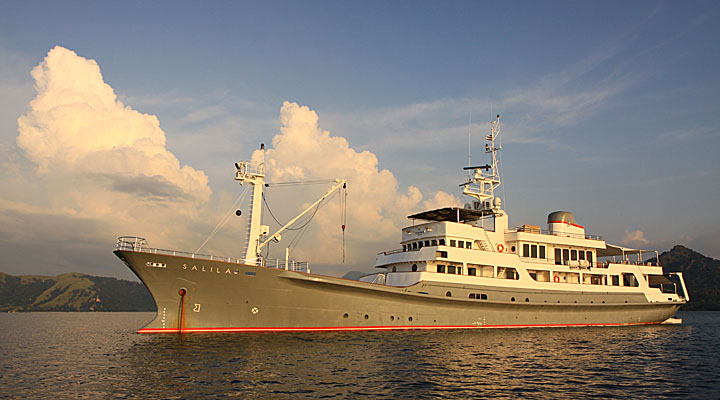 MV Salila invites her guests to cruise, dive, snorkel, and kayak around Eastern Indonesia (Bali, Komodo, Ambon, Raja Ampat) either on a charter cruise or on an individual cabin based trip.
Salila, the Sanskrit for 'water,' personifies this magnificent element and comes with a long history having transformed from a floating school to a floating hotel. She has been cruising in the Indonesian archipelago since 2012 complete with an Indonesian crew and a foreign cruise director onboard.
The impressive 56-metre Salila is a popular charter vessel for multi-generation families and friend groups. She has bright and spacious indoor spaces including a lounge, a dining room and a library with a panoramic view. Accommodation is provided for twenty guests in ten cabins, including two large master suites and eight regular cabins, made up of four double rooms and four twin.
Over the years the yacht's menus have been developed and re-designed to utilise the best of fresh local and high quality imported products to prepare a variety of Indonesian, Asian and Western dishes. The chefs are keen to keep the ingredients as nutritious as they can to provide a good balanced diet for active days spent in the water.
The vessel has been designed to provide absolute comfort during the cruise. Everyone can find their favourite spot to relax or sit together with friends and family members. Children's favourites are the Jacuzzi and the swimming platform where they can jump into the water or have a ride on the banana boat. Two big tender boats take the guests to the beach or scuba diving and there are also kayaks, paddle boards and snorkeling gear ready to be used.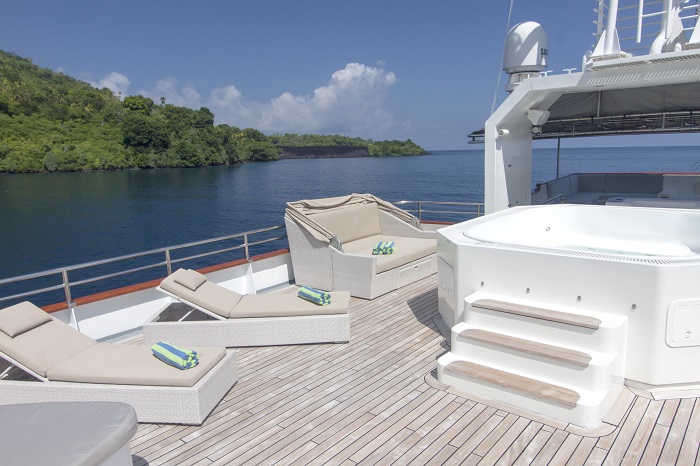 Salila is not a diving vessel however, she has all the facilities and the crew are more than happy to take guests scuba diving as Indonesia has the most beautiful underwater biodiversity. All of Salila's trip itineraries are tailor made, based on the requests of guests, but generally combining opportunities for land excursions and water based activities.
MV Salila is doing a special trip and invites you to experience the most beautiful sites of the Banda Sea.
The remoteness of the Banda Islands in the wide-open Banda Sea and the low level of population ensure a vibrant, natural and healthy reef ecosystem. Expect to encounter reefs burst with life and sheer walls covered with huge sea fans and sponges among monumental hard corals surrounded by many fish species.
See the Banda Seas itinerary for 11-19th October 2015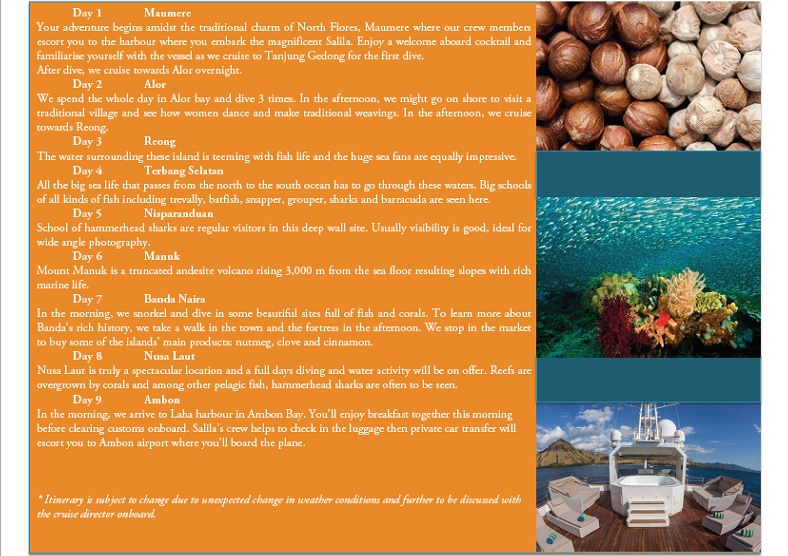 Please visit Salila website for more details, updated photos, news and destinations.
Salila Expeditions Head Office
Jl. Danau Poso no. 40, Sanur, Bali
Tel: 0361 282933