Every place is characterised by its local eateries. Giving a quick overview of the people and their unique way of living, these eateries represent the culture, art, lifestyle and tradition of a place. Filled with different merchandise, artwork and food items, these places seem like a miniature Bali, portraying the true colour of its home island.
 DENPASAR TRADITIONAL MARKET
Denpasar's charm lies in the marvellous way in which it retains such a strong hold on its cultural heritage and the ethnicities of the Balinese people, flawlessly combining the new with the old. For those who yearn to explore and have an insatiable thirst to deep-dive and learn new culture, a visit to Denpasar traditional market is the perfect doorway to authentic Indonesian lifestyle.
Badung Traditional Market in Denpasar strongly depicts Balinese culture and traditions by beautifully encapsulating Balinese lifestyle in all its shops. This market invites you with street carts, busy food stalls and people selling snacks right off the back of their motorbikes. Exotic and enticing in its own way, the market atmosphere draws in locals by the hundreds, ready to examine through a stockpile of market goods for a fraction of their retail price.
Currently relocated to Jalan Cokroaminoto after a major fire incident, Badung Traditional Market is the centre of the town's economics. Despite being a little dull from the outside, this complex remains a strong driving force for the Balinese economy with transactions and sales happening around the clock. The local people who go for shopping at this market are not only from the environment of the Denpasar community but also from other places. Badung Traditional Market operates for 24 hours, divided by 2 shifts, one that starts at 5 in the morning and one at 5 in the evening.
This enormous shopping spot consists of a large main building that houses stalls and shops of all varieties, including hardware, slow-moving items and daily necessities from clothing, homeware, kitchen utensils and ceremonial goods such as ornamental baskets and incense. It offers a perfect picture of Balinese tools and items that the locals use almost every day. Some have fixed prices, while others can be well negotiated. Outside the building is the 24-hour-open-air market counterpart, where fast-moving items and groceries are sold. You can feast your eyes on colourful tropical fruits and bargain hard. This market becomes quite cramped before big holidays like Galungan, Kuningan, or Nyepi.
The highlight of Badung Traditional Market is its authentic street food and Balinese style light bites. From the very humble stalls on the sidewalk to the food stalls on wheels and motorbikes with a gas cooker, the locals have found many diverse ways to serve warm and fresh food that seems to be delivered straight from the street. Most of the food stalls have their own 'kitchen' that they have built piece by piece next to the diners who sit on plastic stools at makeshift tables.
You will instantly perceive the aromas of Balinese spices immersing you. Lovely satay skewers with rice cakes are charcoaled to the point where the sugars from the marinade caramelise and gives the perfect crunch. Tipat is a rice cake cooked in woven coconut leaves, a simple stodge filler, served in a thick sweet peanut sauce. Wash it down with Es Kelapa Muda, which is coconut water and shaved ice. If you really like spicy food, you will love Sate Lilit (minced meat, grated coconut, coconut milk, lemon juice, shallots and chili pepper, covered around a bamboo, sugar cane or lemongrass stick, and grilled on charcoal) or even the Sambal Matah (a chili salsa condiment that you put on grilled fish, chicken or rice). The suckling pig is definitely a must try. It is a unique dish roasted on whole over fire, stuffed with onions, garlic, ginger, galangal, turmeric, lemongrass, shallots and chillies. A very common dish that you will find in most of the small food stalls is different types of Lawar, like Pork, Jackfruit and Dragonfly Lawar, which is a mix of vegetables, coconut and minced meat drowned in rich herbs and spices. Nasi Campur is Bali's signature dish but when you order it from local eateries, the chilli they put on the side or on top is ridiculously spicy, which gives you the kick of real street food.
The street food at Badung Traditional Market attracts thousands of locals and tourists every day. Simple dishes with complex flavourings is what makes these food items so irresistible, living up to the true definition of street food.
---
JIMBARAN FISH MARKET
Though many of the popular dishes consist of pork, beef and duck, fish is also a part of the staple diet. Located in Kedonganan village, Jimbaran, Kedonganan Fish Market is a treat for fish lovers. Very popular for its fresh and big catch, this place provides an amazingly long array of fishes to choose from. It is Bali's main seaside marketplace where fishing boats land daily and haul off their fresh catches, making this place full of fresh catch of unending varieties. Bustling with both tourists and locals, this fish market is one of the hottest culinary destinations in Bali.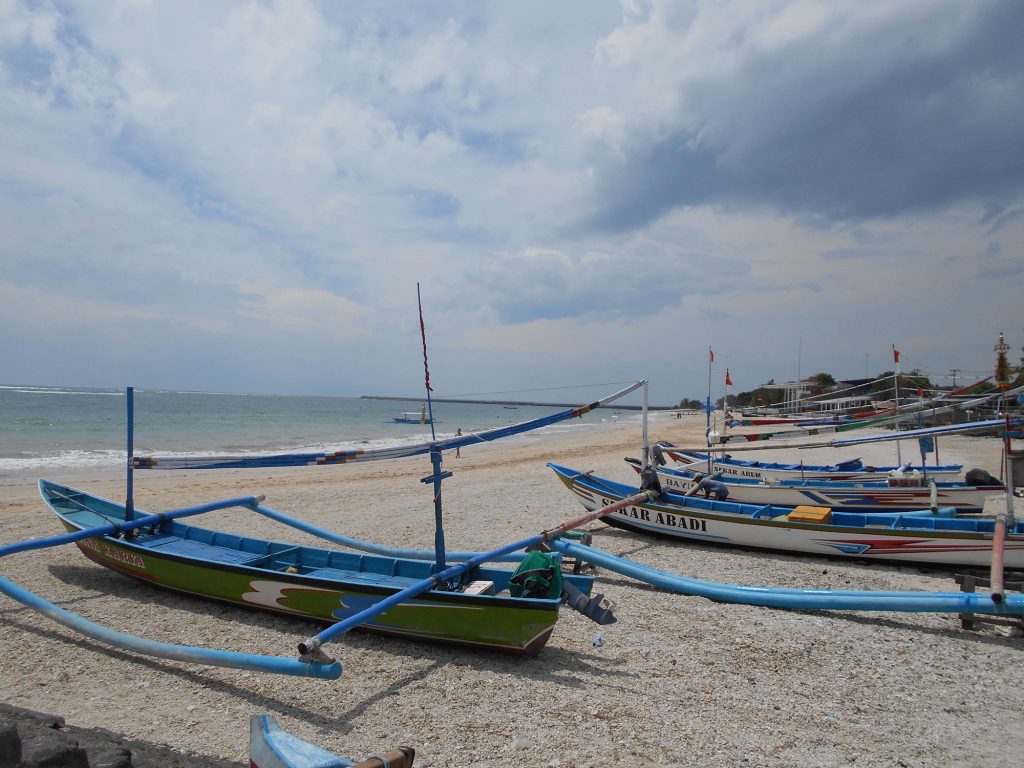 Operating daily from 5 AM until 10 PM, this market is visited by people from every segment. Located close to the coastline, the mornings are usually busy with fishermen hauling their boats and dropping off their fresh catch. The fisherman uses large, motorised boats with huge purse shaped seines. They normally depart late in the afternoon and arrive just before dawn to sell their catch to the wholesalers at the Kedonganan Fish Market. The catch is well iced to maintain its freshness and taste.
To enter this fish market, you need to pay Rp 1,000 for motorcycles and Rp 2,000 for cars. You will find stalls laid cleanly all around with small compartments to categorise the different catches. You can also find a few fishermen who lay out their catch on the coast itself and few local vendors who sell fish on the move. The characteristics feature of this traditional market are its semi-permanent shops made from wood. Interestingly, the main concept of this fish market is its proximity to the coasts and umpteen restaurants serving the fresh fish there and then. There is no time spent on transporting the fish to the markets, resulting in extremely fresh and high-quality fish being sold.
If you are a seafood lover, be amazed to find varieties of fish like shrimp, squid, crab, lobster, tuna, scallops, crabs, oysters, octopus, and chunks of fish eggs. Amazingly, they all cleaned and neatly arranged. Normally, the fish prices start from Rp 30,000 per kilogram, and more for rarer catches. The prices go up slightly during the rainy season as the catch reduces, as well as during holiday seasons. Bargaining is recommended, and if you are lucky enough you can end up negotiating at some real low price. For your personal note, the fish sellers are pretty warm and friendly. They tend to give a generous discount for anyone buying in bulk.
The ambience is lively, owing to a lot of restaurants and grill houses operating in the vicinity. The place is teeming with tourists more in the evening when they come to choose their catch and take it to a restaurant to get prepared. You can either take your catch home and cook your friends and family a delicious fish supper, or you could even get it cooked on the spot. The restaurants are located along the beaches, providing a beautiful view of the oceans along with mouth-watering dishes to enjoy. These restaurants are operational from breakfast time until the wee hours of the morning. These local restaurants have a rustic air about them and are the perfect place to taste authentic Balinese food cooked in the most customary way. A lot of restaurants even allow you to take your catch to the chef and request them to prepare it for you. Of course, you do have to pay a little extra for this. The best part is that if you want to throw a beach party, you can simply request the chef to cook your choice of fish in your way and have a fun evening with a unique seafood dining experience. The Kedonganan fish market offers such a flavoursome and scrumptious rendezvous.
---
KUTA'S STREET FOOD
Kuta is a very popular tourist spot. Famous for a lot of posh hotels, resorts and restaurants, the area might seem a little commercialised. However, if you crave to eat authentic Balinese food, there's a place to be considered in the heart of Kuta.
Located in Jalan Patih Jelantik, this place acts like a magnet for drawing people who are crazy about pork and want to have it in the rustic, local way. Pork satay under the tree or locally known as "Sate Babi Bawah Pohon", speaks for itself. The dining spot is in a tent, right under a giant tree in the parking lot of the public Gelora Tri Sakti sports facilities. Once you find your way to Legian street, you can ask around and follow the heavenly scent of barbequed meat.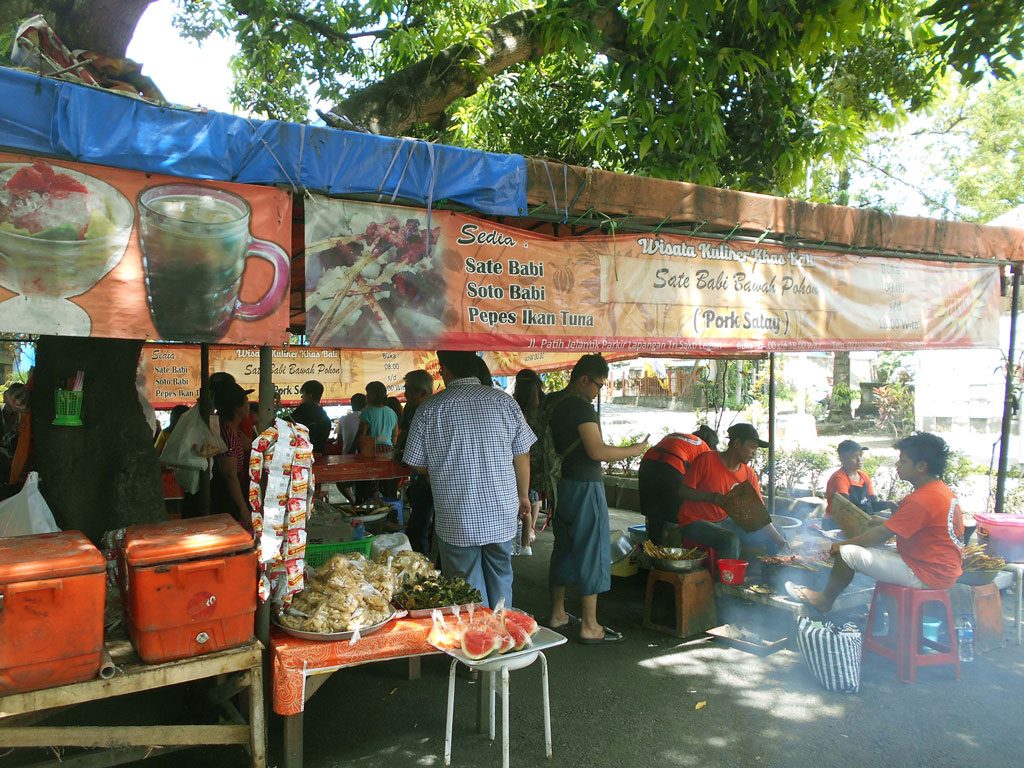 Rp 30,000 is what it takes for you to enjoy 10 sticks of satay complete with Indonesian rice cake called 'Lontong' or better known as steamed ketupat rice cake cubes. You might be searching for peanut sauce or sweet soy sauce to go with the satay, but surprisingly, you will find a pinch of salt with green chillies served on the side. You just need to trust the local chefs, grab one of the skewers and use the succulent barbequed meat on it to crush the chilli on top of the salt. If necessary, tap it a bit on the edge of your plate to get rid of the salt before you go for the first bite. The meat is fresh, tender and juicy. It has an amazing crunchy texture on the skin. The taste of the spices and the pork blended together after grilling on charcoal is so mouth-watering and succulent. It is sweet, sharp, a little bit hot and smoky. The mishmash of the sweet and spicy barbeque marinade together with that boost of saltiness and heat from the chilli and salt bombs your pallet in the right places. There is no doubt that you will go in for a second or even a third portion since the price won't put a dent in your pocket.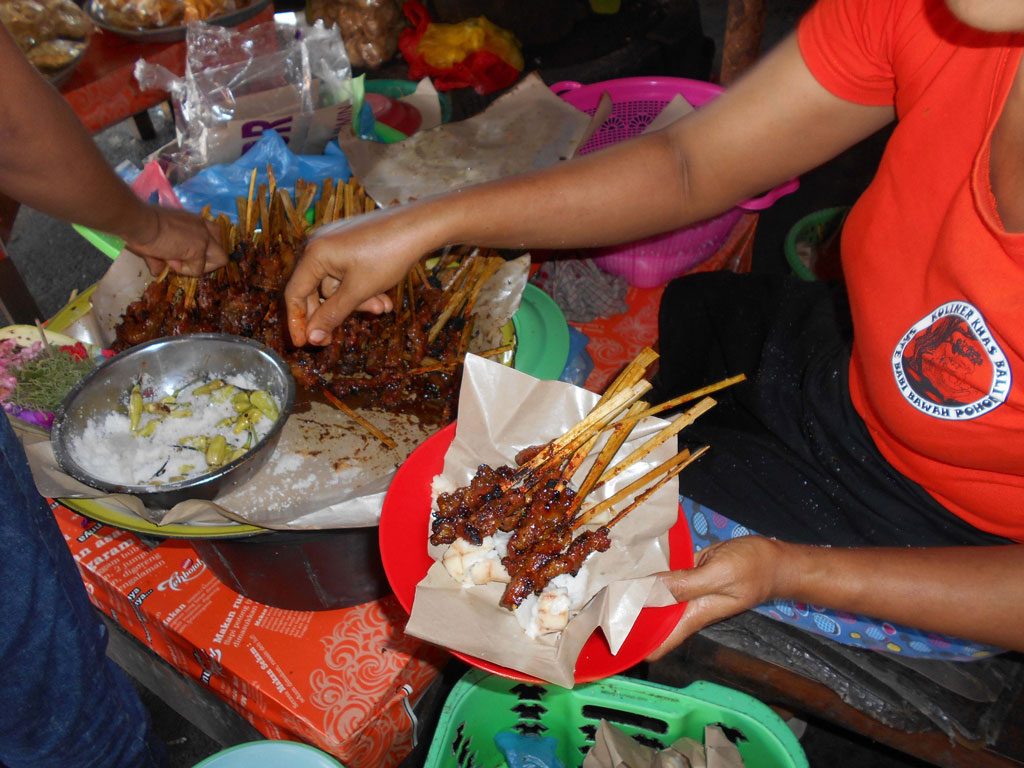 This satay stall opens daily from 10 AM until everything gets sold around noon. It is better to go early in the morning to avoid long queues. On a personal note, it is a little difficult to find a table and chair. You might need to stand and enjoy your pork the local way. Do not get fooled by its humble location and eating spot. Sometimes people wait in queues for more than 1 hour just to taste this succulent, yummy pork. Such is the craze and popularity of this dish. It has been loved by all, and labelled Bali's gourmet bliss!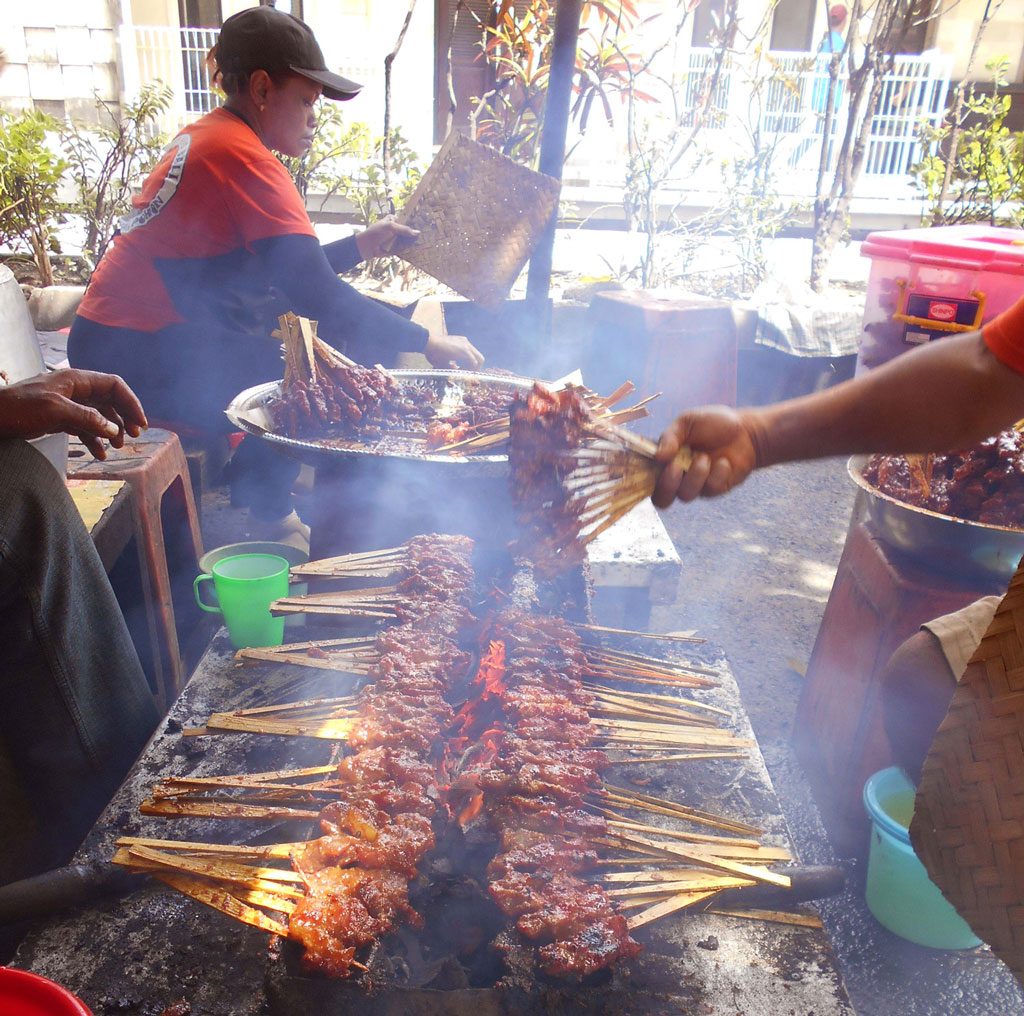 ---
SANUR NIGHT MARKET
Sanur is Bali's oldest upscale resort area and a mature beach-side town. Despite the abundance of resorts and restaurants around this place, Sanur offers a tranquil and soothing charm. It stretches for about 5 kilometres along an east-facing coastline, with the lush and green landscaped grounds of resorts fronting right on to the sandy beach. The beach is thin and protected by a reef and breakwaters, so families appreciate the limpid waves.
To blend with the locals and for the better understanding of how they live, a visit to Sanur Night Market can be included in your itinerary. Located near Sindhu Beach, the market is amongst the cheapest spots that a tourist can find themselves at. Groceries aren't as overpriced as it is the case with some other spots that have purposely been established to extort the foreign tourists. Sanur Market ideally operates throughout the day with the mornings being dedicated to the selling of groceries, fresh vegetables, dried fish, pungent spices and various household goods. Slightly after midday, departments shift from grocery stalls to food stalls, and the market suddenly transforms itself into a place of sensory delights. So, you are free to go according to your fancies and whims. If you are a food lover and want to have it in the local way, the best time to arrive would be after 6 PM.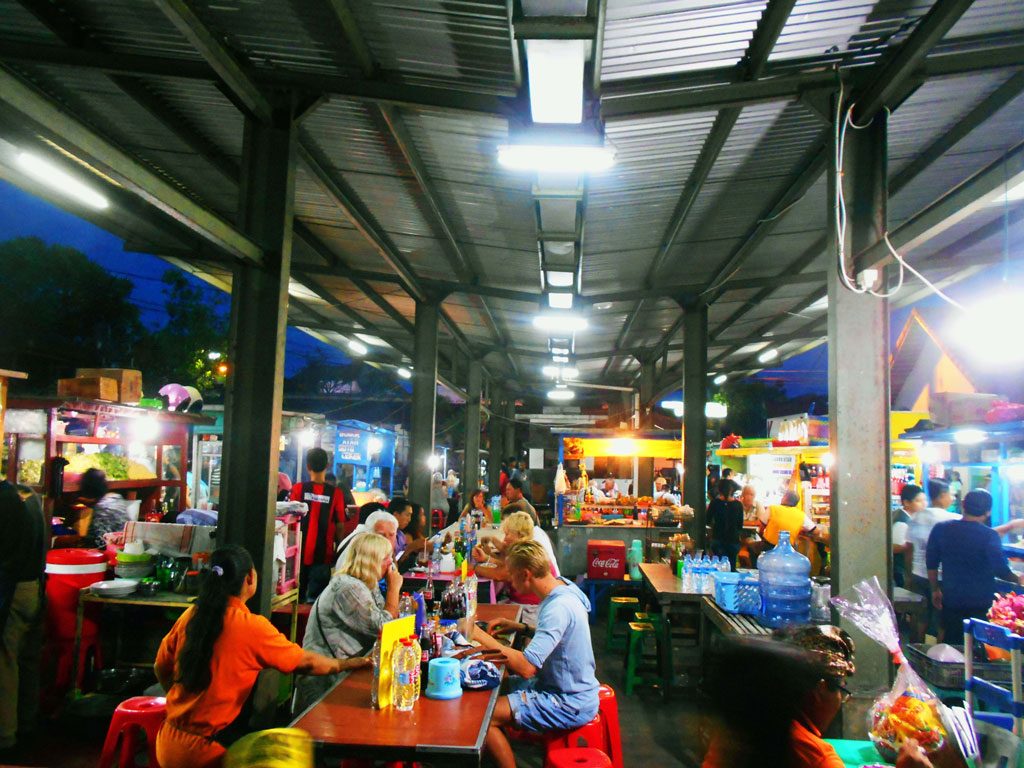 Recently, Sanur Night Market underwent some serious refurbishments resulting in a much more organised affair, thanks to the extra space created. The variety of street food available here is mind-blowing, from local food stalls to meals on wheels. You can find any kind of fried and grilled food, including fried rice, fried noodles, satay, range of curries and stir fries. It becomes so difficult for the first timer to choose what they want to try. The best part, everything is ranging under Rp 30,000 per item. So, if you are travelling on a budget, this is definitely the right place to be.
Mounds of food are dumped onto squares of brown paper before being neatly wrapped and handed to salivating takeaway customers. Most of the visitors park their motorbikes and dash in for a takeaway, while others don't mind standing in front of the stalls and waiting for the delicacies to be cooked right in front of them. You might not find chairs and tables as per a common seating arrangement, but frankly, who cares! Don't be surprised to find heaps of foreigners in and around the food stalls and look very excited to try Indonesian food. Worry not about the language barrier as these food stall owners speak just enough English to understand what you want to order. In case they don't, you can still communicate using the language of gestures by pointing at the items that you want. One secret of the market is for one to understand the balance between the sweetness and spiciness of the various foods.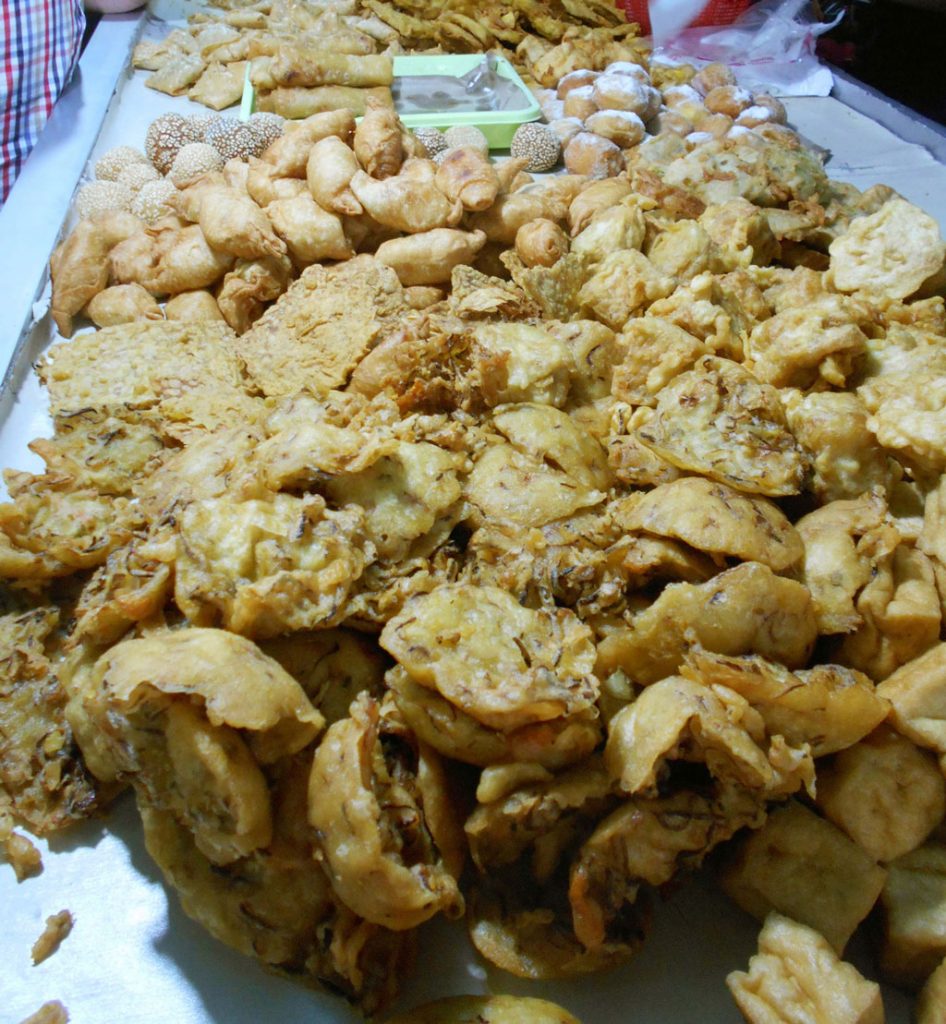 As you walk and dance around sampling the sweet and spicy creations, you will be amazed to see live coals in the stalls where meat is charred and grilled to perfection. It is fascinating to watch the chefs cook with their medley of tossing, flipping, sautéing and sprinkling of exquisite Indonesian spices. Some of the food stalls serve plates of ready-to-go food items behind glass, and you can choose what you want to go with rice. Some of the favourites are Perkedel Jagung (corn fritters), Terong Pedas (spicy eggplant), Tempe (soy bean cake), and Balinese style mixed vegetables. You can also find Lawar (coconut and vegetable dish with bits of crunchy pork), Bakso (Indonesian soup with meatballs), different versions of chicken, beef, lamb and fish. Fried pancakes and egg rolls are some of the other foods prepared in different ways.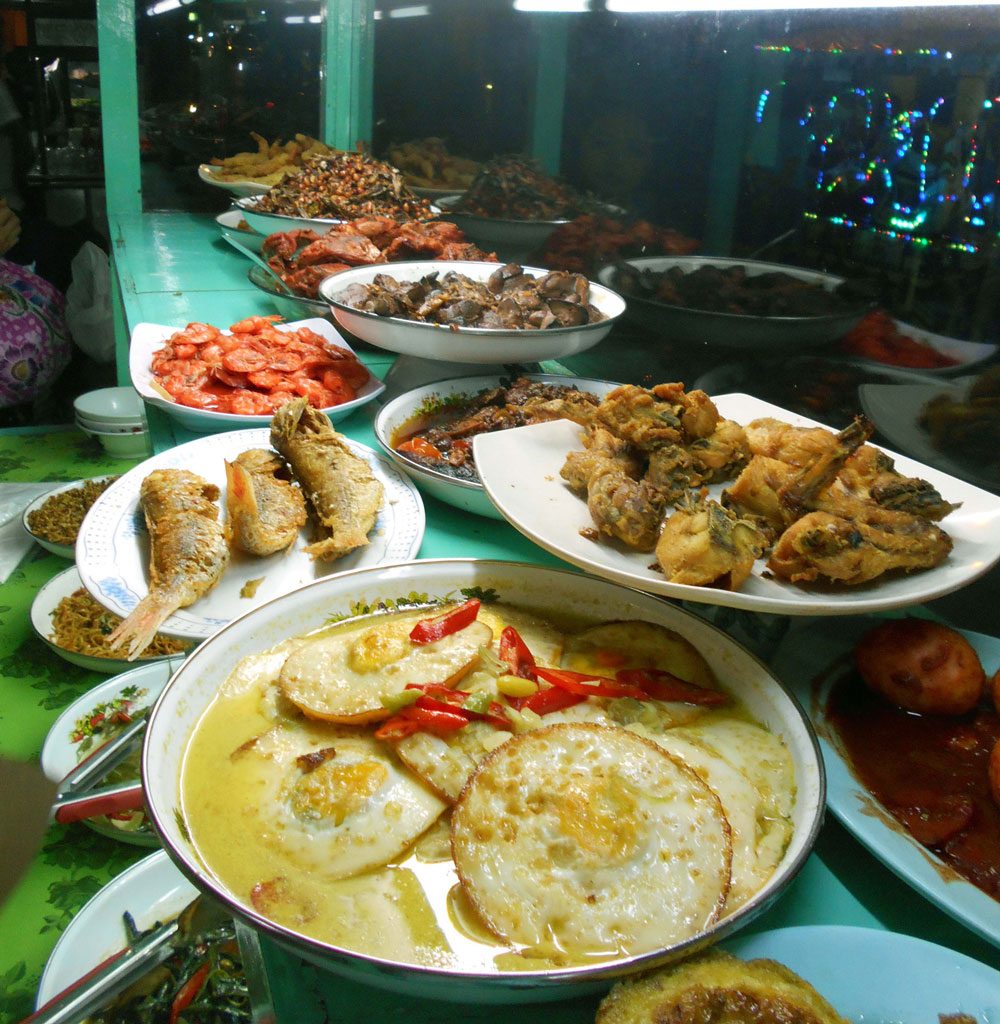 If you are not sure what to have for dinner, you can go for a Lamb or Chicken Satay with a delicious sweet soy sauce and Lontong (sticky rice), or do try the savoury Martabak, which is a cross between a thin pancake and a thin omelette, stuffed with a slightly spicy filling that usually includes garlic, minced meat, egg and onion. It comes with fresh, birds eye chilies, sweet chilli sauce and cucumber slices on the side. For dessert, you could buy a sweet Martabak with a filling of condensed milk, nuts and chocolate. But if you want to go for something light yet yummy, try a fresh tropical fruit salad of papaya, banana and pineapple, or perhaps a Durian Ice Cream. For only under Rp 100,000 you can have all of this.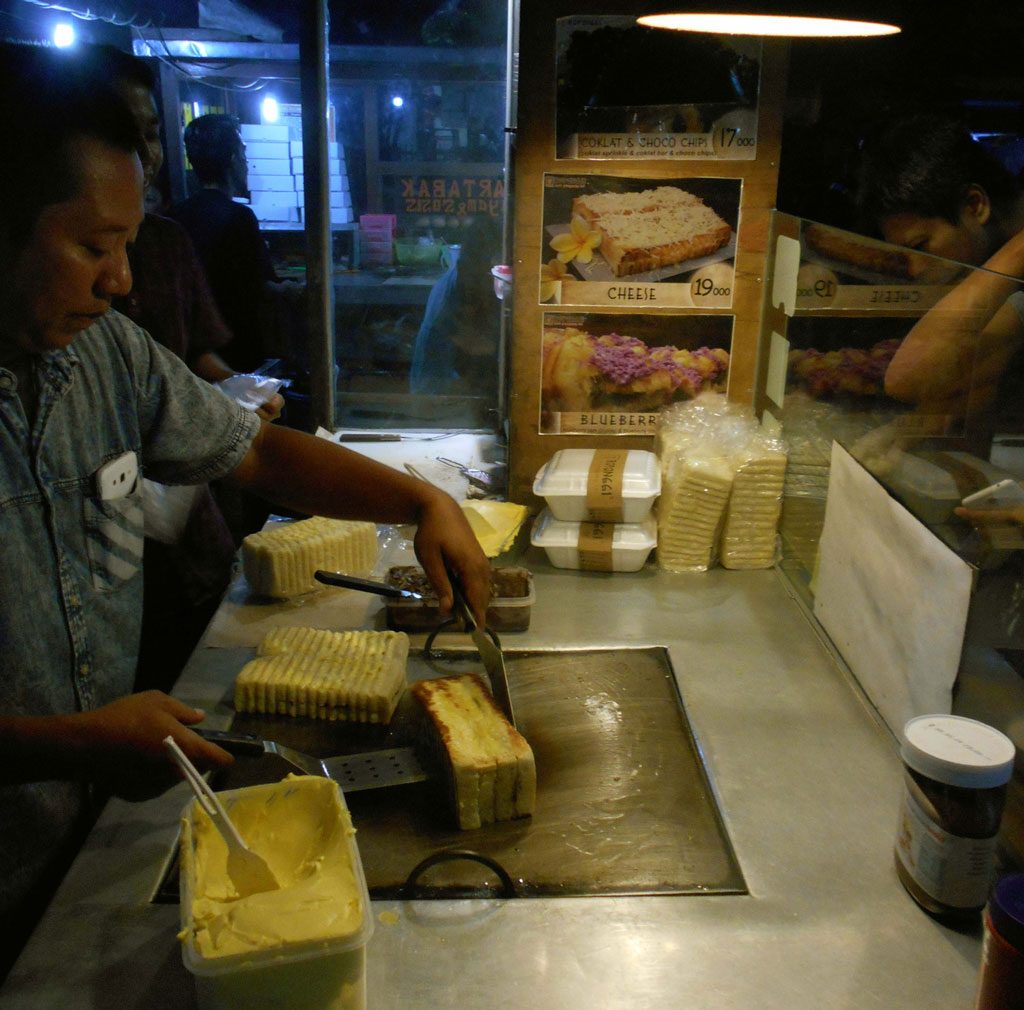 Sanur Night Market is an amusing break from eating at high-end restaurants. While gorging on street food, there is no compromise on anything with taste and quality. But surprisingly, you get to enjoy unimaginable varieties of food at immensely reasonable rates that ignite your taste buds. The charm of standing in front of the stalls, ordering over the counter, interacting with the friendly locals who treat you as people rather than 'Tourists' and watching your food getting cooked right in front of you is an amazing experience. Away from the posh and luxurious, the street food at Sanur Night Market gives you every reason to devour and indulge into true Indonesian food without feeling guilty about emptying your pockets.