Famed among the Australians for its active nightlife, Kuta and Legian also attract foodies from all over the world for a decent culinary adventure. An assortment of restaurants shares the scene offering a seemingly endless mix of local and international cuisine. Whether it be fancy dining inside five-star hotels, sunset light meals in beach bars or casual cocktails by the poolside, you can simply choose the liveliest venue that suits your desire. The vibe is very casual along the Kuta and Legian strip, making it easy for you to unwind and make new friends. 
Starting at the busy street of Jalan Kartika Plaza, you can easily spot a family-style, high-end restaurant of Kunyit Restaurant(www.theanvayabali.com) with its Balinese contemporary design exterior. As part of The Anvaya Beach Resort, this beautiful lounge setting restaurant is enlivened by a mix of conventional Balinese traditions with a modern influence, serving a home-style selection with a casual elegance and offering a rich menu that is known for its flavour and history. Meaning 'turmeric', the chef's speciality at Kunyit is the Megibung, a mixture of different dishes on a single huge plate. A perfect selection for those looking for a the real Balinese family dining experience, this set of dishes contains chicken and pork satay, grilled prawn, pork belly, grilled chicken with sambal matah, steam fish wrapped in banana leaf, Balinese sausages and Balinese vegetables (a mix of green beans and sprouts plus seasonal vegetables lightly dressed in shaved coconut and chilli). To add to the Balinese vibe, marvellous Barong and Legong Dances perform every Saturday starting at 7 PM.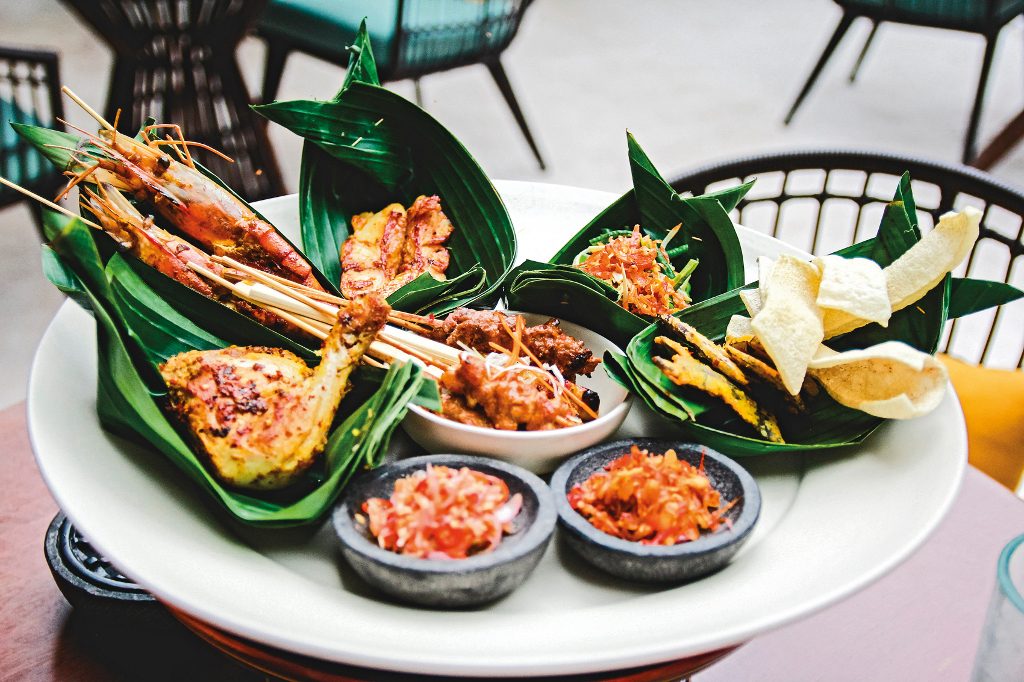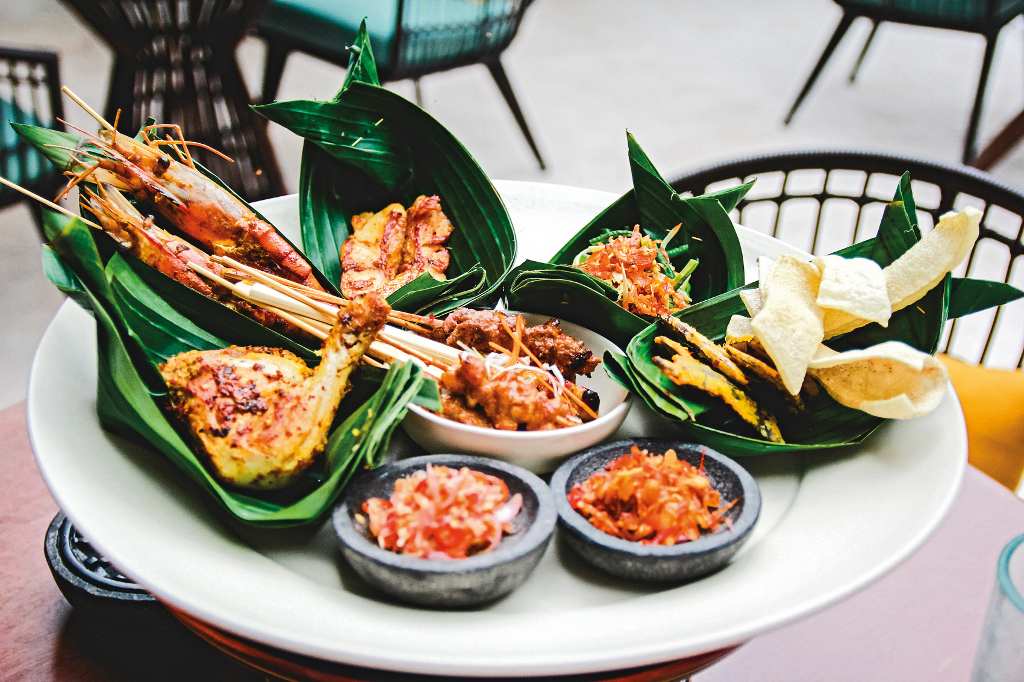 A short 10-minute walk to the north, Bubba Gump Shrimp Co.(www.bubbagumpbali.com) is recognised for its high-quality shrimp. Originating in California, this seafood restaurant provides a casual environment where you can enjoy a great fresh seafood. Most of their dish is dominated by shrimp. The menu also offers an exciting variety of fish entrees, crisp salads, fun children's meals, creative desserts, and award-winning ribs. Signature menu items include appetisers such as Mama Gump's Garlic Bread Basket, Shrimper's Net Catch and Run Across America Sampler featuring a taste of all appetiser favourites. Entrees like the Bucket of Boat Trash featuring fried shrimp and soft-shell crab, Bourbon Street Tilapia, and Shrimp New Orleans are all equally tempting.
Wandering to Jalan Pantai Kuta, before you stroll along the Kuta Beach, a quick stop at Jamie's Italian(www.jamieoliver.com) will awake your Italian appetite instantly. Featuring beautiful works by local artists, this lively open kitchen is rustic with a Jamie twist. From traditional Italian appetisers, pizzas and kinds of pasta, to rich meats and fantastically imaginative desserts, the culinary team of Jamie's uses innovative cooking approaches to rekindle the tastes of Italy, opening the culinary door to its diners. Here, you can expect to find classy and sophisticated Italian food as delectable as it can be. Try their Prawn Linguine, which is garlicky prawns with fennel, tomatoes, chilli, saffron, fish broth and lemony rocket. This dish captures a deep flavour of the sea.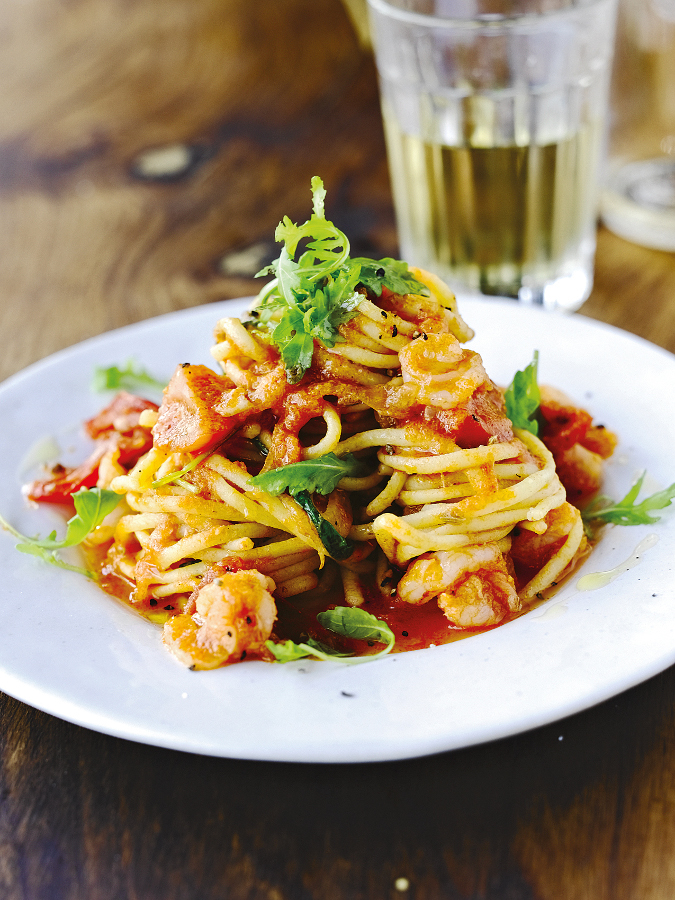 If you are craving for some ribs in Kuta Beach, go inside the Beachwalk Shopping Centre and have one on your plate at Tony Roma's(www.tonyromas.com). This polished, casual-family dining restaurant is gaining reputations through their legendary ribs for more than 45 years of history. The Baby Back Ribs has emerged as one of the house specialties and people have travelled kilometres to experience the famous creation. With 150 locations worldwide, they are one of the most globally recognisable names delivering a fun saucy experience to thousands of guests every day. From wood-grilled steaks to comfort food with a twist, their menu is focused on high-quality dishes to satisfy any cravings.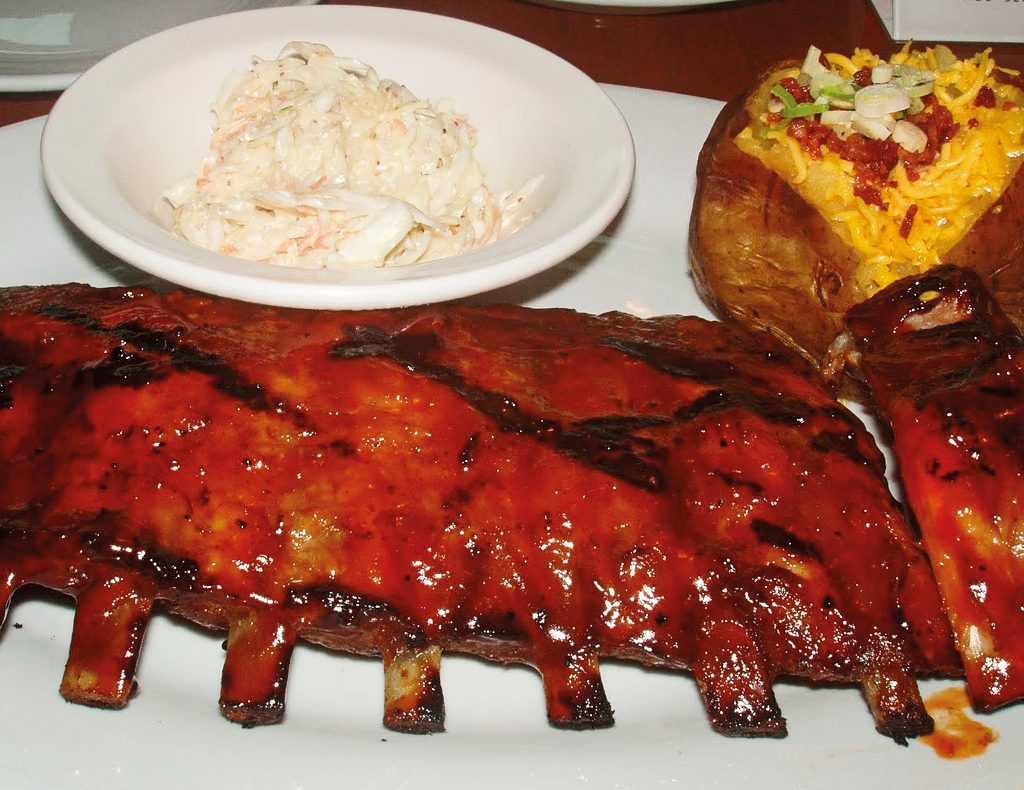 For seafood lovers, you can enjoy your lazy time capturing sunset moments at the beach while dining at Big Fish Bar & Grill(www.thestoneshotelbali.com). This cool and casual poolside restaurant of The Stones Hotel offers refreshingly light and healthy meal selections, fresh seafood from the daily fish market and premium Australian beef. After sunset, the lighting across their lagoon pool creates a sensual and refreshing setting for your evening meal. Try pairing your seafood treats with wines! A glass of Sauvignon Blanc or Chardonnay will pair wonderfully with fish and melt perfectly inside your mouth.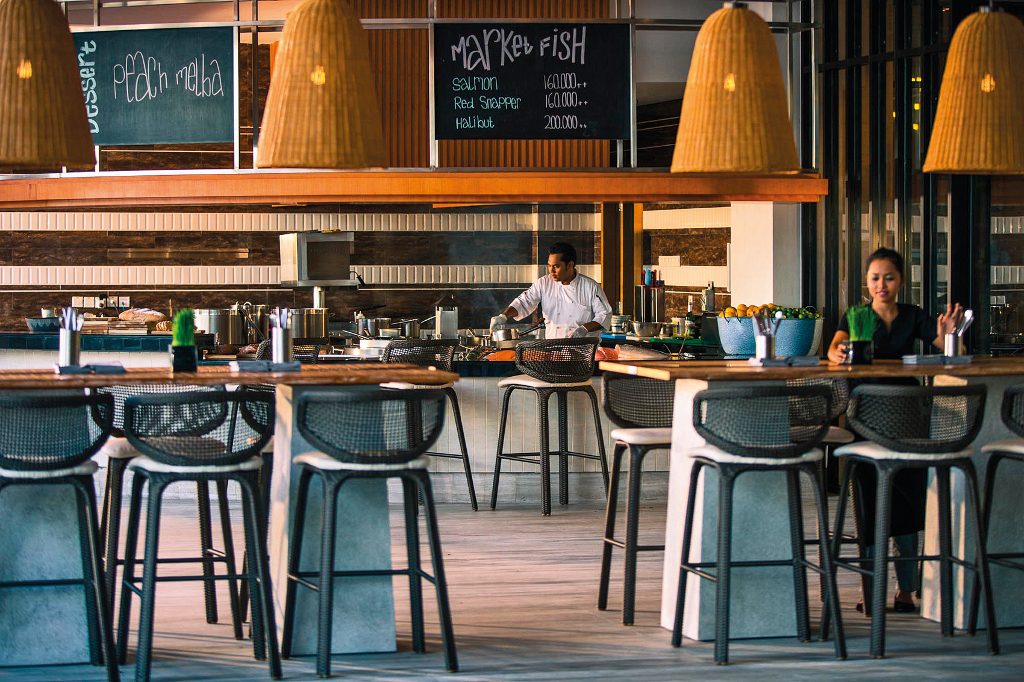 Moving on to the Legian area, within a walking distance from the central nightlife of Legian, The DECK Restaurant and Bar(www.theonelegian.com) is a chic and hip place to relax while enjoying the culinary delights and pulsing beats. Located on the ground floor of The ONE Legian, the inviting interior is pleasantly warm and rustic with an air of comfort and taste that eases all guests into a feeling of relaxation. The natural wooden lines blend perfectly with the crisp overhead lighting, creating a fancy dining experience where you can truly savour the food and expand your palette. On the menu, this restaurant serves a delightful selection of Indonesian and Western favourites such as Gado-Gado, Shrimp and Avocado Bruschetta, Chicken Cream Corn Soup, Balinese Chicken Soup, Tapas, Sandwiches, Pasta and Pizzas and mouthwatering mains like Grilled Duck Legian Street and BBQ Pork Ribs. Open until 1 AM, this is definitely a must-visit for the young and the young-at-heart. A sports bar, arcade games and live music are also available for your entertainment.
Just around the corner, Poppies Restaurant(www.poppiesbali.com) has been in the neighbourhood since 1973. Here, you can taste the delights of fresh seafood, Indonesian and international cuisine beneath a canopy of flowers while amidst the pools and little waterfalls around you. Straight away after you stroll through the Balinese entryway, you will notice a family-style restaurant enlivened by a mix of Balinese traditional design elements. Ask for their Rijstafel menu, as this is one of the favourites in this restaurant. It comes in small tasty portions of Indonesian delights from all around the archipelago, including a selection of satay and some soup options.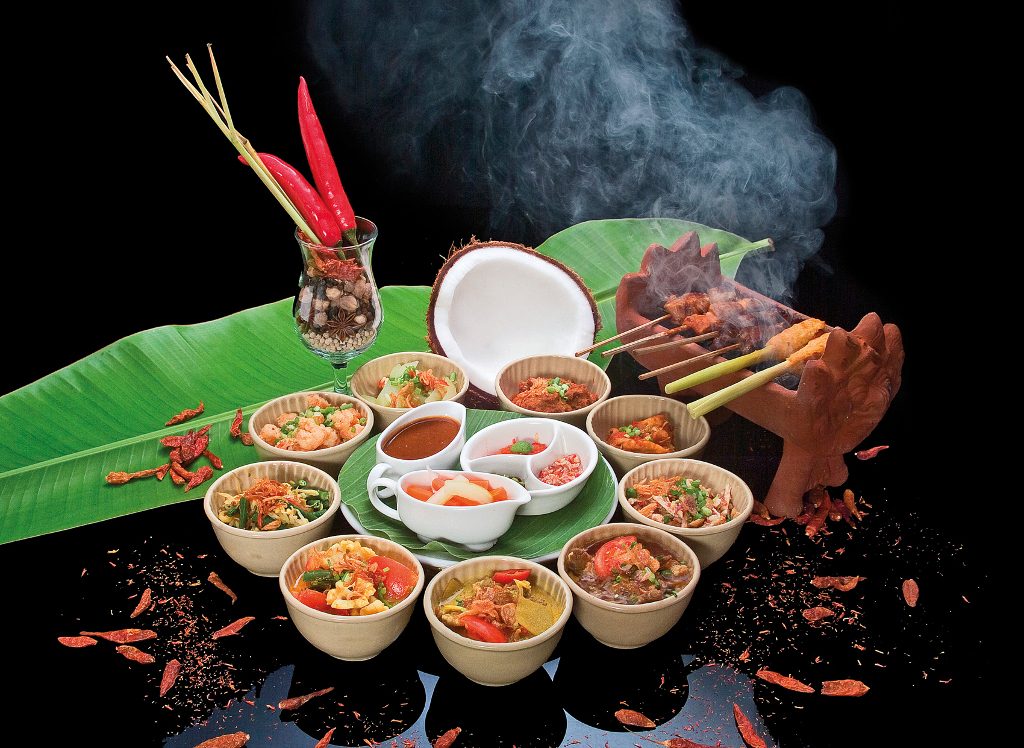 Heading out from Legian street to Padma street, Romeos Bar & Grillery(www.romeosbali.com) offers diners a culinary experience through their rustic and simple methodology to create a new level of home-cooked comfort food. Located a minute away from the Legian Beach, you must try their in-house traditional grill, cooking up a mouth-watering selection of prime cuts, seafood and carnivorous goodness! This plate full of meat is a combination of Ribs eye, Pork Ribs, Sausage, Chicken Wings and Lamb Chop that comes with tasty sauces and side dishes. To complete your 'big' dining experience, live music performances of handpicked talented local artists perform almost every day.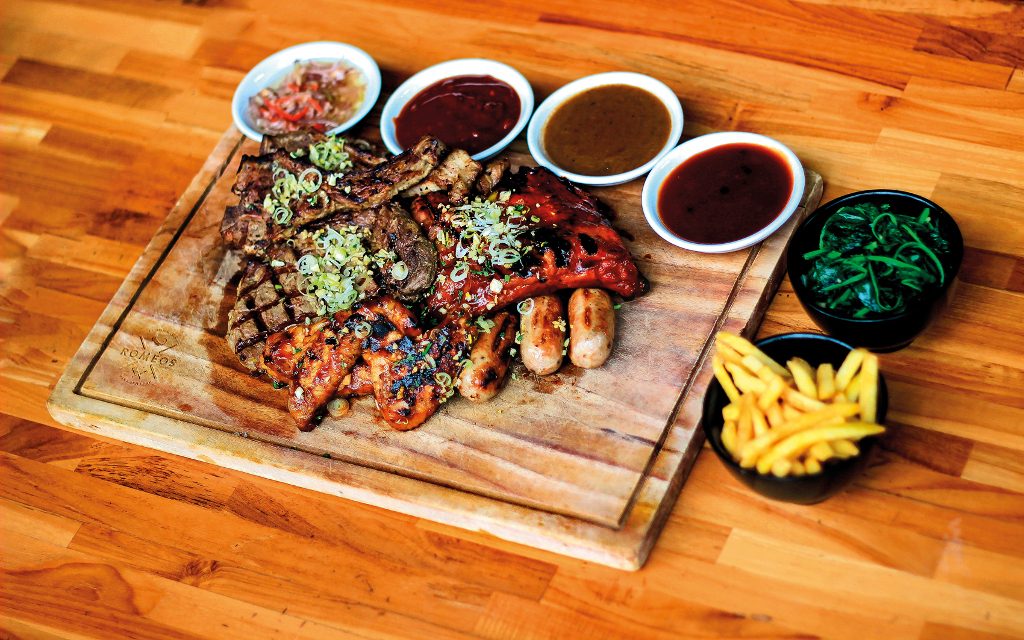 Driving 10 minutes away from the Legian Beach will take you to Tapas Tapas Bali at Jalan Dewi Sri. This new modern concept of tapas restaurant and bar was ranked one of the best Spanish restaurants by Wine & Dine Magazine Singapore in 2014. Located at the front cafe space of The Grand Livio Hotel, this place is down-to-earth, mimicking the kind of tapas eateries in Spain. Not only serving the most popular Spanish dishes, the culinary team has also prepared tapas and dishes from other regions to attract a wider audience.