Many are in love with Bali, but not necessarily the crowds. If you are one these people, or you simply feel like taking time off from the island's hustle and bustle or crowded pools, then we've got news for you: We know just where to go! So kick back, relax, and get away from it all with our picks of secluded venues on the island.
1. Karsa Kafe

Campuhan Ridge in Ubud, also known as the "Hill of Romance", allows an easy walk upwards on a winding stone path amidst scenic grasslands, hilly and uneven at times, but affording gorgeous views of the river valley bellow.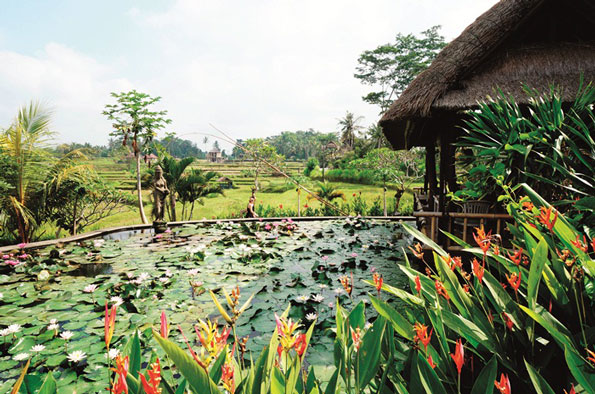 A lot of locals, especially teenage couples, go to this place pre-sunset – hence the romance tribute. Anyway, if you take a walk along the ridge – just walk leisurely – for approximately 2km, you'll get to a rest area where you can take a breather, use the toilet, and have a refreshing juice!
Karsa Kafe, located in this area, is surrounded by soothing views of the surrounding rice fields. The menu at Karsa is simple, but the floating huts on the cafe's lotus pond where you can have your meal and drinks, provides a lovely setting to aindulge in an array of soothing treatments.
Karsa Spa
Jalan Bangkiang Sidem, Tegallalang
Phone: 0361 849 3518
---
2. NOOK

Tucked away next to one of Seminyak's busiest areas, NOOK is a delight that allows an escape back to the green and naturalistic beauty of Bali, and where you can eat and meet with a 360-degree panoramic view of lush rice fields.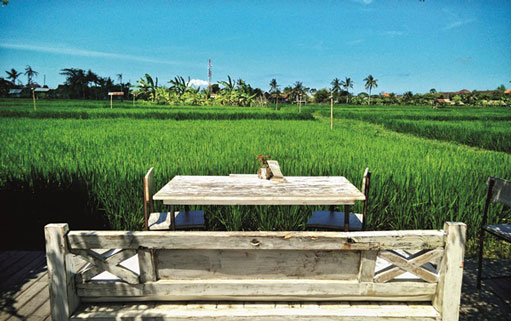 This cute little eatery offers Balinese, Indonesian, and Western infused cuisine. From morning coffee to dinner, this place makes for a relaxed vibe that's a distinct step up from your usual roadside eatery.
If you're not really that hungry, Nook is still definitely worth a visit, for you can feast your eyes on the calming surrounds while having a green tea ice cream, crepes, banana splits or fruit. If you're coming on a hot, sunny day, then a bottle (or two!) of ice-cold beer would make perfect company.
Nook
Jalan Umalas I, Gang Nook No.1, Umalas
Phone: 0361 847 5625
---
3. Munduk Moding Plantation

Located on a working coffee plantation in the central hills of Munduk, Munduk Moding Plantation is a high-end boutique resort that practices sustainable agriculture, working in unison with the local population to preserve the cultural and and natural environment.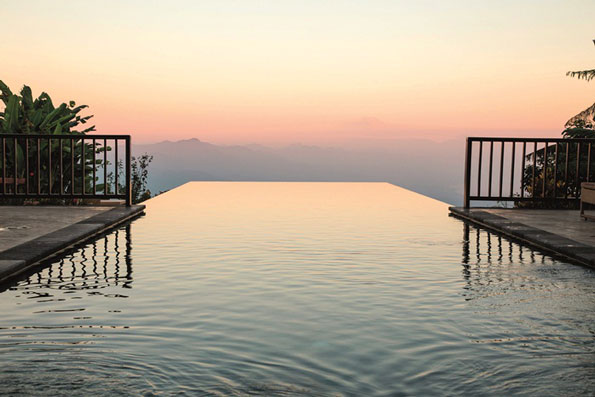 Outside guests are always welcome in the resort, especially since the resort grows a wide variety of vegetables and fruits that are offered in its restaurant. On a clear day, you can enjoy some of the most spectacular views on the Island, looking out to verdant rolling hills and the ocean all the way to the volcanoes in Java.
Munduk Moding Plantation
Banjar Dinas Asa, Gobleg Village
Munduk, Singaraja
Phone: 0362 700 5321
---
4. Poppies Cottage

Poppies Cottage is a haven situated literally in the heart of Kuta. Offering a completely different ambiance from the super busy Poppies Lane, where it nestles, Poppies Cottage brings peacefulness with its red brick paths that meander past lily ponds, waterfalls, and time-worn stone figures, watched over by the towering palms of ancient coconut groves.

For over four decades, Poppies has welcomed visitors and friends from around the world to these hanging gardens of Kuta, allowing them the calming respite from the area's ever-increasing hustle and bustle beyond its walls. Today, despite being a veritable institution, Poppies is still being discovered by those new to the delights of Bali.
Poppies Cottage
Poppies Lane I, Kuta
Phone: 0361 751 059
---
5. Damai

Meaning peacefulness in Indonesian, Damai is a retreat dedicated to the finer things in life: Beauty, tranquility, and very good food.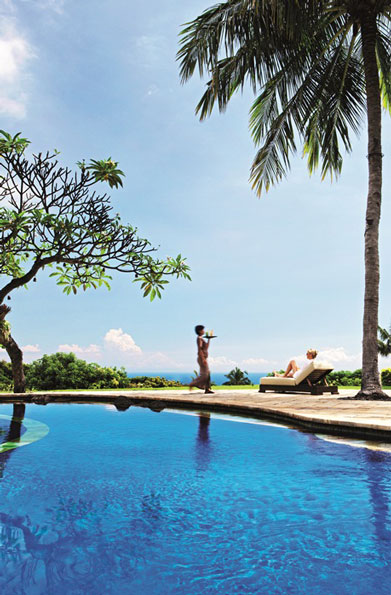 Hidden in the jungle-clad hills overlooking Bali's North coast, you will feel light years away from the crowds, ready to experience the true Bali in all its splendour. Visit some of the island's most iconic attractions or find your own hidden gems.
Or maybe just lounge by your pool, enjoying views of volcanoes in distant Java as the tropical breeze brings you fragrant hints from nearby spice plantations. The restaurant at Damai, already a subject of cook books, serves organic vegetables and meats from the retreat's own small farm, together with fresh catch from the bountiful Bali sea and imported delicacies.
Western and Asian cooking are combined in the innovative à la carte menu while the daily changing three-course menu reinvents traditional Balinese cuisine serving new versions of classic dishes.
Damai
Jalan Damai, Kayuputih, Lovina
Phone: 0362 41008
---
6. The Griya Villas & Spa

In Amed, you can find your secluded sanctuary at The Griya Villas & Spa. The villas at The Griya are all set in a natural haven overlooking the beautiful Lipah Bay and the neighbouring island of Lombok.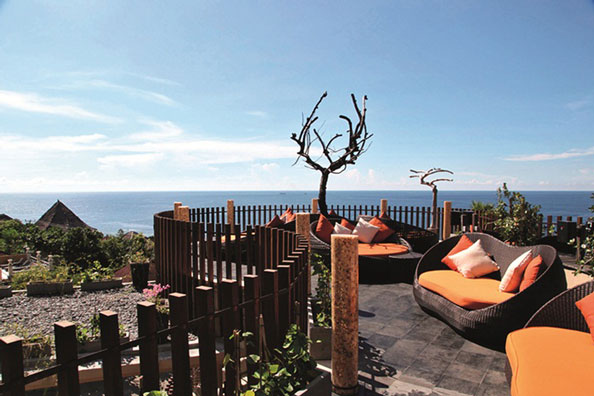 The Griya's Safka Restaurant & Terrace is set on an amazing terrace with a panoramic view to the surrounding slopes and the sea. A level above, on the roof top terrace, stands a cocktail lounge, where you can relax after a day full of activities, watch the spectacular sunset and enjoy refreshing beverages before your dinner.
Safka leans on perfection, serving a refined, international a'la Carte menu with a variety of tastes and aromas from around the world. The wine list also offers an excellent selection of quality wines from South America, South Africa, Europe and Australia.
The Griya Villas & Spa
Bunutan Village, Amed, Karangasem
Phone: 0363 23571
---
7. Jungle Fish

Nestled in the peaceful area of green Ubud, Jungle Fish is an open-air split-level Mediterranean restaurant precariously perched into the side of a mountain overlooking the Osh River Valley.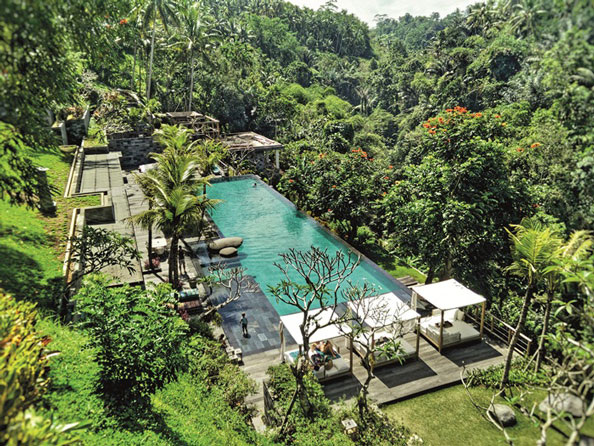 Presiding over the menu is Executive Chef, George Giannoulis, who rose through the culinary ranks in his home country of Greece.
He sets a new standard for the modern, Mediterranean kitchen with Greek overtones, dishes explode with bold, exciting Asian flavours. While there, you should also take a dip in the restaurant's inviting infinity pool whilst taking in the brilliant view of the surrounding gorges.
Jungle Fish at Chapung Sebali Resort & Spa
Jalan Raya Sebali, Keliki, Ubud
Phone: 0361 8989 104
---
8. Suarga

Suarga is a sustainable boutique resort perched on the limestone cliffs above the Indian Ocean, overlooking the Padang Padang, Impossible and Bingin beach.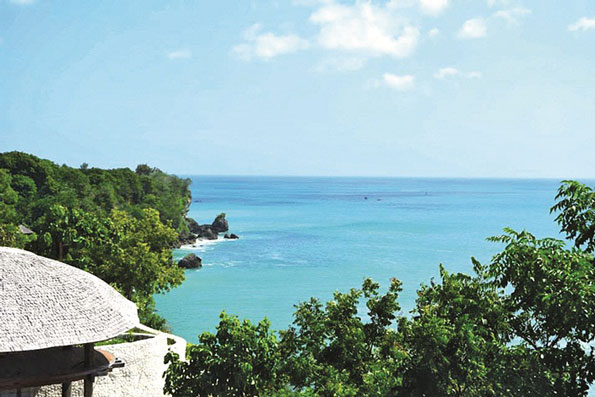 In sanskrit, Suarga is a heaven for the gods and goddesses, and where the righteous live in a paradise before their next reincarnation. This resort, just like the name implies, offers complete sanctuary for every guest with unrivalled facilities and premier service.
Suarga
Jalan Pantai Padang Padang, Banjar Dinas Labuan Sait, South Pecatu
Phone: 0811 399 11 99
---
9. Bali Eco Stay
On the slopes of Gunung Salak in eastern Tabanan, is Bali Eco Stay, an ecological gem that brings you in touch with a Bali you may never have experienced. The resort is built between forest and pristine rice fields.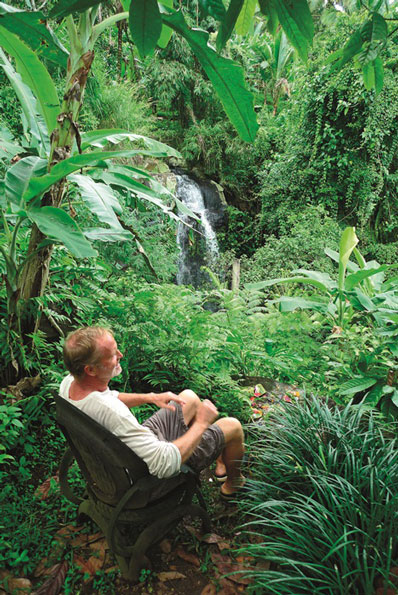 It is built on permaculture principles and no paddy or food forest was disturbed in the building. The whole resort nestles harmoniously with the land. Freshly cut canals gurgle with crystal clear Subak water and the only sounds are birdsong. A superb private waterfall creates a haven to relax, swim or meditate by.
A spring fed pool is perfect for swimming and in fact all the water used on the property comes from fresh water springs. The natural beauty is refreshing and the urban myths just dissolve. This is a Bali that makes you feel as if you are the first visitor to encounter it. The people who live here are also natural, earthy types unsullied by too many interactions with tourists.
Bali Eco Stay
Kanciana Village, Desa Gunung Salak, Selemadeg Timur, Mount Batukaru, Tabanan
Phone: 081 338 04326