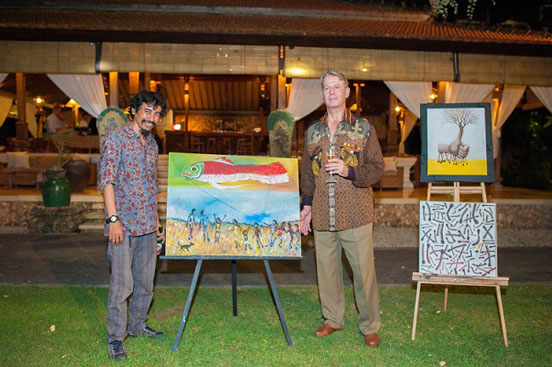 The truth is, many people don't know how to look at art. You will see most people in the art museum hustling through, pausing for only a minute at each painting or sculpture, looking either bored or perturbed, before traipsing on to the next piece. Is there anything that can be done to encourage people to appreciate art?
Taking art aficionados in Bali on an exploration of visual art forms and their cultural connections, Artpreciation is a response to the call from art enthusiasts on the island (both residents and visitors) to find the best way to appreciate art.
Artdiscovery by Artpreciation is ready to take art enthusiasts on a guided tour to museums and homes of prominent artists and maestros in Bali. Museum inspection takes place in ARMA (Agung Rai Museum of Art), guided by the celebrated Agung Rai himself. Big names such as Made Wianta, Made Djirna and Agung Mangu Putra open the doors of their private studios in their private homes for the programmes, taking questions and talking about their work – some will be doing demonstrations to give a more in-depth observation on the elements, media, and methods used in the creative process and thought.
The programme was officialy launched in June 2015, taking place at the equally cultural and artsy Taman Bhagawan in Tanjung Benoa. Artists, gallery owners, art lovers and hoteliers were present to learn more about the exciting new programme. They were welcomed by programme founder Alistair Speirs and were given insight into the world of Indonesian art by renowned historian Jean Couteau.
Everybody was given an opportunity to mingle with famous artists surrounded by original pieces by Nyoman Sani and Made Wianta. Agung Rai himself gave a very personal talk on his concept of a living museum, whilst celebrated artist Rijal Taloko performed an astounding live painting in front of the crowds.
It was a grand, art-filled launching for what will be an important part of Bali's tourism future, showcasing the very best of what the island's culture has to offer.
Further details and bookings contact:
Artpreciation
Komplek Pertokoan Nakula Megah 5 Unit J
Jalan Nakula Timur, Kuta
Phone: 0811 380 850
www.artpreciation.co.id