Whether travelling through or resident here on the island, we all share one addiction: coffee! Bali has a unique combination, firstly it is part of one of the best coffee producing countries in the world, Indonesia; secondly it has had an amazing influence from the café gurus of Australia. The result is an array of eclectic, cool, comfortable Bali cafes you'll just love to drop into for a brew.
Great Bali Cafes You Must Try
---
Pison (Seminyak)
This place is a cozy, buzzing destination for coffee as well as food. Whilst offering a full menu of delightful comfort bites, breakfast to dinner, their coffee is definitely at the top of their priority. With a few unique techniques used to make their own spin on a coffee, they also serve up a professionally prepared cup of the classics.  In order to provide a great ambience, this place organises live music on an occasional basis. For jazz fans, you can come and see live music every Thursday night. The focus of this place is to provide great coffee and good food in a trendy, loft-style setting. This spot is always bustling with life and is one of the most popular Bali cafes in Seminyak, amongst tourists and residents alike.
Sip:
Pison Coffee uses beans grown locally in Indonesia, the signature coffee of Sumatra Bluebatak, to create the perfect house blend. Another popular coffee drink available here is the Espresso Avocado with a mix of avocado, ice cream and espresso on top.
Munch:
You can expect a selection of Asian cuisine from the western menu. Choose from the mustard mayo, caramelised onions, French Toast, beef burger, kung pao chicken, or any kind of soup and salad. For something sweet, they have Carrot Cake, Brownies, or Hazelnut Chocolate Nutella Cookies.
Jalan Petitenget 19A, Kerobokan Kelod, North Kuta
+62 821-44560066
www.pisoncoffee.com
---
Mövenpick Café (Jimbaran)
Located in the Samasta Lifestyle Village, Mövenpick Café offers coffee fans and cake lovers temptations difficult to resist! Specially designed to satisfy any sweet tooth, this part of Mövenpick Resort and Spa Jimbaran Bali promises to please.
Sip:
When it comes to coffee selections, the café serves a selection of premium espresso, featuring signature Mövenpick coffee supplied by Mövenpick Fine Foods, Switzerland. Apart from that, frappés, premium teas, hot chocolates and fresh juices are some other treats you might want to give a try.
Munch:
To accompany your coffee, dive into the smorgasbord of sweet delights from crepes, cakes, croissants, doughnuts and more. These freshly baked goods will lure you in with their aroma, tied with a good cup of coffee and you're sorted for an afternoon kick. Alternatively, try "Create-Your-Own Hotcakes" that will guarantee satiate every sweet craving. Or enjoy a spoon of their world famous Movenpick Ice Cream on a hot day!
Samasta Lifestyle Village
Jalan Wanagiri 1, Jimbaran
+62 361 4725777
www.movenpick.com
---
Anomali Coffee (Ubud)
This is a well-known brand from Indonesia. It has established itself as a prominent coffee producer with freshly roasted coffee made using the highest standards and home roasters. With a variety of innovative coffee brewing equipment, the coffee tastes excellent and refreshing. In addition, they also offer coffee making classes and help people understand the finer details of the process.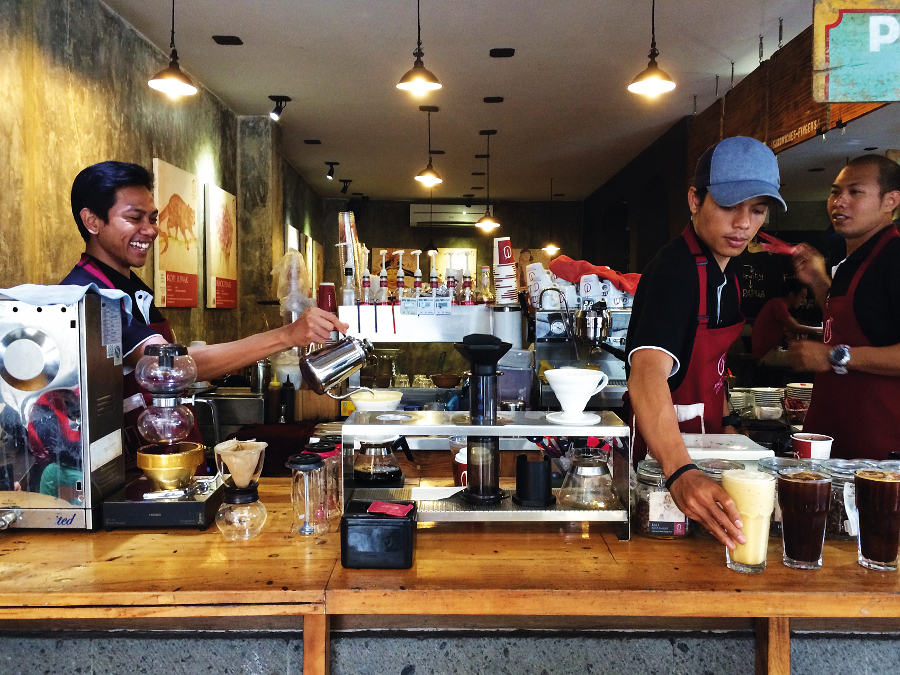 Sip:
Anomali is known for offering a wide variety of coffee beans from Indonesia. Each region of the archipelago has its own unique flavour, created by many different factors from the soil, temperature, humidity etc – what you get is a wide range of acidities, aromas and flavours. Their coffee beans range through Bali Kintamani, Javanese Estate, Toraja, Flores Bajawa, Papua Wamena, Aceh Gayo Organic and Sumatra Mandailing. Having chosen your preferred bean you can then choose your preferable brewing method: drip, syphone, wood neck, aeropress, or French press.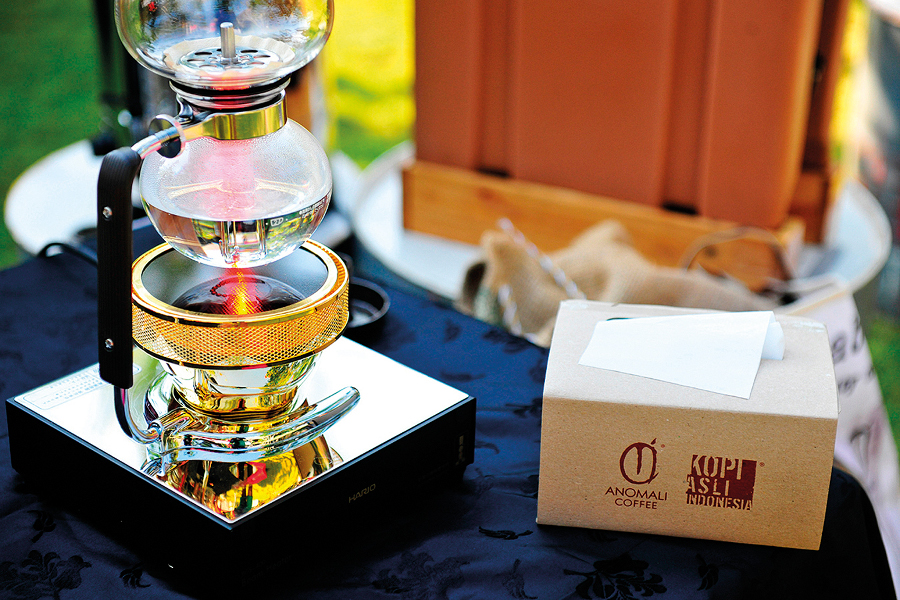 Munch:
When it comes to snacks, Anomali prepares special breakfast set mixed with pure fruit juice. You can also go for a simple egg & toast and a large selection of sweet tooth items. If you want to go for something heavier, you can order Salads or Burgers.
Jalan Raya Ubud, No 88, Ubud
+62 361 767119 || +62 361 972 263
www.anomalicoffee.com
---
Kopi Pot (Legian)
This is one of the most classic Bali cafes out there, an oasis of tradition and 80's Bali right on Jalan Legian street. A local version of the classic continental street-side café or restaurant. Fronting Legian's vibrant and bustling main street, it is the perfect place for people-watching from morning until late evening. This is one of the original Bali Cafes, now a charming, timeless destination that gives us that feeling of old Bali. Choose your seating at tables set amongst gardens, grass-roofed pavilions or the stylish Lone Palm Bar. All are built around a living coconut palm growing right through its roof.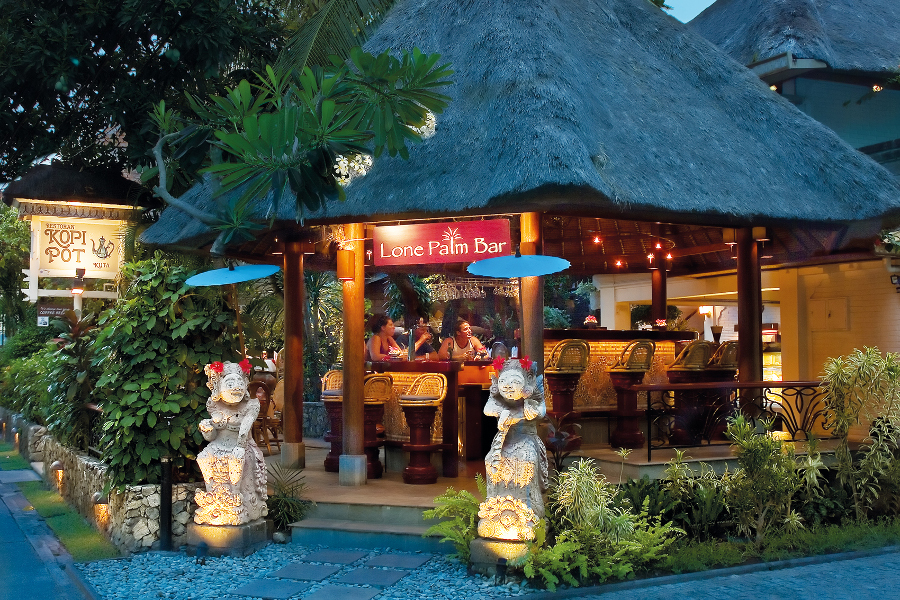 Sip:
Unlike many coffee shops with a long list of selections and unique names for coffees, Kopi Pot prefers to keep it simple. They have Long Black, Flat White, Espresso, Cappuccino, Café Latte and Machiatto. For a stronger taste, you can try Vienna Coffee, Irish Coffee or Jamaican Coffee. Afterall there's no school like the old school!
Munch:
If you decide to stay for a longer stint, they also serve heavy food, including Indonesian cuisine, International dishes and Seafood. Kopi Pot is well-known for their homemade cakes and desserts, including Black Forest, Pear Tarte Tatin, Chocolate Cake, Ice Cream and more. All the cakes and pies are made on the premises.
Jalan Legian, Kuta.
+62 361 752614
www.kopipot.com
---
Expat. Roasters (Seminyak)
One of Bali's most sought after coffee, Expat. Roasters, has opened up shop on Jalan Petitenget, Seminyak. Having for so long been part of the Sisterfields restaurant complex, Expat now enjoys it's own specialty coffee brew bar where it welcomes those just in for a quick sip of an espresso, the slow slurpers enjoying some work and a tasty flat white and wholesale customers looking to bring some Expat home with them. Whilst not necessarily a Bali Cafe, coffee here is a real delight.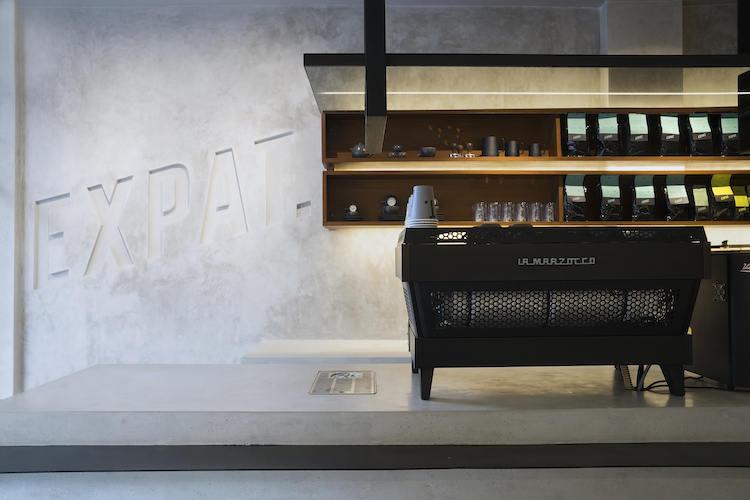 Sip:
Expat. Roasters specialise in high quality coffee; working closely and respectfully with local Indonesian farmers and producers to source the finest quality local product to compliment their nomadic collection of beans from around the globe. Their house blend, Nomad, is a combination of three Indonesian coffees, an Arche Gayo from Sumatra and two local Balinese beans from the Kintamani region. They brew using a La Marzocco PB with built in auto brew ratio scales and independent boilers, one of the most technically advanced machines on the market.
Munch:
Coffee is first and foremost on the menu, espresso and their chosen form of alternative brew method, the V60, also known as a pourover. Amongst the raw, concrete interior you'll find Expat treats designed to match the brew being served including house-made banana bread with single-origin espresso butter.
Jalan Petitenget, no 1a, Seminyak
+62 812 4614 0493
www.expatroasters.com
---
Tanamera (Jimbaran)
At Tanamera Coffee, the coffee grading system is premium, and the roasters are state-of-the-art. It is their style that pays homage to traditional methods, thereby coming up with innovative, unique single origins together with blends. They also sell various choices of coffee beans, blends and single origins. These coffee beans have unique flavours and are high-quality. They source their fine coffee beans from local coffee farmers in Indonesia.
Sip:
If you are a Single Origin person, you can try Malabar Natural, Manggarai Honey, Rasuna Natural, Aceh Gayo, Solok Washed and TorajaSapan. For blended coffees, there are Espresso Blends, Forte Blends and Premium Blends.
Munch:
The all-day breakfast at Tanamera is served with salad. It includes Eggs Florentines, Eggs Benedict, Scrambled Eggs. You can opt for extra grilled chicken and smoked salmon. If you are more into sandwiches, there are choices you can order. They have Tuna, Chicken and Salmon. The sandwiches are served with fries and salad. That should be more than enough for breakfast.
Samasta Lifestyle Village
Jalan Wanagiri, Jimbaran
+62 361 4468600
www.tanameracoffee.com
---
Starbucks (Various locations)
Well, who doesn't know this brand? Famous for their consistency in maintaining high-quality coffee and keeping their products updated and fresh. What's good about Starbucks here in Bali is that they always offer a cool, air-conditioned indoor space to sink into on rainy days or really hot days! Starbucks gives tremendous discounts or bonuses if you purchase any item at any outlets in Indonesia using their Membership Card. With the ease of one quick swipe, you can get all the benefits.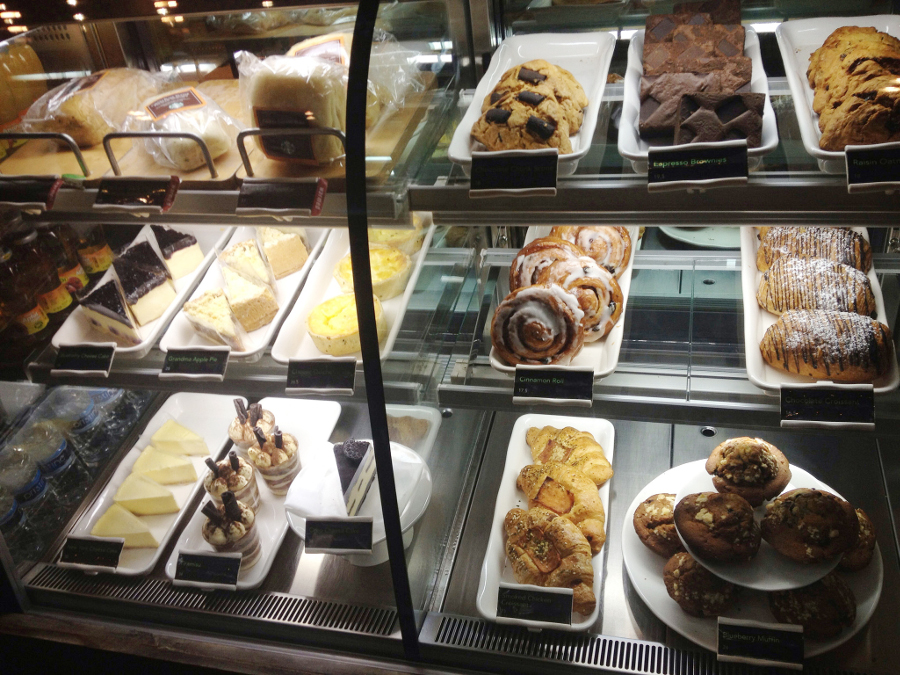 Sip
Starbucks is known for the huge range of different types of coffee, from simple brews to exciting frappuccinos. In Brewed Coffee, you can try CaffeMisto, Iced Coffee, or Pike Place. In Espresso Beverages, you can discover your favourite ones among the endless list. By the way, did you know there are over 87,000 different drink combinations at Starbucks? Well, you know now, why not try some of them!
Munch
Starbucks is also passionate about pairing great coffee with great food. In the pastry selection, there are Almond Croissants, Cinnamon Rolls, Espresso Brownies, Rich Blueberry Muffins, Smoked Beef Quiche and Spinach Quiche. They also have cakes, such as Cheesecake, Cinnamon Chocolate Marble, Triple Chocolate Cake, or Red Velvet Cake.
The Starbucks Bali Cafes can be found in Kuta, Seminyak, Sunset Road, Sanur, Ubud, Nusa Dua, Canggu, Denpasar. Find the store closest to you here using their Store Locator.
---
Revolver Espresso (Seminyak)
Trying to be different from the rest , Revolver Espresso maintains their high-quality coffee by working with the fabulous La Marzocco coffee machines and Mazza grinders. Anything related to the coffee making process, they do it with solid precision. Located down an alley just off Kayu Aya Street in Seminyak, the place looks unassuming from the outside but step in and you'll find a world of coffee waiting for you. One of the pioneering Bali cafes  specialising in coffee, Revolver set the tone for coffee culture by focusing on 'the bean' and the coffee making process, raising the benchmark for other coffee serving establishments.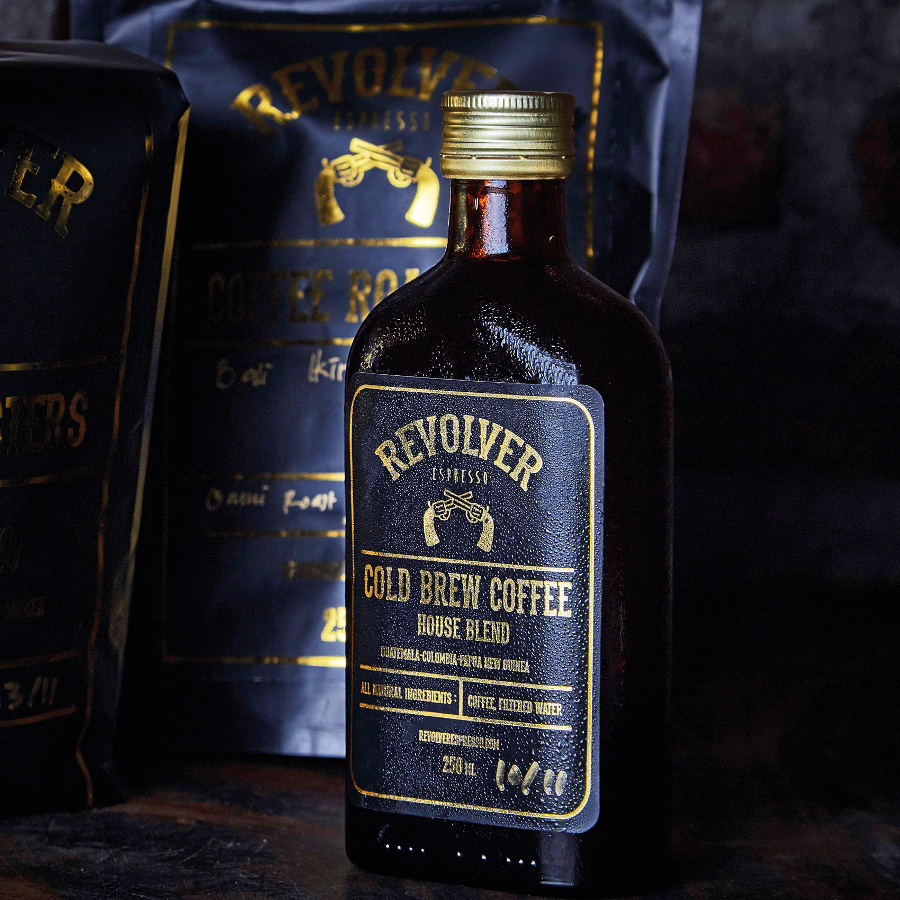 Sip:
Revolver Espresso is now roasting and bottling their famous House Blend recipe as a Cold Brew. With a pleasant acidity, satisfying chocolatey hint and a smooth aftertaste of cherry, Revolver Cold Brew is the perfect ice-cold coffee hit. You can have it either in shop or order via phone for home delivery.
Munch:
For light bites, you can choose waffle fries, chicken wings, cookies, croissants, cinnamon rolls or cakes. But if you are after some bigger treats, you can opt for burgers, sandwiches and salads. Their breakfasts and egg-dishes are what people come for though!
Jalan Kayu Aya, Gang 51, North Kuta
+62 851-0088-4968
www.revolverespresso.com
---
Seniman Coffee Studio (Ubud)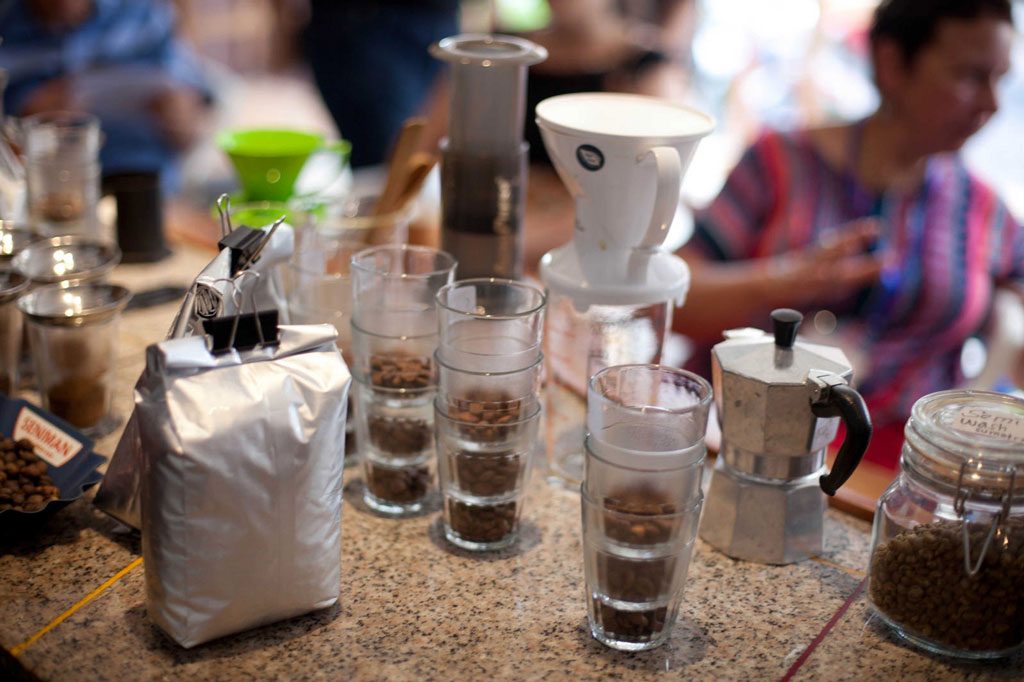 Travel north from Jimbaran to Ubud, Seniman Coffee Studio is one of the leading specialty coffee brands in South East Asia. Focusing on quality and customer experience, this coffee shop gets its credits from the fact that they only use specialty grade coffee, which they process by themselves thus producing some of the best espressos ever. Developing a range of blends to suit manual and espresso drinks from shots to cappuccinos, you can expect a wide selection of single-origin coffee beans from across Indonesia, South – Central America and Africa. All their espressos are double ristretto, it's richer and sweeter. Their Baristas know what they are doing. Simply ask for the bean and they will do the rest as the shop's daily tastings helps them adjust their techniques to bring out the best in each roast. Do not expect for light roasts as the coffee comes fruitier and more aromatic. You can also buy several customised blends from this shop, most of which suit the espresso and manual drinks.
Seniman Coffee Studio
A : Jalan Sriwedari 5, Taman Kelod, Ubud
T : +62 361 972085
W : www.senimancoffee.com
---
Simply Brew (Sanur)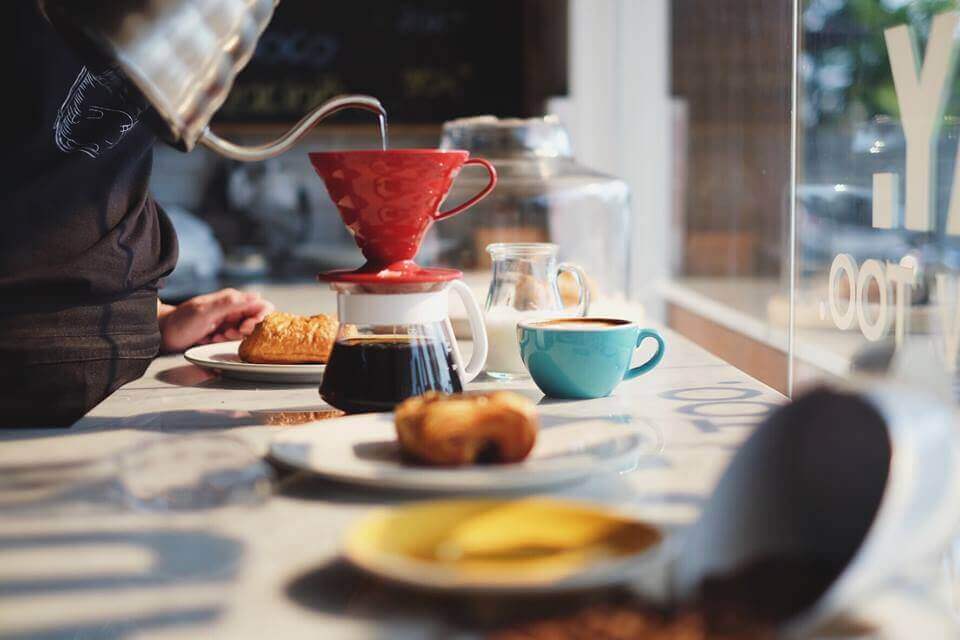 On the main road of Bypass Ngurah Rai, Simply Brew is one of the best coffee shops in Sanur. They have a wonderful range of coffees, including their most ordered: Pink Blossom, Mochaccino, Twilight Sparkle and Vietnam Drip espressos. Their coffee experts will make sure that every cup coming out of the kitchen is special and will win the heart of coffee lovers. The shop has a semi open venue to avoid people feeling stuffy inside their relatively small cafe space . They want all the guests to enjoy the fresh air and the scenery. Besides coffees, they also have other major meals, including those for vegetarians. They have a roaster right near the counter so you can smell the delicious aroma of coffee as you step in!
Simply Brew
A : Jalan ByPass Ngurah Rai 127, Sanur South Denpasar
T : +62 361 4720186
---
Titik Temu Coffee (Seminyak)
Nestled amongst the crowds in Seminyak, this coffee shop might seem isolated and rather mysterious. As one of the newer Bali cafes, this caffeine destination takes the prize for unique design and architecture. A favourite spot for photoshoots and social media influencers. The way they have designed Titik Temu gives it an intimate village-like feel. The furniture is wooden and blends into the amazing greenery around. Step into this little coffee compound for trendy take on the Bali Cafe scene.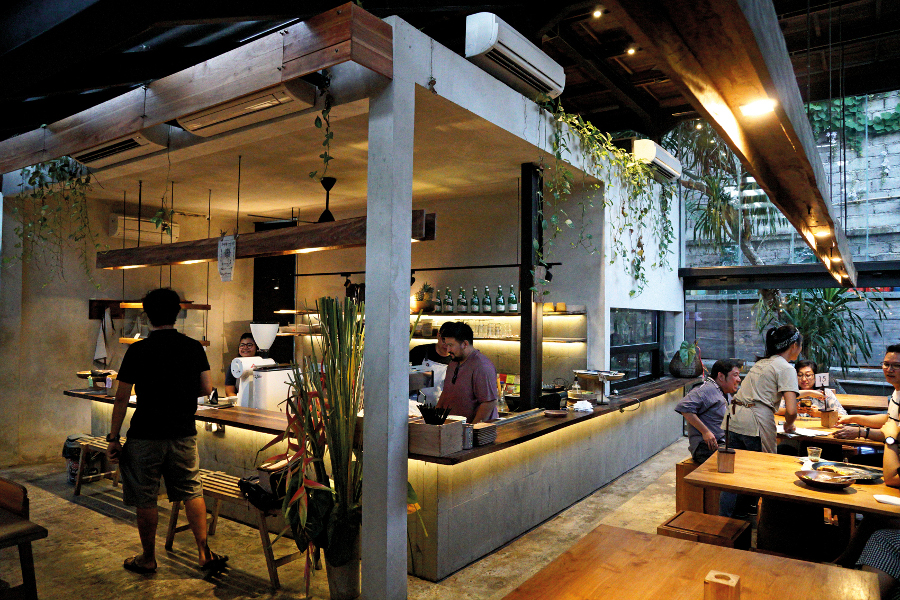 Sip:
Of all the choices of coffee they serve, the favourite ones are iced coffee, such as Ice Long Black, Ice Cappuccino, Ice Mocha and Affogato. For their Hot Caffeine section, you can choose Short or Long Black, Short or Long Macchiato, Piccolo or Flat White.
Munch:
They serve Indonesian and international food, including classic grilled cheese, traditional corn fritters, Temu BBQ Wings, Coffee Rubbed Fries, Temu Churro French Toast, Kaya French Toast, Egg Brûlée and an Assortment of Cakes.
Jalan Kayu Cendana 1, Seminyak
+62 821-4411-2489
---
Bali Bakery (Various Locations)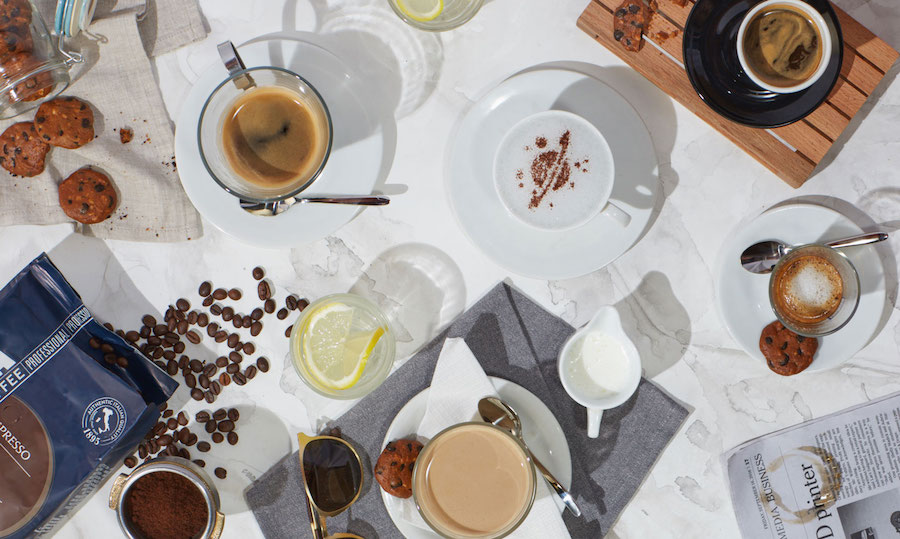 In Kuta, Bali Bakery stands solid as a meeting point since it established in 1994. This is not just one of the Bali cafes , this is the Bali cafe that started it all. It is certainly an institution on the island. They also deliver excellent cakes, pastries and breads, as well as an innovative menu of both local and Western dishes. The ambience of the place is lively and friendly. You can easily find people have business lunches or office team meetings. If you love cookies, they have from the classic biscotti with Chocolate Hazelnut, to the grown-up version of our childhood favourite: Valrhona Chocolate Chip Cookie to the all-time favourite Almond Cookie. No doubt, coffee and cookies go together by default.
Bali Bakery
A : Jl. Raya Kuta 65
T : +62 361 755149
W : www.balibakery.com
---
Harvest Pattisier & Chocolatier (Sunset Road, Legian)
Far away from the typical busy lifestyle of Kuta, The Harvest Patissier & Chocolatier is ready to host your business meeting if you happen to be in or around Sunset Road. This is mainly a bakery and dessert shop. Mix your coffee with a wide selection of some of the most delectable cakes around. For cakes lovers, this is the place where you can taste Chocolate Emotion Cakes, Oreo Cheese Cakes, Rainbow Cakes, Chocolate Devil Cake, Sweet Violet Cake, Vanilla Fruits Cake, Tiramisu Cake, Opera Cake and Strawberry Cheese Cake.
The Harvest Patissier & Chocolatier
A : Jalan Sunset Road 815, Kuta
T : +62 361 8496488
W : www.harvestcakes.com