Bali Island School is pleased to announce BIS Scholarships for the 2019/2020 academic year and is inviting prospective students and their parents to the Bali Island School Open Day on April 10, 2019 from 9am to 12pm.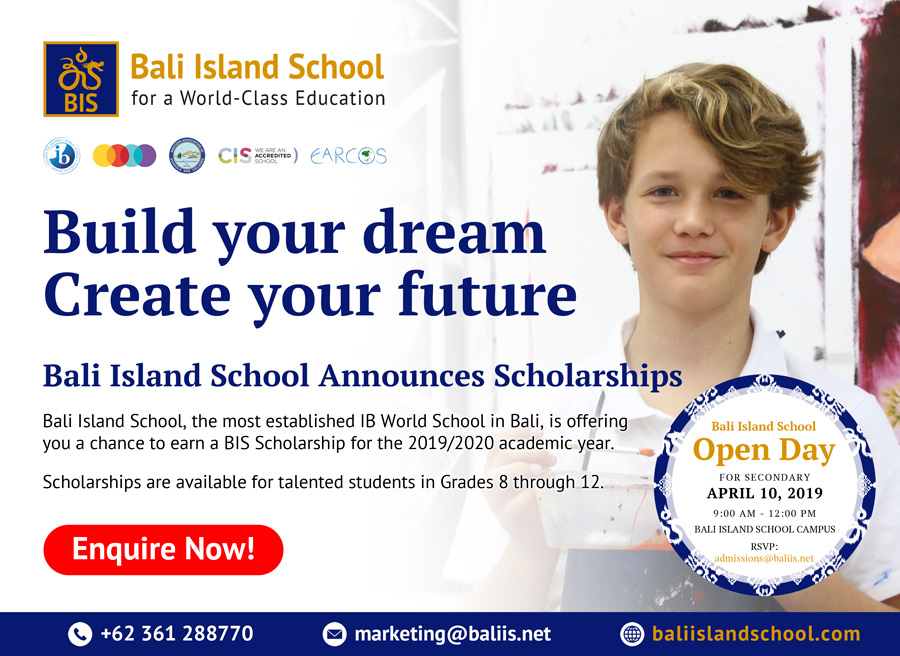 This will be a great opportunity for students and their parents to tour Bali Island School's facilities and explore the available programs. Visitors will get a chance to meet the faculty & staff, and get the answers to all the questions they have about school, curriculum, after school activities and much more.
Bali Island School (BIS) is the oldest and most established school in Bali. Bali International School opened in September 1985 and was renamed in accordance with the Indonesian government in 2014. Located in Sanur, it fits right in with its family-friendly, Bali atmosphere — and is in fact a big reason why many families choose to live in or closer to the area.
The community at BIS engage and empower global-minded, confident learners to reach their utmost potential, making it their mission to create active, creative and respectful learning communities.
Bali Island School caters to all ages, from Preschool, Primary Years, Middle Years and High School. Throughout all of their age groups they apply the International Baccalaureate programs. As an IB World School, they deliver the International Baccalaureate Primary Year, Middle Years and Diploma Programmes.
With extensive facilities around campus – from large, resourceful library, a 25m lap pool, sports areas big enough for tennis courts or basketball courts, to name a few – BIS aims to provide an environment to create well-rounded students of all interests.
As the most established IB World School in Bali, Bali Island School encourages students to build their dreams and create their future. For the upcoming 2019/2020 academic year, Bali Island School is offering students the chance to earn a BIS scholarship available to students in Grades 8 through 12.
BIS is Council of International Schools and Western Association of Schools and Colleges accredited, non-profit, college-preparatory and operate under Indonesian law. Their last accreditation and evaluation visit was in November 2015.
Whether a parent moving to Bali looking to find a new school, or perhaps a long-time Bali resident browsing for better education opportunities on the island for your children, take advantage of the Bali Island School Open Day, on Wednesday, 10 April 2019, 9am – 12pm.
To attend the Open Day, please RSVP to admissions@baliis.net. For more information on Bali Island School please call +62 361 288 770 or visit www.baliislandchool.com
Bali Island School
Jalan Danau Buyan IV No. 15. Sanur, Denpasar, Bali – 80228
+62 361 288 770
marketing@baliis.net
www.baliislandchool.com