Bali Pink Ribbon Charity Dinner arrives with a special concept. This year's fundraising will be held on the evening of October 23, 2015, in the Ballroom of The Trans Resort Bali.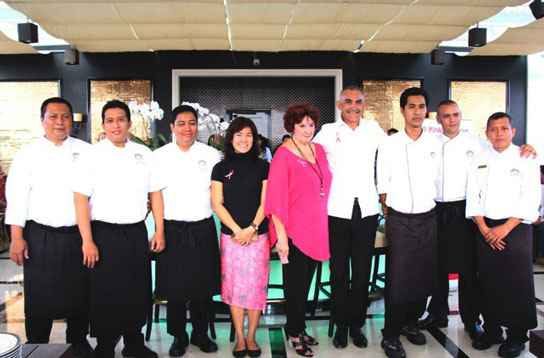 The charity dinner is aimed at raising funds to support the Bali Pink Ribbon Foundation to run the programs throughout the year. Besides Bali Pink Ribbon Walk, Bali Pink Ribbon Charity Dinner is one of the most important annual fundraising programmes.
Bali Pink Ribbon Foundation is a non- government funded charitable organization promoting awareness, providing information and education and raising funds to support Balinese woman to fight breast cancer.  With the help of volunteers, Bali Pink Ribbon Foundation implement all year along programs such as:
– Manning the Breast Cancer Support Center
– Early Screening Program held in rotation in each district throughout Bali
– Increase Knowledge of Breast Cancer through seminars and discussion
– Promote and educate breast-cancer-self-examination.
The biggest fund this year will go to the Mobile Clinic program and training for operating breast cancer screening machine.
Fundraising evening is going to be enlivened by one of the international artists, Chelsea Wilson (Australia) to collaborate with senior musicians, I Wayan Balawan (Indonesia), a guitarist from Bali which has been widely appreciated in the world. This wonderful collaboration will be the highlight the night.
In addition, artists like Sasya Tranggono and Made Wianta (famous Indonesia painters) and Suarti (Queen of Silver in Bali) along with other local art-enthusiasts will present some of their best creations for the auction.
There will be plenty vouchers and products to auction during the Charity dinner. To reach bigger audience, the auction has already begun early in October.  Artists display their works in the exhibition space called The Pink Room at The Trans Resort Bali. The action is conducted online too. For more information about online auction, please visit Bali Pink Ribbon Charity Dinner Facebook page and website. The long-term auction hopes to bring more parties to maximize the fundraising.
Bali Pink Ribbon Charity Dinner will be toned by great treats of pre-dinner cocktails and canapes, 3 courses gourmet dinner, beverages during dinner, buffet Pink Dessert, coffee and tea, also Petite Four. The dinner package is priced at IDR 1.500.000 per pax . The first 100 reservations will receive a beautiful handmade-fan.