Bali Pink Ribbon has, for the last 8 years, brought a hugely positive change for the women and families of Bali. Through media campaigns, organised screenings and outreach programs they have lifted the awareness of breast cancer on the island, even to Bali's far-off rural areas. Of course to do this Bali Pink Ribbon must raise funds to continue their work, and you are invited to help.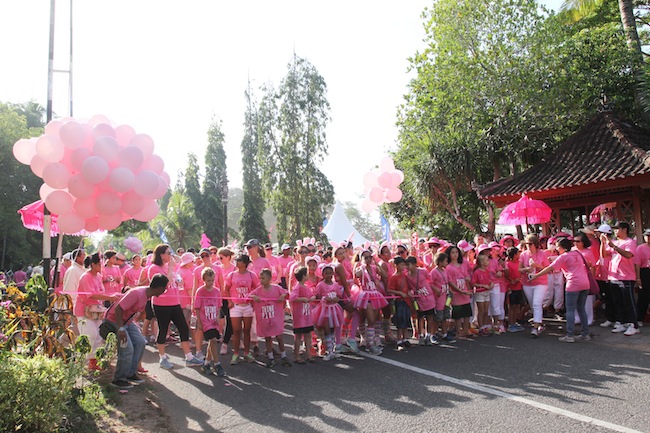 The organisation's major fundraising event of the year is the Bali Pink Ribbon Fun Walk and Run, which they have been doing since 2009, always in October (known as Breast Cancer Awareness Month). Founder of the organisation, Mrs Gaye Warren, a breast cancer survivor herself, was inspired by the Pink Ribbon Walks found in the UK where she hails from, and thus started a similar event here in sunny Bali.
This year, the Bali Pink Ribbon Fun Walk and Run 2016 is back, set for Saturday, 22 October 2016, at the ITDC Nusa Dua Hotel Complex. Comprised of a 5km fun walk or run, where everyone is dressed in pink, this is not only a fundraising event but a huge awareness campaign for the organisation. The streets of Nusa Dua will be flooded with pink people, balloons, banners – all for breast cancer awareness.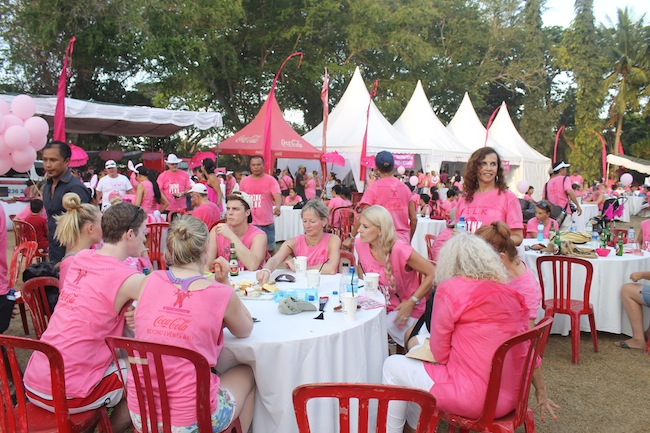 Other than the walk itself, there are plenty of things to do, with food, drink and shopping stands set up in the ITDC gardens, a kids corner to keep the young ones entertained, a raffle and auction for fun fundraising and live music until 9pm. Of course, on the day FREE breast screenings and pap smear checks are offered for women.
Last year, the Bali Pink Ribbon Fun Walk and Run had over 1000 people join this event and this year they are aiming for 1,500 people – so you are invited to take part in this important and meaningful community event, all for a good cause. In the last 16 months, the organisation has provided free screenings and checks for over 1,000 women, and they need your help in order to continue their work.
Register and buy your tickets now:
Adults – IDR 150,000
Children (Under 12) – IDR 75,000
Those registered get a free T-Shirt and Mineral Water.
Contact: info@balipinkribbon.com
Phone: +62 361 8496098 / +62 851 0035 2299 for registration.
Bali Pink Ribbon Foundation
Jl. Dewi Sri IV no. 1
Kuta, Bali