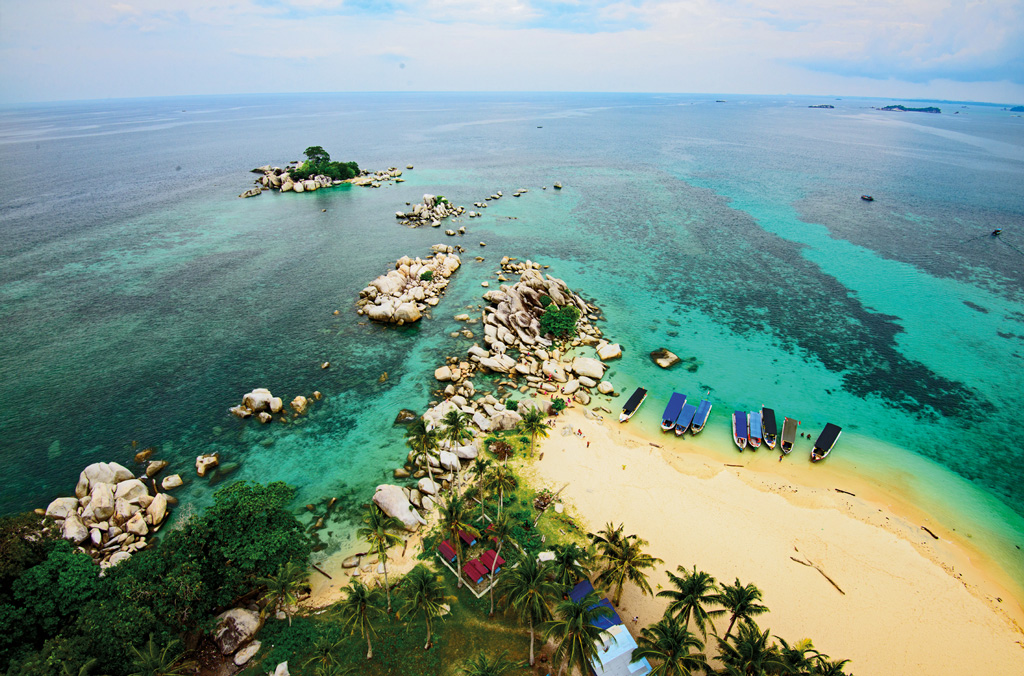 Belitung Island emerges gracefully from the Java Sea inviting exploration. It does not disappoint. It is unquestionably a place of extraordinary and untouched beauty. The beaches, with their chalky white sand, are some of the most exquisite in South East Asia. Granite boulders rise out of the sea like giant megaliths.
My exploration started with a boat trip to some of the islands just offshore from Belitung. It was easy to find a local boat on Belitung's Tanjung Kelayang Beach. My first stop was only ten minutes away and after a brief search, the captain found a good anchorage just off an idyllic island. "This place is unnamed and uninhabited, but some of the best snorkeling in these parts is right here", he said enthusiastically, "So please enjoy, and take your time".
I took his advice and spent well over an hour snorkeling my way around this little dot in paradise, lost in the wonders of its underwater world. The water was crystal clear, and I was surrounded by an array of colourful tropical fish and spectacular coral gardens.
Back on board, I was ready for the next adventure so we headed off to Pulau Lengkuas (Lighthouse Island). Dominating this beautiful island is a towering 60-metre high lighthouse which is over 100 years old. It was cast in England and then shipped in sections to Indonesia, where it was assembled by the Dutch in 1882. Climbing the circular stairs on the way up, I could still clearly see numbers stamped on each block which had been used to help with assembling it – like one big jigsaw. Having seen the reef fringing the entire island from the top of the lighthouse, I could not resist another excellent snorkel and swim. I was on the lookout for some of the many turtles the captain had said were to be found there but, alas, there were no sightings.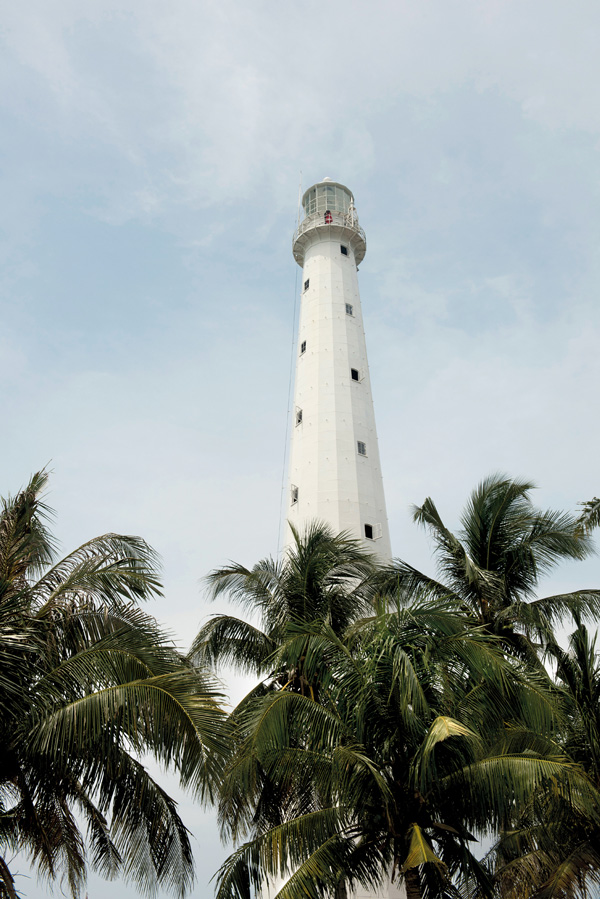 Our next stop was another tiny island. This was covered in thick forest vegetation. "I have a surprise for you," the captain said. "Our crewman here will show you a hidden trail. You only have to walk a little way and you will come across a magical billabong. I think you will like it."
Indeed, it was a magical place. I loved swimming in its cool fresh water and exploring the billabong's recesses and surrounding canyon walls. Floating in spring water and surrounded by luxuriant forest, I could hear the pounding of the ocean against the rocks in the distance.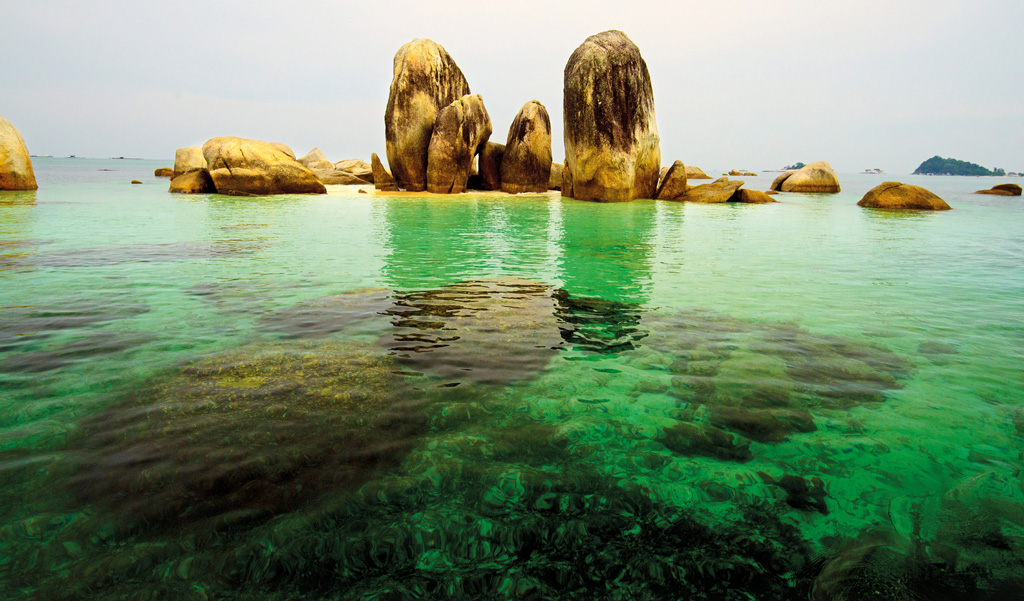 It was time to head back to Belitung, and the captain urged me, "Please come back tomorrow as I have more to show you and we can explore more islands". However tempting that sounded, I had other plans. It was time to see more of Belitung Island.
The next day I toured the island, taking in its natural beauty. However, I was particularly excited to finally be able to visit the literary labyrinth of the Museum Kata Andrea Hirata. I have never been to a museum that gives you a free book when you enter! A small abridged version of Laskar Pelangi (Rainbow Troops) is offered to every visitor.
This touching autobiographical novel was written about the author's childhood on the island. Published in 2007, it skyrocketed Belitung and its residents to fame. With over 5 million copies sold, Laskar Pelangi has now been translated into 21 languages and distributed in 87 countries. After becoming Indonesia's best-selling author, Hirata went on to open the museum. It is the first literary museum in Indonesia and features the words of over 200 world acclaimed writers.
I got lost for three hours in the museum, a series of rooms with many nooks and crannies. In every little window or corner you find a featured book or you come across literary text transcribed onto the walls. Famous passages from books written by the masters are also splashed across the floor and inspirational quotes dangle from the ceiling.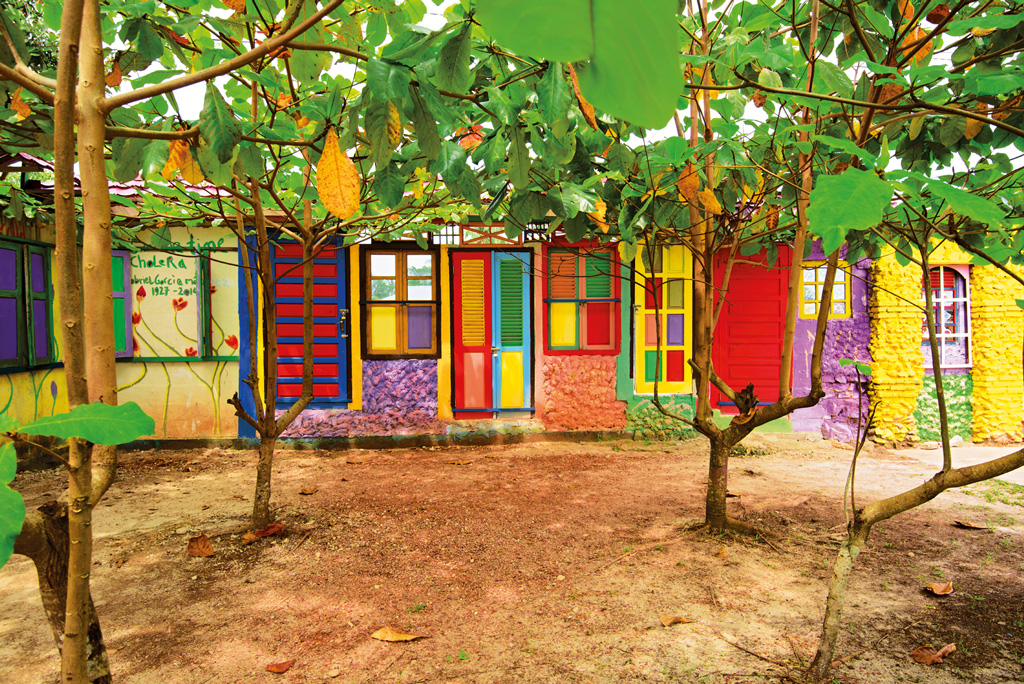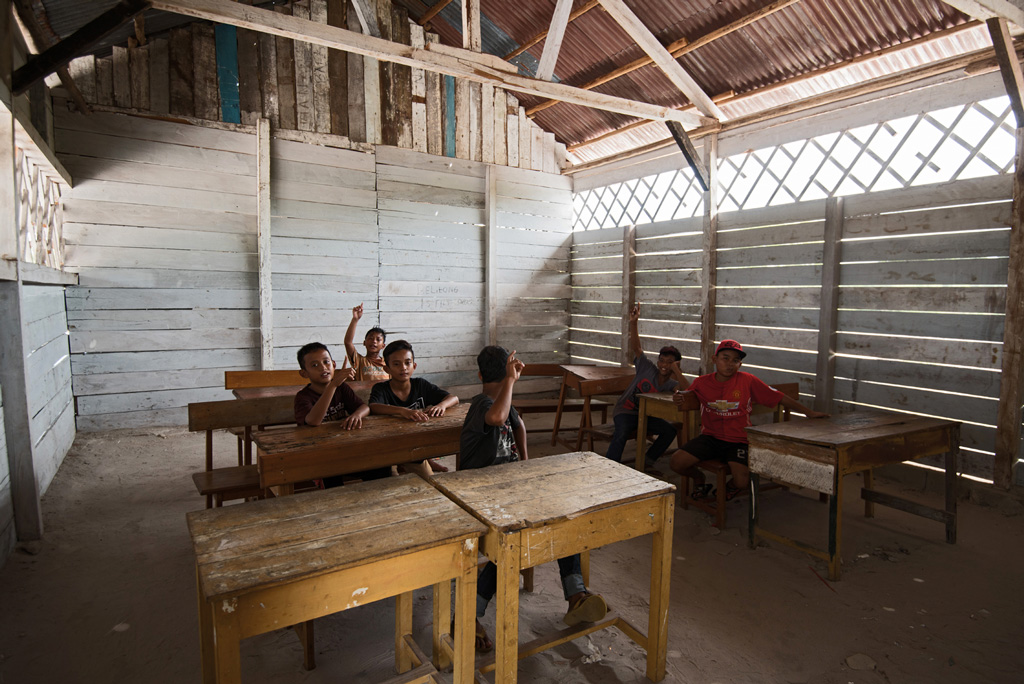 Laskar Pelangi was made into a movie in 2008 and is the highest grossing Indonesian film to date, attracting national limelight by winning local and international awards. The actors were mostly locals from small villages around Belitung, adding to the authenticity of the film. The museum is in Gantong, where the book is set, and a good 2 hours from the main town.
After the museum I headed back to my homestay. On the way, I visited the famous Pantai Tanjung Tinggi, the beach where the Laskar Pelangi movie was set. Two peninsulas frame this white sandy beach with some of the island's famed granite boulders. It is the most wonderful feeling swimming up close to these huge formations, which are said to be about 245 million years old.
That evening I was treated to a unique display as the sun went down. As I sat on the sand at Tanjung Kelayang Beach, I looked out at the huge boulders mystically lit by the setting sun. A little later, the solar panels mounted on some of the rock formations sitting in the dark water began to shine luminously in the moonlight.
A charming and relatively unspoilt island, Belitung still has no big resorts and none of the trappings of mass tourism, including beach hawkers. It attracts a low-key crowd. If you want a relaxing holiday or an adventure in a raw and natural place, untainted by tourism, Belitung is for you.
Accommodation
Pak Mai Homestay– a very clean homestay located near the beach. Nita and her lovely family are your hosts and they cook for you and serve the most delicious (complimentary) afternoon tea every day in your own private lounge.
Pak Mai:  +62 819 2966 8150
Tanjung Kelayang Beach, Sijuk, Belitung
https://www.traveloka.com/en-ph/hotel/indonesia/homestay-belitung–pak-mai-3000010022281
Driver/Guide
Pak Padli
Contact +62 819 49120114
mailto:homestaybelitung@gmail.com
http://www.belitunghomestay.com
Festivals and Events
There are seven festivals and cultural events every year on the island.
http://dispar.belitungkab.go.id/agenda-wisata
Stephanie Brookes is a travel writer and blogger with tales from Indonesia and beyond.
http://www.travelwriter.ws
http://www.facebook.com/stephtravelwriter
http://www.instagram.com/stephtravelwriter
Author – Indonesia's Hidden Heritage; Cultural Journeys of Discovery
David Metcalf runs cultural photography tours in Indonesia and beyond. His photo gallery, Taksu Photo Gallery in Ubud, Bali is a showcase of beautiful photographic work from Indonesia.
http://www.davidmetcalfphotography.com
http://www.taksuphotogallery.com
http://www.instagram.com/davidmetcalfphotography
http://www.youtube.com/user/DayakDave