Not many people know that gin was actually created in Holland in the 17th century. At the time, the Dutch soldiers were drinking Jenever (meaning 'Dutch Gin' in English) to boost their morale before they headed into battle. The English, while occupied by the Dutch then took the idea of making gin and transformed it into a major product, which explain why quite a number of the most famous gins around the world hail from the UK.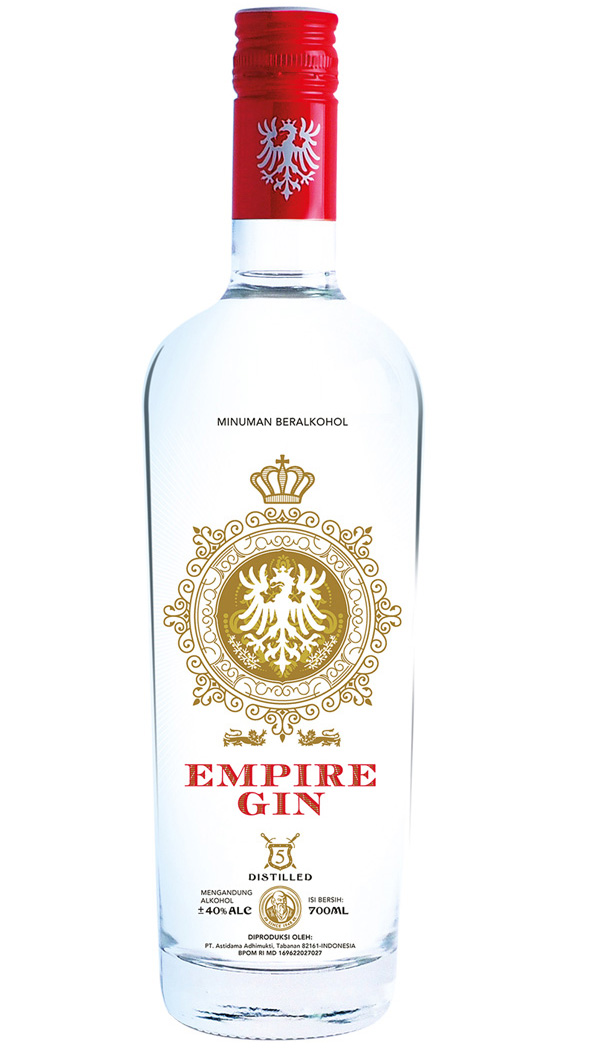 In Indonesia, the quintuple-distilled Empire Gin made and produced by PT Astidama Adhimukti, has a flavour fit for Gin Martinis! Very dry, heavily juniper flavoured, light in body and aromatic, this winning liquor is created by distilling fermented malt and then redistilled with juniper to give the spirit its flavour. The water is sourced from a fresh spring in the Tabanan highlands before going through a charcoal filtration method to ensure its purity.
There are several ways to enjoy Empire Gin. If you really want to appreciate the flavour, you can drink it as a standard shot with no chilling, no ice and no mix. Alternatively, try it on the rocks by placing ice cubes in a glass and pouring in a shot of gin. You can also have it straight up, meaning that you want it chilled with no ice. In this method, you can pour the Empire Gin into the shaker, adding enough ice cubes before shaking it thoroughly to make sure the Empire Gin becomes cold, and pouring it into a gin glass. However, most people prefer to mix gin with other drinks to create Gin and Tonics, Tom Collins, Gin Fizz, Negroni and Empire Ginster.
The Empire Gin highlights the glory and courage of the triumphant British kings. The spirit of British power is emanated from the firmness of the Empire Dry Gin's taste and clarity. The fact that Empire Gin has exceptional taste made at an international standard, makes it the perfect choice for any occasion. Available in exclusive 350ml and 700ml bottles, they are ready to be cracked open and enjoyed.
PT Astidama Adhimukti
Address: Jalan Raya Penyalin No.9, Dauh Peken, Tabanan, Tabanan
Phone: +62 362 815083
Site: http://www.astidamadistillery.com