Jewellery is a form of expression for individuality and emotion. It has become part of peoples lives. Jewellery shopping in Bali can be an unnerving task with an array of options available due to the presence of some of the best jewellers in Asia and the World. The artistry in the creation of jewellery on the Island offers a huge range of diversity. They are not only enticing but also extremely vibrant. The range of items available varies from modern to tribal. Jewellery shopping involves not only the shops as there are other things to be considered, such as the design and creativity which essentially combines gold, silver and other precious metals. Some local boutique stores incorporate Balinese jewellery creation techniques from independent designers in creating distinct and elegant pieces that define the Balinese art form and culture. For them, jewellery is more than just a fashion accessory. Each piece and design holds a profound meaning, and communicates the heritage and culture of Indonesia.
---
Jemme
The exceptional design of the Red Hot Ruby must employ steady hands and precise techniques. Harder than any other natural gem with the exception of only diamond, Ruby is a precious stone to be reckoned with.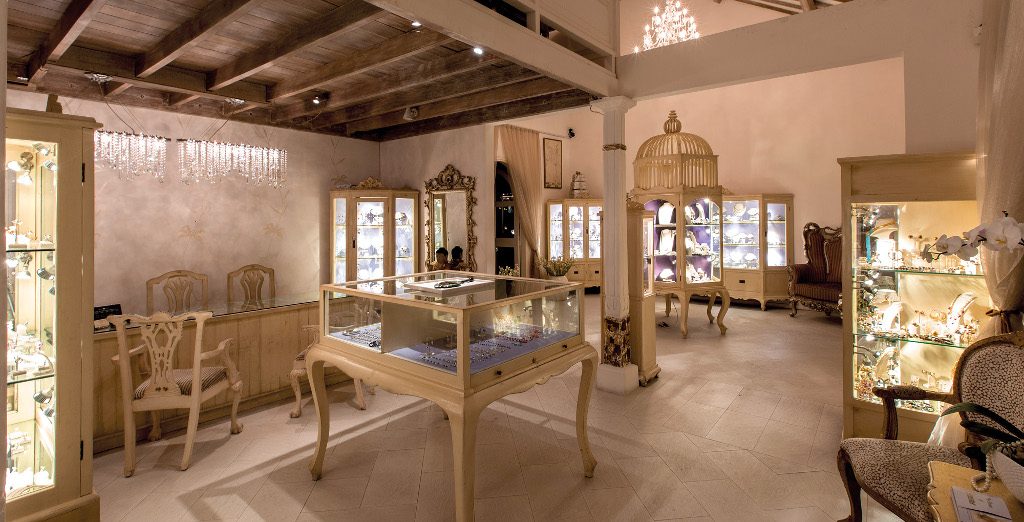 That captivating colour, which inspired ruby's rather obvious name derived from the Latin word 'ruber' meaning 'red', ranges from deep to pale rose red. The delicate design sparkles along with diamonds, adding intrigue and delight to any fashion situation. This piece of jewellery is an eye catcher and will look good on you! Traditionally given to celebrate 40th wedding anniversaries, July babies can also rejoice in the fact that their assigned gem is associated with health, wealth, wisdom and love.
Jemme
A : Jalan Petitenget 28, Seminyak (view on map)
T : +62 361 4733508
W : www.jemmebali.com
---
John Hardy
John Hardy designs are inspired by community, nature, legends, and mythical creatures – each one represents a magical element meant to empower the wearer.
Thoughtfully crafted based on a tradition of ancient Balinese artistry, every piece is powerful, dramatic and inspiring in its own unique way. This Spring, John Hardy is introducing a seasonal collection invoked from the nature of duality. Like the magnetic dance of the sun and moon, light and dark, masculine and feminine, myth and modernity – this artisan handcrafted collection draws its power from the ritual of divine contrast.
John Hardy
A : Baturning, Mambal, Abiansemal, Badung (view on map)
T : +62 361 469888
W : www.johnhardy.com
---
Tulola Jewellery
Tulola is known for its amalgamation of the traditional jewellery making techniques and the familiar motifs in the creation of contemporary shapes and pieces that are finely carved by hand to perfection that adds a layer of beauty.
Using high quality materials and offering its customers rare pieces of art, this jewellery shop is the destination of those desiring to have a touch of the Indonesian rich cultural heritage through the intricate jewellery designs of gemstones, pearls and gold. You have the option of either learning or shopping for a wide range of bracelets, earrings, hair accessories, bangles, rings and necklaces etc.
Tulola Jewellery
A : Jalan Cendrawasih 2, Petitenget, Kerobokan, Badung (view on map)
T : +62 812 3859 524
W : www.shoptulola.com
---
UC Silver
Having been in existence for almost three decades, UC Silver has stood the test of time, emerging as a formidable jewellery store in Bali. Featuring some exciting interiors and amazing exteriors, visitors will also have the option of coming to have a look at the making process.
Specialised in Dragonfly design, the workshop is highlighting an experience of expert craftsmanship and true Balinese style jewellery. Carrying a vision to involve in the maintenance and preservation of the Balinese culture, they courageously take up the initiative and bold steps necessary to become the best in the jewellery industry, resulting in producing fine arts of jewellery.
UC Silver
A : Jalan Raya Batubulan, Kesiman Kertalangu, East Denpasar (view on map)
T ; +62 361 461511
W : www.ucsilverbali.com