Ah, the beach. Is there anything better? There's just no place quite as relaxing, beautiful or pleasant, and no place that combines the simple pleasures of unplugging and enjoying nature in our otherwise tech-heavy and work-driven realities.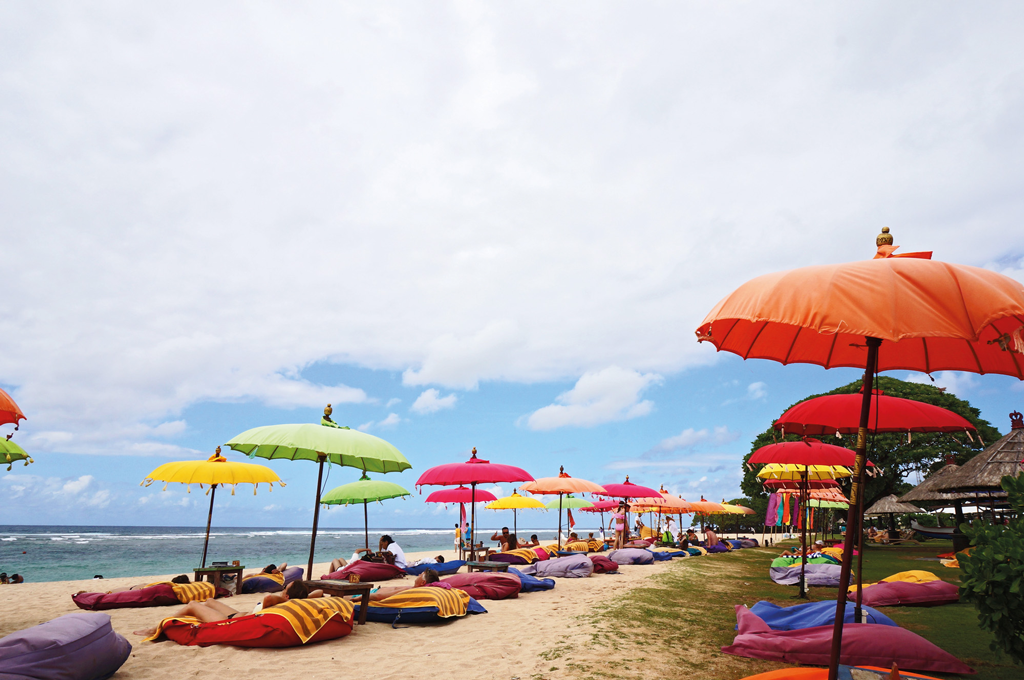 Kuta is definitely still a must-visit on the island; like they say, you haven't really been to Bali if you haven't stepped foot on the beach of Kuta! That being said, many consider Kuta as being the epitome of the island's ugliness, due to its mix-bag tourism projects in combination with its over the top commercialism. That's right, today Kuta is about the boldest boardshorts, with people really letting their hair down.
Yet, both residents and visitors alike still flock around the area's long-stretched beach, and the old sights still remain; people posing against the ocean backdrop, couples holding hands, some guys walking dogs, kids playing on the sand, local ladies offering massage, braids, nail colouring along with countless guys trying to offer temporary tattoos.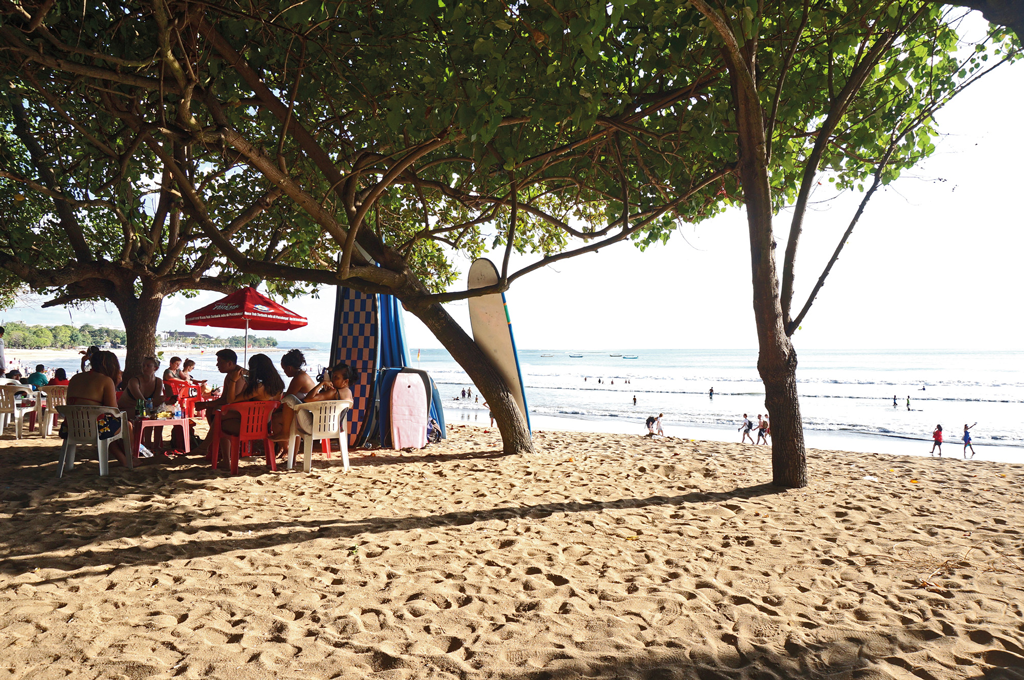 Cold drink vendors found along the stretch of the beach in Kuta make taking time off even more pleasurable – especially when it's hot. Those who'd like to take a break from the sun can go to the vendors, and shade under the trees. Another attraction in Kuta is the beach's Sea Turtle Conservation Centre. The centre holds frequent sea turtle releases, and visitors can join in the event that normally takes place at around 4pm.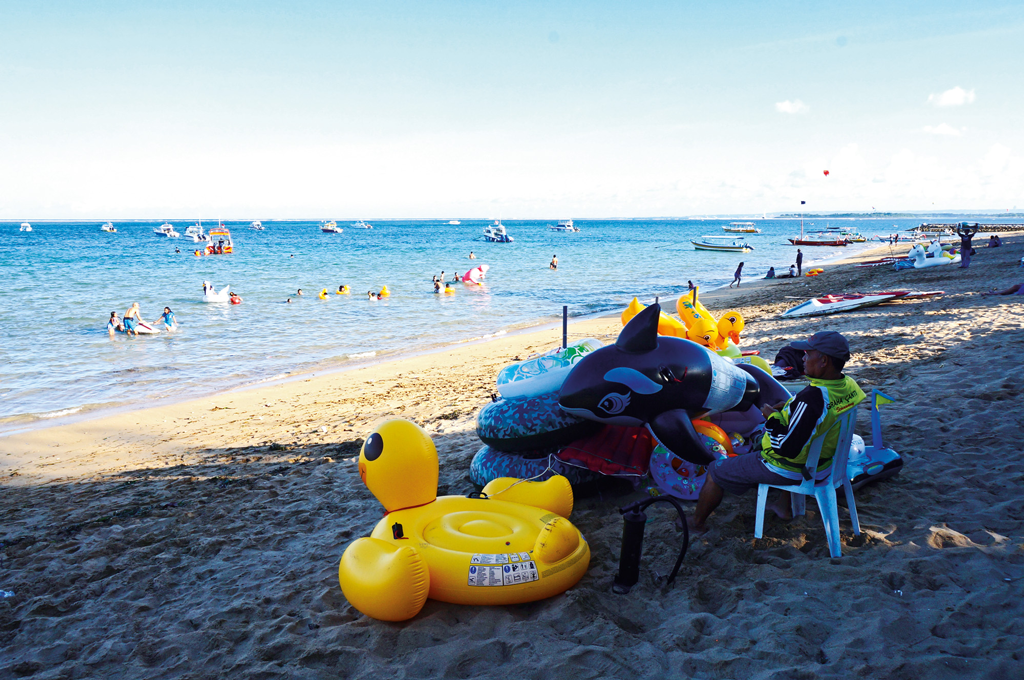 Next to Kuta is the beach of Seminyak. In addition to a few commercial strips with popular and lively restaurants, bars and high-end shops, the beach in the area is a popular destination that attracts those looking for down time. Sunset time is especially famous in Seminyak beach, but the time before sunset will see the beach buzzing with activities. During the windy season like now, you'll notice kids (and even grown ups) playing with their kites on the beach.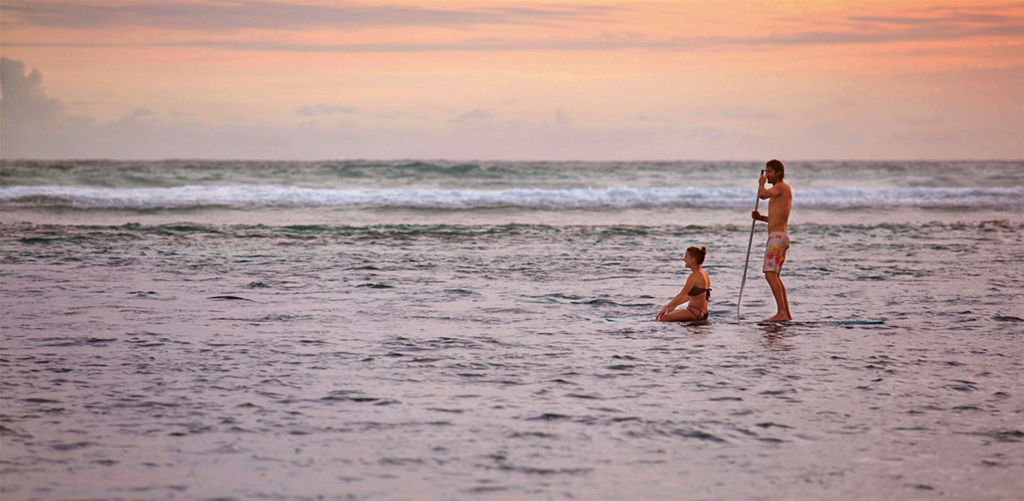 Beach racketball and beach volleyball as well as surfing (for beginner) and bodyboarding are also popular here. Don't know how surf? Here (also in Kuta) you can find a surf school offering different surf courses with guaranteed able-to-stand-on-the-board policies. In other words, if you aren't able to stand on your board when catching a wave, they'll give you another class for free. Alternatively, you can learn surfing from the many surf boys on the beach – just go to where the surfboards are.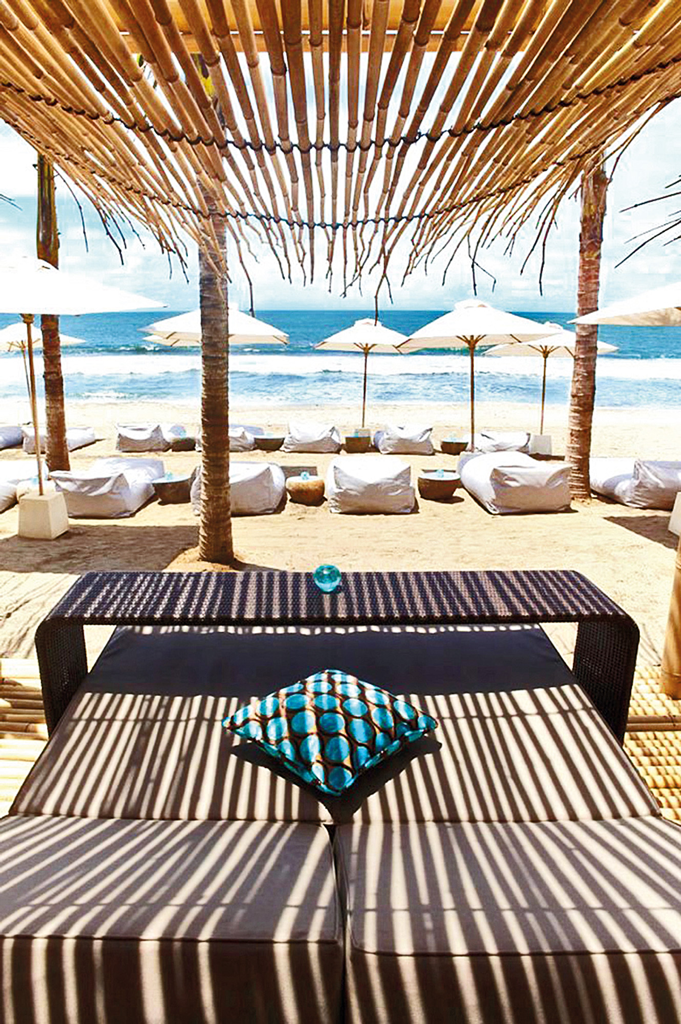 But seriously, Seminyak beach is an ultimate beach leisure destination on the island. You can easily find daybed rentals, restaurants, beach bars, and convenience stores to make the most of your leisure time. And what sets Seminyak apart from other leisure beaches in Bali is that you can find a second-hand book store there, just in case you forget to bring yours to accompany your Seminyak sunbathing session.
In Sanur, sunrise is so breathtaking that one beach in the area is named Pantai Matahari Terbit or the 'sunrise beach'. Mornings on Sanur beaches will see the early risers flocking for sunrise watching and morning jogs. Past sunrise, the beach (accessed from the road where the Grand Inna Bali Beach Hotel is) will be crowded by travellers heading to Nusa Penida, Nusa Lembongan, and the Gili Islands. This part of Sanur beach is where you'll find the fast-boats and traditional boat services to the aforementioned destinations.
Put the sunrise and boat services aside, the beaches of Sanur and the area in general is widely known as a 'relaxed' destination in Bali, especially popular among the retirees and families looking for a getaway from hectic, fast-paced life. However, the Sanur today has also attracted younger crowds with the establishment of new hip places.
The beaches in Sanur are definitely prefect for leisure, with some offering daybed rentals with restaurants located just a stones-throw away. Weekends are buzzing here; families from both Sanur and Denpasar areas will come to spend quality time and relax. Kayaks are always high in demand for both children and parents in Sanur, largely due to the calm water. But what's currently popular in Sanur is floaty rentals. The little ones really find the floaties available for rent here very attractive, for they are available in many sizes, colours, and shapes – orcas, ducks, swans, flamingos, etc. Parents can take a relaxing dip while watching their kids having fun with their rented floaties.
Moving on to Nusa Dua, Ayodya is spreading colourful beanbags and umbrellas on Mengiat beach, making a trendy seaside strip for you to laze around. Reading a book, dipping into the calm, blue Mengiat water, and having a sip of fresh coconut come perfect here. Here you'll also get to feel the beat of the resort's Ayodya Beach Club Chillout Sunsession and send off the ocean breeze with a fun-filled, themed beach party every Sunday. Open to all (and free entrance!), the event takes place from 3pm until 11pm and features the celebrated trumpets player Rio Sidik. His extraordinaire trumpet skills are known for being a magnet for his large audiences. Rio will be accompanied by Martin, a well-known saxophonist among the island's jazz crowd. Family-friendly activities as well as a special grilled menu and refreshing cocktails will be served during session (more info call +62 361 77 11 02).
Up in Uluwatu, everyday is Sunday at Sundays Beach Club. The stunning stretch of the private white sandy beach where Sundays nestles provides a leisurely and playful playground for any beach goer. You can relax to the cool tunes played at the beach club, or alternatively take out a kayak or stand up paddle board at low tide and swim or snorkel in the crystal clear lagoon. Come sunset time and the beach club will fire up its beach bonfires. Grab a complimentary beanbag and toast some marshmallows. Is there a better way to end the day? (more info call +62 811 942 1110)
The neighbouring Karma Beach Bali is a crescent of white sand that leads to a tranquil blue lagoon. Here you can curate a leisurely beach day with a personalised itinerary of experiences such as Stand Up Paddle Yoga, sea kayaking and snorkelling, or a beachfront massage and beauty treatments at Karma Spa. But if water-sports and spa treatments aren't your thing, you can always take it easy and opt for beachcombing or cool off at a private cabana here (more info call +62 361 848 2202).