Bali offers a variety of fun outdoor sports to help ones relax from their daily routine life. Along with the process of releasing stress, these activities help individuals to witness what mother nature has to offer. It is also a great way to reduce any physical or mental issues as it encourages a person to live a more active and healthy life. The activities here range from down right exhilarating to exercising not only body but also your mind.
BUGGY RIDING
Take control of a Polaris Buggy for some extreme fun on the island's only purpose-built ATV track! Tear up the track as you drift through the Ubud jungle, passing the challenging, varied trails like a rally driver.
Your session at Mason Jungle Buggies begins with a safety and instructional briefing and video before you head out to the buggy and put the pedal to the metal. And since this is a thrilling action, unlike the other buggy experiences on offer here in Bali, you need to have driving experience with a valid driver's license, and must be over 18 years of age.
The jungle circuit spans 4.5 kilometres for each lap across the dirt track, and has been meticulously designed to bring a whole new dimension to the island's adventure repertoire. The off-road vehicles available are single-seated ACE model with 325 CC engine and two-seater RZR model with its 570 CC engine. To ensure driver safety during the thrilling jungle drive, both of the vehicles boast certified roll cages, three-point seatbelts, safety nets and a custom-fitted horn.
Mason Jungle Buggies
A : Jalan Raya Taro, Banjar Tatag, Ubud
T : +62 361 721480 E: info@masongjunglebuggies.com
W : www.masonjunglebuggies

ATV RIDING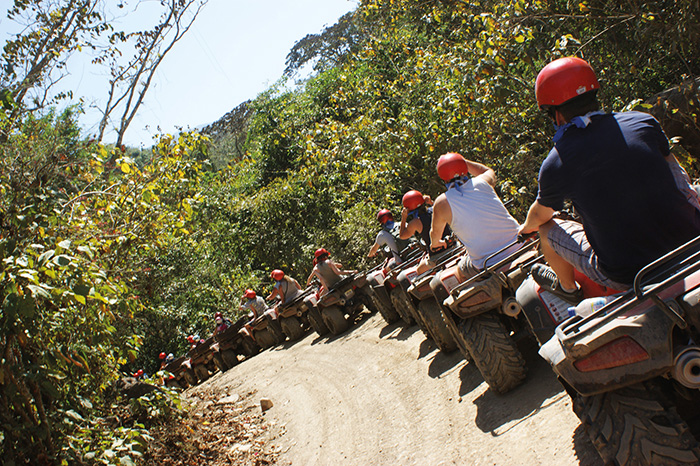 Short for all-terrain vehicle, ATVs are designed to handle a wider variety of terrain than most other vehicles. The rider operates these vehicles like a motorbike, but having extra two wheels gives a rider more stability at slower speeds. You do not need to be experienced to ride an ATV, but you do need to be in good physical health without back or neck injury as there can be a lot of bumpy roads involved. The engine size of ATVs normally range from 500 – 700 CC, but they are fully automatic and easy to ride. A simple explanation regarding the controls of your ATV can be done quickly before you are off on to the dirt. The ATV tracks and trails normally include mud holes, dry sandy tracks, grass and even some small hills. However, riding ATVs in Bali offers you more than that! There are multiple locations with very different sensations from one to another. If you love spending time on the beach, you can have the experience of riding on the sand along the beach and speeding through the fresh water streams. If you are keen to know more about local culture, you can turn into the villages and bring your speed down for some warm smiles and friendly waves from the people you pass by. For nature lovers can ride through the trails to the rural landscapes of the rice fields and witness the farmers tending to their crops. ATV riding in Bali is more about experiencing the real Bali rather than riding at high speed through the dirt.
GOLFING
Some say playing golf is a good activity to start the spiritual journey of discovery. With the island's volcanic landscape and natural beauty, golf in Bali can be categorised as a leisure sport. Having a warm and tropical climate with a consistent humidity level all-year round, tempts golfers from around the world to test their skill at the game on challenging courses. All of the golf courses in Bali offer beautiful surroundings that can provide a good distraction, and therefore you need to level up your concentration throughout the game. Golf courses in Bali vary in terms of difficulty, so there is a course for everyone. There is one nestled in the rainforest highlands and shadow of Mount Batur, another offers the best views of the Indian Ocean, another located near the temple of worship of Tanah Lot, and one that is far north set in the Bali National Park. Which ever course you decide to play at, one thing is for sure – it'll be a round of golf like no other.
HIKING
Hiking combines the positive beauties of sightseeing and exercise into one. Navigating uneven ground with paths that go up, down and sideways will strengthen a lot of muscles in your legs, hips, around the knees and ankles. As easy as it sounds, hiking also has it own risks of injury. The inexperienced hikers tends to missteps during hiking, which can lead to rolled ankles, sprained knees or tumbles. Sunrise hiking to Mount Batur is one of the famous hiking options in Bali. In order to catch the sunrise from the top of the mountain, you need to start hiking from 2 AM. If the sky is clear, you can hike with millions of stars above you. When the sun rises behind Mount Agung, you can see Lake Batur beneath, covered in fog. An absolutely magnificent sight to see!
TREKKING
If hiking is more about getting into the wilderness in beautiful natural environments, trekking is much more commercial as Bali has a wide array of trails, guest houses to visit and food stops. Most treks are easy to organise and dedicated to all level of fitness. Trekking often involves crossing terrain that does not have any form of road, and this is where you can set your own path. Trekkers usually navigate a variety of terrain to reach far off and isolated places. For that reason, you are advised to ask local people for directions more often than just trusting in your GPS. One of the famous trekking spots in Bali is the Campuhan Hill Ridge in Ubud. The trail flows along the open ridge line for about 2 kilometres with a view of tropical forests and villas. On this trek, you will pass through a housing area, small art galleries and some terraced rice fields. Here, you should interact with the local people to get a better understanding of Balinese lifestyle and culture.
CYCLING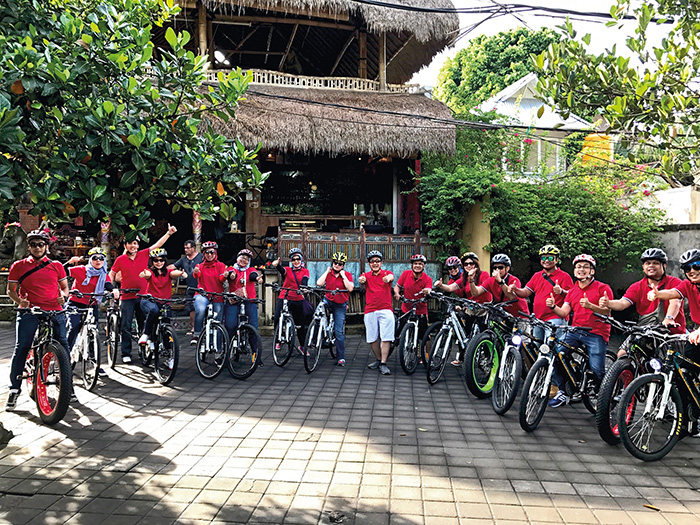 Cycling in Bali offers an opportunity not just to enjoy the beautiful scenery but also the chance to get to know more about Balinese local daily life and experience an enduring tale of warm traditional Balinese hospitality. If you are looking for some fresh air, morning cycling is recommended. Cycling in Ubud gives you an intimate knowledge of some places. You can travel through traditional villages, check out the world-famous rice terraces of Tegalalang, visit some coffee plantations and make a few stops at numerous temples. You can also be interactive by having a quick chitchat with a farmer or even participate in the harvest during the harvesting season. In just a few hours of cycling, you will get more than you could ever see on foot!
eBikes Bali
A : Jalan Tirta Tawar, Petulu, Ubud
T : +62 812 3866408
W : www.ebikesbali.com