As tourism is Bali's biggest industry, it's of utmost importance that it remains a place visitors enjoy coming to. However, with the lack of proper waste management systems and poor environmental education, Bali suffers from littering, overflowing landfills and rivers and beaches lined with rubbish. Plastic is by far the most common material found in such situations, says Daniel Rosenqvist. Daniel is a co-founder of Biowear Bali, a social enterprise on the island that makes completely organic, biodegradable disposable products who are fighting against the plastic plague on the island. I spoke to Daniel this month to find out a little more about Biowear.
[Biowear Bali has become Avani Eco, watch this video to discover what this new venture is all about]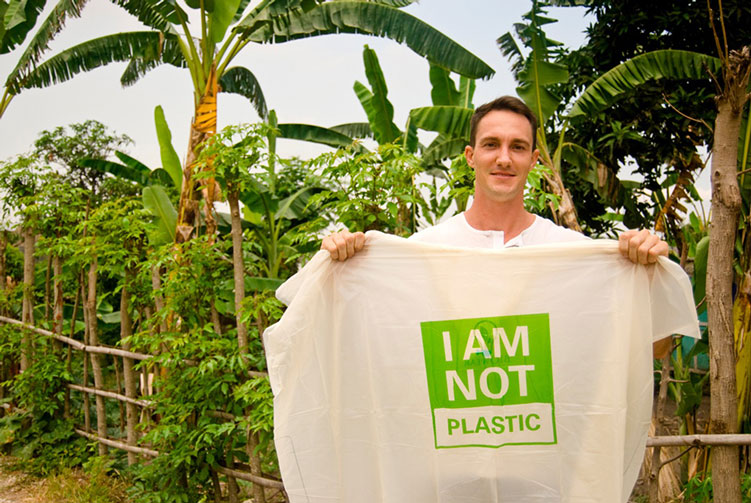 Daniel, tell us a little bit about yourself
Originally I'm from Sweden, I used to work in the hospitality industry in Scandinavia. I actually had a well-paid job and a good position, but I felt the need to explore the world a little. A friend in Australia told me about Stenden Univeristy in Bali; a great opportunity to travel and learn more. I continued studies in hospitality from 2010-2014 but then decided Bali was too good to leave, so I began to think on plans for the future.
So, you decided to forget about hospitality and start a 'green' company?
Not exactly! A friend and I were sitting in Scratch café in Kerobokan – it was raining and we saw people driving around get soaked. So, we thought of making ponchos first – no 'green' movement in mind at this point. With more brainstorming, we decided going green was the way forward. We researched materials and came up with the Eco Poncho, a biodegradable and compostable product. Out of this came Biowear Bali.
Biodegradable, compostable, what does it all mean?
Well, that's actually a good question to bring up. Nowadays we see a lot of what's called 'greenwashing'. Companies use the word 'green' too easily, offering products that are 'degradable' for example – Um, all plastics are degradable! The difference is, they take hundreds of years and still contain toxic residue. How we're different is that all our products are biodegradable and compostable. This means that they are made from 100% organic components; when they break down they simply become proteins naturally found in the environment.
You have more products than just the Eco Poncho then?
The Eco Poncho was a great starting point, but after we begun this movement into organic products we saw the potential to change the nature of disposable products on the island. We have food containers derived from bagasse, which are the fibers of sugar cane. This material has been FDA-approved and is the gold standard in terms of its biodegradability. It biodegrades to CO2, H20 and biomass in 2 to 3 months time – these products are naturally "absorbed" by the landfills. They're even microwaveable and oil resistant. Everyone uses Styrofoam and plastic food containers which take hundreds if not thousands of years to breakdown – not to mention the adverse health effects of having hot food contained within these substances.
We've also manufactured shopping bags using industrial grade cassava starch. These are produced locally, a material the country should be proud of and use more in everyday life. Finally, we've produced paper straws, also locally, which are also in accordance to international health standards.
What do you hope to achieve through these products?
Basically, we'd like to alleviate the immense pressure that our current environment is under. People littering, lack of recycling, poor waste management… we've seen the beaches when rubbish gets washed up, this is bad for Bali, a popular tourism destination. If we can help reverse this trend with our products – make Bali a clean destination – then we'll be pretty happy. We can't do it alone though…
Are there others out there who are joining the efforts?
Actually, in Bali, there are loads of organisations and individuals doing what they can to protect the environment – many fighting the use of plastic. Examples are Eco Bali, Plastic Detox, ROLE Foundation, Green School and of course the girls from Bye Bye Plastic Bags. We're all doing different things but with a common goal, so we really work together. Collaboration is key.
Why Bali though?
Indonesia is huge, so having an island like Bali as testing grounds is perfect. Bali is also a tourism destination with so many international tourists visiting – so we need to keep the island clean for them, but it's also a good platform to spread the world globally on what is happening. The island is important to Indonesia and holds a lot of influence. It's a great way to push global change.
For Biowear, we know that tourists may be used to proper waste management back home but so many people forget in Bali, they use disposable products on a daily basis. So by providing disposable products that are biodegradable, we're countering the effects of this.
Have you had any challenges, or do you foresee any challenges?
We're a green product, so we do get a lot of support – not just from 'green companies', but even regular companies hoping to make change, from surf brands to restaurants. However, the understanding of the effects of plastic is minimal in the country, so we have to raise awareness of the problem first before we offer our services as a solution.
What are your plans for the future?
Well, our hope is of course to change the nature of waste disposal in Bali, it's our 'pilot' project so to speak. We hope to reach out to the rest of the country, because waste management really is a huge problem. We hope that people will begin turning to products like ours when they see the positive impact it will have for the future.
What's more, we'd love to penetrate at all levels, locals especially; this will take time, education and a greater awareness. We'll get there though…
Biowear Bali is still a start up company, but Daniel and the whole Biowear team have made huge strides: from the development of biodegradable products to the awareness the company is building up. What Daniel said about Bali's tourism being affected by the detrimental outcomes of poor waste management couldn't be truer, so it's always refreshing to see that there are people out there fighting this, but they can't do it alone. Visit their website to find out more about Biowear Bali.
www.biowearbali.com
info@biowearbali.com
Text & Photo By Edward Speirs