Dinnertime provides a rare opportunity for one to gather with family and engage in light talks about the day or deep talks about life. It builds a strong family bond that the young ones can lean on for the rest of their lives. Therefore, whether you take your family out for dinner in a modern, super expensive restaurant, in a humble eatery at the side of the road, or in a recommended restaurant consisting of complex yet flavoursome dishes that will take you through a culinary journey altogether, what's important are the people sitting next to or around you. However, the dishes served on the table before you are where the magic and mystery lies. It is what triggers a long, good quality table talk.
---
JU-MA-NA
If you fancy a steak or any kind of meat for dinner, the list of places for these is endless. However, if you are around Jimbaran or Pecatu, you can swing by at Banyan Tree Resort in Ungasan. Its fine-dine restaurant, Ju-Ma-Na, offers the one of the best angles of Indian Ocean and the possibility to forget all the stresses of the day. Nestled on the cliff, you will get the sensation of dining on a giant ark while floating over the ocean. The evening is indeed the best time to dine, when the lighting in the restaurant blends together with the lights from the boats below on the wide ocean. Truly magical! Whether you decide to sit inside or outside the restaurant, you will have a perfect angle of the ocean. And while embracing the moment, you may want to have a plate of Grilled Kobe Beef. This signature dish from Ju-Ma-Na offers the finest beef quality in the market, Kobe Beef. It comes from Wagyu cows that have been massaged with sake-fed grain fodder and given one beer a day. This makes the beef tender, tangy and wonderfully marbled. It is served with pumpkin ginger puree, spring vegetables, potato croquette and winter truffle jus.
Ju-Ma-Na
A : Ungasan, South Kuta
T : +62 361 3007000
W : www.banyantree.com
---
DAVA STEAK & SEAFOOD RESTAURANT
Travel down from Ungasan to Jimbaran, Ayana's newest restaurant Dava Steak & Seafood Restaurant brings Bali's seafood grill and steak house experience to a new chapter of satisfaction. Taking full advantage by overlooking Jimbaran's sunset coast, you are bound to sit and relax while the culinary team work their magic in the kitchen. Waiting for the mains to be served on the table, you can try the Yellow Fin Tuna Tartar. Fresh from the Indian Ocean by Jimbaran's famous fishermen, this dish is accompanied by local avocado, crispy shallots and a soy citrus dressing. The Grill Menu section features satisfying culinary works of art such as the grain-fed, 200-day aged Stockyard Gold Striploin, a perfectly marbled Stockyard Silver Label Wagyu Tenderloin, Australian Lamb Chops, and Canadian Lobster. Each dish may be complemented by an extensive selection of side dishes including Truffle Mash Potato, Double Baked Cheese Potato, Creamy Spinach with Parmesan and Tempura Onion Rings.
Dava Steak & Seafood Restaurant
A : Ayana Resort, Karang Mas Estate, Jalan Karang Mas Sejahtera, Jimbaran
T : +62 361 702 222 / +62 361 846 8468
W : www.ayanaresort.com / www.rimbajimbaran.com
---
BALIQUE
Still in Jimbaran, Balique is to be considered as a cozy and homey restaurant for tourists. The interior mix of French and African styles blends perfectly with the location of the restaurant among the outstanding world-class resorts and villas. Looking humble under its whirring fan-open style roof with high-ceilinged open space, check out the antiques and artefacts sourced from around the Indonesian archipelago. As for the dinner menu, you can ask for Rijstafel to get the local taste.
Balique
A : Jalan Raya Uluwatu, Jimbaran
T : +62 361 704945
W : www.balique-restaurant.com
---
POPPIES RESTAURANT
And if you happen to be in around Legian, you can also have this Rijstafel menu item at Poppies Restaurant. In case you are not familiar with this type of food, it is a truly magnificent feast that comes in small tasty portions of Indonesian delights from all around the archipelago. Historical-wise, this was the colonial Dutch way to sample the best food of Indonesia. At Poppies Restaurant, this dish comes with a selection of satay, including Sate Lilit, more than enough soup options than you can dream of, and, of course, with some spicy elements too.
Poppies Restaurant
A : Jalan Legian, Gang Popies I, Kuta
T : +62 361 751059
W : www.poppiesbali.com
---
JEMME RESTAURANT
In Seminyak, precisely on Jalan Raya Petitenget, Jemme Restaurant has prepared special meats for Wednesdays and Sundays. The Roast Beef is served with Yorkshire puddings, roast potatoes, creamy cauliflower cheese, green peas and baby carrots, sautéed green beans and roast almond, roast beetroot and cabbage, crunchy creamy leeks with bacon and horseradish sauce. If you are a fan of pork, you can try the Roast Pork, consists of crackling, roast potatoes, creamy cauliflower cheese, green peas and baby carrots, sautéed green beans and roast almond, roast beetroot and cabbage, crunchy creamy leeks with bacon and apple sauce. This delectable Wednesday & Sunday Roasts have a reputation on the island, and therefore an advanced booking is advised on these days.
Jemme Restaurant
A : Jalan Raya Petitenget # 28, Kerobokan
T : +62 361 4732392
W : www.jemmebali.com
---
FRESTRO
Not far from Jemme, Frestro offers premium international cuisine, crafted with passion, presented in high-quality style with this island's true spirit. While Jemme serves roast beef or pork, this artisan gourmet cuisine restaurant has Roasted free range half chicken that comes with Mizuna, confit vegetables and rosemary juice. Open until late, you can have a great time with good food, drinks and of course, friends.
Frestro
A : Jalan Petitenget #108 – 110, Kerobokan, North Kuta
T : +62 361 9345888
W : www.frestro.co.id
---
HOG WILD
A short ride on to Jalan Batu Belig will take you to Hog Wild with Chef Bruno. The inconsistency the brand name doesn't change the fact that it is still dubbed as the best ribs in Bali. Legendary for its rack of barbecued pork spare ribs, or known as 'Wicked Ribs', this is a street-style smoky barbecue eatery. So, wipe away the image of a typical chic and stylish Seminyak restaurant. Chef Bruno is a magician when he is working on a slab of ribs. The succulent rib meat smoothly falls off the bone, covered in an additive sticky BBQ sauce with enough amount of charring on the outside to give the ribs a delightful smoky flavour.
Hog Wild with Chef Bruno
A : Jalan Batu Belig 41 – Kerobokan
T : +62 361 8476722
W : www.letsgohogwild.com
---
ROMEOS BAR & GRILLERY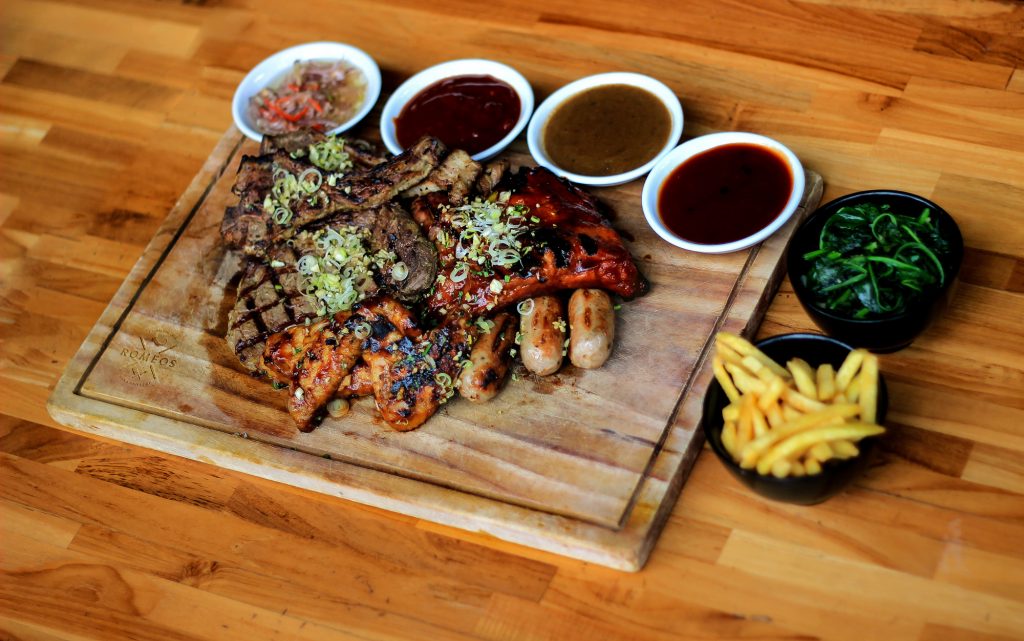 If you want to have all kind of meat on one plate, you can consider Romeos Bar & Grillery for dinner. Situated in one of Legian's hippest boutique hotels, this restaurant offers a-top-quality-gastronomic-cuisine experience with dynamic street-front views. Adding more culinary value to the tourists in Legian, this is one of the hotspots to meet up or unwind while enjoying a plate full of meat. A combination of Rib eye, Pork Ribs, Sausage, Chicken Wings and Lamb Chop comes on a single plate with tasty sauces and side dishes. Their philosophy reads; Romeos serves with hearty fare and never lets anyone leave hungry! They do, indeed!
Romeos Bar & Grillery
A : Jalan Padma Utara, Legian
T : +62 361 755225
W : www.romeosbali.com
---
SANJE BEACH FRONT RESTAURANT
Enough with the meat! Now, seafood lovers can have a serious dinner treat at The Seminyak Beach Resort & Spa. Among many restaurants inside the property, Sanje Beach Front Restaurant stands out as the best for a fancy dinner. Featuring ocean views from the glamorous Seminyak Beach, you can go for an elegant sunset by the pool before dinnertime. Lay cozy on the lounge chairs and get yourself excited to watch a live performance DJ who will build up a cool vibe. Serving grilled seafood, fresh from the great Indian Ocean to your table, and a large selection of light Mediterranean Cuisine, as well as a multiple meals, Sanje will please any appetite and make one breezy afternoon notable.
Sanje Beach Front Restaurant
A : The Seminyak Beach Resort & Spa, Jalan Kayu Aya, Seminyak
T : +62 361 730814
W : www.theseminyak.com
---
THE RESTAURANT
Still around Seminyak, Alila Seminyak's restaurant offers bistro-style setting of communal tables fronted by ocean views. The dinner setting takes place in the open kitchen, featuring an Asian Noodle Bar and a Grill & Rotisserie, presenting adventures into authentic and favourite flavours to anyone. The Chef's Table introduces a new 5-course culinary journey through a unique Western gastronomic experience deliciously paired with a selection of creative cocktails. You can expect the freshest seasonal ingredients and local produce combined with perfectly complementing cocktails to create a distinctive and memorable experience.
Going the down same line with Alila Seminyak, introducing its new culinary journey, The Restaurant at The Legian Bali proudly presents the 'Discovery Menu'. This dinner menu is a collection of the Executive Chef, Luke Macleod's signature dishes, pared down to its quintessential elements in the pursuit of balancing simplicity and complexity using fresh and local ingredients. You are about to be pampered with a six-course degustation menu accompanied by Wine Spectator's award winning list. The dining area is spacious, opens out onto a poolside terrace and faces towards the shimmering Indian Ocean.
The Restaurant
A : The Legian Bali, Jalan Kayu Aya, Seminyak,
T : +62 361 730622
W : www.lhm-hotels.com/legian-bali
---
BYRDHOUSE BEACH CLUB
Now, moving on to Sanur. This area has long been known for its beautiful sunrises, white sandy beach and iconic rock jetty along the shore. However, not many know of the beachfront establishments that rival Seminyak's hit sunset venues. Nesting on the beach of Segara Village Resort, Byrdhouse Beach Club is the first beach club in Sanur, providing a diverse selection of international food and exotic cocktails.
Byrdhouse Beach Club houses three different kitchens offering their own fare and flare: Le Pirate Restaurant, Minami Japanese Kitchen & Teppanyaki and Amue Gueule Pattiserie. The main dining area is hosted at Le Pirate Deck, a charming outdoor area, with strings of light hanging from the trees. It has a particularly warm ambience in the evening. Minami has its own charm, with rattan furniture dotted around the interiors, making for an intimate dining area. For those after somewhere to luxuriate, the oversized sofas of Amuse Gueule are perfect for sinking into, a leisurely snack on the beach.
There are over 200 different food selections at Byrdhouse, ready to be served in any of the three venues you feel most comfortable in. Le Pirate has an array of appetisers perfect to start on any meal, featuring some favourite dishes from Asia such as Thai Beef Mango Salad, Korean Beef Tortilla with gojuchang sauce, Tuna Tataki, and Octopus Szechuan Salad. Other recommended starters are more Western selections of a Caprese Salad, Bruschetta, and Yellow Fin Tuna Tartare.
Those after the delicacies of Japan should choose from Minami's menu, offering classic selections of sashimi and sushi, with heavier noodle and Teppanyaki options also available
Moving on to heavier bites, Le Pirate kitchen prepares a range of local Indonesian cuisine and other popular Asian dishes with fresh, locally sourced ingredients. Nasi Campur Bali, Nasi Rendang, Singaporean Laksa, Pho Bo, and Hong Kong style Steamed Barramundi, are to name only a few of the extensive selections. Other main favourites are the Mushroom Risotto, cooked to a perfect al dente with creamy green peas and truffle oil; fish lovers should not miss out their refined Sesame Crusted Salmon, laid on top of green pea purée, smoked vegetables, tomato confit, and dashed with sweet-tangy orange cardamom sauce.
For a casual and laid back dinner, Amuse Gueule kitchen tosses fresh pizza into the wood fired oven every. The patisserie is also available and ready to whip up a variety of French crêpes and other desserts for a sweet finish!
A perfect dinner is never complete without a good selection of beverages. All day and night Byrdhouse's team of mixologists never run out moves to concoct a tasty thirst. Have a sip of their B.O.P, a.k.a. Byrd Of Paradise: hand crushed watermelon and locally grown basil mixed with white rum and lime making this the perfect cocktail to welcome you into paradise. If you fancy a glass of wine or bubbles of excellent vintage, the waiter is ready with an extensive list of local and imported selections.
Byrdhouse Beach Club
A : Jalan Segara Ayu 8, Sanur, South Denpasar
T : +62 361 288407
W : www.byrdhousebeachclub.com
---
KUBU
In Ubud, Kubu brings you a fine Mediterranean-European cuisine in a tropical breeze and intimate space of private cocoons overlooking the Ayung river. One of Kubu's highlights is their Tuna Crudo served with burrata pugliese, smoked lettuce and tomato essence. The Executive Chef, Maurizio Bombini, created this excellent dish to remind him of his hometown Apulia, in Italy. The main ingredients are the Yellow Fin tuna & Burrata cheese – one of Italy's greatest cheeses but made in Bali by an Italian cheese maker, which remains his preferred fresh cheese up to this day. This dish is also known as Italian Sashimi. The tuna is served raw, or 'crudo' in Italian, and it is seasoned with some orange essence. The burrata is served just as is, giving a slight acidity to the tuna. The sweet taste comes from the onion confit and tomato, and a slight bitter touch from the smoked lettuce. Tuna Crudo is best to serve as a fresh dish, light and easy. It is a perfect selection for the hot/humid weather of Bali, while at the same time keeping the Mediterranean flavour as the main concept of the dish.
Kubu
A : Mandapa, a Ritz-Carlton Reserve Jalan Raya Kedewatan, Ubud, Gianyar
T : +62 361 4792777
W: www.ritzcarlton.com