Dining in Ubud is dedicated to those with a love for culture and music. Well-known for its relaxing ambience, quiet environment and traditional atmosphere, this upland destination has several corners to see besides rice terraces, cultural places and temples. Many of the Ubud restaurants are sophisticated while others are laid-back. Combining dines with wine, views and some entertainment, below are some considerations to prove that dining in Ubud is time worth spending.
Starting at the very north, Koko Bambu (www.kokobambu.com) is a jewel in the jungle nestled in the hinterlands of northern Ubud. The beautiful structure of this unique restaurant is comprised entirely of bamboo and features a lounge pool overlooking rice paddies as well as the jungle's edge. Waltzing into the feasting zone, Koko Bambu serves an array of its signature cuisines, which is a fusion of East meets West with a sprinkle of chocolate inspiration. Adjoining to the restaurant is the Mason Gourmet Chocolate Factory, the heart of Bali's finest chocolates, as well as the launching point for Mason Jungle Buggies.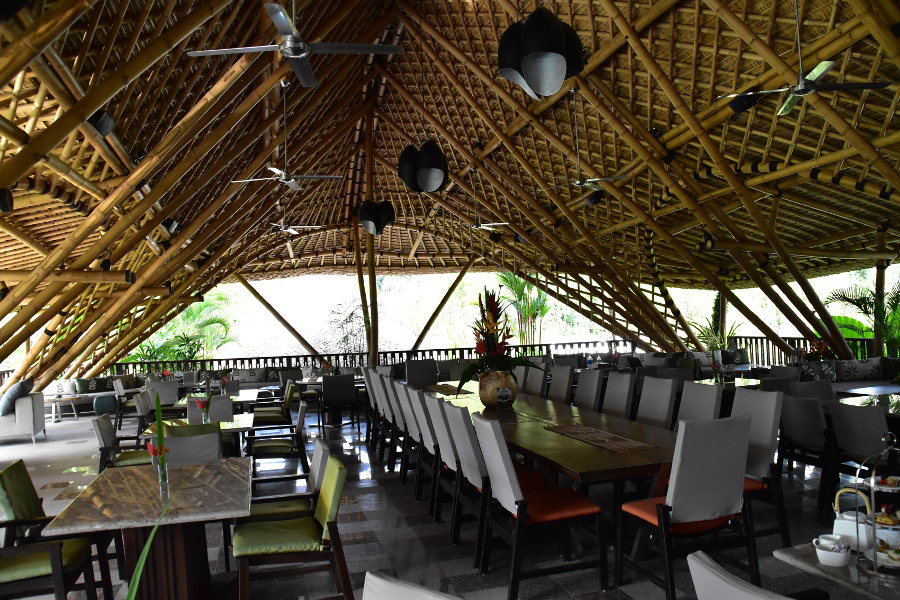 Driving 15 minutes south, Jungle Fish(www.junglefishbali.com) has quickly gained popularity as Ubud's 'beach club'. With an amazing infinity pool that stretches parallel to the valleys and a killer view to enjoy, it is no wonder people line up to go to this unique spot. Located inside Chapung SeBali Resort and Spa, this so-called 'beach club' stands high above the river and nestled in jungle around it. In line with the demands of 'Ubudians', the dishes are free of chemicals and MSG, and most of their products are organic and locally sourced. Rice, herbs and some vegetables are homegrown as well! This venue combines healthy flavours and a view to match, it will definitely bring your dining experience to new heights.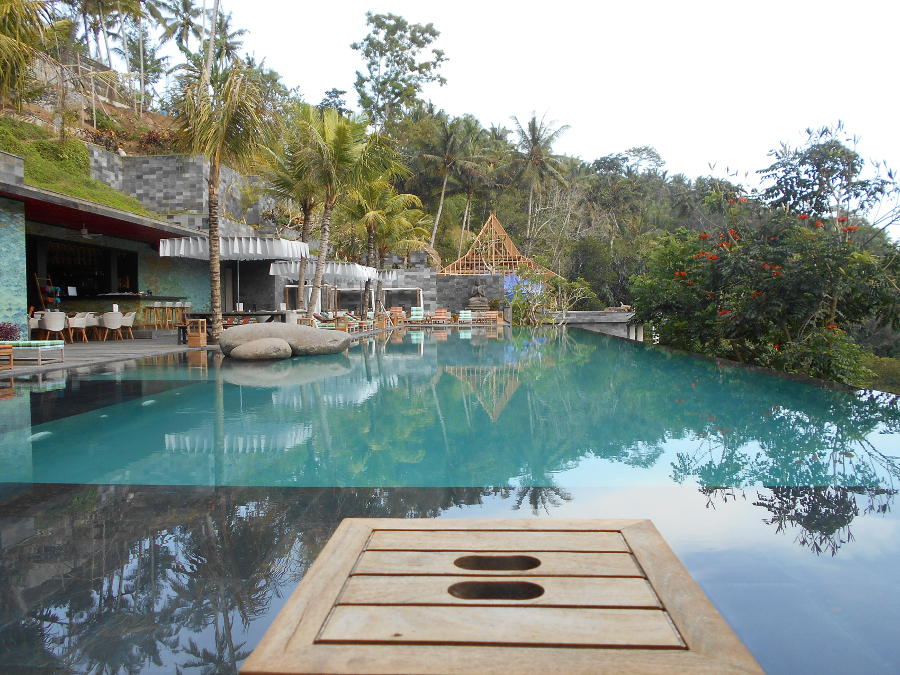 A short drive to the west on Jalan Kedewatan, you can pander to your appetite with a tropical breeze at Kubu Restaurant(www.ritzcarlton.com). The design of the restaurant takes inspiration from the 'hut' where the Balinese farmers keep the rice after harvesting. Kubu offers an intimate space with 9 private cocoons overlooking the Ayung River. Please be advised, singlets and flip flops are not allowed in this restaurant. On the menu, they serve fine Mediterranean-European cuisine in the option of A-la-carte or degustation menus with an addition of an extensive list of European wines. Have some bites of their Scallop that mixes with calamansi, avocado and lavender.
Less than 5 minutes' drive back to Jalan Raya Sanggingan, Mozaic Restaurant(www.mozaic-bali.com) is a household name in the Ubud restaurants scene – and Bali for that matter. Combing seasonal ingredients from the islands of Indonesia into modern French techniques of cooking and presentation, this restaurant sits above the standards with multiple international awards. Enjoy your lunch or dinner in the intimate garden, while tasting the experimental creations of Chef Chris Salans that change regularly to always offer something innovative.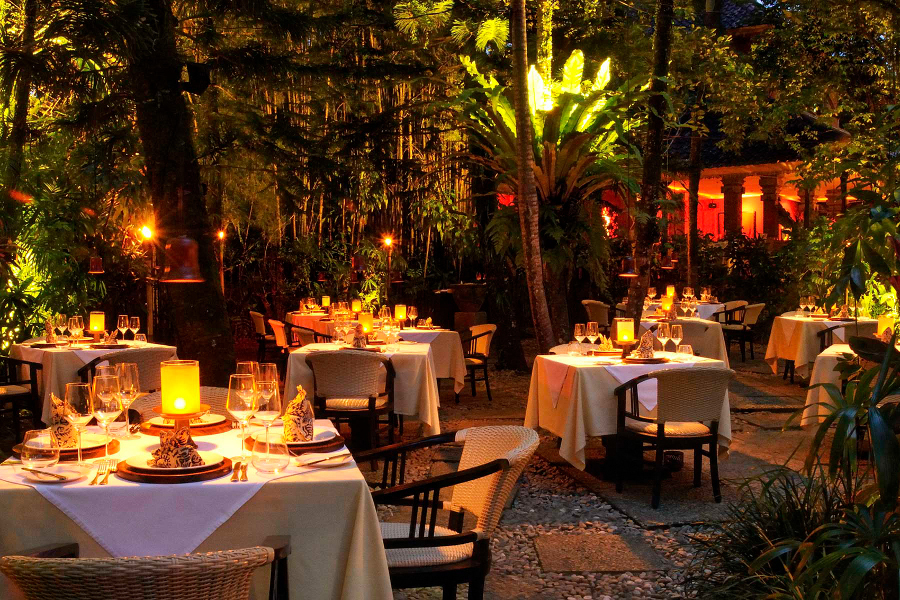 About 10 minutes' walk down the same road towards central Ubud, you will find one of the finest Indonesian gastronomy restaurants at Blanco par Mandif(www.blancoparmandif.com). This restaurant features limited seats, so you might want to make a reservation in advance. A smart dress code is also applied for those who want to dine here, which means no singlets, no beach attire and no sandals. The dining area is divided between a big bar and an open kitchen with all seats facing the kitchen, creating a dynamic atmosphere and interaction with the staff. Chef Mandif crafts all the menu items with passion and integrity to present the quality of every aspect, resulting in an unquestionable series of delicacies laid out on the table with excellence!
Heading a bit east to the vocal crowd of central Ubud on Jalan Dewisita, Golden Monkey (www.goldenmonkeyubud.com) serves a large selection of classic Cantonese favourites, including BBQ and Dim Sum. Here, you can witness a pleasant family-style Chinese eatery enlivened by a mix of conventional Chinese traditions with a modern influence. Dining at this restaurant is a whole ordeal that begins the moment you stroll through its delightful Chinese entryways. From its wooden fixtures, red lampions, Chinese outfits, Chinese adornments and small statues; everything cooperates to give you that one immaculate eating background.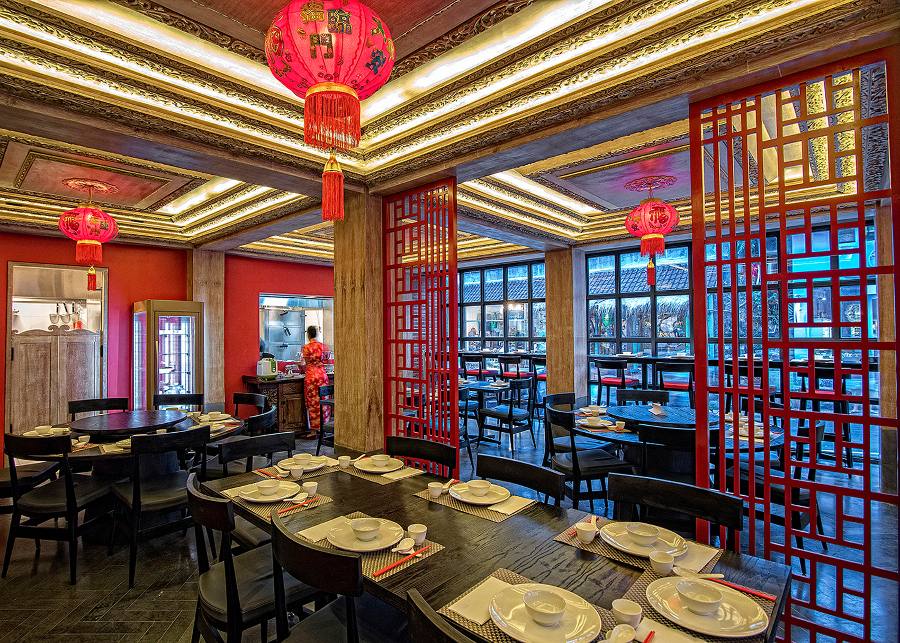 Just 2 minutes' walk around the corner, Kismet Restaurant & Lounge (www.kismetbali.com) is bringing a taste of vegetarian fusion from around the world to satisfy your tummy. The restaurant is divided into 2 levels, downstairs is dedicated to a casual working environment while the upstairs is the dining area. Please be aware that they have a strict 'no laptops after 6 PM' policy in the dining area. Constantly making changes to improve their menu, they design all their dishes with an Asian fusion flare. Order yourself a nice green curry that comes with brown rice and tons of flavour.
Another short walk to the south on Jalan Hanoman, Kebun Bistro (www.kebunbistro.com) offers authentic Mediterranean cuisine in a delightful atmosphere of a French garden. Since the venue is very casual, it mostly attracts diners not just for lunch or dinner but also afternoon coffees, light bites of cake, tapas, cocktails and dessert. Their French-trained Chef makes sure the elegant continental and vegetarian options get equal attention. For sweet lovers, they serve really good desserts, while the bread and pastry are baked in-house.
Just next to it, KAFE (www.kafe-bali.com) is fusing the typical Ubud laid-back vibes with a quirky New York bistro. They cater to a wide variety of healthy vegetarian and vegan food selections from local suppliers. In line with their ethos of a healthy, environmentally-conscious lifestyle, they use only Bali-harvested, organic and chemical-free produce whenever possible. From wholesome breakfasts, vegetarian food, super-smoothies, to gluten-free and vegan selections, KAFE has an extended range of healthy flavoursome food to feast your eyes. Try out their Quinoa porridge which is high in protein and contains all nine essential amino acids.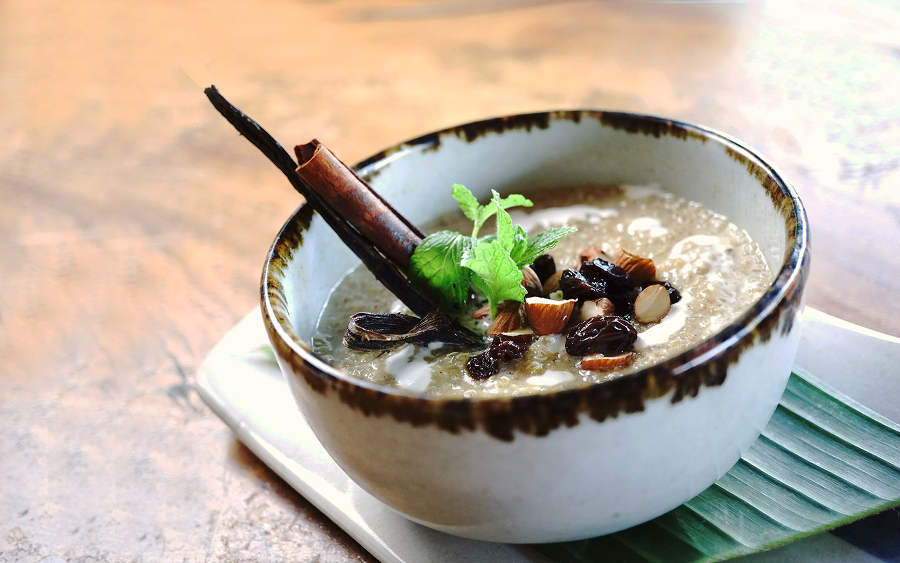 It is also high in magnesium, B-vitamins, iron, potassium, calcium, phosphorus, vitamin E and antioxidants.
10 minutes stroll down Jalan Hanoman, you will find a dining experience in a 350-year old Javanese Joglo at Manisan (www.manisanbali.com). Offering the authentic flavours of Indonesia, the venue is located close to nature and rich cultural presence to reminisce the olden days in the current era with a modern touch. The design combines old Javanese elements with modern sophistication, right in the middle of a rice field. Featuring home-style dishes cooked with integrity, be prepared to bring classic traditional food back into your modern lives with each dish celebrating the spirit and diversity of Indonesia.
Another elegant restaurant, Petani  (www.alayahotels.com), stands right next to it. Meaning 'farmer', this restaurant pays tribute to the members of Bali's hardworking farming community who cultivate the land to provide a consistent food supply by getting the organic ingredients directly from the local farmers. This street-front restaurant is a decent place to sit back and relax amidst an eclectic home décor that brings together vintage and contemporary elements. For those who are into music, they have live music performances by the island's finest musicians every Monday, Wednesday, Friday and Saturday until 7 PM.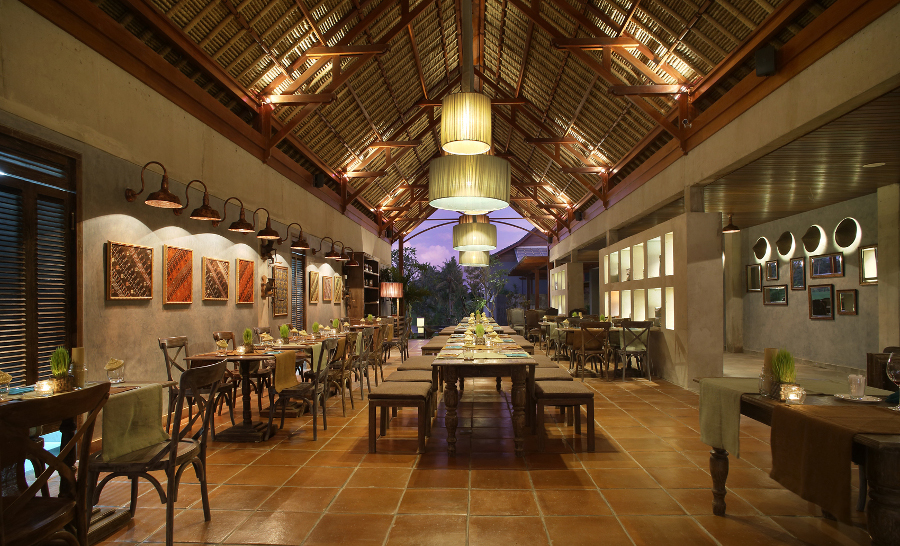 A short drive to Jalan Monkey Forest, Liap Liap (www.liapliap.com) is another of Chef Mandif's establishments which combines exotic grilling and smoking techniques from the far reaches of the Indonesian islands. The chef stems inspiration for this restaurant specifically from Papua and Sulawesi. In exploring the freshest ingredients available in markets and local surroundings, he highlights his refined-passion on the dishes and craftsmanship by creating bold as well as alluring presentation styles in bringing the finest to the table. This is one of the newer Ubud restaurants but is quickly gaining popularity for its original concept and authentic flavours.
Driving 15 minutes back all the way up to Jalan Suweta, Chef Mandif is also involved in the menu creation at Lumbung Restaurant (www.lumbungpadiubud.com). Taking its name from a traditional rice barn, this restaurant at Desa Visesa Ubud serves outstanding local cuisines in an elegant and representative setting. The venue is surrounded by tropical jungle greenery with woven rattan and Balinese carvings in the interiors. On the menu, the team of chefs are presenting their signature dish 'Bebek Betutu', a duck cooked in the distinctive Betutu spice. Those who love spicy food, this restaurant earns high marks for having the largest selection of 'sambal' condiments, representing12-stops on the Scoville Scale Range of 'spicy heat'.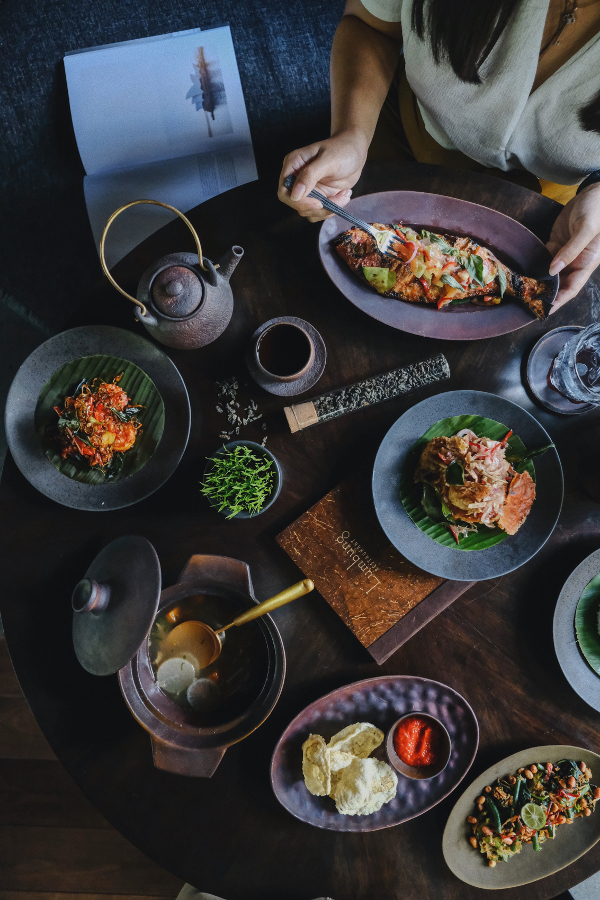 Still, at Desa Visesa Ubud, Padi Fine Dining (www.lumbungpadiubud.com) showcases pesco-vegetarian cuisine served with a pronounced Asian influence. The boldness and the enjoyment of a culinary challenge have attracted Chef Mandif to bring his passion into this restaurant by
emphasising vegetarian and pesco-vegetarian dishes into fine dining. The diners will be seduced by both the food and the unique experience of dining in a cosy grotto beneath a bridge where calming and relaxing breezes waft through the gorge, a perfect spot to refresh both the mind and spirit. Open only for dinner with 30 seats, you will be tempted to try one of the two daily table d'hôte 7-course pescatarian or 7-course vegetarian menus – both tours de force in their respective genres.
Driving 15 minutes to the east of Ubud, dining at River Café (www.mayaresorts.com) of Maya Ubud Resort & Spa offers healthy dining in a tranquil river setting enclosed by verdant rainforest. The fact that this venue is bordered by the Petanu River and Ubud's rice paddies make it a perfect destination to nurture both your body and mind. On the menu, River Café keeps things natural, fresh and nutritious. You can expect a full selection of vegetarian, gluten-free, non-dairy and 'conscious cuisine' options – all are driven by organic and sustainably sourced ingredients.
Less than 10 minutes' drive to the north, you can dine with jaw-dropping views of a tropical valley under a cosy thatched roof at Cascades Restaurant (www.viceroybali.com). With the scenery over the Petanu River valley, this signature restaurant of the 5-star Viceroy Bali puts a high standard for luxury dining in Ubud by always keeping its quality to the highest level. Dinner here is highly recommended as you can enjoy the tranquillity of the emerald green valley setting combined with warm ambient lighting from the table candles. On the menu, focusing on the usage of the highest quality of ingredients, the food is engineered with French techniques in a modern flair. The culinary team is also mixed with a few Asian twists, involving some influences from Japanese, Thai and Indonesia cuisine.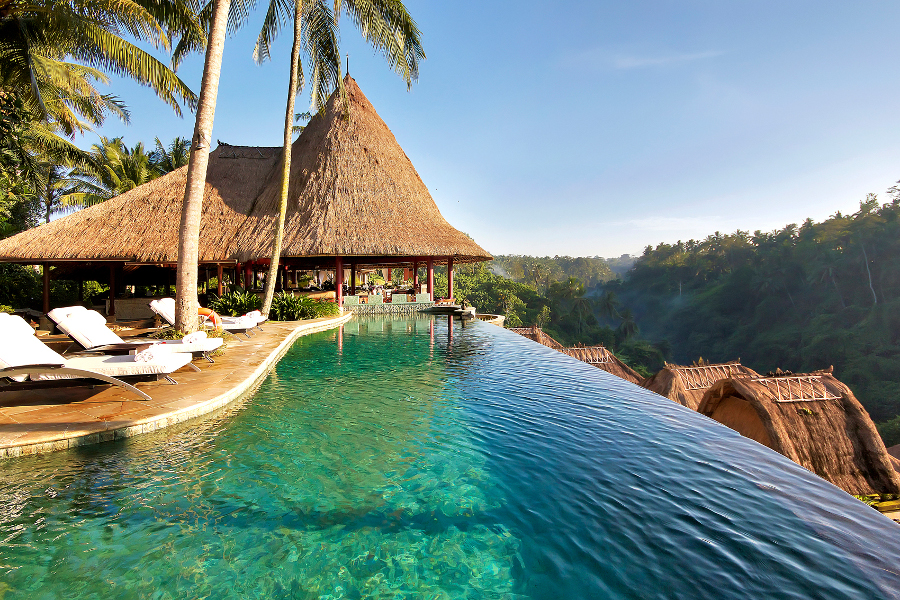 Going further out to Ubud's west side on Jalan Sayan, you can savour Indonesian specialities and a good selection of international dishes in a semi al-fresco setting on the crest of a gorge with breath-taking views overlooking the lush greenery of Sayan's tropical gardens, the rice paddies and the river below at Ayung Terrace (www.fourseasons.com). There are 3 areas where you can enjoy your meals; in the dining room, on the outdoor terrace and adjacent the wine cellar. On the menu, all the dishes are made with vibrant spices and the freshest ingredients. You can take a journey through Indonesia's culinary history with the Rijstaffel Dinner every Tuesday evening, which combines the Indonesian tradition of eating banquet-style as a family with the Dutch preference for greater quantities. Alternatively, you can opt for Nusantara Night Dinner every Thursday to discover an Indonesian culinary tradition with food prepared over an open wood fire and savour their Bebek Betutu Balinese roasted duck.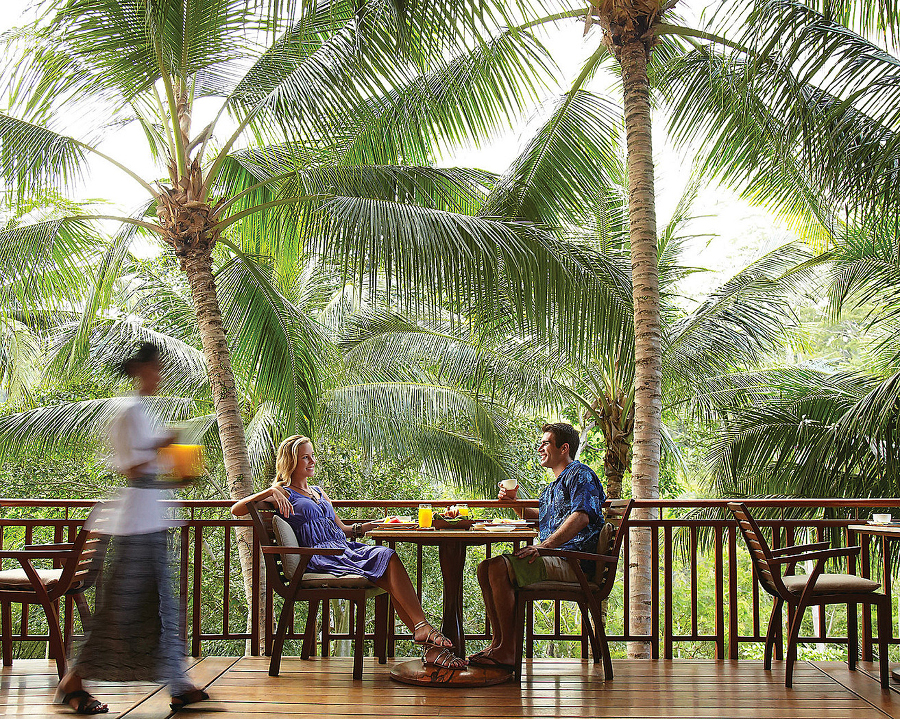 Driving all the way down south, dining at Sungai Restaurant( www.sthalaubudbali.com) comes with gentle breezes that flow through its open-air layout all day long. This Balinese restaurant is located atop the Woss River, hidden inside Sthala Ubud Bali, serving á la carte options for breakfast with a variety of traditional treats and specialities. If you are coming for lunch or dinner, the culinary team has prepared a mixture of both traditional Balinese and Western cuisines – serving only the newly harvested ingredients with a personal touch to make every dish feel crafted specially just for you.
So, there's a lot too choose from it seems, which of these Ubud restaurants would you like to try first?