One-of-a-kind Nikkei cuisine, rooftop views and a chic cosmopolitan design are the ingredients that have come together to make made Above Eleven Bali popular since it opened. 
Sitting atop the Samasta Lifestyle Village in Jimbaran, you can peer out far out over Jimbaran Bay, and out to the distant coastlines of Bali, watching as the planes fly in. A favourite spot for sunsets and dining under the stars, tucking into the Peruvian-Japanese fusion that defines the Nikkei cuisine.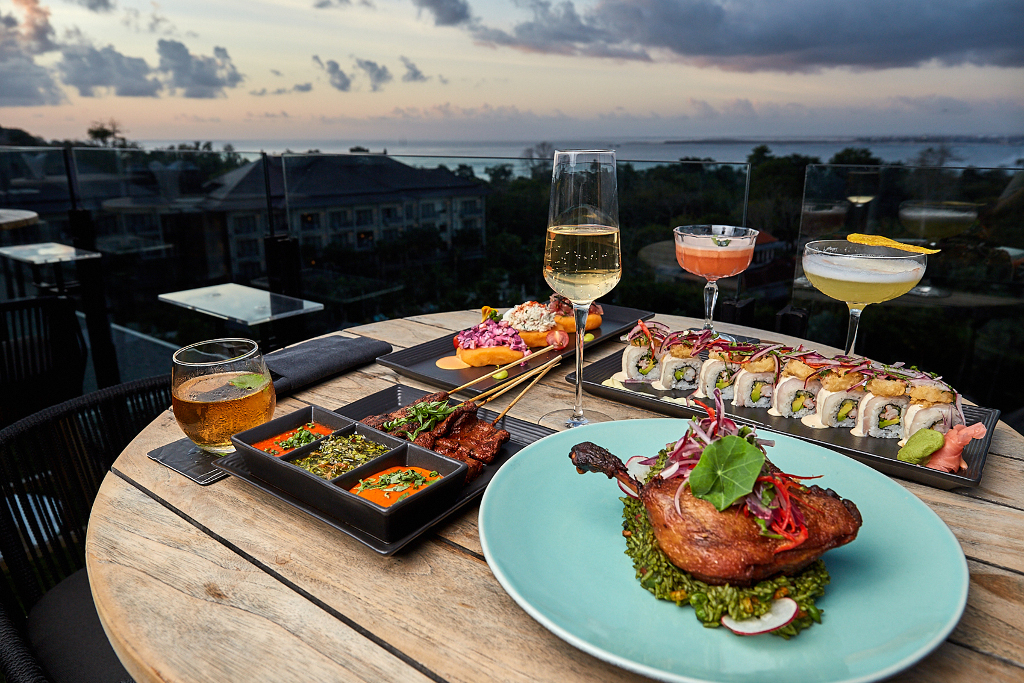 Of course, when enjoying the views or dishes, a carefully crafted cocktail is always a welcome accompaniment. That's why Above Eleven Bali is launching a new selection of cocktails, inspired by the island itself, made from homemade infusions and syrups. 
From Jimbaran to Tabanan and Karangasem to Gilimanuk, each cocktail represents a different region in Bali, highlighting signature ingredients and tastes. Their names are just as intriguing as they way they taste: 
The Heritage
Representing Tabanan, known for the Jatiluwih rice terraces and fresh strawberries of Bedugul.
 Made with Sake, Strawberry Shrub, Home-made Rice Horchata, Passion Fruit, Lemon Juice, Fresh Strawberry, Elderflower Syrup, Angostura Bitter
Denpasar Kisses
Representing Bali's capital city, the hustle and bustle, the area's unique Omed-omedan kissing ritual.
 Made with Arak Bali, dom benedictine, lemon juice, kaffir lime leaves, mango puree, vanilla syrup, and egg white
Jimbaran Bay
a drink of tropical flavours, coming off as a bright blue to represent Jimbaran's glistening waters. Includes gin, peach liquor, blue curacao, pineapple juice, lime juice with a mixture of salt and water
7 in East
inspired by 7 ingredients all found in east Bali, with an Arak Bali base, snake fruit, rosella tea, pineapple syrup, lemon juice and ginger ale.
Black Sand
Representing Gianyar's iconic black sand beaches, includes home-made spiced rum, home-made jackfruit syrup, coconut milk, mint, chili, lime juice, and ginger soda.
Klungkung Breeze
a refreshing libation representing the cooling breezes of the region. Made with vodka, Midori, cucumber, mint, elderflower, lemon juice and coconut water.
Bangli Zephyr
taking Kintamani's most well-known produce, coffee, and creating an interesting twist with coffee-infused gin, orange bitter, cold brew coffee, home-made curaçao, vanilla syrup, jackfruit syrup, saline and coconut jackfruit foam.
Dolphin's Song
hailing from Lovina, North Bali, where Dolphins can be seen leaping out of the sea at sunrise, and grape vineyards line the rolling hills. Comprised of local Arak, home-made grape syrup, lemongrass infused vodka with Tepache, lemon juice, peychaud's bitter and tonic water.
Betutu Old Fashioned
representing Gilimanuk, Bali's western port and home to the famous Ayam Betutu. This cocktail adds a real Bali twist to the old fashioned classic, with home-made betutu-inspired liquor, tequila, pineapple syrup, coconut and cardamom bitter, saline solution, and Peychaud's bitter.
Rhama Aprian, Head Mixologist of Above Elven Bali, was the creative brain behind this new collection of island-inspired cocktails. Taking not only inspiration from the areas in which they represent, but showcasing Bali-based ingredients and produce.
The new island-inspired cocktails menu is available daily from 4.00 PM – 1.00 AM with prices starting at IDR 140,000 ++. 
Above Eleven Bali
Samasta Lifestyle Village level 8 at Jl. Wanagiri No. 1 Jimbaran, Bali 80362
Call or WhatsApp: +62 811 386 0402 || infobali@aboveeleven.com.  
www.aboveeleven.com/bali