Many cafés and restaurants in Bali have been seeing a trend to go more niche, such as going vegan, focusing on coffee, organic-only products etc. Whilst this certainly creates a strong identity, it can certainly leave potential diners feeling a little excluded, or even repelled! What happened to those easy-going spots where all were welcome and all could find something they like? 
Stepping into Eruption Bistro & Coffee , a relatively new establishment that opened up on Sunset Road  , you get the immediate impression that you won't be judged by what you order here. Finally, a place to relax a little! 
Taking on a semi-industrial look, with its washed-out wooden furniture, brick walls and industry-styled bare, Bistro & Coffee is by all means stylish. They don an open bar and kitchen concept, with the distant clanks and bangs of the kitchen and bar team doing their thing giving the bistro its life and atmosphere. But the scene is set even before you walk in; their exterior pays homage to an old school theatre or cinema, with its large incandescent bulbs flashing its name into the night.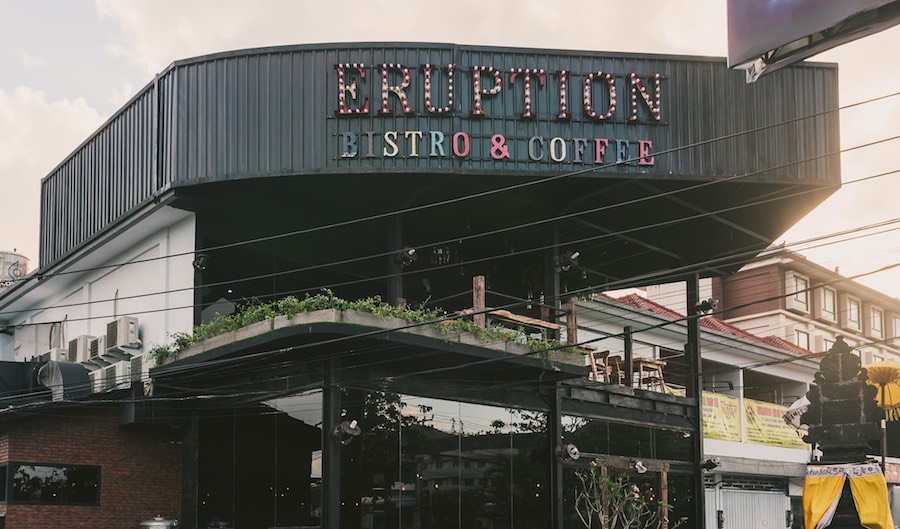 Of course at the end of the day everyone really cares about the food and drink. Well, like we mentioned previously, we've been after somewhere that's got something to everyone and Eruption certainly ticks that box. Offering up an incredibly diverse menu, the Bistro has both Indonesian and international fare to suit all palates – an east meets west approach to dining.
If you're here for breakfast, they have smoothie bowls, hot skillet eggs, classic eggs benedict, or even fried rice for the Indonesian's who can't avoid a plate of rice to start the day! For lunch and dinner the range gets much wider: they have a popular Crispy Duck served with 2 types of sambal (chilli relish), red rice and water spinach; the Indonesian favourite of Ox Tail Soup (Sop Buntut), with its rich fragrant broth beckoning many to its doors.
Not in the mood for heavy Asian flavours? Worry not, Linguine Prawn Aglio Olio, Steak and wedges, homemade burgers, a range of classic pizzas and many little bites to try like onion rings, wings and more – their team also tells us that their menu uses locally sourced ingredients for optimal freshness. If you're after something sweet, all your favourite classics are there, from Banana Splits, Pancakes for brekkie, Red Velvet cake and more.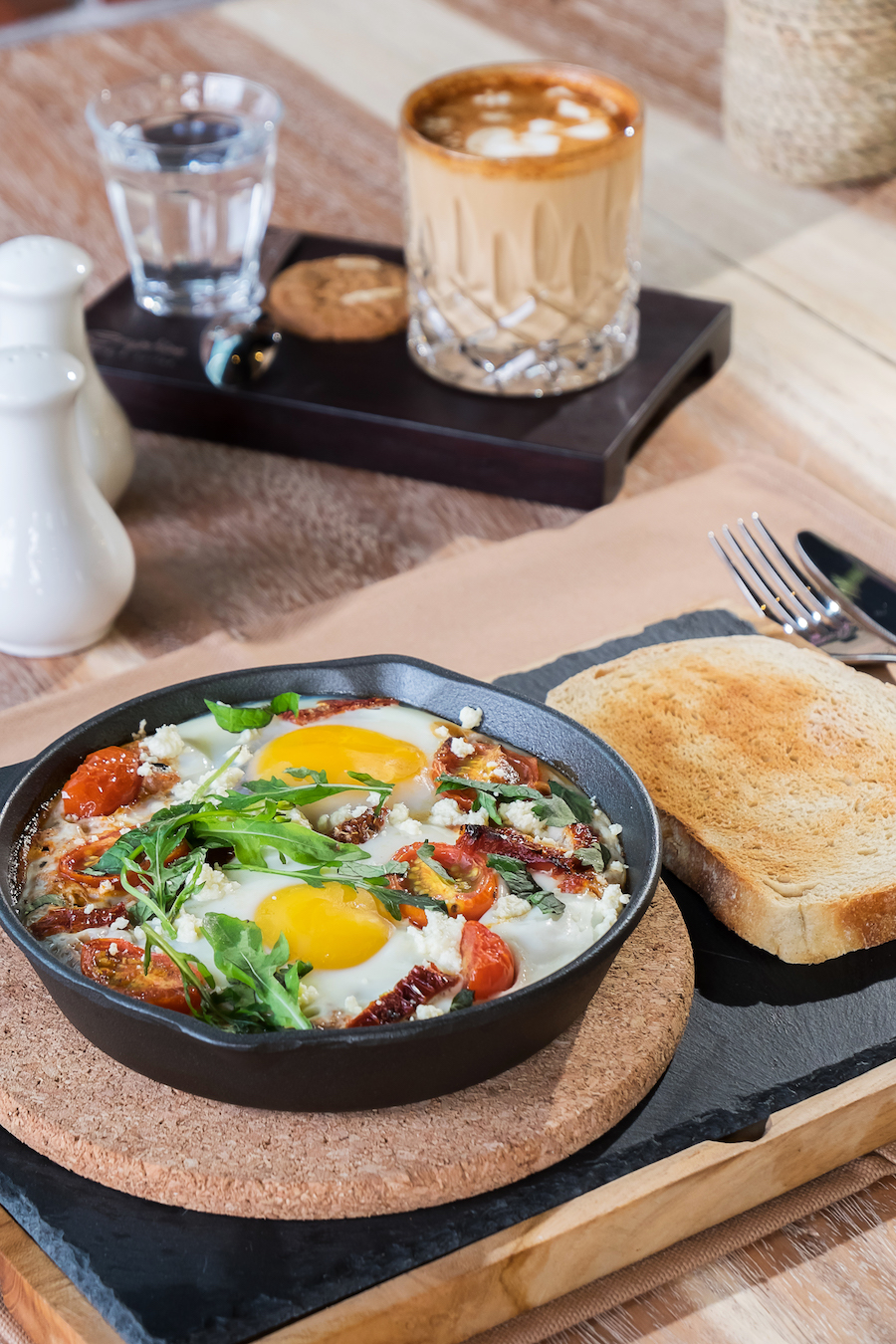 When it comes to drinks, they get really creative. A favourite seems to be their many 'lattes' on offer, from red velvet, matcha, black currant, coconut, taro and hazelnut. Not your average coffee, that's for sure. However when it does come to your cappuccino (or latte or espresso…), they know how to make a good cup. They also offer an array of tasty cold-pressed juices for when you're feeling healthy – and draught beer on tap or creative cocktails for when you're feeling naughty! 
It goes without saying that its great to have a restaurant with variety. Somewhere you can be sure that if you and a group of friends go there, everyone will find something from them. Good luck bringing your vegetarian friend to a steak house, or vice versa! 
Eruption Bistro & Coffee certainly offers variety, presented in its cool, laid-back space with great coffee to keep you company. If you're ever feeling indecisive on where to eat, take a little trip to Eruption!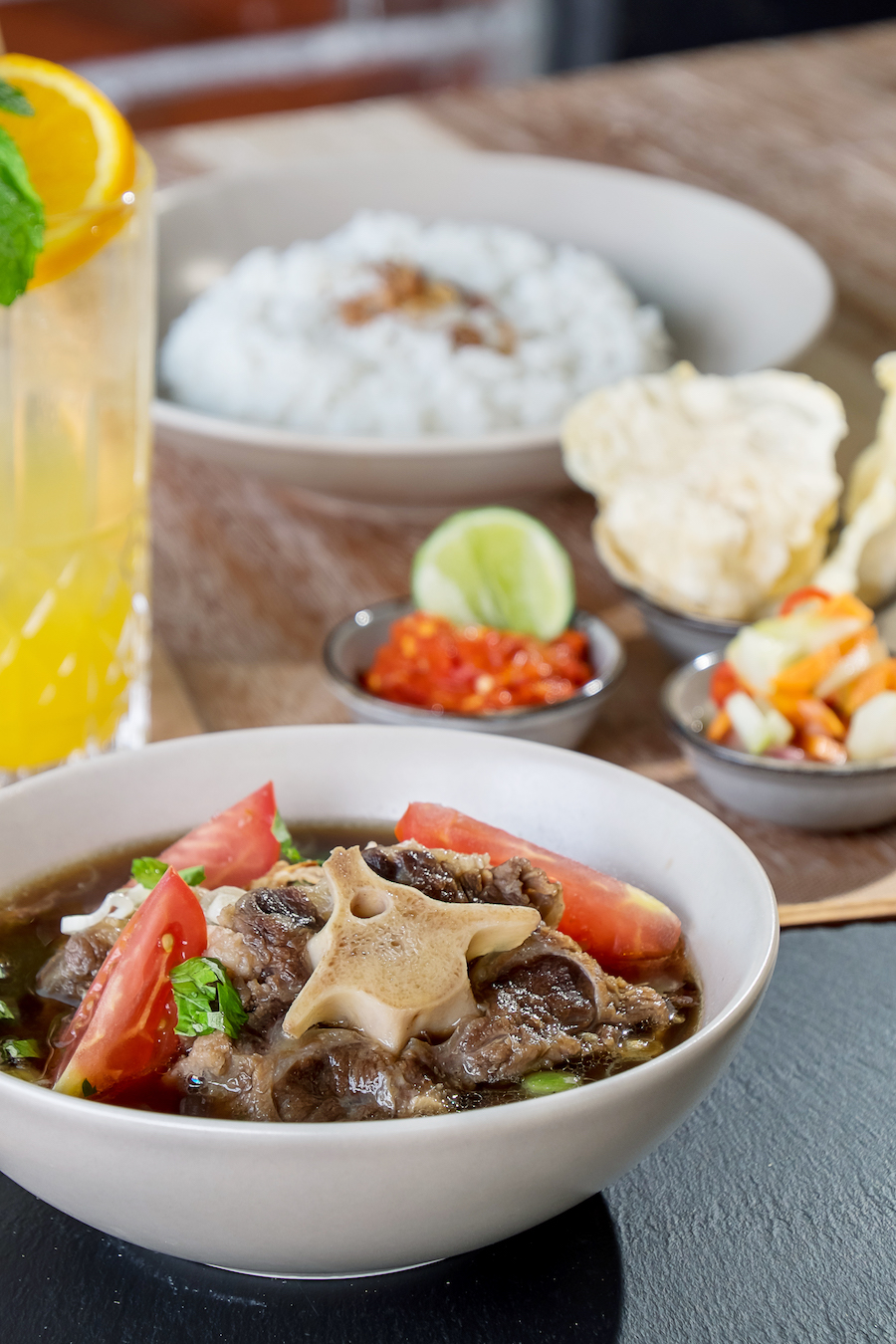 Eruption Bistro & Coffee
Jalan Sunset Road no. 6, Kuta, Bali
+62 813 3814 0516
www.eruptionbali.com
https://www.facebook.com/eruptionbistro
IG: @eruptionbistro