Take a tour through Bali's most happening area, Canggu, in this photo and travel essay with writer Joannes Rhino and photographers George Speirs and Namhar Hernanto, exploring the surf, sunsets and street art of the area. 
---
If you are looking for a destination with new-age Bohemian vibes, Canggu has become popular for holidaymakers and local residents. Situated between Seminyak and Tanah Lot, this coastal village continues to be flocked by people looking to soak up the atmosphere of modern island life. 
Unlike the typical southern beaches with white sand, Canggu beaches are sexier with its sparkling black sand, deposited ver years from Bali's bubbling  volcanos. The weekend usually gets very crowded here, and most of the streets in the Canggu area transform into the island's coolest hangout spots.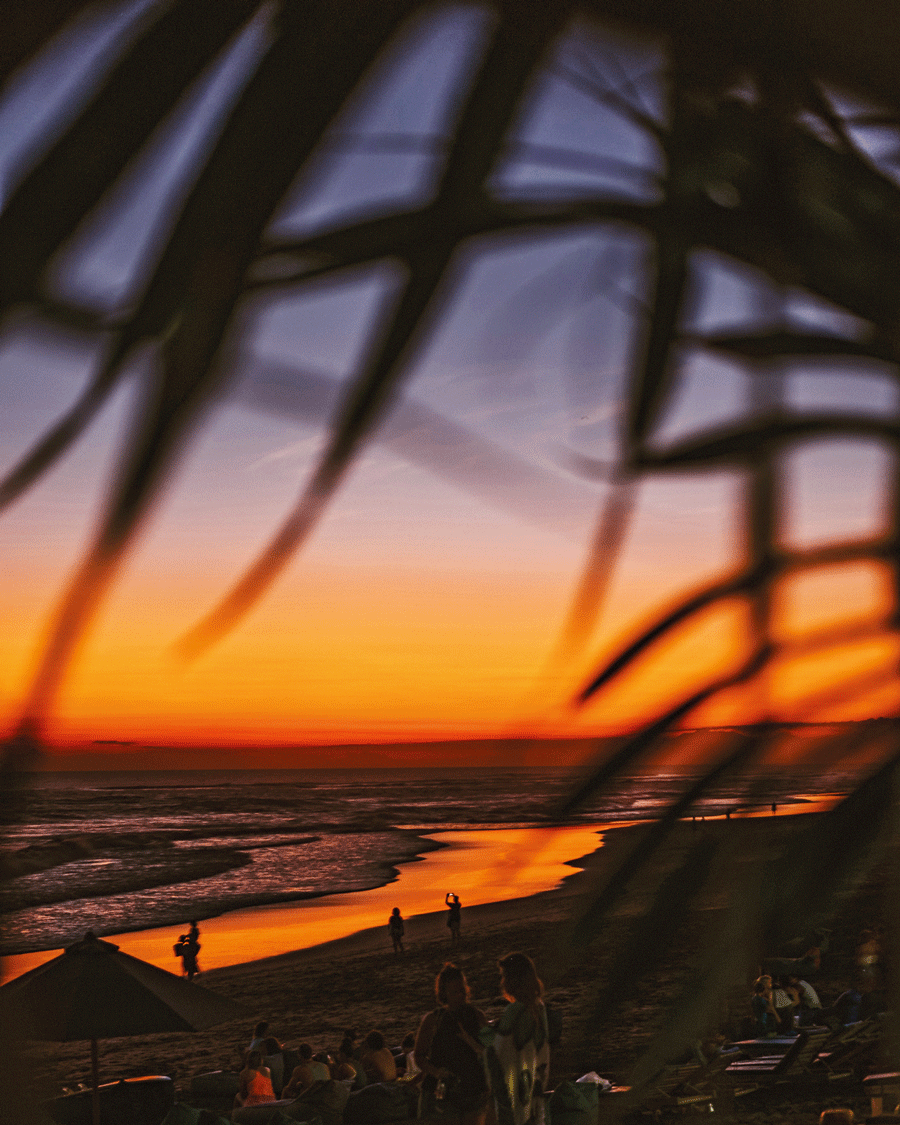 For some, no trip to Canggu would be complete without surfing. This helps to explain the many scooters mounted with boards being driven by excited, topless drivers soaking in the sun. It is indeed a good place to surf for both beginners and advanced surfers. Here, you can take a cheap lesson or rent surfboards in various sizes right by the beach. Surfboard rental is between IDR 50,000 to 100,000 per day, but you can bargain for a better deal for short hours renting. There are 3 popular beaches among the surfers; Berawa Beach, Batu Bolong Beach and Echo Beach – all of which lie on the same stretch, but with slightly different surf.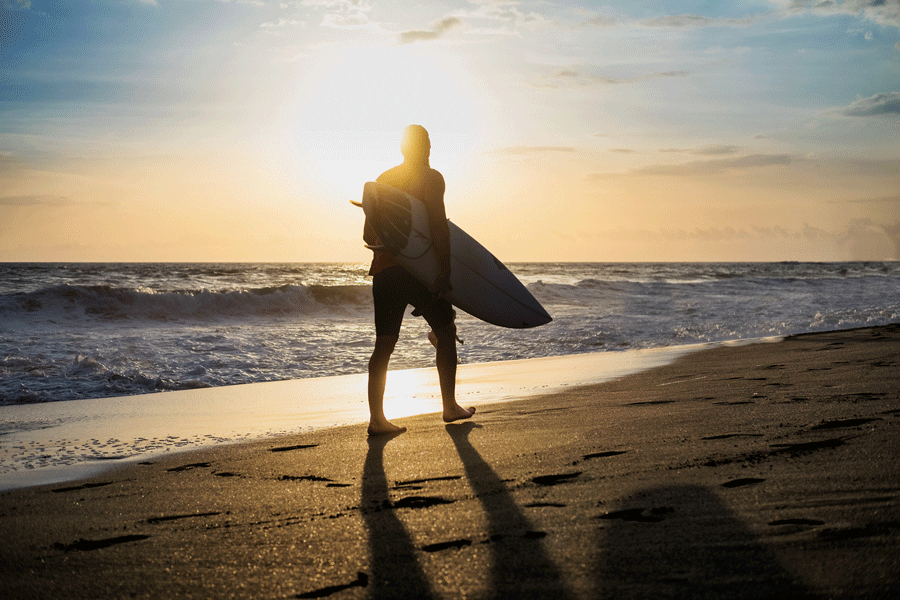 Berawa Beach is suitable for seasoned riders. Consisting of one long beach break with a couple of small scattered reefs, this beach is the famous one, not just by the surfers but also leisure travellers. The best time to surf is during the dry season when the seawater looks clean and the wind flows from the east to the west, creating ideal waves for a surfing adventure. With right and left wave directions, the waves can sometimes be relatively powerful and reach up to 6 feet, making it quite a challenge for the intermediate surfers. Best time to surf is at mid tide.
After a hard day of surfing, you can head straight to chill at Finns Beach Club. Welcoming not just surfers to paddle in for a cold beer and some bites after each session on the waves, this hangout spot also attracts sunset lovers to lounge with cocktails in hand.
A 10-minute ride on a scooter via the shortcut will take you to Batu Bolong Beach. For beginner surfers, this greyish black sand beach is the perfect beach to practice some positions. To be considered as 'an easy ride wave' from most surfers, the wave is very fat with little power, thus making it easier to handle for surfers with a longboard. The water is not as crowded as Berawa Beach, so you have plenty of time to get in the right position, paddle a little to get it and then get up on your board. However, whenever the swell isn't huge, you will see dozens of rookie surfers out there battling to hone their surfing skills.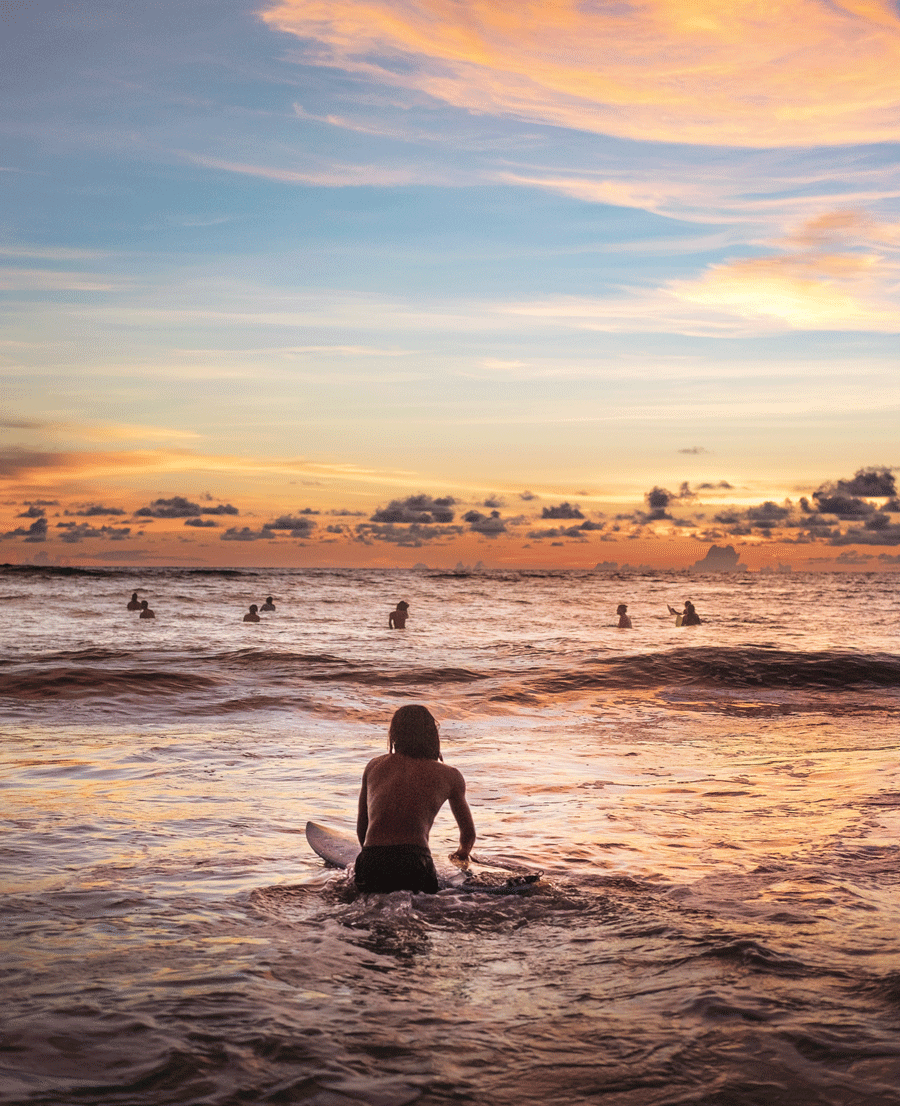 Not only for those who are into surfing, leisure travellers can also enjoy the natural beauty of the sea during a long stroll on the beach. The crowds normally start popping up at the beach after 8 in the morning, and then the beach stays quiet in midday leaving surfers dancing on the waves. The volcanic black sand gets incredibly hot in the daytime, unless you want to tan on your body. On the other hand, an afternoon visit offers a more beautiful scene as the sun slowly fades between the horizon and the sea. This is marked by a huge number of visitors coming back to the beach for sunset.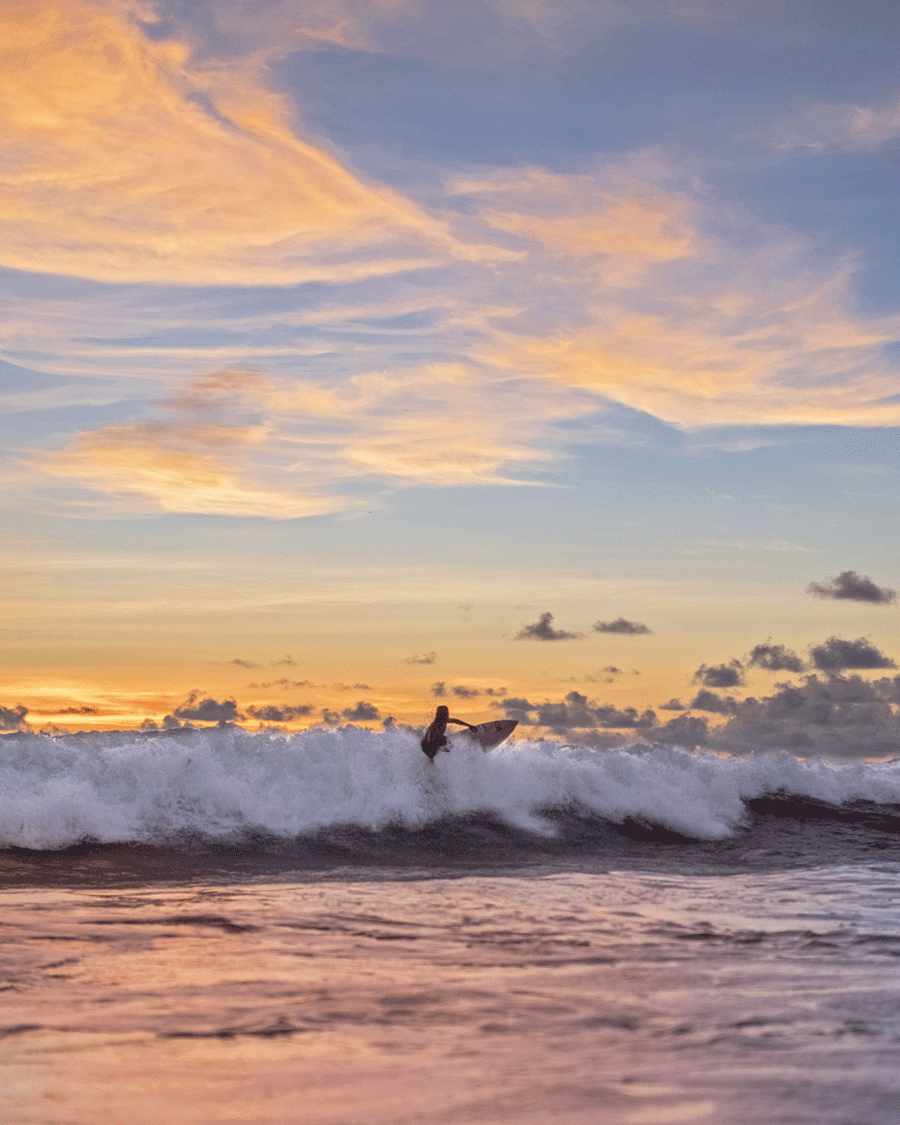 Blessed with the best sunset in the neighbourhood, there are some cool places for sundowners on this beach. If you face the beach and walk to your right you will soon hit The Lawn, one of the favourite places to laze on pillows or sun chairs. If you are looking for some sexy Latin American touches blending with the island's tropical vibe, you can walk a bit to Cubana Restaurant & Bar. Just across the street, you can clink bottles of beer with friends at Old Mans. Pit Stop is also around the corner for those craving for some solid burgers or sandwiches. For a more sophisticated evening with a fusion of ancient and contemporary Asian cultures, you can opt for Ji Terrace by The Sea.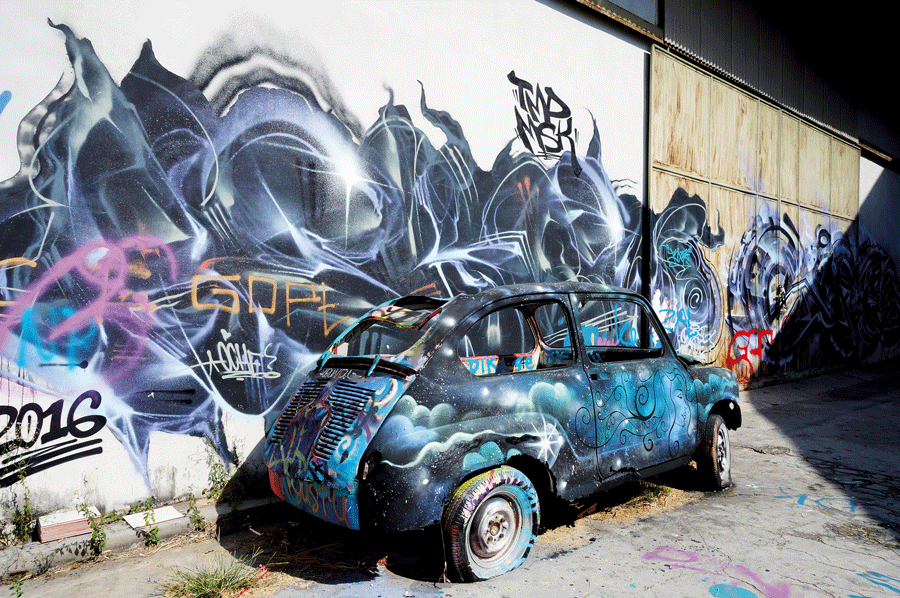 Just next to Batu Bolong, you will easily find Echo Beach, or locally known as Pantai Batu Mejan. Here, the waves are extremely powerful, and surfing becomes a daunting task, even for advanced surfers. You can surf either the reefs to the right or those to the left, or even at the beach break just in the middle of the beach. Similar to the previous beaches, the dry season is the best time to surf at Echo Beach, with left wave directions at high tides. The fullest tide occurs around midday with exposed reefs, which means early morning with incoming tides and late afternoon on the outgoing. Before you start to paddle out for wave hunting, it's a good idea to spend a few extra minutes on dry land to study the waves – how they break and whether or not they are coming in sets.
Coming from the ashes of volcanoes, the sand in Echo Beach is darker than Batu Bolong Beach. The beach area is clean and well-kept, resulting from routine beach clean-ups along its length. The entire coastline is perfect for sunbathing, leisurely strolls, and some landscape photoshoots. When you visit Echo Beach, you don't want to miss Deus Ex Machina café. It is a destination, a hang-out, dawn heart-starter, a post-surf fuel-stop and a late-night meet-up. This place allows you to kick back and boost up your creativity in the surrounding Canggu.
In addition to the surfing and sunset spots, contemporary graffiti tags, murals and conceptual pieces continue to evolve the public art scene in Canggu, while building and gallery owners commission both renowned painters and new luminaries — a far cry from the days of sneaking around at night in search of unclaimed tile. That's right, here in Canggu you can view some of the most expressive pieces on the island, some tens of feet high.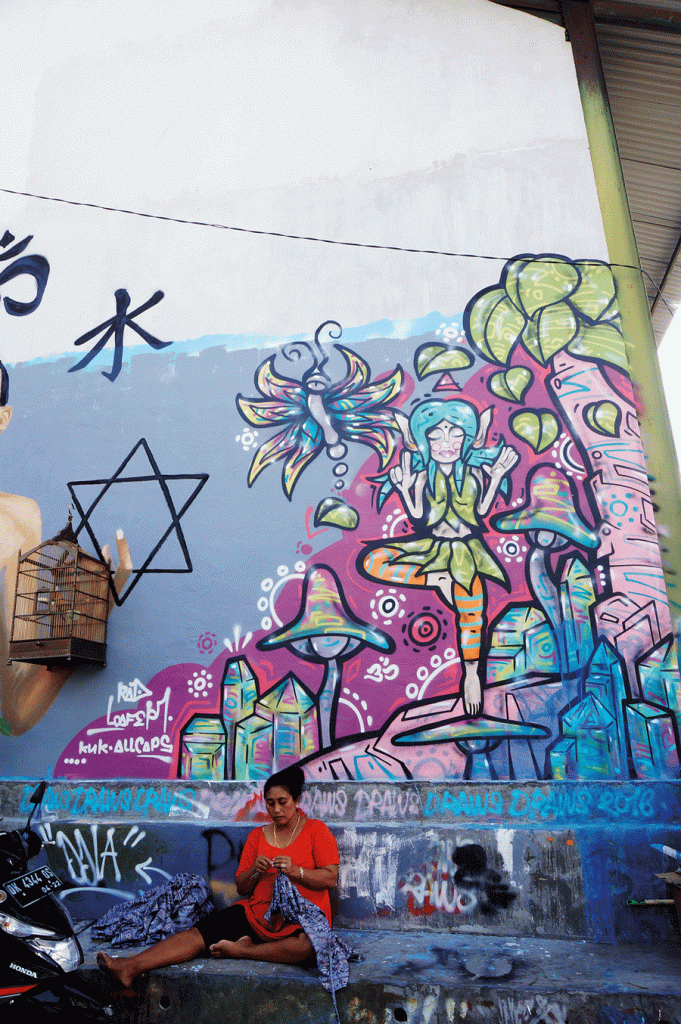 On Jalan Raya Canggu, ALLCAPS provides a very spacious outdoor gallery with a great collection of impressive murals sprayed and painted on the walls of actual homes. The indoor gallery displays the works of both the island's finest and visiting street artists. ALLCAPS organizes regular Spray Jams and social events to support the local street art scene in Bali and the local artists. They also take pride in helping visiting artists to make the best out their creative holidays by connecting them with local artists or by directing them to the right spots.
---
1. Avoid wearing flashy jewellery that can make you a target for thieves
2. Bring enough cash in your pocket
3. There are no lifeguards in the area, so make sure you swim sober
4. Keep a lookout for aquatic life. Water plants and animals may be dangerous
5. For surfers, take the time to observe from a good vantage point on the beach and map out a general surf plan
6. Do not surf alone at night