Some of the best dining experiences entail not only a feast to bite into, but also a feast for the eyes. In the spirit of going off the beaten track, we've cherry-picked a handful of the island's most exciting dining destinations, made special by their exotic and even obscure locations.
Picnic in Paradise
Picture a luxury picnic set on emerald hills; an open view of mountains meeting the ocean and a specially curated fine dining menu – all exclusive to you. Mandapa, A Ritz-Carlton Reserve, has an arsenal of exotic dining experiences but their Royal Picnic Expedition is second to none.
Designed for couples, the private picnic experience takes you on an intimate tour to some of the island's most remote corners from holy temples, local villages, to majestic mountaintops.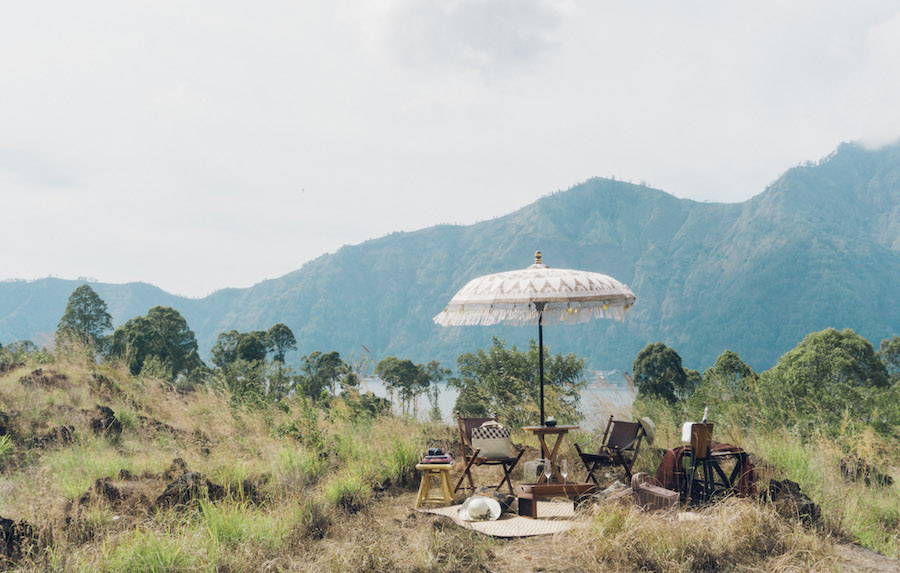 The day commences with a guided tour to the Besakih Temple complex, also known as the 'Mother Temple' for its 1,000 years of age and being Bali's most hallowed ground. You will have the chance to explore the island's holiest temple and the breathtaking rice paddies, hills, mountains and streams surrounding it for one hour and a half before heading east for the main event.
Set on a quiet hill overlooking views of untouched countryside, this intimate picnic experience is completely private, set up just for you. Surrounded only by the best of Bali's nature, you will be presented with a gourmet, course-by-course meal prepared by a private chef, complimented by a bottle Champagne. To end the day on a high note, quite literally, you will be taken back to the resort on a helicopter, giving you a true bird's eye view of the island's magnificent landmarks from the sky.
Mandapa, A Ritz-Carlton Reserve
Jalan Raya Kedewatan, Ubud
+62 361 479 2777
www.ritzcarlton.com/mandapa
---
A Floating Brunch
Sometimes a Sunday brunch doesn't have to be an opulent, all-you-can-eat buffet. Looking to switch up the scenery, this alternativeoffering in Ubud introduces Mother Nature to the brunch experience.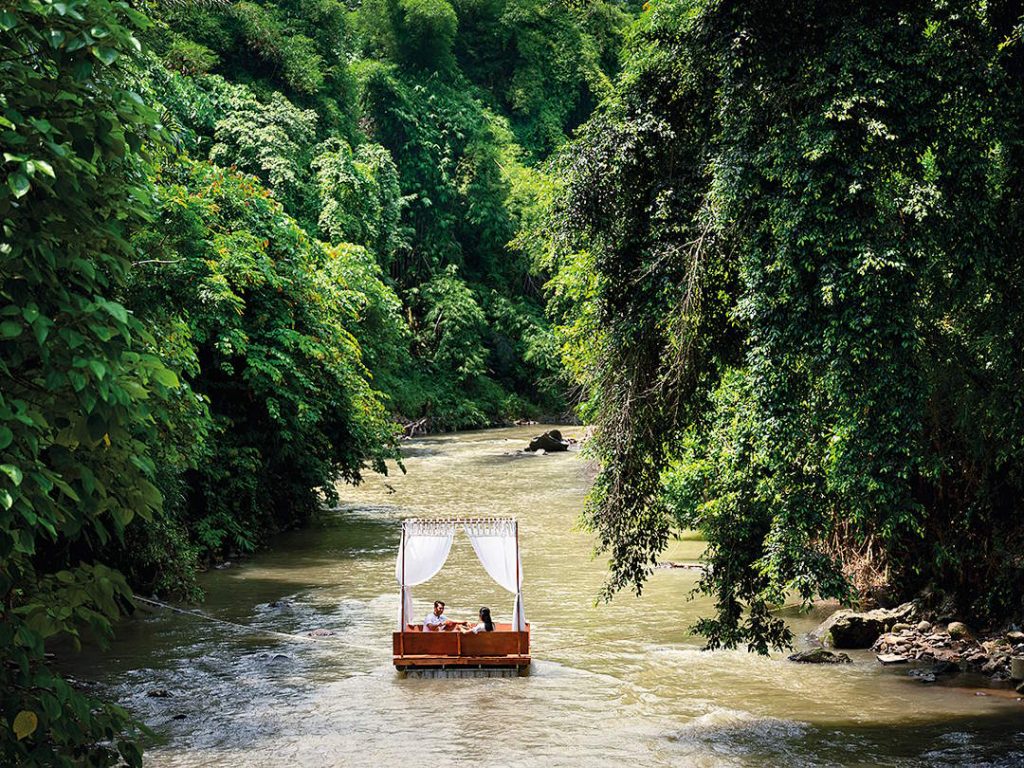 Imagine floating on a luxury raft amidst green forestry whilst indulging in five-star resort food. Sthala Ubud Bali's Rafting Brunch does this exactly. Presenting Bali's one and only luxury raft, which floats comfortably in the middle of the Wos River, you're invited to lounge here as you savour the likes of river prawn Thermidor, succulent steak sandwiches and pistachio macarons. The raft is securely attached to a robust steel-string rope, guarded by the resort's engineering team, making sure that your 2-hour brunch can be enjoyed worry-free. The Rafting Brunch can accommodate up to two adults, or a family with two children under 10 years of age.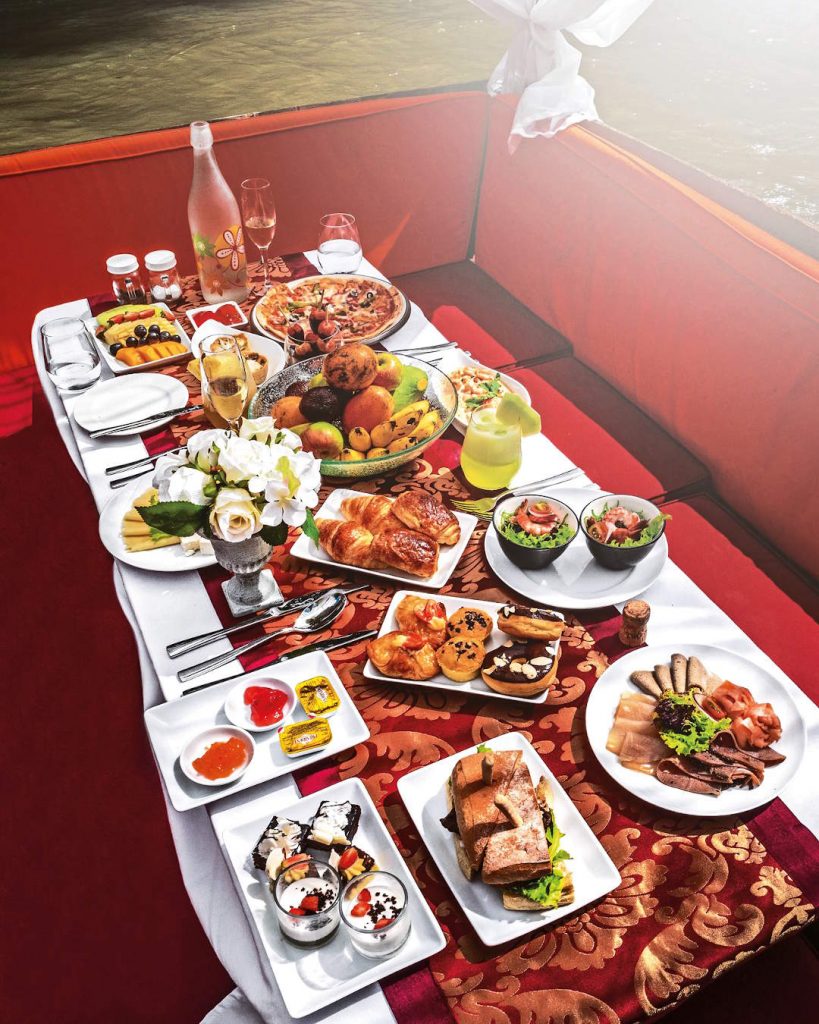 Ubud's Wos River is believed to be an epochal river, as it was allegedly one of the routes taken by spiritual leader Rsi Merkandya from Java's ancient Majapahit Kingdom. For this reason among many, the river is seen as a sacred place for surrounding communities; and serves as a place to gather, bathe the body and spirit, and rest the mind.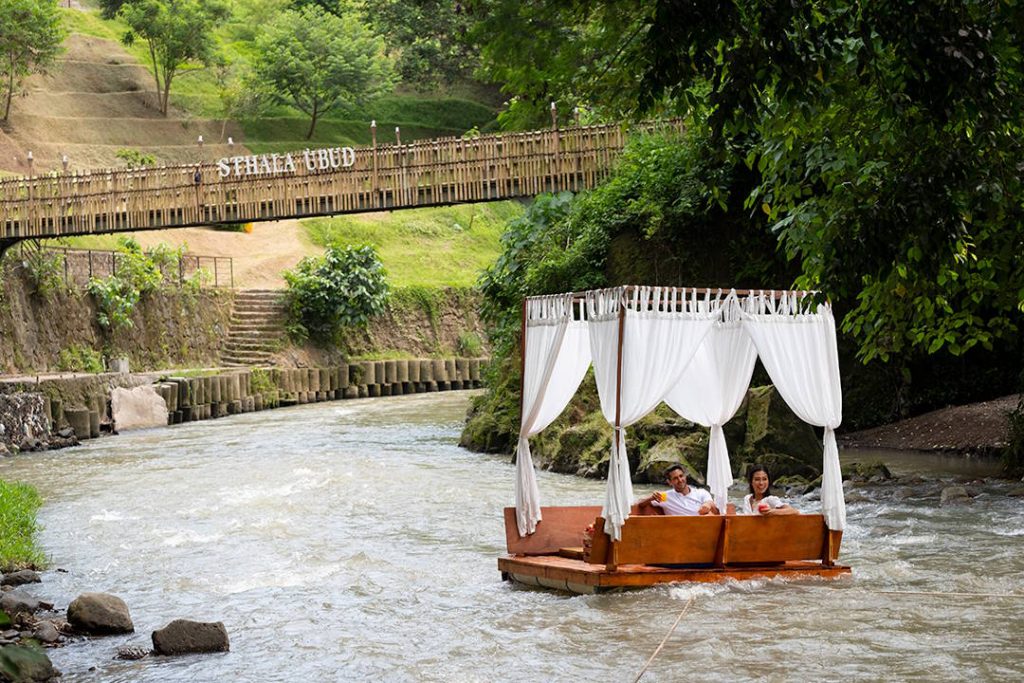 Sthala, a Tribute Portfolio Hotel, Ubud
Jalan A.A. Gede Rai, Lodtunduh, Ubud
+62 361 301 8700
www.sthalaubudbali.com

---
Mountain View Feast
On the foothills of Mount Agung, the island's most sacred mountain, lies a 'real' culinary destination with not one building in sight. Its exclusivity and far-flung locale makes it quite the venture, but for epicureans who want to go the extra mile, this venue focuses on immersing you into Balinese cuisine, surrounded by nothing but countryside.
Located in Gelumpang village near the town of Amlapura, north east of Bali, Bali Asli celebrates Balinese cuisine and culture with conscious thought and care, actively making sure they never exploit this wonderful land and its people. The restaurant offers traditional Balinese food prepared in an authentic dapur Bali using wood-fired, mud brick stoves, letting the real flavours of Bali to shine through. The team embraces the community, including those who fish, farm, and forage in nearby fields, ocean, and jungle. Hence, all ingredients are sourced locally; either from their own or neighbouring garden, and purchased from the local market.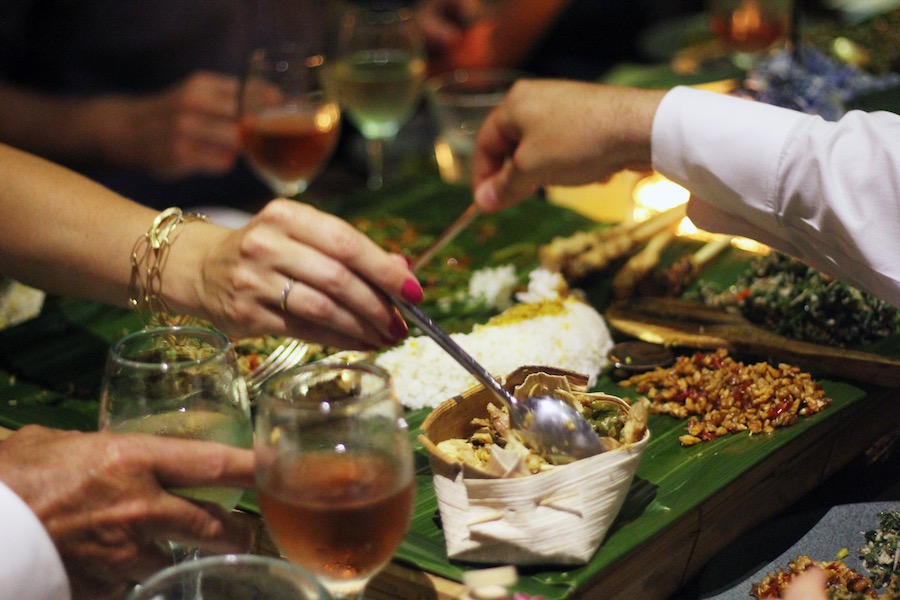 If you're seeking an experience beyond just those your tastebuds will love, Bali Asli also runs a cooking school with a range of classes, where guests are invited to get involved in the creation of flavours as well as witnessing a bit of local life. The class "A day in the life of…" is unique each time and will take you "through the looking glass" into local areas off the beaten track. You could be learning how to plant rice or plough with a cow, fishing in a jukung canoe, cooking on an open fire or making skincare and beauty products from healing herbs! Their most recent thrill is the "Culinary street food adventures of Amlapura" that takes you to sample Eastern Balinese delicacies from street stalls and night markets in a safe, fascinating environment.
Bali Asli
Jalan Gelumpang, Karangasem
+62 822 3690 9215
www.baliasli.com.au
---
Private Bay Soiree
Perched on the private shores of Sentigi beach, within the grounds of West Bali National Park, Pantai Restaurant at The Menjangan specialises in two things: seafood grills and stunning views of pristine shores and mangroves.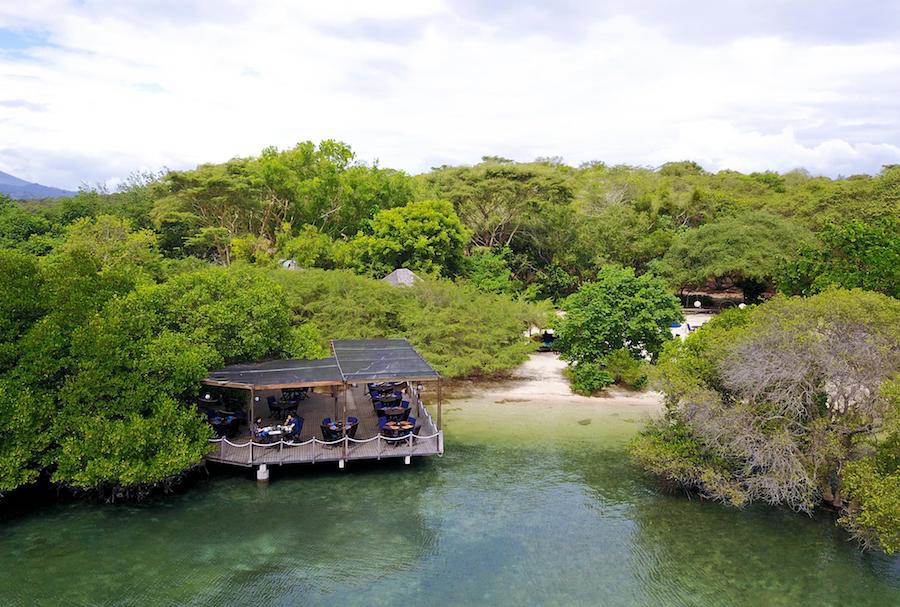 To get there, you'll take a ride through bumpy backwood roads but pay close attention for sightings of macaque monkeys, sambar deer, even Bali starlings (among the rarest birds in the world) as a reward. The restaurant is set on overwater wooden decking; and during high tide, the waves won't be shy to say hello.
Alternatively, you can opt to dine in a secluded gazebo hidden in the mangroves, where you could be accompanied by a Menjangan deer if you're lucky! Or, you can also book a private table for two or a group of friends down on the beach for more private occasions. Pantai Restaurant offers breakfast, all day dining, and a BBQ dinner menu, as well as vegan and gluten-free options for both adults and kids. It's a tranquil spot to share sunsets over a glass of wine or their signature Swordfish Carpaccio.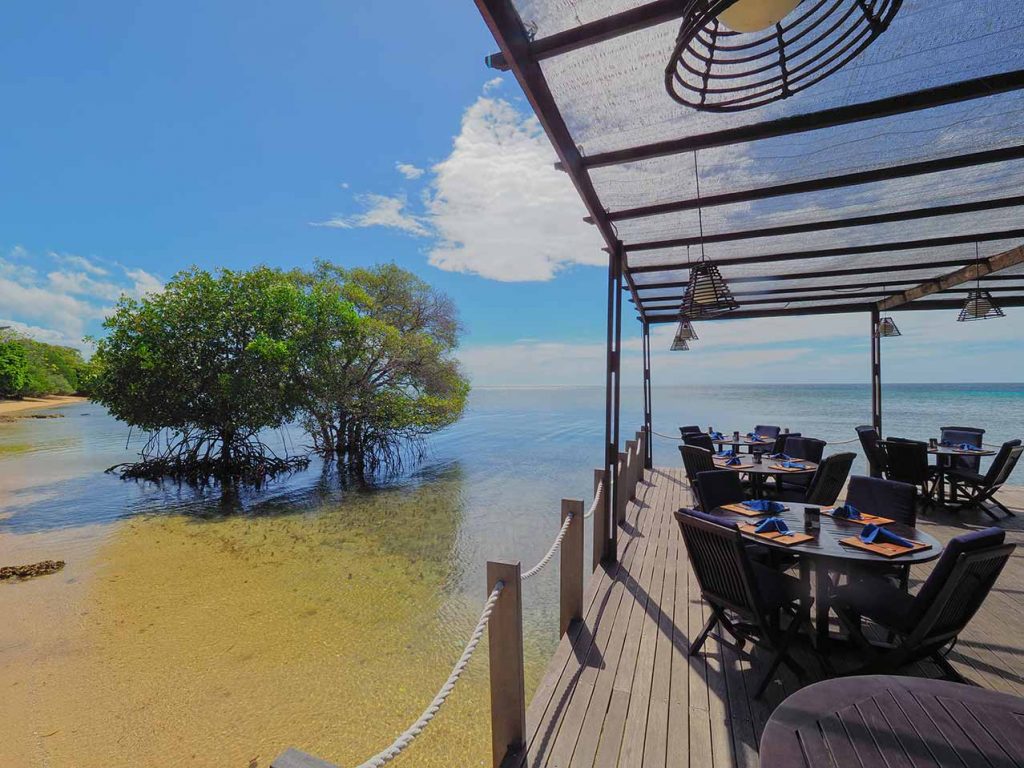 Pantai Restaurant at The Menjangan
West Bali National Park, Jalan Raya Gilimanuk, Singaraja
+62 362 94700
www.themenjangan.com
---
Breakfast with Lions
Dining at Bali Safari and Marine Park's lauded Tsavo Lion Restaurant means you'll dine next to a majestic pride of African lions whilst they too enjoy a feast of their own.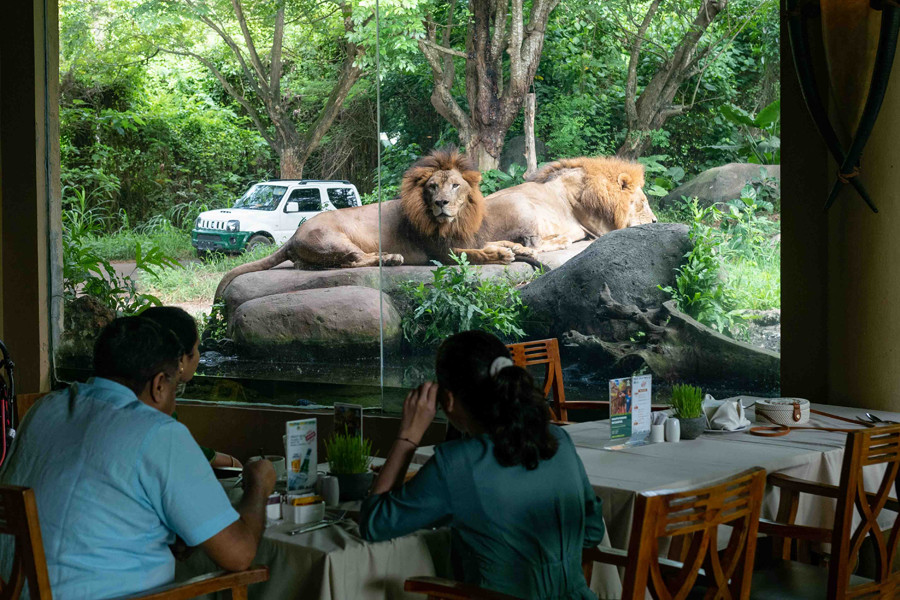 Breakfast with the Lions, available from 8.30am to 10am, is a dining experience where you get to eat basically face-to-face with the king of the jungle. Dine into a full buffet breakfast as the lions also tear into their morning feed.
Book a table by the huge bay windows and enjoy a front row show of the lions in action. Tsavo, Asia's first African themed restaurant, offers a dining menu fit for the whole family, including spicy Balinese Tapas and local specialities, Asian favourites, beef tenderloin and pan-seared Tasmanian salmon.
Don't forget to look out the window when visiting the restroom to see one of the lions up close and personal. Breakfast with the Lions is a great way to start a whole day at Bali Safari and Marine Park, before you embark on the full safari tour, watch one of the many educational animal shows or enjoy the many facilities and experiences the park has to offer.
Bali Safari and Marine Park
Jl. Profesor Ida Bagus Mantra, Gianyar
(+62) 361 950 000
www.balisafarimarinepark.com