Are you looking to reduce your ecological footprint? Stop your current habit of waste? With the help of these bulk food stores in Bali, you'll certainly be on your way…
A while back, an Indomie wrapper from 19 years ago was found washed up on a beach in East Java; plastic bags were spotted in the Mariana Trench in the Pacific Ocean, the deepest point on Earth; and traces of plastic are believed to be in 100% of sea turtles species that mistake it for food; diver Richard Horner films plastic floating around Nusa Penida's Manta Point. The list goes on, and continues to remind us how plastic poses a long-term threat to our planet.

Is it about time we adopted the zero-waste lifestyle?
Indonesia is one of the world's biggest waste contributors. Bali is running ahead of the plastic crisis, having imposed an island-wide plastic ban in a bid to cut down ocean pollution. Surely, shifting to a plastic-free life isn't an overnight success but with the support of the eco-conscious, it's not impossible.
The major misconception about the zero-waste philosophy is that we have to halt the production of trash completely. Any zero-waster knows it's a gradual process. Bea Johnson, the queen of the zero waste movement, and her family produce a pint-sized jar of waste per year since 2008. So, it's all about minimising.
There are 101 ways to go zero waste, but all-in-all you need to assess the sorts of waste you contribute the most. It's not entirely about stocking up bamboo toothbrushes and metal straws, it's reducing waste wherever possible. It's best to revisit bins at home, perhaps start from the kitchen and assess what your waste basket is overflowing with. Is it a mountain of kitchen rolls? Plastic spoons and cups from a GOJEK delivery? Have you ever thought of reusing the items stored in your cabinets? The empty jars of jam, bottles of cooking oil, or last night's Merlot?
Bea Johnson's top tip is to embrace the five R's:
– Refuse things that you do not need (a plastic bag, straw, business card);
– Reduce and let go of the things we do not truly use or need;
– Reuse and essentially replace disposables with reusables (substituting tissues with handkerchiefs, or get creative and cut up an old t-shirt!). The second aspect of reusing, she suggests, is to buy secondhand in lieu of new.
– Recycling as a zero-waster is slightly altered to the philosophy. Zero waste does not encourage you to recycle more, but less by preventing waste coming into your home; so recycle only what you cannot refuse, reduce, or reuse.
– Finally, to Rot means to compost.R
One of the ways to kickstart your new lifestyle is to welcome a shopping renaissance. This is where bulk food stores in Bali come in very handy!
Zero Waste Bali was the first of its kind. The island's first healthy bulk food store opened its doors in 2018 to help reduce plastic waste in households. They encourage customers to bring their own containers, mesh bags or jars to fill and to reuse what they already have. You can ask them to collect and sterilise your empty cards to reuse with their products!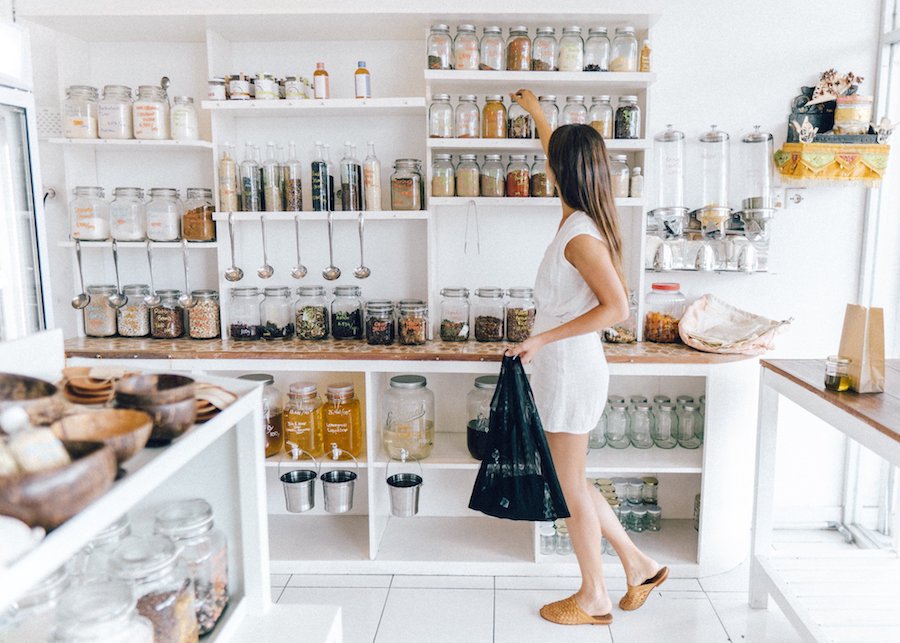 Fill up your tanks at their stations in Kerobokan, Ubud, and their newest addition in Berawa, Canggu. From oils, flours, rice, pasta, to shampoo, washing up liquid, and more products that support a clean environment. In addition, their products are label-free, but you can easily use your phone to scan the QR codes provided to learn about each item.
Owner Silvija Rumiha told NOW! Bali that she has witnessed an 88% increase in people shopping zero waste since their opening last year. Now, you can also pop in to a store to make your own soap, shampoo, and other products using organic ingredients.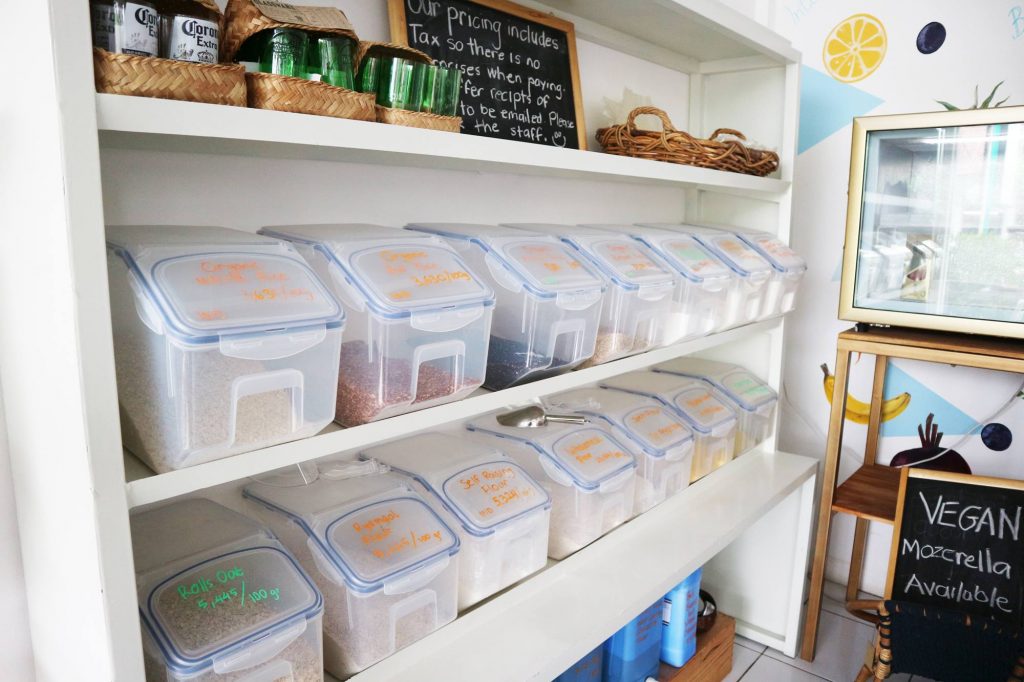 Silvija reminds us that going zero waste isn't about being perfect and having no waste – it's your own personal journey about cutting down the amount of waste you produce, being mindful about your consumption, purchases, and living as simply as you can (www.zerowastebali.com).
Other bulk food stores in Bali that support the zero-waste lifestyle:
Bali Buda has been around since 1994, serving healthy homemade goodies freshly made every day. Here, you can find a comprehensive range of local and imported products, from bulk items such as nuts, flour, oil, fresh produce, to bottled kombucha, vitamins, natural soap and detergent, and others that you can't find in most shops. Find them in: Kerobokan, Canggu, Ungasan, Sanur, and Ubud (www.balibuda.com) .
Earth Cafe is a health-conscious space offering organic, 100% plant-based food and a marketplace that carries items to promote healthy lifestyles, most of which are sustainably produced by environmentally-conscious, local workers, and companies. Products include hand and body soaps, household cleaning products, literature, clothing, cosmetics, jewellery, nutritional supplements, grains, fresh fruits, prepared spices, baked goods such as cookies, and much more. Find them in: Seminyak and Ubud (www.earthcafebali.com).
Eco-Living Bali is a plastic-free zone in Kerobokan with a myriad of plastic-free alternatives on offer. Here, you can shop for daily necessities such as reusable facial pads, bees wax wraps, metal and bamboo straws, toothbrush, handmade soap among other natural products (www.ecolivingbali.com).
Alive Whole Food Store is a whole foods and organic grocery store located a block away from Canggu's Batu Bolong. Here, you'll find clean, green, natural, organic items sourced sustainably from 'local eco farmers' as well as a selection of favourite imported goods. The items, excluding non-perishable, are naked and unpacked, to avoid mass production and waste production where possible (www.alivefoodstore.com).