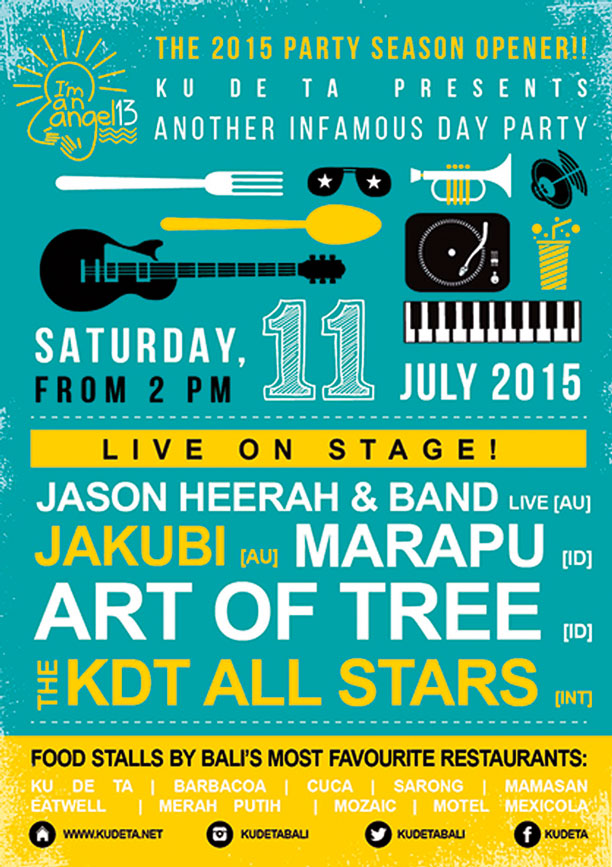 KU DE TA has released the 13th Anniversary of their annual charity event "I'M AN ANGEL", which will be held on 11th July 2015. With the ongoing support from friends of KU DE TA, the establishment has previously helped fund many programs around Bali.
With 12 years of successful gala dinners, this year KU DE TA has shifted its gears to make something fresh, fun and exciting by introducing the "I'M AN ANGEL STREET FESTIVAL". This will be a fundraising day party (2pm – 11pm) with a line up of various bands on stage and international renowned DJs to accompany as you dance away for a good cause. With daylong silent auctions, a bazaar and food stalls by Bali's top restaurants serving fresh handheld food to help further raise money for the many causes and programs Asana ViebekeLengkong directs on the island.
You are invited to join this wonderful event to help change the lives of Bali's children in need and families. With your support, we will be able to spread the love and give something back to the island.
JalanKayuAya No.9, Seminyak
Phone: 0361 73 6969 | www.kudeta.net