Experience a brand-new, multisensory dining experience as the highly-anticipated Koral Restaurant finally opens its doors at The Apurva Kempinski Bali. The unique aquarium dining destination – the first of its kind in Bali – is a welcome addition to the already colourful and eclectic dining experiences found on the island.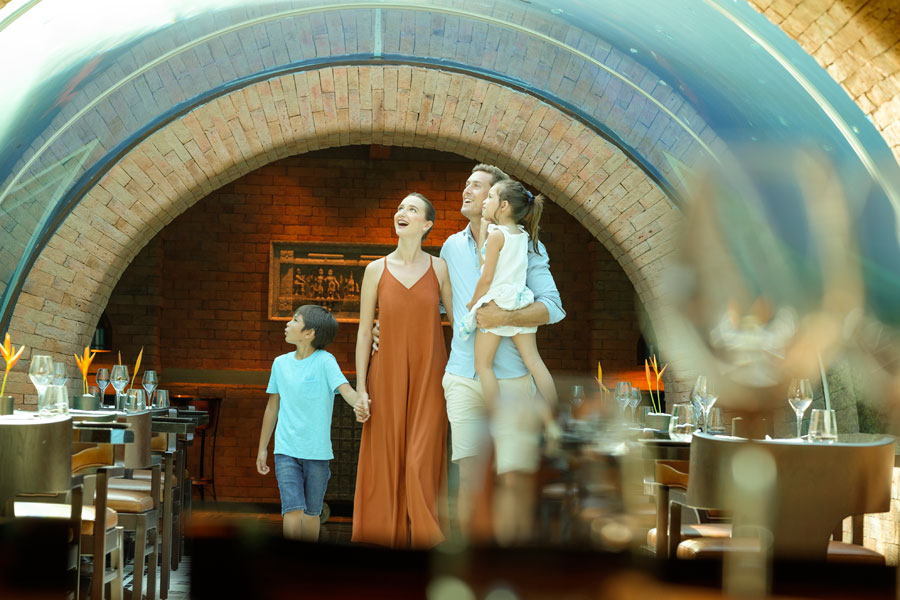 Have you ever dreamt of dining underwater alongside colourful fish and corals? Well, it seems like The Apurva Kempinski Bali has read your mind, opening Koral Restaurant, the resort's latest gastronomic venture, presenting the first underwater dining concept in Bali.
A dining destination that boasts a casual yet sophisticated ambience, Koral offers diners with meticulously crafted dishes that draw inspiration upon Indonesia's coastal flavours, prepared using locally-sourced ingredients.
A New Approach
The approach to dining at Koral is 'bistronomy', which brings dishes one might expect at a fine dining level but with an atmosphere and ambience that is relaxed and comfortable – a perfect setting within the confines of the dreamlike aquarium, complete with a spellbinding soundtrack that captures the magic and mystery of aquatic life found at the depths of the sea.
"As Bali's first underwater restaurant, Koral promises something completely unique. Our bistronomic concept combines all aspects of the dining experience, with elegant dishes inspired by local flavours, a warm and welcoming ambience and the one-of-a-kind opportunity to dine inside a tropical aquarium," said Vincent Guironnet, General Manager, The Apurva Kempinski Bali.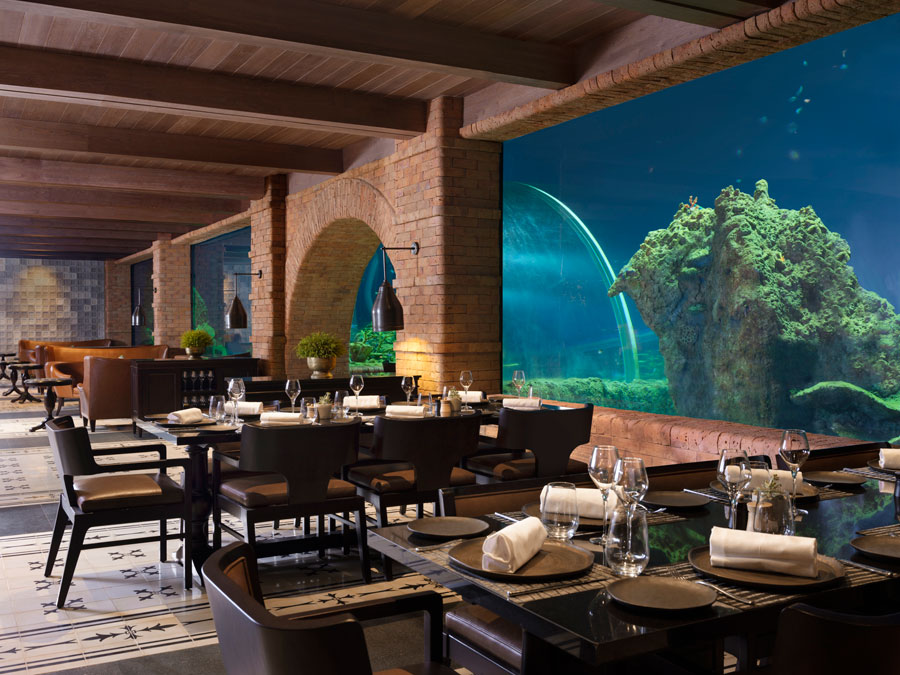 Koral's design continues the resort's theme of drawing inspiration from the tropical characteristics of Bali and the great Majapahit empire. The interiors, furnished with teak wood ceilings and walls built using traditional red clay brick, outline the aquamarine views through the windows and underfoot. The tasteful black and white tegel tiles further accentuate the sense of historic grandeur. Catch the sight of multicolour swirls as the family of fish swim behind the aquarium windows and glass-roofed tunnel, displaying captivating scenery as you enjoy your meal.
The Food at Koral Restaurant
The menu presented at Koral highlights the plethora of seafood found across the Indonesian waters, enriched with an abundance of fresh ingredients sourced from the lands of the archipelago. Utilising his skills and experiences honed at some of the world's best hotels, Executive Chef Imam Fayumi leads the kitchen team at Koral to transform simple ingredients into a menu of refined fine-dining style dishes.
Several must-try dishes at Koral include 'Tomatoes Bedugul', a vibrant assortment of ripe tomatoes and red tomato consommé, with fresh baby vegetables, cream mozzarella cheese and tomato oil sorbet; 'Lump Blue Crab' salad with zingy Granny Smith apple, crispy jicama and aromatic lemon basil and ginger; and the locally-inspired 'Prawn & Lime', combining stuffed jumbo prawns with spicy dabu-dabu salsa, silky potato gnocchi, spicy tomato chilli sauce.
Furthermore, Koral also offers a transcendent underwater experience with a four-course degustation menu featuring high-quality seasonal ingredients paired with the finest sommelier-selected wine.
In addition to its collection of the world's most premium wines, Koral showcases a live cocktail station where their expert mixologists are ready to conjure up innovative cocktails that highlight the rich flavours of Asian spices. Don't miss out on Koral's signature cocktail, the 'Spiced Ink Mojito', crafted using a stimulating mix of spiced rum, squid ink mint syrup, lime fruit, ginger and kaffir leaves, alongside an array of locally-inspired house creations, handcrafted bubbly cocktails and a variety of Indonesian craft beers.
Koral also caters to the young guests with a dedicated kids menu featuring popular movie characters, and an appealing selection of fresh juices and mocktails crafted using exotic Indonesian ingredients including Balinese wild berry, jasmine tea and lavender puree.
Koral Restaurant is open daily from 6.30pm – 10.30pm with reservations recommended be made 24-hours in advance. For more information or reservation please call +62 361 209 2288 or email koral.bali@kempinski.com
Koral Restaurant
at The Apurva Kempinski Bali
Jl. Raya Nusa Dua Selatan, Lot 4, Benoa
+62 361 209 2288
koral.bali@kempinski.com
kempinski.com/bali